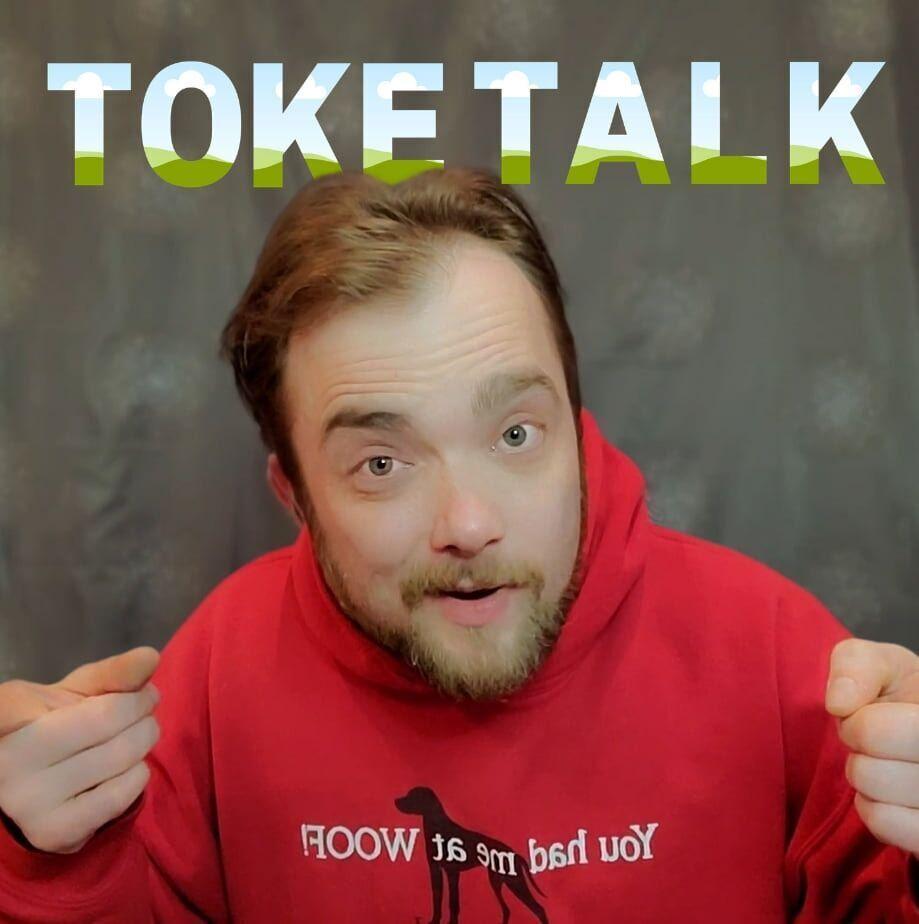 Hi there, I'm your Stoned-At-Home Dad Surge and this week I review seven different strains of cannabis from Alaska Cannabis Exchange located off of West Benson Road on Spenard in Anchorage. They have outstanding staff, a great location with parking! Inside the shop is bright and beautiful. They grow some amazing frosty in-house strains. I love the presentation of the bud and the packaging is top notch! Give it up to their online engagement on social media! They connect with local Alaskans, giving advice to new cultivators, and shine a spotlight on their staff as much as their products. It is worth checking them out, you'll be very satisfied with their cannabis. Speaking of which...
This roughly 9 gram cola is presented in one of the most ingenious ways I've seen so far! It reminds me of the rose in the glass container from Beauty and The Beast. ACE has several other colas with really nice graphic designs on their glass containers. If you are looking to get any gift for a fellow toker, this is perfect!
For anyone unfamiliar, a cola on a cannabis plant is a stem with clusters of buds. This cola of OBTK, named from its cross of Orange Blossom Trail x Triangle Kush, has a THC of 23.81% and was cultivated by the Alaska Cannabis Exchange. It has an earthy aroma with a spice that smells like faint pepper. The buds are frosty with little hairs sticking out. Decent trim job that shapes the cola nicely with very few trim left.
This strain is for pain. One bowl relieved my nerve pain, lowered anxiety, and fully relaxed my body. It does nothing for concentration and will not make you feel couch locked stoned like some Indicas do. Smoke another bowl and the body high just feels more relaxing. I recommend using this strain when you have to be productive and need some help with pain relief.
Information From The Cultivator:
OBTK (Orange Blossom Triangle Kush) (Indica Dominant Hybrid)
OBTK is a mellow indica-dominant Strain that gets its name from its lineage. It is a cross between Orange Blossom Trail (by Falcanna) and Triangle Kush (Originating in Florida, also known as The White) , and the OBTK stands for "Orange Blossom Trail" merged with "Triangle Kush". It's scent is similar to cloves and pepper while its taste tends to be earthen like fresh soil. Its effects are mild and pleasant, often creating a soothing sensation that travels through the body and clears the mind of negativity. Some have used it to relieve mild stress, anxiety, and pain
These Purple Punch buds are extremely frosty and that is not an exaggeration. Absolutely no trim, very dense fat nugs! The aroma is fruity, sweet and earthy. The fruit sweet smell is a mild grape that you can taste in the smoke. It is most distinctive on the first spark rather than when the bowl is charred. Expect smooth hits that will hit hard when you rip hard.
This Indica dominant strain is pretty strong with a THC of 25.35%. A quarter to a half bowl was moderate enough for me. Eyes started to get heavy and very happy euphoria came over me. The strain works the body, helping with mild pain relief. Finishing the bowl lowered anxiety and it felt like bedtime. Appetite greatly increased and so did the need to hibernate. Purple Punch feels like a nighttime strain. Blaze, then Netflix with snacks, and off to bed.
Information From The Cultivator:
Purple Punch is the sweet and sedating union of two Indica dominant classics. By breeding Larry OG (originating in Orange County)with Grandaddy Purp (by Ken Estes) the astonishing Trichome laden Purple Punch was born, smelling of grape candy, blueberry muffins, and tart Kool-Aid. The potency of this strain gives the consumer a one-two punch to the head and body, initially landing between the eyes and settling down into the limbs. Purple Punch is a delicious dessert strain that is best suited for after dinner. Its effects may help with managing nausea, stress, minor body aches, and sleeplessness
Let's get BAKED on some Ice Cream Cake! If Trichomes were an icing, this bud cuts the cake when it comes to being covered in frost! Cultivated by High North, this batch has a THC of 26.7%. The strain mix of Wedding Cake and Gelato 33 created this strong Indica. There was not a single trim leaf left on the bud, just frosty nugs shaped beautifully. The smell is sweet and tart, which will make you want to eat it! Instead, fire it up and get smooth to mild hits that taste sweet and leaves that yummy tart flavor in the back of the throat.
A few rips will bring on a pleasant body high that also helps relieve pain. My nerve pain and a few minor aches almost felt gone. A nice euphoria comes over as well, giving really happy vibes and melting away anxiety. Concentration started improving very little after smoking an entire bowl. This strain is more for the body. The more I smoked, the more tired and sleepy I felt. Breathing slowed down a lot and the feeling of sleep began to weigh heavily. This is definitely a night time strain to completely relax to. Have some of this Ice Cream Cake before bed and sleep good for the night!
Bear Berry has a THC of 24.47% and is another in-house strain grown by Alaska Cannabis Exchange. Their cultivators sure know how to grow some really frosty buds! The trichomes are packed all over the bud. Beautiful little red hairs peek out to say hello. Outstanding trim job!
The buds have a stinky sweet smell. The sweet aroma smells of a dry berry. Expect smooth to mild hits that taste earthy with a faint sweet berry taste. The high rolls around half way through a bowl as a relaxing body high and the eyes start to weigh down a little. At first concentration started to improve but as I smoked more, the high made it hard to focus. It actually messed with my short term memory. I got so high I don't remember how I made dinner for the family. It helped with some nerve pain when smoking, but did it last? I honestly cannot remember so that is a yes in my book. This strain feels like a nighttime strain to hibernate like a bear if you smoke a lot of it. If you smoke in moderation, this strain is great for pain. It feels like it may help with nightmares possibly.
Information From The Cultivator:
Bear Berry  (Indica Dominant Hybrid)
The flavor has been described as "sweet cream berries soaked in lemonade," and the strain acts as a mid-level hybrid that doesn't tug too hard toward sedation. Gummy Bears by (Elemental Seeds) X with Blackberry Cream by (Exotic Genetix) to achieve a unique array of colored leaves and outstanding resin production.
Reviewing this strain, I was under the weather for that day and medicated. 
The buds are impressive just like all the cannabis reviewed this week that were cultivated in house at Alaska Cannabis Exchange. Frosty like the snowman and spiky looking like Lisa Simpsons hair cut. Joshua trimmed this tree very well and he must have grown it by the race pits, because these buds smell of sweet diesel. They grind and burn well, giving smooth hits with every inhale. The THC for this batch sits at 24.35%.
Since I had taken medicine prior and consumed chicken noodle soup, my taste buds could only pick up the earthy taste and nothing else. I cannot give a description of effects since there are too many other chemical influences. I can tell you that it did get me high after smoking an entire bowl. Try it for yourself and leave me some feedback!
Information From The Cultivator:
Joshua Tree  (Sativa Dominant Hybrid)
By TGA SubCool Seeds. The goal was to capture some of the devastating potency of Mickey Kush with the delicate sweet taste and smell of Strawberry. The resulting offspring finishes with the colors of fall and a nice pink/purple hue. Tall resinous spear shaped colas drip with fruit smelling trichomes. Expect clear soaring visuals and a mouth full of flavor heavy resin profile with a very pronounced Strawberry Lime flavor. Extremely clear headed high with strong visuals seems to react well on the optic nerve. The effects will kick in immediately. Very cerebral wrapping around the brain, combined with pressure building up behind the eyeballs. Great for attending concerts or live events.
Wowser! You have to try Bowser! It tastes amazing! 
The second I unscrewed the lid, the smell hit me like a bag of tangerines! Super Pungent and smell so delicious my mouth was watering! I love citrus! Beautiful single giant nug covered in frost and orange/red hairs. Trimmed to perfection. This batch was cultivated by Absolem's Gardens and has a THC of 25.81% with CBD at 0.08%.
Fire it up and expect mild hits with the most delicious smoke you'll ever taste. It tastes like you just ate a tangerine. The smoke leaves a sweet tartness on the roof of the mouth and the delicious tangerine taste lingers in the back of the throat. Making every exhale mouthwatering. This feels like a hybrid with a lean on the sativa side. Concentration greatly improved and I felt inspiration flooding. The body was more sensitive and my voice vibrated through my body. I felt more in control and ready to go. No over stoned feeling. Really nice head high. This strain is great for writing, creating, and even just daydreaming.
As with every strain reviewed this week, I am again left impressed by the frost factor and overall look of the bud. Beautiful hairs on a frosty nug makes my heart melt. The in house cultivators at Alaska Cannabis Exchange really know what they are doing growing this batch that brings a THC of 27.8% to the royal table.
The aroma of the 4 Kings brings back nostalgia of fishing on a lake in the early morning. Stepping out of a cabin after a restful night to smell the waking forest. Plus there is an underlining citrus smell. Fire it up and expect smooth to mild hits. Rip the bong too hard and the 4 Kings will royally mess you up. Tastes just like it smells. Makes me want to go fishing.
This strain started to feel heavy after a few small hits. Eyelids and the body were beginning to weigh down. There was energy at first with a slow decline into a couch locked feeling. One entire bowl relaxed the body and gave a strong heavy body high. Finishing off a second bowl had me sunk into the chair for a few minutes. It also made me very sleepy. This feels like a nighttime strain to help you sink into a deep slumber.
Information From The Cultivator:
4 KINGS, (Indica Dominant Hybrid)
Coming from Exotic Genetix, 4 Kings is a cross of a female Los Angeles OG Kush and their own Triple OG. A Kush lover's dream, its thick flavor is backed by a citrus punch, and it'll coat your throat with pine and earthy flavors. 4 Kings is known to start off with energy and euphoria and then level out into sedation and relaxation.
All these strain reviews were video recorded under Toke Talk to showcase the cannabis and show their effects. Please visit the Toke Talk page on Facebook, YouTube, or Instagram to show your support by giving a Like and a Share. Thank you to everyone reading these reviews!