If you're a cannabis consumer in the state of Alaska then chances are you know of the product Hashade. Hashade, an infused lemonade drink, has taken the Alaska edibles market by storm. Store owners struggle to keep it in stock. Red Run Cannabis Company, the manufacturers of Hashade, have been working overtime to keep up with the demand of the refreshing summertime favorite. Some store owners have reportedly doubled their edible sales with the introduction of Hashade to their shops.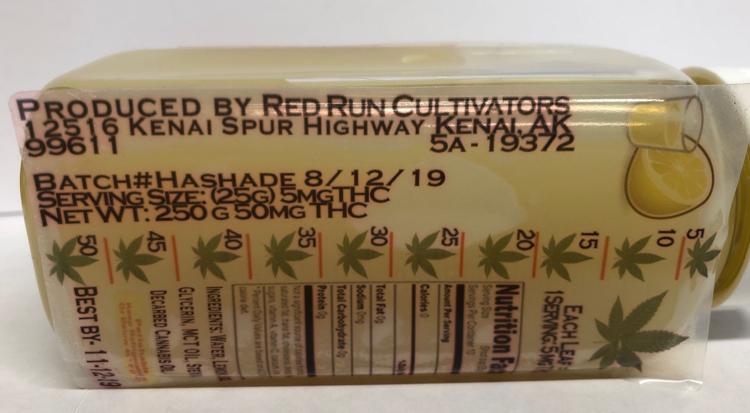 What's so unique about the drink? One major selling point is the price. Edibles in Alaska are a difficult market to survive in. The state set the limit for THC at 50 mg per package, which isn't much for an experienced user. With each batch having to be tested, the price of edibles is generally high, and often a deterrent for consumers. Enter Hashade. The tart lemon drink comes in a bottle with slash marks on the sides to indicate serving size (divided into 5mg servings). Consumers often drink the bottle in one or two sittings. At $25 per bottle on average, consumers can't get enough of Hashade.
Last week several customers were less than impressed to find bits of mold floating in the drink along with the lemon.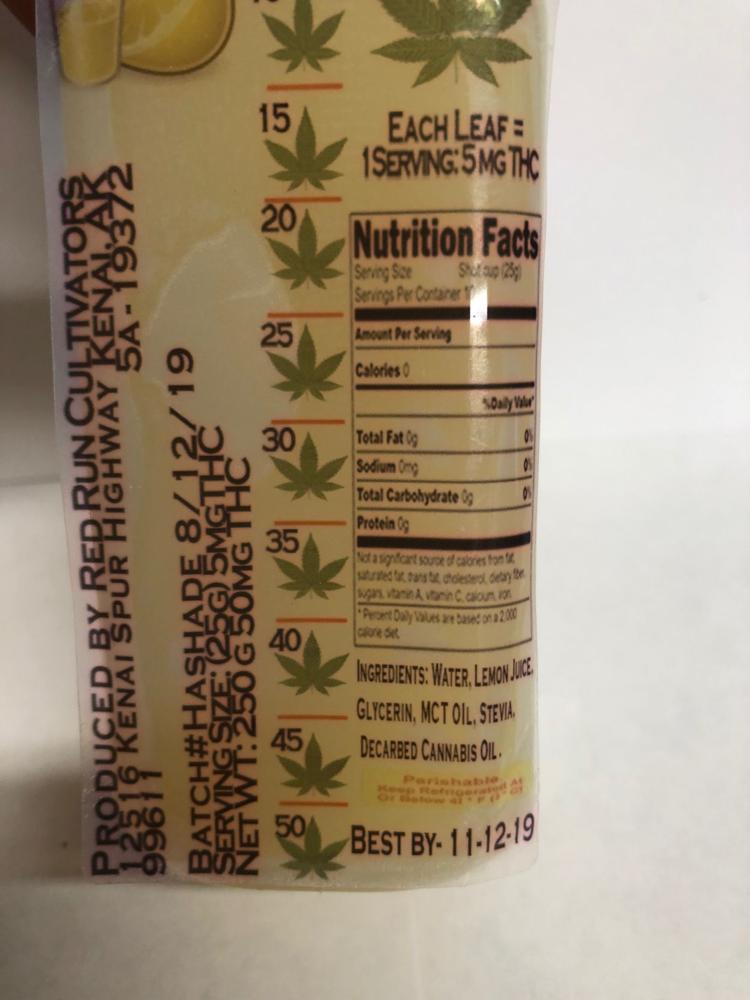 Posts began popping up on social media when Ryan Lash posted a photo of his moldy Hashade, asking ACR, an Alaskan Cannabis Facebook community, #WhatsUpWithThisShit, and starting a conversation regarding the spoiled product he'd purchased at a recreational shop. In the revealing post, Lash commented, "I know this is going to make a lot of people mad because this product is a huge money-maker…"
Adam Houvre, currently employed by Red Run Cannabis Company, responded to the posts made last Friday, informing the community "There is currently a recall on the last batch. Any and all retailers who purchased Hashade should contact myself if you have any issues. Sorry dude, shouldn't have happened."
Adam later went on to instruct buyers to return their Hashade "if they're moldy", leaving many to question why exactly the whole lot wasn't being recalled. Many concerned customers asked Houvre what was being done to mitigate the mold situation?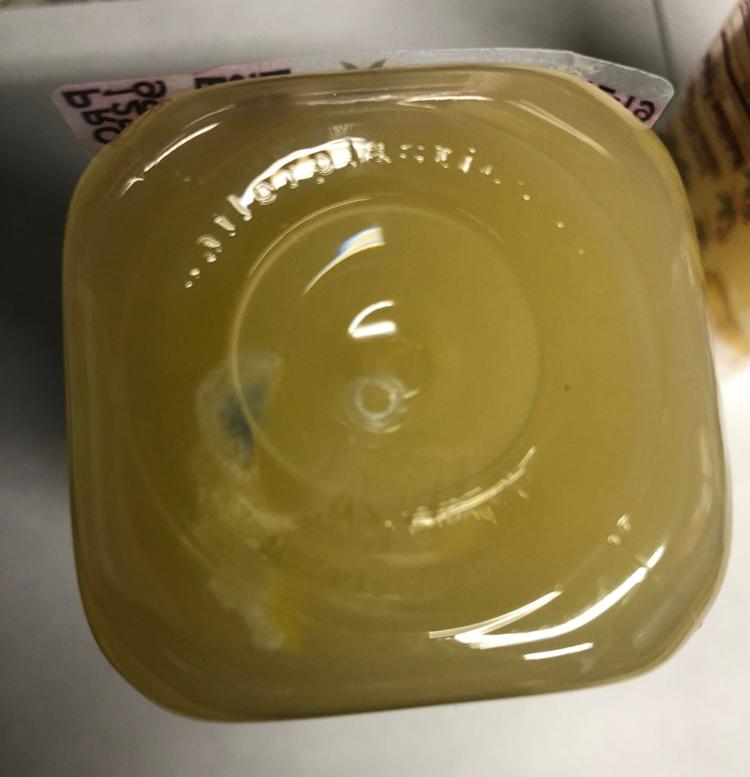 Houvre responded by stating, "The pasteurization process is the mitigation. There was a failure somewhere either in the bottling or pasteurizing that caused some bottles to mold. The issue is being addressed, vendors were being contacted before this post was made."
Interestingly, retail stores noted that none of the bottles appeared to be properly sealed, which leads consumers to wonder if the product is safe to drink at all.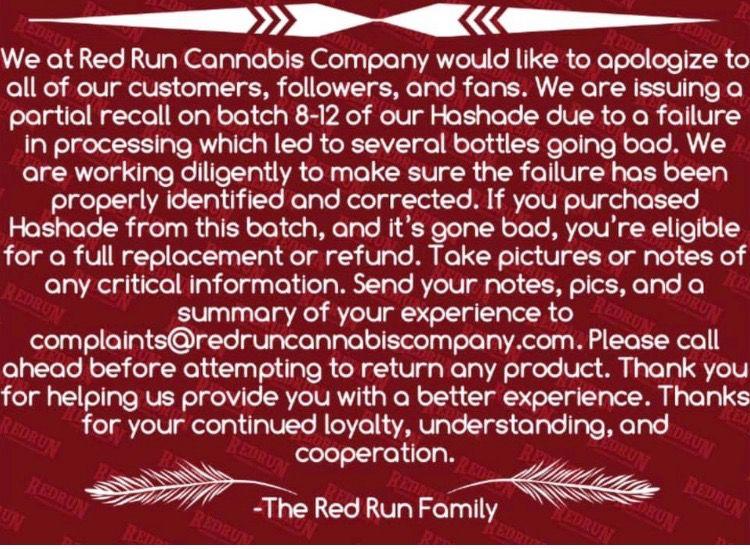 On Sunday, a formal PSA was released on ACR, statin which stated, "We at Red Run Cannabis Company would like to apologize to all of our customers, followers, and fans. We are issuing a partial recall on batch 8-12 of our Hashade due to a failure in processing which led to several bottles going bad. We are working diligently to make sure the failure has been properly identified and corrected. If you purchased Hashade from this batch, and it's gone bad, you're eligible for a full replacement or refund. Take pictures or notes of any critical information. Send your notes, pics, and a summary of your experience to complaints@redruncannabiscompany.com. Please call ahead before attempting to return any product. Thank you for helping us provide you with a better experience. Thanks for your continued loyalty, understanding, and cooperation. — The Red Run Family"
While some customers felt comforted to see that Red Run was addressing the issue, many felt concerned that the company wasn't quite doing enough. Most expected Red Run to recall the entire spoiled lot, rather than putting the burden on the consumer to check their product for defects, make notes, take photos, send emails, and call head. A "partial recall" seems careless, considering this is not only a food product, but a cannabis product as well.
Most shop owners that were questioned regarding the tainted Hashade had pulled the products off the shelf and were waiting for Red Run to figure out a plan to deal with the reimbursement of the bad product. Interestingly, few shop owners reported having been contacted by Red Run directly regarding the moldy lemonade, though AK Blooms in Fairbanks did contact the Anchorage Press to let us know they were contacted directly by Red Run ahead of time.
Although consumers repeatedly urged Red Run to do a full recall of the product, Adam Houvre remained almost obstinate is his stance that a partial recall was appropriate, stating,"I've already met all my obligations in regard to the issue. I'm not going to go out of my way to feed into misunderstanding. If you actually care or want to learn, do what I said."
Many customers wondered how exactly one was to determine whether the batch they had purchased was part of the "bad" lot, or part of the "unaffected" batch, especially considering the lack of properly sealed containers.
Due to the holiday weekend, store owners and/or concerned customers were unable to call AMCO to report the incident, however it's expected that AMCO likely is aware of the issue by now, especially considering the considerable amount of attention the posts received over the weekend.
If you or someone you know bought a bottle of Hashade from batch 8-12, please contact Red Run.