TUNDRA HERB COMPANY — Location: Downtown Anchorage
Nestled in the heart of downtown Anchorage, Tundra Herb Company opened its doors in May of 2019 in a building that once was home to the original Anchorage public library. With its antique Alaska décor, reclaimed wood accents from an old cannery site, and oversized leather chairs, Tundra Herb offers a relaxing and inviting space for tourists and Alaskans alike. Located at 520 W 6th Avenue — next to 6th Ave Outfitters. Open 9 a.m. to Midnight, 7 days a week.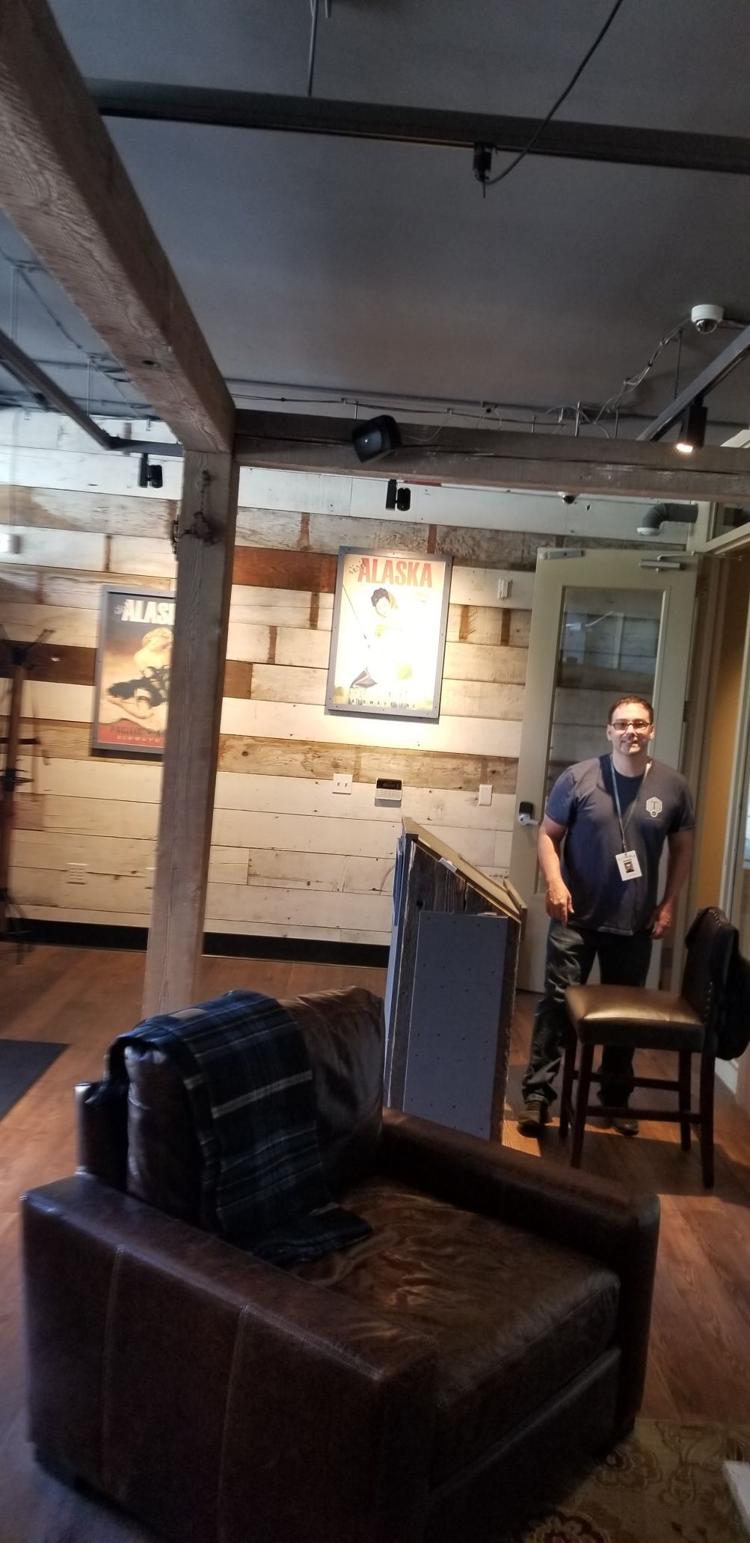 John Youse is co-owner of Tundra Herb Co. and spoke about his fast-growing shop.
What products do you carry?
Youse: We carry an eclectic assortment of products catering to all cannabis consumers. We have a large variety of flower and pre-rolls and choice selections of kief, trim, CO2/BHO cartridges, klick pens/vape kits, boom blunt, moon rocks, shatter, crumble, honeycomb, sugar wax, loud resin, and terp sauce. Our edibles are always made local and fresh and includes; capsules, gummies, caramels, cookies, brownies, crackers, lollipops, other candies and beverages. Bath and pet products are also available as well as anything you may need for smoking accessories and glassware.
What would you like potential customers to know?
Youse: Our commitment is to Alaska and to provide our customers with an evolving interactive experience. Our budtenders are incredibly knowledgeable and know the product. We want customers to feel invited to come in and enjoy the experience. Whether you're looking to try something different, have a favorite go-to item, or simply want to learn about new products we have something for everyone.
What advice do you offer to new consumers?
Youse: If you're interested in cannabis for any reason — recreational use, pain management, sleep aid or even to treat anxiety — come on in. We encourage anyone curious about cannabis to stop by and take as much or as little time as you need. At Tundra Herb Co you will be treated with respect in a relaxed and judge free environment. Everyone is welcome here and there is never a pressure to buy.
What are some of your most popular items?
Youse: For a clean and relaxing high Hashade is an extremely popular beverage. It's a hash oil infused lemonade that provides the flexibility to titrate your dose. Each bottle contains 50mg total THC with hash marks to indicate each 5mg serving. Our popular flower strains include Skywalker OG from Lady Gray, Power Cush and Budda from Parallel 64 and Rain Dance from Catalyst.
Do you offer any Discounts or Specials?
Youse: Everyday discounts include: 5% off for military and seniors, 10% off for service industry employees. There are rotating weekly and daily product specials and to receive exclusive weekly deals, discounts and rewards, you can sign up for our Customer Loyalty Rewards Program by texting "THC" to 1-877-344-9959.
Parking: Street side parking is available with a free 15-minute loading zone located just a short distance away on F Street between 5th and 6th Ave.
Information: Tundra Herb Co can be found on Facebook, Instagram, company website www.tundraherbco.com, Weed Maps, or call (907) 929-4372.