By Robin Thompson
Local area filmmakers and enthusiasts recently met on Nov 20th to kick off the official start of the 5-Day Film Royal Competition in Anchorage.
The event, which runs in conjunction with the Anchorage International Film Festival, gives participants just 5 short days to produce their films from beginning to end — including writing scripts, shooting, editing, and producing. Films can be no more than 5 minutes in length and must incorporate 3 prompts that are only announced at the start of the competition.
The Press caught up with Film Royal producers, Matt Jardin, Charlie Sears, Jeremy Allen and Quinton Oliver Smith for a little Q&A after team sign ups were held at Frontline Studios in Anchorage.
What can you tell us about the concept of the 5-Day Film Royal?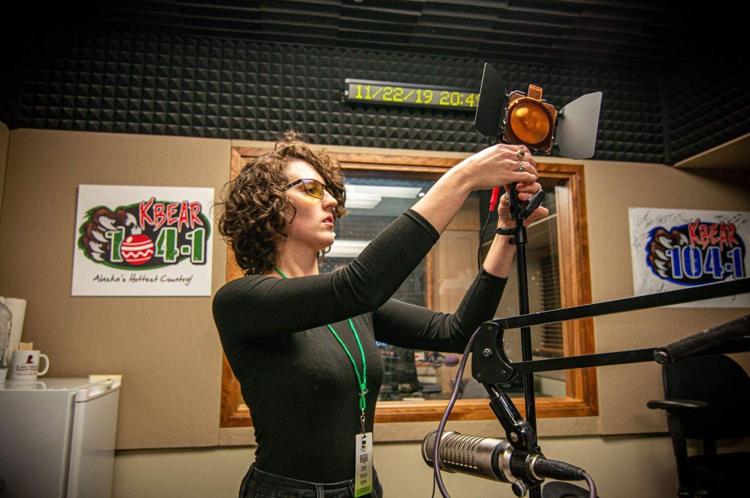 Jardin: The idea is anyone can make a movie. The 5-day Film Royal is a competition where filmmakers of all skill levels are welcome to make a movie in 5 days. At the beginning, we announce three prompts that range from anything from filming techniques, to lines, to specific actions, and the idea is that we announce them at the beginning to make sure their movie is made within the 5-day period. The winners are the ones that implement the prompts the most creatively. It's not about who has the best equipment, it's not about who has the biggest crew, it's not about what kind of camera you have. It's all about how creatively you're able to make a movie within these time constraints
How many times has your group produced this competition?
This is the 5th year we've done the 5-day film royal and we do 2 every year. We do a 24-hour Film Royal in April, like this but they only get 24 hours and then the 5-day — which we do this time of year in conjunction with the Anchorage International Film festival.
How did the idea for the 5-Day Film Royal get started?
Jardin [chuckling]: How far back can we go? These competitions have been around for a while and that's actually how I got started, was with a similar 24-hour film competition. It's how I know Charlie, Jeremy and Quinton, from competitions and events like these. For a while the filmmaking activity in town wasn't really going on but we were all making movies together and decided it was about time someone brought back these competitions, so we brought back the 24-hour film Royal. We did a great job doing running that with the Anchorage International Film Festival. They contacted us asking us to run their 5-day competition because we did a solid job with the 24-hour one and they asked us to take over for 5-day.
So you have 25 teams — is there a limit to how many people can be on a team? Can it be as few as 1 person or twenty or more people?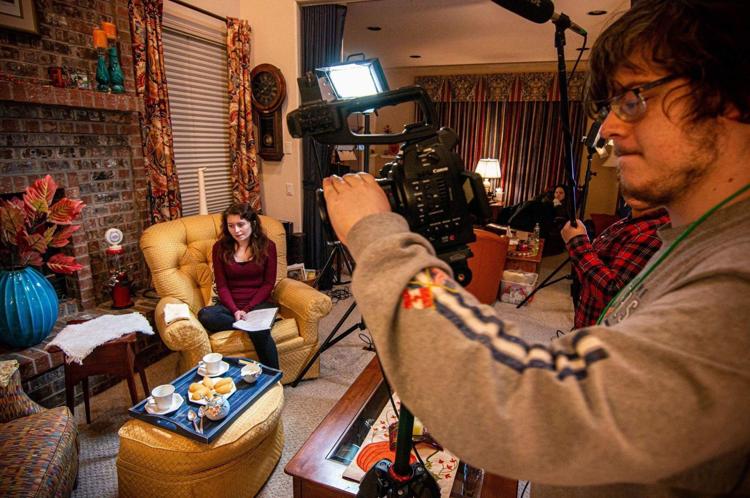 Jardin: There is no limit as far as how many people can be on the team. And that's exactly the range that we've seen. I remember one year, we've had one guy make a movie just by himself, and it was a really good movie and other times we've connected with teams and it was just a giant production with 20+ people. So that range is very apt.
Of the 25 teams it looks like there are some really serious filmmaking groups and others just wanting to push the edge and share different levels of humor or theatrics — Does anything go regarding making the films? How wild does this get?
Sears: There's always an unspoken rule, you kinda try to keep it appropriate but we don't want to limit any of the filmmakers from whatever kind of story or creativity they want to do
Allen: We haven't had to institute any rules… yet? [the group chuckles at the comment]
Would you then say the 5-Day Film Royal submissions could be classified as PG-13?
Sears: All films are not rated. That's something very truthful for us to say it's not rated just for their protection.
Allen: …And obviously there is the language and certain things being talked about.
Sears: We've had very sensitive things where people have come up to us, and told us that they weren't happy with it – like audience members — but that's part of this thing, that we're not here to stint anyone's creativity. If they want to tell a story they are more than welcome to tell it.
Jardin: …Use good judgement.
Sears: Yes, use good judgement and that's what the prompts are for. We don't want to direct people in a way but it gives them kind of a starting point.
Smith: …I mean if you don't want to put your name on it then I wouldn't be showing it.
Sears: …Exactly! We're all here to network with each other. It's a big networking event so we always hear hey 'what film did you make you make?" Stuff like that.
Allen: And nobody wants to be known as the butt plug people. [The group erupts in laughter in remembrance]
Jardin: …Oh yea! They haven't been back since!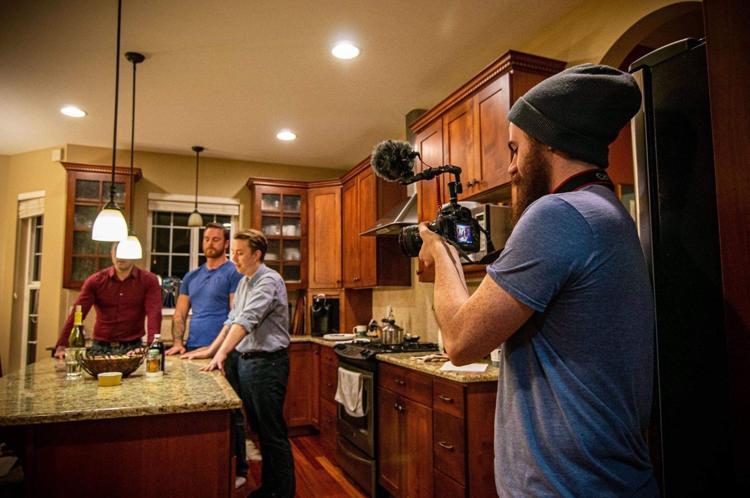 Sears: So again, it's an unspoken rule that we haven't had to put in place yet, and for any our competitions or any of the screenings that we've put on. The filmmakers here have been really good about doing that.
Does anything stand out in films you've seen produced over the years?
Jardin: There's like a lot of really good movies, a lot of surprisingly good movies that have been made within such crazy time constraints.
Allen: I would say each year, we are more and more surprised by the different teams. We've seen some teams that came in and it was obviously their first year, but through these events and just getting to know people, they've networked, they've recruited more people and their production value just keeps getting better and better. That's really why we do this, we want to see people learn by doing and get better at it and have a form that they can put out there. Being able to show your stuff on the big screen is the ultimate payoff. We give a lot of people that chance to really experience cinema.
Do you have any success stories of anyone besides yourselves becoming movers and shakers in the film and production industry due to these competition?
Allen: We've converted a couple of people, Josh Branstetter is one of our poster childs.
Jardin: He entered by himself one year, literally by himself, and every year since he's connected with more and more people and now he's making really good films with this community and getting into festivals. That's kind of a similar story for a lot of people in this competition, they'll make movies and they're networking, we can't undersell that enough. People will come in shooting on iPhones because they don't know anybody but they get exposed to this bigger community and network and someone might say 'hey I liked your movie, let's work together.' That's how I got started with my Point-and-Shoot camera and knowing no filmmakers and that's how I met all these guys — and now I'm making things that are less terrible [group shares in Jardin's laughter].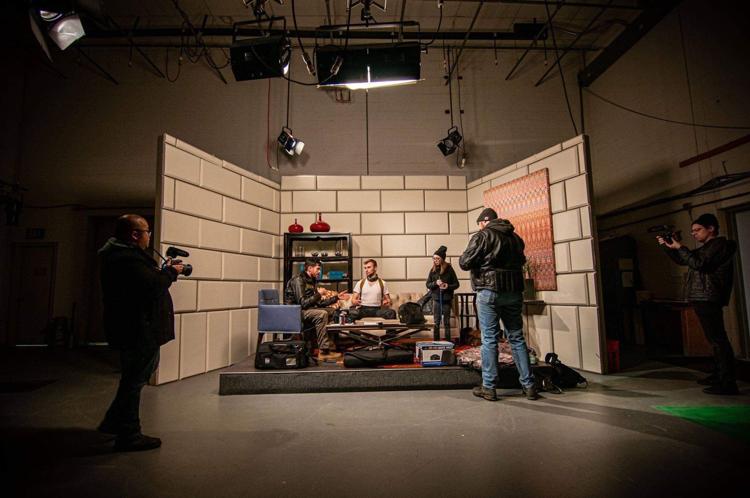 Allen: Josh has a cool story too because he's not only making his own films and bigger projects but he's also going out and making money doing it. I have a similar story where 10 years ago I was a field truck driver. Through meeting other people and having people say 'hey come help out on this project,' I've discovered people who actually work in this field. Now I'm teaching it and working and helping bring new knowledge to each other and sharpening each other's skills. I keep telling people I can't believe how lucky I am.
Tell me about behind the 'Behind-The-Scenes' documentary that you guys create each year as part of the production.
Smith: It's a lot of fun, we just run around — sometimes we split up a lot of times we stay together – over the course of 5 days, but we make sure we get some behind the scenes from every single person so we can see the process. A lot of times they might have a big stunt or something like that they're gonna want us there for.
Allen: A lot of people never get to see themselves working. You're so busy trying to capture everything in front of the camera that when somebody does snap a picture of you working, you're like 'oh WOW that's what I look like?' and so this BTS is our gift back to this community. 'This is what you guys looks like you little bad asses!' and they love it! Every year people look forward to it.
Jardin: It's my favorite part of the competition and getting to connect with the teams. We play this documentary at the end of the screening before we announce the awards. People love seeing themselves working, I think it gives them a sense of accomplish to see that they are part of this larger patchwork of filmmakers that is so productive and prolific.
Screening and awards for the 5-Day Film Festival will be held on December 7th at 10:30 pm at Bear Tooth Theatrepub. To learn more about the 5-Day Film Royal visit their FB page or website at www.5dayfilmroyal.com.