Kawhi Leonard's improbable comeback season culminated when he and the rest of the Toronto Raptors shocked the world by dismantling the mighty Golden State Warriors in only six games during the NBA finals. The ripple effects of Toronto's 114-110 victory were even felt in Wasilla, Alaska.
Late Thursday night, Bryce Wheeler sent out an image on his social media accounts that he had created when he saw the Raptors take the 3-1 series lead over Golden State. In homage to an iconic photo of former Chicago Bulls star Michael Jordan clutching the Larry O'Brien Trophy after the 1991 NBA Finals, Wheeler crafted a similar image with rapper/actor/basketball ambassador Drake holding the trophy in a Toronto Raptors jersey over the course of eight hours. When the game was over, Wheeler released the drafts he had composed and hoped to end the night by getting some exposure of his fan art.
He never imagined what would happen next.
"Someone sent me a (direct message) and it said 'champagnepapi' on it," said Wheeler.
Wheeler read the letters of Drake's Instagram account over and over five times, making sure that he wasn't being fooled by a fake account. As his eyes and his inboxes lit up, Wheeler spent the rest of the night responding to fans over social media who had recognized his work. However, although Drake used the picture on his own Instagram account and Wheeler's artwork appeared as the album cover on Drake's midnight release of "The Best In The World Pack," neither Drake, a Toronto super fan, nor anyone associated with the performer has reached out to Wheeler to credit him with the image or offer any payment.
"It was mostly shock and elation at first, and then sort of a little bit of disappointment because I wasn't getting the proper recognition," said Wheeler. "It just kind of kept me up a little longer than I would have liked, obviously. But after that, I'm not really an emotional, fist pump person, it was just kind of sitting up and like.. Whoa.. but in my mind of course I was like holy.. This actually happened. So yeah, there was that shock factor and I did do a double-take at it and sit up and look at it, so that was a really cool experience throughout the night and flowing into the morning too."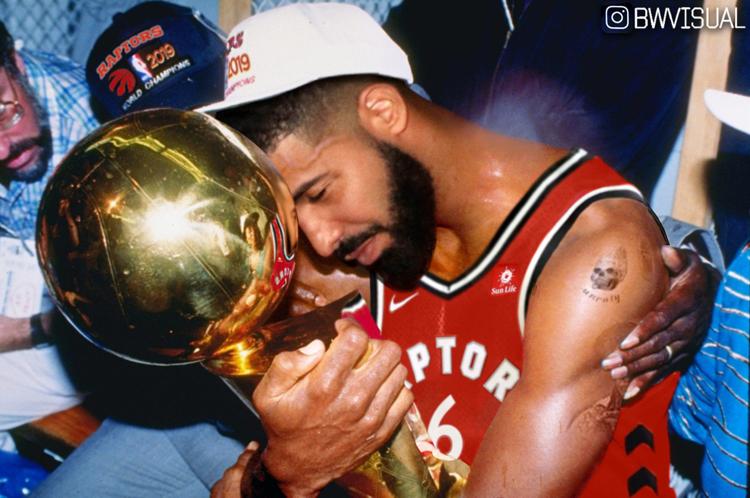 When Wheeler released the image that he had created on all of his social media platforms, it included his watermark "@BWVisual." While Wheeler was a bit disappointed to learn that an artist he has followed for years that used his work was not giving him the proper recognition, that did not at all stop Wheeler's original posts from going viral. Wheeler's image had over 2.6 million likes on the first day and was reposted by prominent basketball accounts like @Ballislife and @thescore. The image made an appearance on ESPN's "The Jump" and a copy of the image without Wheeler's watermark was posted by former NFL quarterback Michael Vick on his Facebook page. Shane Dale of ABC 15 in Phoenix, Arizona, made it his 'Dale's Deal' last week to get the artist his due credit. The image and story also made its way onto Barstool Sports. While Wheeler was busy attempting to spoil his dad on Father's Day, Wheeler's dad used his day to show his son how proud he was of him.
"My dad was actually going through yesterday my Instagram and doing hourly checks of how many likes and how many followers I had," Wheeler said. "He would make these little announcements and this is Fathers Day, right. This isn't my time. This is his day to be appreciated," said Wheeler.
The collision of Wheeler's loves of basketball and fan art are no coincidence. Wheeler was visiting his grandparents in Phoenix when his father took him to see his first Suns game and he was hooked. Wheeler played basketball growing up and worked hard to be a part of the Wasilla Warriors varsity basketball team.
"The game didn't love me as much as I loved it, per se. I was pretty small and just had a slim figure," Wheeler said.
Wheeler worked summers with Wasilla basketball coaches Ryan Engebretsen and Matt Berg and the coaching staff sat Wheeler down during the summer travel trip before his senior year to ask him what role he wanted on the team.
"I just wanted to be a part of the team. I want to be there to support my guys and so I kind of took on that role to be an end of the bench guy and thrived in that role. That's why our team was so successful is everyone thrived in their role," said Wheeler.
Wheeler went on to play a supporting role in the Wasilla Warriors 2018 boys basketball state title. Some of Wheeler's Warrior basketball family were able to extend his involvement with the game. While Wasilla was on their trip to Grand Canyon University where Wheeler is a sports management student, Berg asked Wheeler if he would like to continue as a member of a basketball team. Wheeler began working as one of GCU's eight basketball managers. Wheeler chuckles when he recalls being asked if he had any editing experience. Wheeler picked up a photo superimposing app a few years ago and was hooked. In 2017, Wheeler upgraded his operation.
"I used actually some of my Permanent Fund money to invest in all those programs and a lot of sleepless nights and a lot of tutorial watching and a lot of learning things," said Wheeler.
Wheeler said he's lost track of how many late nights he's spent. While Wheeler has a full workload during the GCU basketball season managing their social media and producing other images, during the offseason he gets to create on his own time more often. Wheeler was hard at work even after his Drake photo went viral, posting a photo he'd created of Anthony Davis and LeBron James and even superimposing Lonzo Ball and Zion Williamson over Dwayne Wade and James' iconic alley-oop photo which has also been picked up by ESPN accounts. Wheeler says that he wants to continue to grow as an artist with sports visuals and hopes to eventually land a job with an NBA team.
"For me mostly it's just the personal recognition and the congratulations and the support and the connections I am able to make way more than it is about money. Like, just all that I've been getting and especially the last few days and over the weekend, I've been getting way more recognition and congratulations," Wheeler said.
Wheeler is far more educated than an average NBA fan, diving into the chaos that is to become the offseason. He has a hunch that Kawhi returns to Toronto and so he is predicting the Raptors and the Rockets to be in the finals next year. Wheeler never predicted when he picked up his copy of "Views" that he would be able to create artwork used for Drake's music.
"I like him specifically because I'm not much of a rap person but he does R&B, he sings as well as raps and I love just the sound and flow and the instrumentals that go behind him and just the causality really. There's a lot of different types of moods that I can really get into when I listen to Drake," Wheeler said.
Wheeler has told himself repeatedly that he may never produce anything that reaches as many people as the photo he released last week, but achieving viral status is not going to stop Wheeler.
"I want to make everyone that has supported me feel important, so that's why I'm taking all this time to go to my dm's and reply to every single one and reply to every single comment and all the support so it's been overwhelming," Wheeler said.