World class runner and double-amputee Marko Cheseto was welcomed as one of the VIP special guests and motivational speakers for the 2019 Anchorage RunFest held in downtown Anchorage August 16-18. While here, Cheseto manned a booth at the RunFest Expo held at the Dena'ina Center and spoke alongside 1972 US Olympic Team member Jeff Galloway, and running sensation Bart Yasso during their Pasta Feed luncheon on Saturday.
It was a return visit to the event for Cheseto, who attended in 2018 to speak as well as participate in the Skinny Raven Half Marathon, where he finished 10th overall, in just 1:26:55. This time around scheduling conflicts kept Cheseto from running in the event, but he was thrilled to be invited back and share his story of overcoming tragedy in hopes of inspiring others.
Born and raised in the highlands of Kenya, Cheseto first came to Anchorage in 2008 with a group of elite Kenyan athletes on athletic scholarships. Cheseto quickly made a name for himself in running both nationally and locally earning the NCAA Division II All-America honors six times in both track and cross country at UAA. He set the record for the Anchorage Mayor's Half Marathon in a time of 1:07:47 that still stands.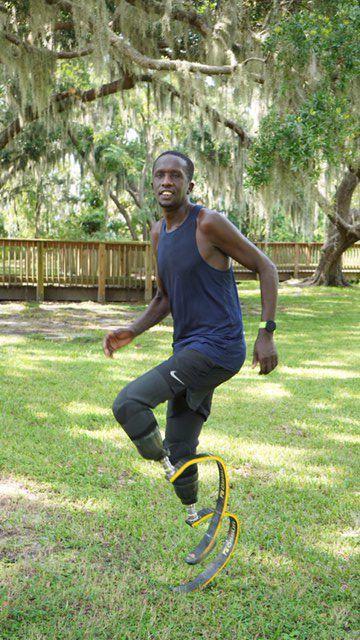 However, tragedy struck in November 2011, when Cheseto received a call from his cousin and fellow UAA athlete. His cousin expressed an urgent need to talk but Cheseto, busy finishing class assignments, and not overly concerned, assured him they would talk later that evening. That would be their last conversation.
When Cheseto arrived home later that evening he found the door locked from the inside but no indication that his cousin was home. He was concerned and the next day he returned with the police, who forced entry into the home where they discovered his cousin dead by his own hand.
Overwhelmed with grief, Marko overdosed on antidepressants and went for a run wearing only a light jacket, jeans and tennis shoes. With a recent snow storm sweeping the area and temperatures dipping to just 8 degrees Fahrenheit, a massive attempt was made to locate him. Then, when it seemed like all hope was lost, Cheseto emerged stumbling out of the woods 3 days later — frozen, but alive.
Cheseto has little memory of the 56 hours he was missing, but recalled going for a run that night in November. "When going for the run, I passed out. I didn't know I was out for 3 days but I got up in the middle of the night and realized I was in the woods. I forced myself to get up, which wasn't easy and took tremendous effort, and I started walking."
Luckily, Cheseto was close to a groomed skiing trail and followed it until he reached the SpringHill Suites, a hotel close to the UAA Campus and asked for help. He had been outside in below freezing conditions for 56 hours. With their patient suffering from hypothermia and frostbite, paramedics quickly realized the severity of his condition when they attempted to remove his shoes — they were frozen solid to his feet. He was immediately transported for treatment to a nearby hospital and while otherwise listed in stable condition, Cheseto's feet could not be saved. Gangrene had set in and both feet were amputated above the ankle.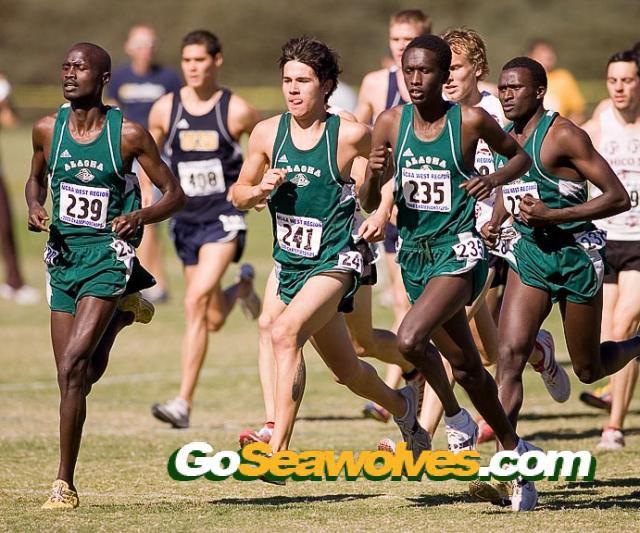 A year and a half after his accident, Cheseto celebrated a major milestone in his recovery. He was fitted with a unique pair of carbon fiber running blades donated through the Challenged Athlete Foundation and returned to running. However, questions remained about his disappearance and why he ran head-first into a winter storm. But Cheseto doesn't hesitate to openly discuss what happened that night. Distraught by the death of his cousin, he suffered a mental breakdown, he says.
Cheseto said that mental health issues are difficult for people to talk about.
"There is a stereotype about people when they are having a mental breakdown," Cheseto said. "People think it's just a weakness and they just allowed it to happen. And sometimes people think you should just "get over it,' but is not like that. It's just like any other organ that needs treatment and time to heal."
Cheseto decided, "I'm not going to be defined by the disability that I have. I have to do something to prove that we are very resilient; that you can come back from a disability."
Since then, Cheseto has completed the Anchorage RunFest Skinny Raven Half Marathon in 2018, then began training for full marathons. He ran his first as a double-amputee later that same year in the New York City Marathon, becoming only the second double-amputee to break the 3-hour mark. Cheseto was then named the 2018 Challenged Athlete of the Year by the Road Runners' Club of America.
In 2019, Cheseto ran the Boston Marathon and set the new world record by a double-amputee with a time of 2:43:33. He continues to train for his next race, the Chicago Marathon, which will take place on October 13. His goal is to beat his personal best — and world record — by another 10 minutes, breaking the 2:30 mark.
After his accident, Cheseto remained in Anchorage, finished his undergraduate degree in nutrition at UAA, married a fellow UAA student, and had three children. He continued his education at UAA earning his graduate degree in science management and accepting a job in Groveland, Florida for Prosthetic and Orthotic Associates. Cheseto now finds a new sense of fulfillment in helping other amputees learn how to walk through the help of prosthetics.
"I'm working with people who are like myself; helping them to get to walk again." Cheseto said, "They see me using [prosthetics] so that gives them a lot of hope."
In addition to running marathons, having a family, and embarking on a successful new career, Cheseto now shares his story as a motivational speaker all over the country. His speaking engagements are often at schools, colleges, events or businesses where he stresses the importance of positive thinking and the vital role physical activity plays in both mental health and overall wellbeing.
When talking about his experiences, running is the heart of every story.
"[Running] takes care of everything," says Cheseto. "It's a therapy, in a way. You get to enjoy yourself, you see different things when you're running. There's therapy in being outside, breathing fresh air and experiencing a sense of self and fulfillment."
Cheseto is often approached by people seeking advice on overcoming disability, tragedy, or loss. He likes to remind people, "You are not defined by some tragic moment in your life. It's not what defines you. What defines you is inside you, your inner power within you. If you tell yourself I am going to use all that I have to make this situation better it is going to happen. Our minds are that powerful."