The Moose has reached maturity. After several years of work with trail improvement and new signage on trails and nearby streets, the Anchorage Parks Foundation and allied groups like the Municipal Parks and Recreation Department are promoting the city-wide "Moose" bicycle network.
Check out the photo: Our core bike network looks an awful lot like a moose, at least head and shoulders.
For many years, Anchorage's urban greenbelt system has been a contradiction: Expansive, confusing, and balkanized. No unified signage helped cyclist connect the Chester Creek and Campbell Creek trail systems through the confusing UMed/UAA/APU complex. No signage at all helped cyclists connect Kincaid Park, at the Coastal Trail's southern terminus, with the logical connection to Campbell Creek trail near Dimond. Fish Creek Trail was bumpy and lacked signage to the broader network, principally via the Coastal Trail (though Fish Creek's southern terminus really isn't far from Campbell Creek Trail, either).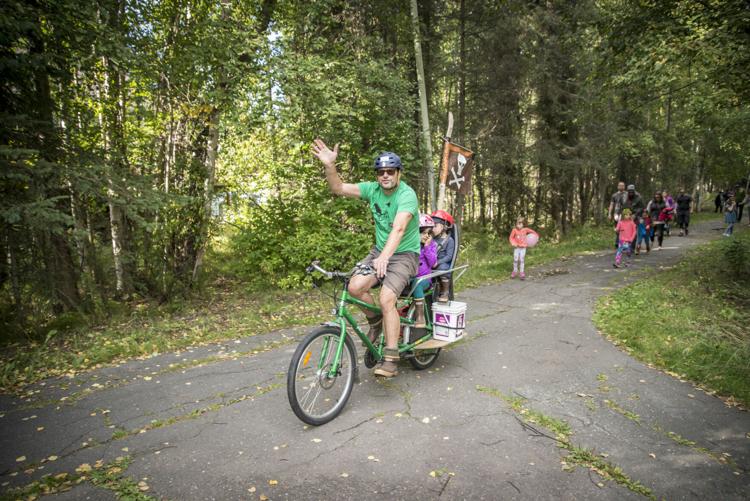 The lack of trail integration and wayfinding represented a missed opportunity for quality of life improvements, which do effect the economic competitiveness of our community. One area Anchorage could excel compared to other cities is the ease and convenience of bike commuting, and the proximity of nearly all city neighborhoods to expansive trail systems. Compared to most other traffic-choked urban areas, we have much greater access to pleasant bike commutes and outdoors recreation. Such amenities have become even more valuable during the COVID-19 pandemic.
Certainly, to fully capitalize on the potential economic benefits of our trails and parks, both the state and city would need to revamp bicycle infrastructure on roadways. Small steps have slightly improved convenience and safety, but Anchorage is decades behind other Western cities, and generally speaking still has an outdated, dangerous road network that is myopically focused on automobiles. It's positive that the city and Anchorage Parks Foundation have improved signage and are marketing trail connectivity—improving on-road infrastructure must continue if it is going to be safe to access these trails.
When you look at "The Moose" network, think about some destinations along the way. If you live in Turnagain, have you taken a bike ride up the coast and dined outside at 49th State downtown? If you live downtown or along Chester Creek, have you taken a ride to the Rustic Goat? If you like to fish, ride to the section of Chester Creek that flows through Sitka Street Park to catch trout. Or fish any number of sections of Campbell Creek. If you've got kids, ride to the outstanding playground at Fish Creek Park, or take your kids biking to Goose Lake and then go swimming. If you like mountain biking, use "The Moose" paved trails to access great single track (summer and winter) at APU, Far North Bicentennial, along Chester Creek, and at Earthquake Park.
Once you start to get out and ride, it will become apparent that many of your common destinations are faster, easier, or at least more enjoyable to access by bike than car. We live in South Addition, so it's a very short drive to visit friends in Turnagain, but it's an equally short and far more pleasant bike ride, just to give one example. And with kids, I get much more exercise mountain biking because I can go door-to-door in an hour and hit great single track at Earthquake Park. My daughter loves riding in her pull-behind bike to dig in the sand at Goose Lake, and play on the beach at Lynn Airy.
Our home is located in the jugular of The Moose, approximately, and we use the trails almost every day. Whether you live near The Moose's eyeballs or stomach, it's probably a great network for your family as well.