Amidst the current pandemic, recession, and social upheaval, longtime Anchorage outdoors writer Lisa Maloney wants to remind Alaskans of the importance of getting away from it all. "I think getting outside is very important for everyone's physical and mental health," she said. "I think we are blessed with a relative abundance of space up here."
It's a message she's devoted her writing career to spreading, from an outdoors column that ran several years in the Anchorage Press, and continuing into other newspapers and publications as well as three books, the Moon Guide for Alaska, and two hiking guides. She said what motivates her is getting people "to have a personal experience with Alaska."
Maloney's experience with Alaska goes back to childhood when the Air Force stationed her father in Anchorage. She said her family didn't spend much time outdoors other than occasional trips, but "I was the strange child who loved playing with sticks and mud more than anything."
Hiking was something Maloney took up in college, where she studied math. She said one key moment that helped build her lifelong love for Alaska's outdoors was when she tagged along on a hike on the Reed Lakes Trail with her boss at the time. When they reached the boulders, she said, "it was just like a giant jungle gym."
Hiking and traveling the state became ongoing interests, but writing came as a surprise. One day she started telling friends it was what she intended to do, and pretty soon she was getting published.
Her first gig was an outdoors column that she launched in the Press in 2005. In pitching the column, she told then-editor Lynne Snifka,"You guys need this because it's Alaska and people want to get outdoors. But I've talked to people and they don't necessarily know where to get started or where to go. I should do it for you because I've been doing it already and I do it all the time so I have tons of story material and you need it now because it's summer."
The column proved a hit and she wrote it weekly for several years, followed by another column called "Crash Test Dummy" where she dove into extreme experiences and wrote about them. Around 2009, she said, her work "was a couple hundred columns deep, and I said, 'Wow, I've pretty much already written a book.'"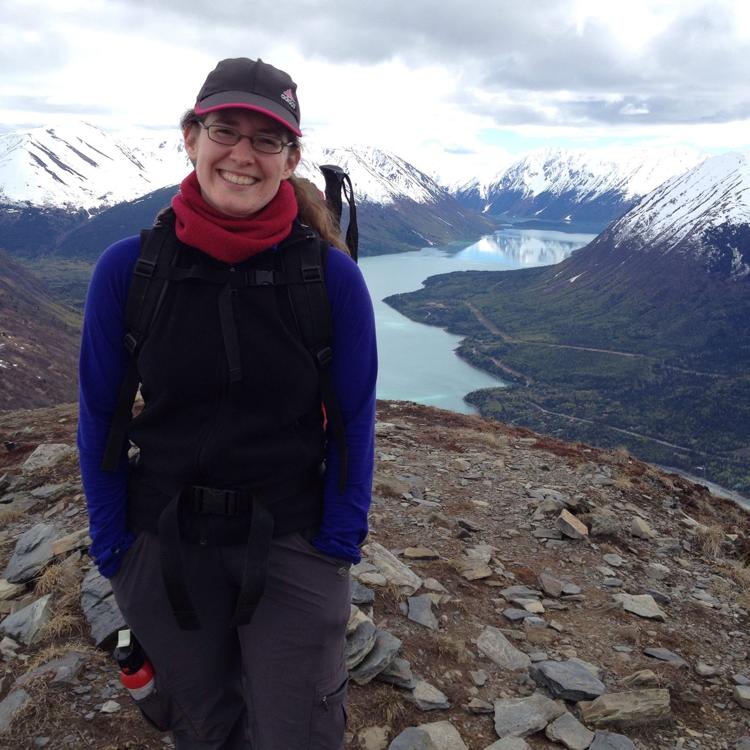 That book, drawn from her columns, was 2010's 50 Hikes Around Anchorage, a guide for city residents looking for quick getaways (an updated version was published last year). The book sold well and, with the help of an acquaintance, attracted the attention of Mountaineers Books. The publisher was looking for someone to write a guide for Alaska's most populated region, and they approached her about it. Day Hiking Southcentral Alaska, published last year, was the result. Both books have earned the Excellence in Craft award from the Northwest Outdoor Writers Association.
Moon Alaska is her most ambitious project to date, however, The statewide travel guide has gone through numerous editions since the 1980s under several writers. For the 2017 update, Maloney was part of a competitive process she likened to The Hunger Games where writers provided proposals and the publisher kept weeding them out until she was the final candidate. "For whatever reason I made it through. I'm absolutely delighted I did."
Maloney's guide is brimming with information and moves along briskly thanks to her sense of humor and energetic writing. "The people who oversee that series are wonderful," she said. "They want us to be ourselves and have a clear voice that comes through the book."
Of the the lighthearted, but highly informative guide she said, "I try to give people information so that they can make their own choices. I've tried to educate people. And the best way to do that is with a bit of humor and a bit of personality. Because who would sit down and read an encyclopedia for fun?"
She continued, "A lot of people maybe come up with expectations, like a bingo card of experiences they expect to have. And that's good and they can have all those experiences. But I think it is the time in between those experiences sometimes that makes the trip most special. A lot of people miss the chance to interact with people up here. I really think that, not just seeing the place and not just seeing the wildlife and not just seeing the wilderness, but also getting to know just a taste of the lifestyle that comes with that is what will help people have an authentic, interesting Alaska experience."
Her first edition of Moon Alaska garnered a silver award from the North America Travel Journalists Association. Just as the second edition arrived this spring, however, the pandemic crushed tourism. Some unfortunate timing. But Maloney's book will be plenty useful to Alaskans looking for a staycation (although they will want to check for closures of places she recommends).
Meanwhile, her hiking guides can help residents find places to escape into this summer. She did stress, however, the importance of wearing masks when around others, even outdoors, to help prevent the spread of COVID-19. "It's the same type of risk management that people engage in when they decide to store their food in a bear-proof canister instead of rolling around in bacon before they crawl into their sleeping bag."
She also suggested having alternative plans when heading out, to help reduce the risk of transmitting the virus. "If the trailhead is full," she said, "keep driving and go somewhere else, just so you can spread out the people load. And you know what, it will probably be a little more fun because you won't be in a jam-packed crowd of people."
Meanwhile, Maloney is busy expanding her website and developing new ways of sharing her love for Alaska's outdoors. "I just happen to really enjoy being outside," she said, "and hiking was a way to pursue that source of joy that has been with me for my entire life."