On the third Saturday of September, Jan Myers and I headed up the Falls Creek Trail, a path that provides the best access to one of my favorite places. Over the past 10 to 15 years, I've come to love the entire Falls Creek basin, from its wooded lowlands to the high ridges and summits that enclose and tower over the valley, among them 5,005-foot South Suicide Peak. 
The valley is a short one, less than five miles long, but it's a steep ascent from the Seward Highway trailhead up to alpine terrain, with some of the most strenuous hill climbing in the first forested mile, which helps keep the place from getting crowded.
Accompanied by our two enthusiastic companions, Denali and Guido, we began our ascent around 10:30 a.m. on what promised to be a beautiful autumn day. Morning temperatures hovered in the low 40s, the landscape's plants had begun their seasonal shift to assorted shades of gold, red, and orange, and the sky was a mix of blue and white, the sun moving among scattered clouds. 
Several weeks had passed since our last visit, during the peak of summer's wildflower bloom. This time we'd be hunting for tundra blues. 
Falls Creek is one of several places in Chugach State Park that I check for blueberries each year. Some years the pickings here are lean, but from time to time I've had good success. And because it's a longer and steeper trek than most blueberry pickers would care to go—more than 2,500 feet elevation gain and six miles or more of hiking, round-trip—I can count on plenty of solitude. 
Even when there aren't many blueberries, I get to spend time in a wondrous place where Dall sheep often outnumber humans, even on the most enticingly beautiful summer and autumn days.
Crisp invigorating air, warming sunshine, fiery landscape colors shining in the soft autumnal light, and the possibility of tundra blueberries and alpine wildlife: it doesn't get any better than this, which is why September is one of my two favorite months (the other being May, as I've described elsewhere).
The day—especially the afternoon, up in the tundra—was everything we'd imagined and hoped it would be, with one exception. 
On a late July hike with Denali, I'd watched a wolverine lope across rock scree and patchy snow, the first I'd seen in all my visits to this valley. Wolverines being uncommon even where their populations are healthy, it was a notable and exciting encounter, even if brief and from a distance. Two days later I returned with Jan, who hasn't yet had the good fortune and pleasure to see a wolverine in the wild, both of us hoping it might still be in the area. Alas, we saw no sign of the animal.
Jan hoped she might get a glimpse of wolverine on this autumn hike, yet once again the animal remained hidden.
But the blueberry patches were rich with small purplish-blue fruits. 
We picked nearly a gallon of tundra blues between us and there were many more to gather (and no other pickers in sight). But the day was such a beauty, we were moved to explore the alpine basin, while keeping watch for wildlife and other wonders, including late-blooming wildflowers, and simply breathing in the glory of the day. The tundra glowed in the mid-September sunlight, an enchanting sort of radiance.
When after several hours in the company of mountains we prepared to descend, Jan asked the inevitable question. "Do you think you'll come back for more berries?"
"Maybe," I answered. "I'm not sure, but I might be tempted."
 A few days later it snowed. And snowed. And snowed some more. It began snowing heavily in the Chugach Mountains the day before the Autumn Equinox and it continued later in the week until the entire Front Range, much of the Hillside, and all those remaining tundra blues were buried in snow.
Checking my nature journal, in 2020 I last picked tundra blueberries on Oct. 8—in Falls Creek Valley, it turns out—which is likely the latest I've ever done so. My journal also reveals that early October was unusually mild last year, with a record-tying 56 degrees in Anchorage on Oct. 3 One year later, my berry-picking season wrapped up nearly two weeks before September's end—and my home thermometer recorded a low of 25 degrees on Sept. 22, the equinox. 
So go the vagaries of natural cycles.
This past weekend, September's last, Jan, Denali, Guido and I hiked the South Fork Rim Trail on a beautiful but chilly day, with morning temperatures in the low 30s and deep snow covering the ground. Our informal measurements indicated a snow depth of 15 to 18 inches in places. Fortunately for us, enough walkers and skiers had already been out recreating that the snow was packed enough for easy, if slightly "punchy," walking.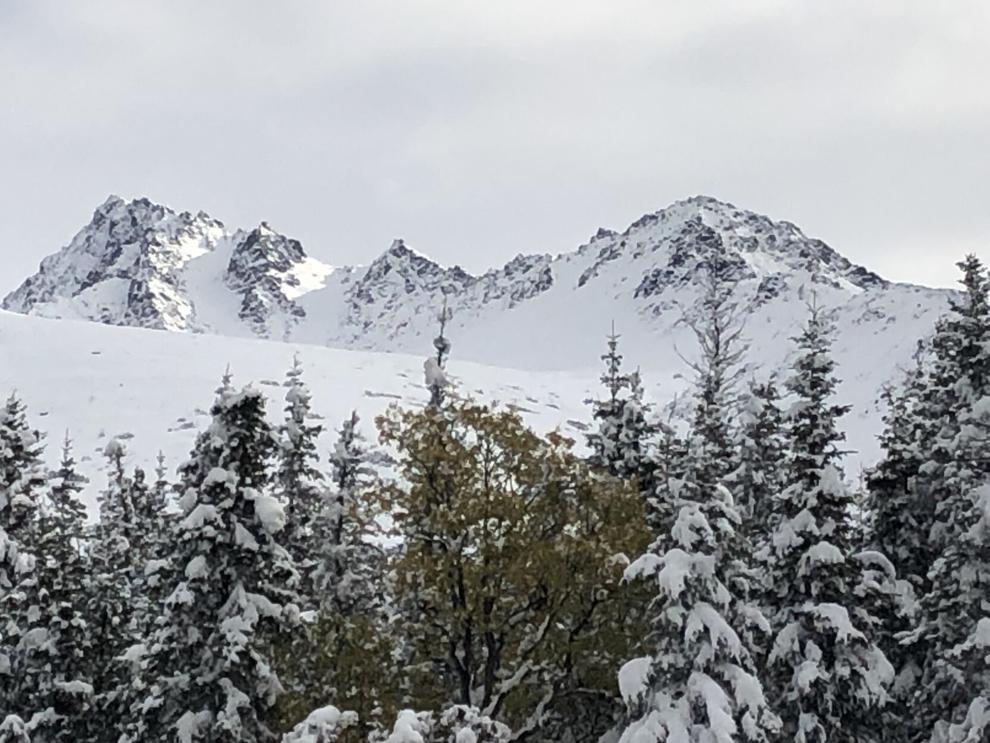 The landscape had been turned into a winter wonderland and we savored the splendor of this day, too.
Still, to be honest, I'm not ready for winter. I'd rather be doing some late-season berry picking than tromping through snow. I'll likely stick to Anchorage's lowlands for a while, where it's still a magnificent fall, the landscape ablaze in autumn's beauty.
If nothing else, September's heavy Front Range snowfall has given me an early start on my annual "winter bug" tally, an informal survey of the insects and arachnids that I encounter throughout our longest, harshest season. 
I have never seen such a variety of winter bugs as I did along the South Fork Rim Trail last weekend, which makes good sense since it's still September and many insects and spiders remain active, even with all the snow. 
Jan and I found not only the usual midges and snow spiders we see in deeper winter, but also some gnats, a moth, a shield bug, a daddy longlegs, and, most surprising of all, an ant. I have never before seen an ant negotiating snow, a discovery that you can be sure I've entered in my nature journal, along with September's other seasonal marvels.
Anchorage nature writer and wildlands/wildlife advocate Bill Sherwonit is a widely published essayist and the author of more than a dozen books, including "Living with Wildness: An Alaskan Odyssey" and "Animal Stories: Encounters with Alaska's Wildlife." Readers wishing to send comments or questions directly to Bill may do so at akgriz@hotmail.com