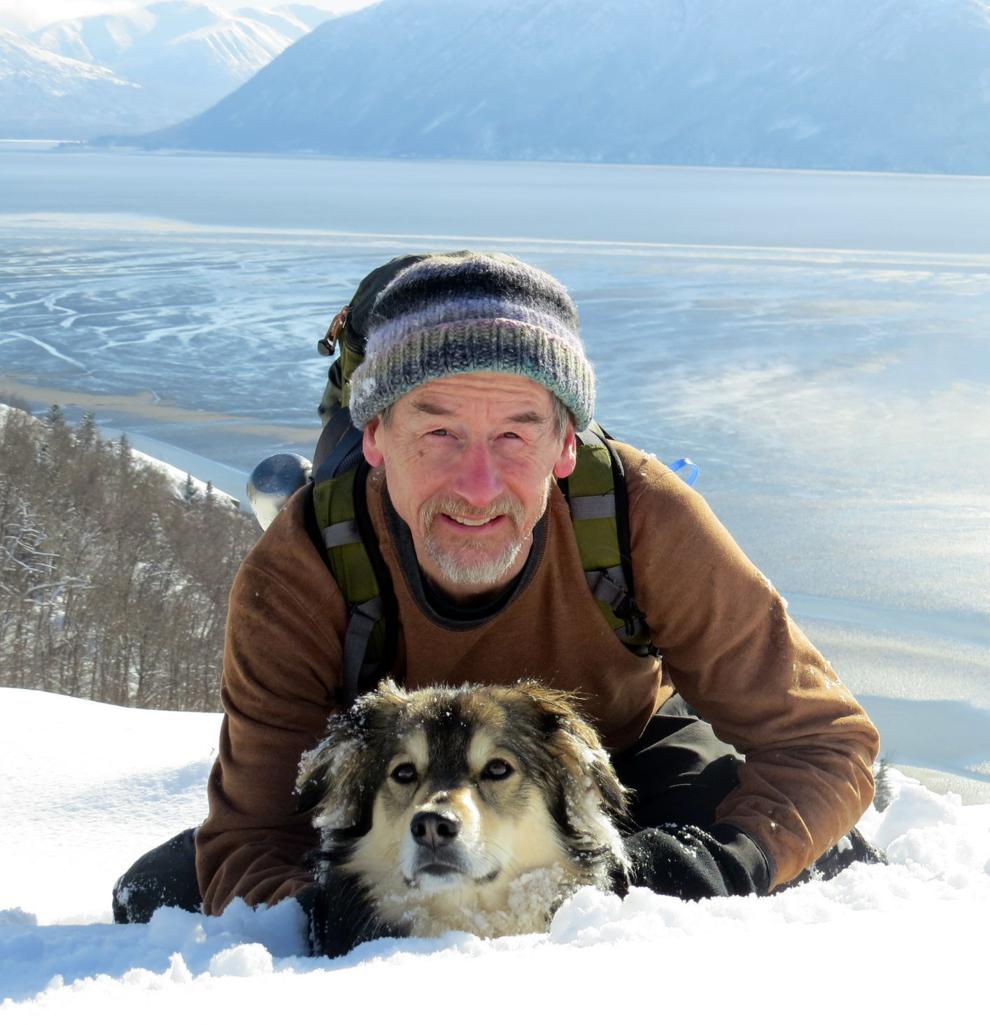 Shocked by his death like so many others who live in the Anchorage area, and beyond, I've been thinking a lot about Shawn Lyons in recent days. Shawn was more of an acquaintance than a friend, though in one regard it might be more accurate to say we were "kindred spirits." Or souls.
Shawn and I shared a deep passion for the mountains, particularly those in Anchorage's "backyard wilderness," Chugach State Park. And we loved to explore—and write about—Southcentral Alaska's high country, though our styles couldn't be more different. 
Shawn loved to roam far and wide and fast; and over the decades he came to know Southcentral's mountains as well as, or better than, just about anybody. This is evidenced by his "Walk-About Guides to Alaska" series, which documents hundreds of routes that he explored, often alone but sometimes with friends. I, on the other hand, am more of a homebody who largely sticks to the Chugach Front Range, except for occasional forays into Alaska's remote wilderness reaches. My preference is to form an intimate relationship with a few mountains and, especially when in their upper reaches, to move more slowly, stay a while in certain places.
Only once did Shawn and I hike together. Back in the early 1990s, I asked if I might join him on a trek. Shawn was characteristically welcoming and we agreed to do an 18-mile circumnavigation of Wolverine Peak. Eventually I included my recollections of that hike in a book of essays about Alaska's state parks. Here's some of what I wrote:
"On a warm and sunny July morning, Shawn Lyons nimbly hops  from boulder to boulder while crossing a talus pile near Williwaw Lakes. It's the sort of summer day that's perfect for picnics or napping in grassy meadows, but in keeping with Lyon's backcountry philosophy, we're moving fast. No lounging among the wildflowers today. 'A lot people say to stop and smell the roses, but I think you remember more by traveling quickly. It forces you to pay attention," he explains. "Having a goal helps keep a person awake.'
"He's cut back on his engines to accommodate my slower pace, but still must occasionally stop and wait. In 8½ hours of hiking we'll see more Dall sheep (a half dozen) than people, hear more raven calls than human voices.
"(Then) a 40-something classical guitarist and university music teacher, Lyons has the sinewy build (6 feet tall, 145 pounds) and graceful stride of an endurance athlete. He's hiked the entire Appalachian Trail (at age 17!), run a half-dozen Boston Marathons, climbed Mexico's three highest mountains, and, since moving to Alaska in 1984, won the 105-mile Iditashoe (a backcountry snowshoe race) a record nine times. But his special passion nowadays is to roam Chugach State Park.
"Lyons's work commitments don't usually allow him more than a day or two away from town (this was in the early 1990s, remember) but that's no problem because he's not a backpacking sort. He prefers to go light and fast and long, on extended day and overnight hikes beyond the trail system. Usually he goes solo, not because he's antisocial but for the flexibility it offers. 'I don't spend a lot of days in the park, but I do a lot of miles. One of my days is like a 2- or 3-day trip for most people,' he chuckles. 'Most times I'll keep hiking right through the night.' His longest hike to date was a 40-hour, 80-mile off-trail marathon from the Knik River, at the park's northern tip, to Girdwood at its southern edge. And in 1990, he climbed all 12 of the Front Range's 5,000-foot peaks—a journey of 45 miles and 21,000-foot elevation gain—in 27½ hours. (His speed record has been topped several times in recent years, but Shawn was the pioneer.)
"A passionate ridge-walker, Lyons is drawn toward all mountains, but he's become especially attached to the Chugach Range, with its familiar moods and never-ending surprises . . . 'I can go from work to the mountains in a half-hour,' he says, 'and once you get a few miles from the trailhead, you'd never know you're within a few miles of the city. It's just you and the mountains and the wildlife.' "
I met Shawn in the 1980s. Then an outdoors writer for the Anchorage Times, I interviewed him following one of his Iditashoe victories. What struck me then, and continues to stay with me, was his humble, self-deprecating manner, his enthusiasm, and his graciousness. He's one of those people who seems—seemed—to have a lightness of being.
Over the past couple of decades we crossed paths many times, though typically in town and not the mountains. I'd be walking with my canine companion (first Coya, then Denali) and Shawn would be running. Or in recent years, during the warmer months, often he'd be cycling. Our exchanges were typically brief, sometimes nothing more than shared hellos, but those short interactions always left me smiling, uplifted, maybe partly because I knew each of us was doing something he loved, out in nature.
Not until the last few years did I finally go to the Villa Nova Restaurant, in large part to hear and watch him play classical music on his guitar. We talked briefly each time and it was a treat to share this other side of Shawn. It surprised me when I learned he'd bought the restaurant and then again when it closed. But it came as no surprise to hear he'd then taken his guitar performances to another local restaurant, Turkish Delight.
I've learned a lot more about Shawn since his sudden death on Feb. 2 at age 66, while in an Anchorage hospital, partly from a well-done story by Beth Bragg in the local daily newspaper and also by listening to a conversation he had on KSKA's "Hometown Alaska" with Kathleen McCoy in December 2019. I recommend both to those who'd like to learn more about Shawn, the "renaissance Alaskan," including his family's love—to become his own—of "words," of literature. And his own creative writing as a poet.
I've also discovered that he believed "all life is sacred." This too is something that we share, another important way that we were—we are—kindred souls.
Anchorage nature writer Bill Sherwonit is a widely published essayist and the author of more than a dozen books, including "Living with Wildness: An Alaskan Odyssey" and "Alaska's Accessible Wilderness: A Traveler's Guide to Alaska's State Parks." Readers wishing to send comments or questions directly to Bill may do so at akgriz@hotmail.com.