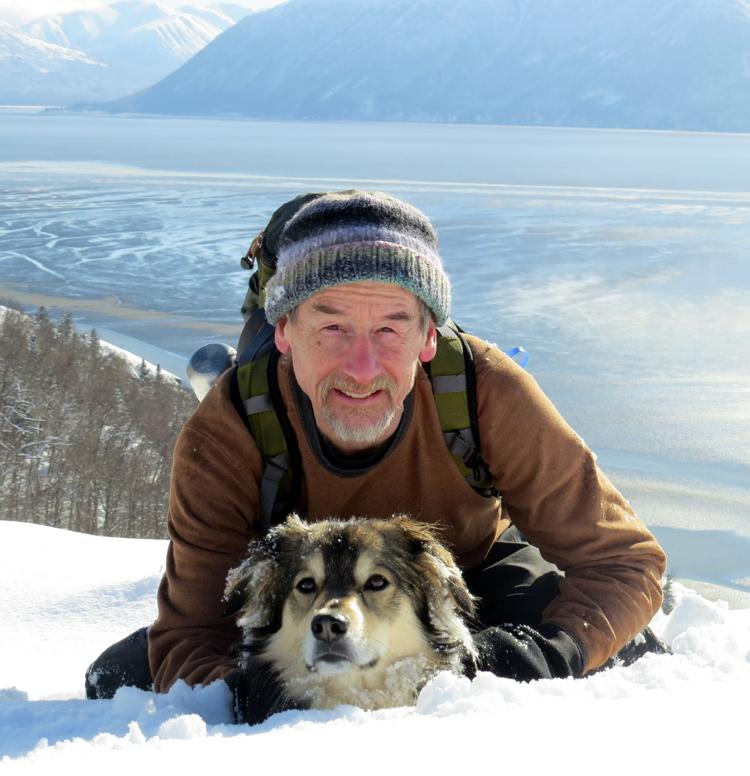 This is how I spent much of my afternoon, the first two days of 2019: walking slowly through local forests, head bowed toward the ground and eyes searching the snow for signs of spiders and insects. Though the mild early January temperatures seemed ideal for a "winter bug" sighting, I came up empty.
I knew I'd have wait at least a week and likely more to resume my quest, because weather forecasts called for temperatures to plummet into single digits, Anchorage's first real cold snap of the winter; in fact the coldest stretch of weather since January 2017. Still, I've remained hopeful that temperatures will rewarm before the month ends and I'll get other chances for a January bug sighting.
If I see even one live spider or insect roaming the local landscape over the next few weeks, I'll add to my string (which began in February 2012) of 83 consecutive months with at least one outdoor "bug" sighting in the Anchorage area, a rather remarkable streak, considering it includes the depths of seven winters. Of course those depths aren't nearly as deep as they once were, as Anchorage and the rest of Alaska continue to warm substantially.
Still, it seems remarkable to me that such tiny, ectothermic, invertebrate creatures are actively moving about even during our coldest, darkest, harshest season, sometimes when temperatures have fallen below freezing.
Some people reading this column for the first time may be wondering: is this guy serious? Or daft? Others familiar with my writings will understand that I am passionately interested in all aspects of what we humans commonly call "the natural world," including the various forms of wild nature that occur within Alaska's urban center.
Documenting the year-round outdoor activity of the spiders, midges, and other "bugs" that move among us is simply one small part of my larger effort to learn more about the nature of Anchorage. And it seems a more worthwhile—and yes, fun—way to spend my time than getting bleary-eyed in front of assorted screens. (I admittedly do far too much of the latter, as I was reminded this past weekend while watching the full slate of NFL playoff games and two college basketball contests and also sharing text messages and posting FB images via my iPhone.)
It seems to me an appropriate way to re-launch my "City Wilds" column in the Anchorage Press, to share my enthusiasm for wild creatures great and small—and sometimes exceedingly tiny. But I'm not interested only in wildlife. In essays to come I'll explore the nature of local plant life and fungal organisms (those columns likely to appear in our warmer, greener months) and assorted natural phenomena, for instance those that occur in deep cold, as we've experienced in Anchorage lately.
The arrival of single-digit and even sub-zero weather in recent days has produced some remarkable and beautiful visual effects, for instance the ice fog that has shrouded Anchorage, with clouds of tiny hexagonal crystals that float gently through still air and frost everything from trees and bushes to fences and cars.
The ice fog has also created mesmerizing sundogs and light pillars. The latter describes a phenomenon in which a vertical beam—or pillar—of light seems to extend above or below a light source. We witnessed scores of nocturnal light pillars in midtown Anchorage the night of Jan. 4, while driving to my girlfriend Jan's home after dinner (part of my 69th birthday celebration), all of those pillars emanating upward from artificial lights. Jan later did some online research, which explained that the narrow, vertical beams are created by the reflection of light from the dense multitudes of crystals suspended in the ice fog. Each of us (at different times) later witnessed a solar pillar, formed by the reflective action of those ice fog crystals on the low-angled light of the setting sun.
Though explained by science, the pillars and floating ice crystals have a magical quality that in my experience stirs the imagination and lifts the spirit. This is one of the reasons I find it so important to leave my house and explore the local landscape (and sky), whatever the season, whatever the weather, even if only for a short while. It's also one of the reasons I've become a dedicated walker. Moving slowly, I'm more likely to notice nature's wild wonders, whether in the wilderness or the city.
Though many Alaskans—like people elsewhere—seem addicted to watching screens of various kinds, to me the most enthralling experiences are to be found in the wildness of the real world that surrounds us all the time and we humans too often take for granted. Or simply ignore.
I therefore invite you to join me on a weekly journey through the wilds of Anchorage and the neighboring Chugach Front Range, where we'll be as likely to examine the nature of "snow spiders" and Southcentral Alaska's only amphibian (you'd be amazed to know how wood frogs survive the winter) and the mysterious lives of morel mushrooms, as the more obvious presence of ravens, bears and moose. I also invite you to send me questions about the nature of Anchorage, ideas for future columns, and your own insights into Anchorage's abundance of wild nature.
Anchorage nature writer Bill Sherwonit is a widely published essayist and the author of more than a dozen books, including "Living with Wildness: An Alaskan Odyssey" and "Animal Stories: Encounters with Alaska's Wildlife." Readers wishing to send comments or questions directly to Bill may do so at akgriz@hotmail.com.