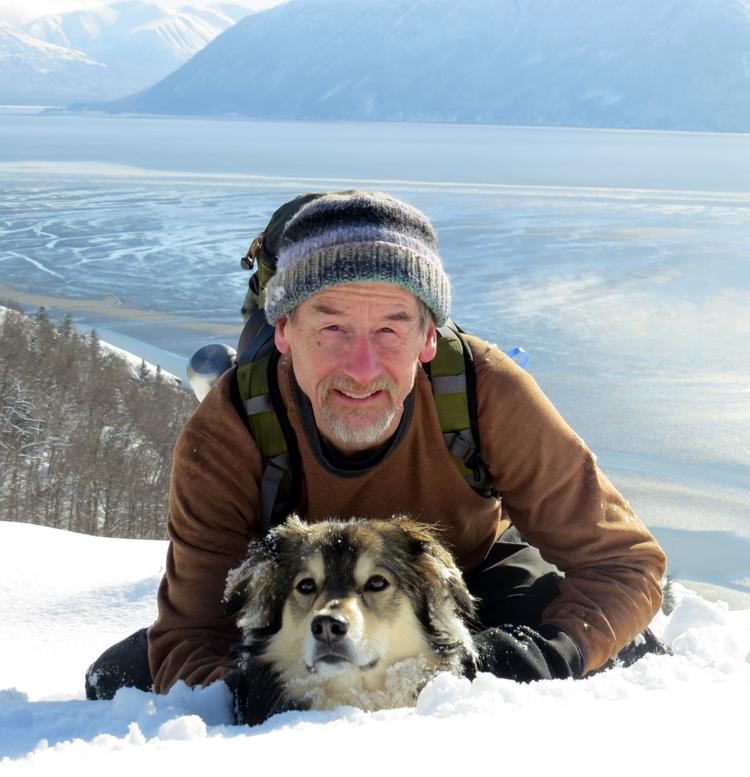 The day is an autumn beauty, patches of blue sky mixed with swirling clouds, enough bursts of sunshine to brighten the spirits and gradually lift temperatures toward 60 degrees, and enough morning moisture still clinging to subalpine grasses and bushes to soak my pants (which I'm confident will quickly dry once we reach open ground).
With the Anchorage area's summer-long drought finally behind us, the weather outlook for the next week or two consists of mostly rainy days. The local landscape certainly needs these September rains, but the promise of a suddenly rare sunny day has pulled me toward the alpine heights of Chugach State Park.
Not that I need much nudging. September is one of my favorite months to head for the hills, a time of berry-rich patches and fiery tundra colors and, on a day like this, brisk, invigorating air tempered by sunlight that warms the skin but doesn't overheat it.
So here we are, Denali, Guido and I, headed up Falls Creek Valley, with thoughts of perhaps ascending to the summit of South Suicide Peak. At least that's what I'm thinking. My two canine companions are simply happy to be roaming the wilds, sniffing and scrambling their way uphill, staying in the moment.
Whether or not we reach South Suicide's 5,005-foot top, I'm confident we three will have a grand day in the Chugach Front Range. Over the last decade or so, this valley and the ridges and peaks that surround it have become a favorite destination, one that I visit at least a few times each year. This is my fifth trip here in 2019, but the first time I've set my sights so high.
While I admire alpine adventurers who are driven to continually seek new ground and new heights, my preferred form of exploration is to build ever-deepening relationships with a small number of peaks and valleys, much like one would do with a cherished friend.
I want to experience these places in a variety of circumstances, a range of seasons and weather, and get to know the local inhabitants, some of whom may show themselves for only a few weeks, or even days: the wildflowers and wildlife, the berries and butterflies. In making repeat visits at different times of year, I continually learn something more about the locale. And myself.
I don't recall who first suggested this, but I've come to see the truth in it: to the careful observer, climbing a single hill 100 times can offer as many discoveries as climbing 100 different hills.
Every time I ascend the Falls Creek drainage, I notice something new or different. Or something familiar has changed in unexpected ways.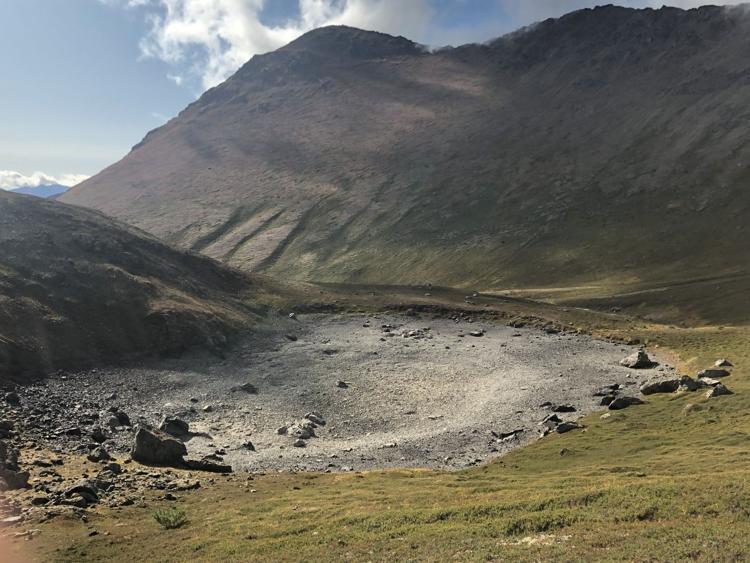 A good example is the tarn that's something of a local attraction, which many hikers make their turnaround point. When Jan Myers and I and our two dogs visited that alpine lake in July, we discovered it to be severely shrunken by the summer's dry heat, a shocking sight. Given recent September rains, I've wondered if the tarn might have begun to refill its small basin. But when we reach that familiar spot, the lake is entirely gone, dried up. In amazement, I walk across the lake bottom, something I've never imagined possible.
Another surprise of a different kind: in late July, large stands of common fireweed grew more abundantly, robustly, and brilliantly pink than I have ever seen those tall stalks of flowers. By September the fireweed and neighboring grasses have dried and gone to seed, but they cover parts of the subalpine hillsides in a gleaming beige cloak that is beautiful in its own way.
We meet a handful of people and a couple of dogs on our ascent through the valley's woodland and subalpine zones but once up in the alpine bowl and then while climbing South Suicide's lower flanks, I can see only two hikers, and those from a distance, far below us. Essentially we have the entire alpine basin and the mountain above it to ourselves, even on a gorgeous Saturday, which is something of a surprise—and a delightful treat for one who loves solitude.
It's my hunch that many inexperienced hikers never reach the alpine heights, largely because the Falls Creek trailhead isn't far above sea level and there's an initial steep and lengthy climb through forested and bushy terrain that wears out many people before they've had a chance to discover the wide-open glories of the valley's upper alpine basin.
Clouds churn above us, sometimes hiding the peak's uppermost slopes, but by the time we reach the rim of rocks that encircle the valley's upper bowl, now close to 4,000 feet high, I'm committed to going to the top—as long as Guido doesn't poop out.
A small-bodied and short-legged dog, Guido has nonetheless shown himself to be a talented (an inspirational) hill climber. On this day he once again proves his mettle, sticking close to my side while Denali—who's been to the top before—wanders out ahead, leading the way.
The three of us step onto the rocky but spacious summit after climbing nearly 5,000 feet in less than four hours, a pretty good time for our group.
Our views from the top are limited by thick cloud cover, but we have a clear view of neighboring North Suicide Peak and occasionally get brief glimpses of the five drainages that converge on the Suicides and Windy Gap, which connects them: Falls, Rainbow, McHugh and Rabbit Creeks, and a tributary of Indian Creek.
It's a startling and gorgeous spectacle when the skies are clear, the most enthralling mountaintop panorama I've experienced in the Chugach Front Range (though I've admittedly reached far fewer summits than some). Even today, when clouds roll around us, pushed by strong winds, it's an invigorating and spirit-lifting place to be. And we have it all to ourselves for the three-quarters of an hour we spend there.
Soon enough we'll begin our descent. But for now we celebrate with snacks and water and big smiles. In these moments we're three happy hill-climbers, no doubt about it.
Anchorage nature writer Bill Sherwonit is a widely published essayist and the author of more than a dozen books, including "Living with Wildness: An Alaskan Odyssey" and "Animal Stories: Encounters with Alaska's Wildlife." Readers wishing to send comments or questions directly to Bill may do so at akgriz@hotmail.com.