I'm having a beer with my friend Phyllis Rhodes. Scratch that. I am fan-girling on Phyllis Rhodes because she let me buy her a beer. A gay icon in this city. I don't just say that to blow smoke up her skirt: I've always recognized Phyllis as a mentor. The Grande Dame of the Anchorage gay community. A very passionate leader and an activist. Is activist the right word? Stay tuned.
We're sitting on the patio at Matanuska Brewery in Midtown Anchorage. It's positively SCORCHING out here under a bright blue sky, and Phyllis has just killed any chance of this being a boring conversation.
"When I finally came out, I came out like gangbusters," she said.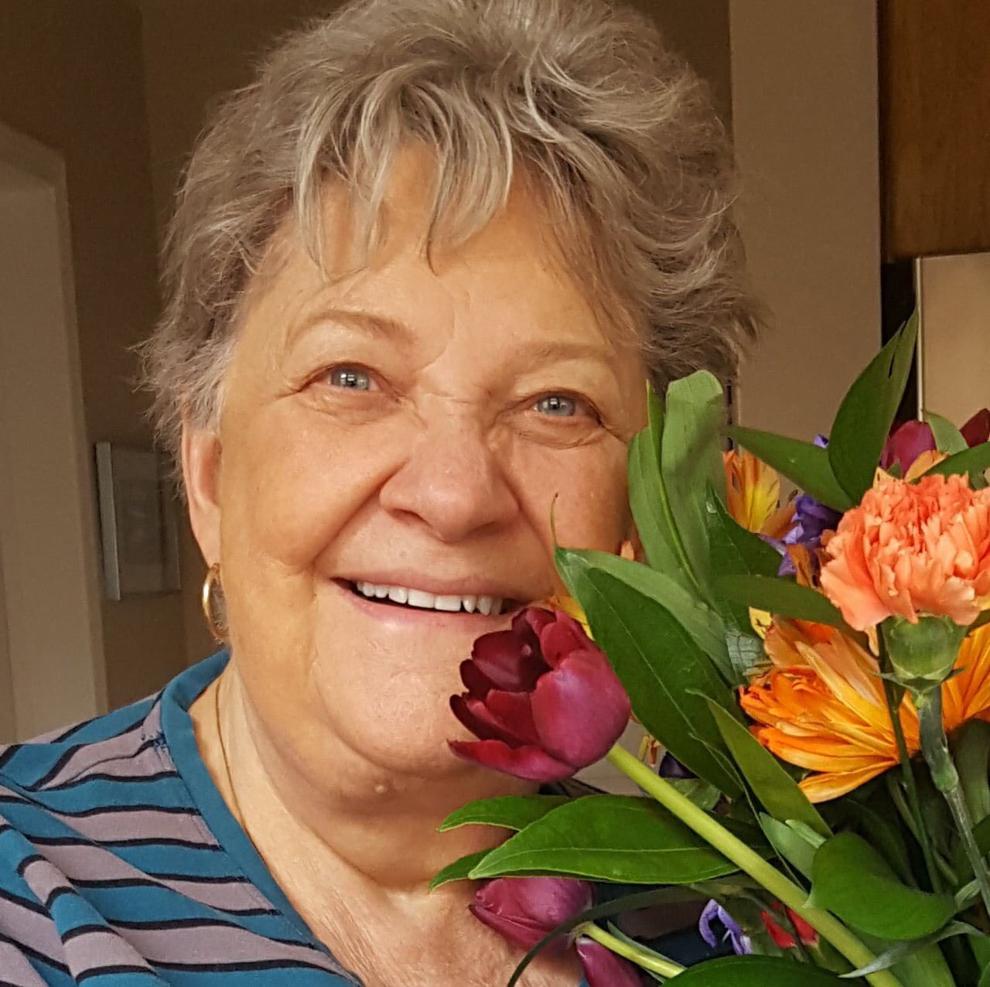 She came out to herself when she was about 48 or 49. She exploded out of the closet and into our collective gay memory upon her retirement from Federal Court in January of 1996. She's been around. She's seen a few things. She is 82 glorious years old and has the energy of someone much younger.
She stays busy. Phyllis is always doing something. Whether it's advocating for the LGBT community, working with city leaders and various organizations in her tireless goal to achieve equality, or sitting down for a beer and a good long chat with an adoring fan, Phyllis isn't idle. "I'm involved in our community. Quite a bit. And wherever I go, I'm involved. I go to the Senior Center — I'm involved there. I'm on their fitness committee."
Of course you are, Phyllis. I can attest to her involvement from personal experience. I've asked Phyllis to be chili cook-off judge, a picnic basket judge, a pageant judge, a guest on a roast dais, and probably more that we've both forgotten over the past 16 years. She's said yes to everything.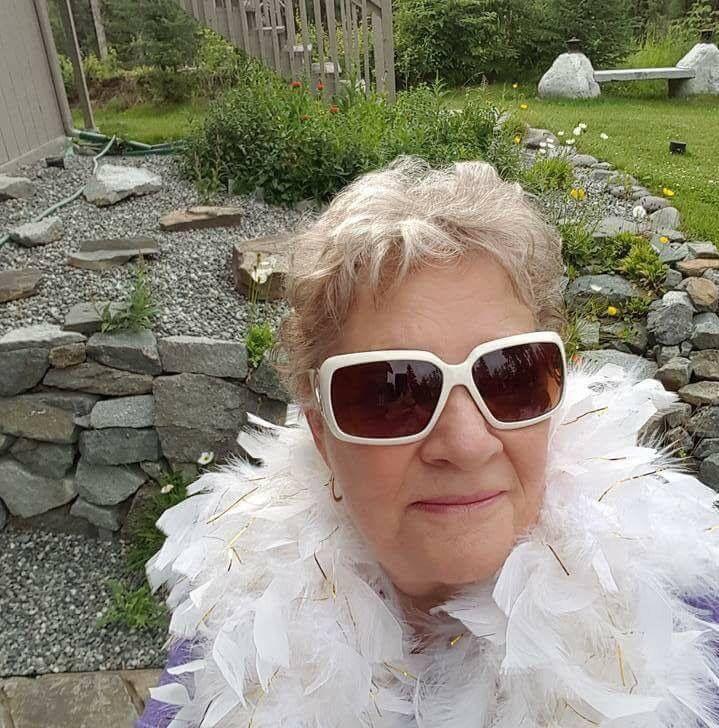 What do you find to be true, I asked her?
"Personal experience. If I sit down and talk to you, or anybody in my community here, I'll believe it. But to tell me what's happening anywhere else in the world — gay issues — it probably has been slanted one way or the other. I only put stock in things that I can touch." Hands-on experience.
That's one reason she believes in working grassroots. It's stuff she can see and touch. "I cannot affect what's happening in the world, I cannot affect what's happening in Washington DC or nationally," she said. "I'm starting to have a tiny effect on what's happening state-wise. And I have a much bigger effect on what's happening in Anchorage Alaska."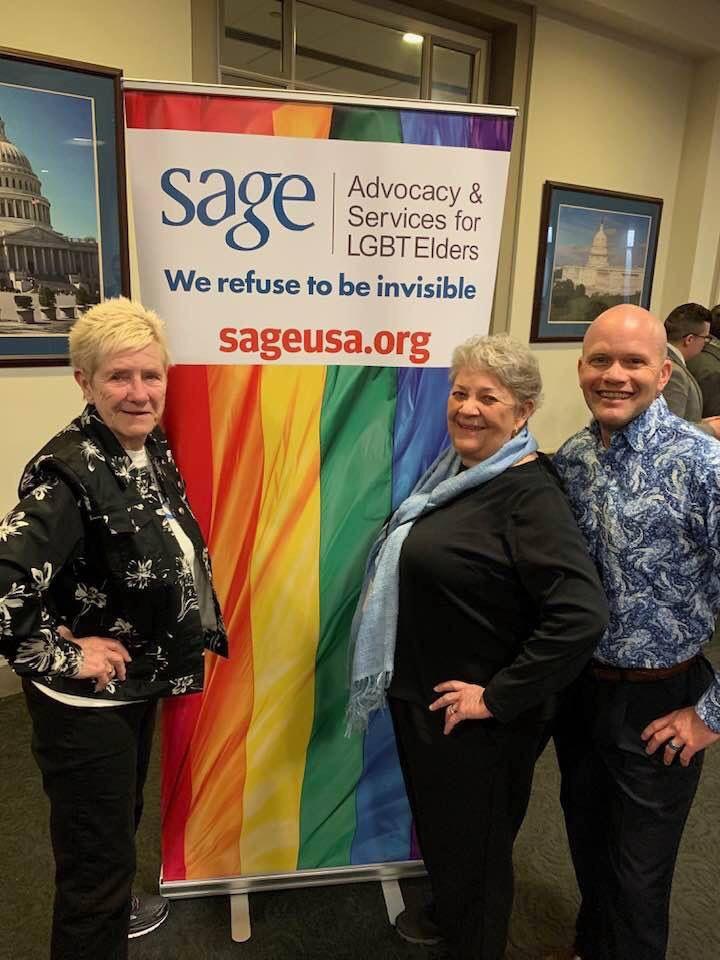 "I never set out to be an activist."
She had just retired and wanted to do something meaningful. She wanted to volunteer. She did try a few things, but none of them really caught, that is until she realized that what she wanted was right in front of her. "Find something that makes your heart beat a little faster, something you have a passion for — that's where you volunteer. If you have a passion for holding babies, volunteer to hold babies. I have a passion for our community." She found her calling.
Activism grew on her organically.
"I don't feel like an activist, but I do take action."
She's paved a path forward for people who are just now finding their voice as young gay people. Does she feel like there's a responsibility to BE Phyllis Rhodes?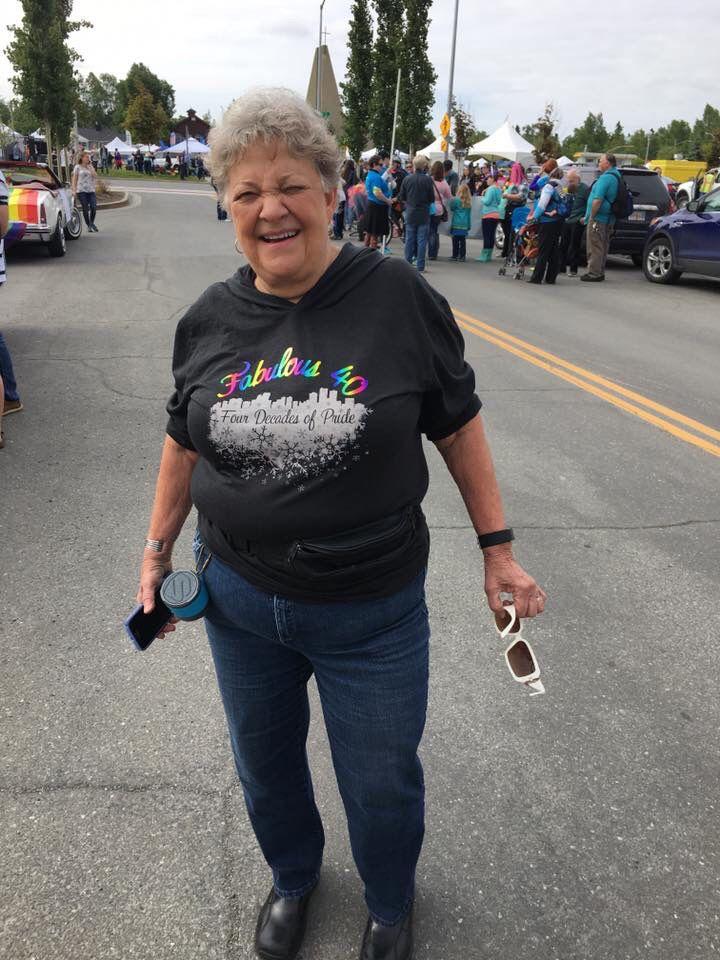 "Yes. I think all of us at the older age need to be leaders, and what we're doing as leaders is mentoring and showing younger people how to be leaders. And they're stepping up. They really are stepping up to be leaders." Thank God, because this is exhausting. "It is! We've worked hard, and as you well know — whatever project we're working on, it's the same few people who do it. And we get tired, but I think these young people now are coming up and they're stepping in, and they may not be doing the exact same things we do, and they probably won't do it the same way, but we've gotta let go of that. If we want them to be leaders, we have to let them lead. We may not agree with everything they do, but you don't make leaders by second-guessing what they do and how they do it. They're doing it their way."
After more than fifteen years with Identity, several of those years as its Executive Director, Phyllis stepped aside from those responsibilities to "retire."
It was very hard for her to let go at identity. "I realized that I was the old crone sitting in the corner saying, 'well we tried that one time and it didn't work.' I did not want to be in that role, so I backed away."
She is absolutely happy with identity's progress. "They're growing by leaps and bounds!" she said.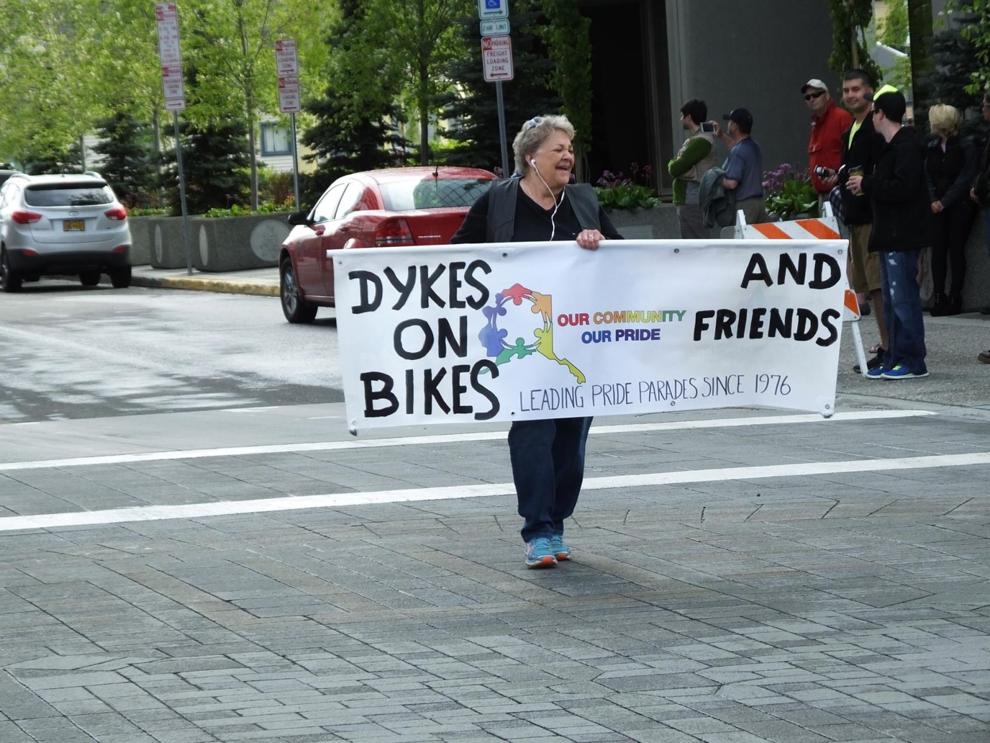 I thought she was one of the founders of Identity. "I was not," she corrected. Okay — now I look like an idiot. Because when I think of Identity, I think of Phyllis Rhodes as hand-in-hand.
"And let me tell you why," she starts in.
Dame Phyllis is giving me a history lesson on gay Anchorage on the patio of this here straight bar. What a time to be alive!
"Because Identity existed for years. In the 70's there was Identity. When I came along, they had just gotten a matching grant for a community center, and that was where I got involved. That was like 2001 when they got the grant, I believe, and I got on the committee, and in 2002 they opened the community center as it is now. And people in this town did not know what identity was. We were not known outside of the gay community, and not very well in the gay community at large. One of my goals was to make sure people knew who we were."
She started attending Anchorage community events. She would go to any organization that had a luncheon or public meeting. When she introduced herself, she would say "(it was kind of hard at first, because — just coming out of the closet) I'm with identity. We're the organization that provides programs and support for lesbians, gay men, bi-sexuals, and transgender individuals."
"The first few times I had really thick lips — it was hard to stand up to all these straight strangers and say it." I am trying to imagine Phyllis as anything other than the rock we all know her to be.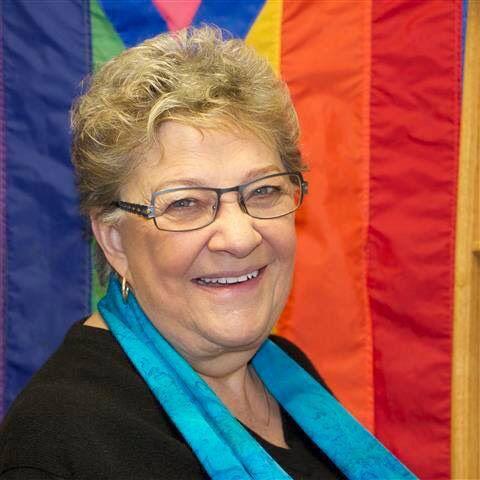 "But. BUT! We got known, and I think that's where we picked up a lot of our allies. I think if we would have still been going it alone, we wouldn't have the Anchorage ordinance we do. We picked up ally support, and through those allies, we picked up business support." Thank god for our allies, right? And honestly, folks — inclusivity is good for business. Not just for the money, but the funding does help.
"But no — I didn't start it," Phyllis reminds. "I just gave it a little more public life." You put gas in its tank. "More public life." My friend Phyllis is humble.
My friend Phyllis is also extremely polite. She's put up with my shenanigans for more than 15 years. So when I mention the Queen's Guar... "I LOVE the Queen's Guard! I absolutely love the Queen's Guard! Hands down! I think the fact that they are standing out there like 'nope — you gotta get through us to get to them' is amazing." Phyllis is clearly in awe of the Queen's Guard, as am I. Ask any drag queen in this town about the Queen's Guard. Ask any parent who has taken their children to Drag Queen Story Time.
"You know — if they had a fundraiser, I'd give to it."
Oh hell yeah, I agree, let's throw them a fundraiser!
"I think we should. If nothing else, I think the least we can do is take them out to a nice meal. Burgers and beer — whatever. They deserve something — they deserve some support."
She's just always thinking of what she can do for someone else. #fangirl
I ask her where she sees herself in five years (total rookie move).
"In five years," she pauses for what seems like an eternity, "I want to be celebrating the four-year anniversary of a state-wide non-discrimination legislation."
OK. In five years, we'll meet back here and celebrate with a beer.