Cory Crowder has a habit of getting people to take off their clothes for money. Each summer and winter season he gets his friends, both old and new, to come together for one of his amateur strip show fundraisers. In the eight years that they group has been getting together for these events, Crowder estimates that they have raised around $50,000. While he has held a few Imperial Court of All Alaska (ICOAA), Crowder does these events, as well as other non-profit and charity work, for a variety of reasons, and many charities, mostly those that benefit dogs. Polar Pug Rescue, Roscoe Fund, AARF, Midnight Sun Service Dogs, and more have all benefitted from them.
"I think it really started out because I wasn't the most well behaved child. I think it had to do with karma," he told me over coffee, " but it was subconscious. It wasn't the reason I started. I was also looking for a place where I belong. I never really felt like I fit in anywhere." It was actually his first time attending the ICOAA Coronation in the year 2000, when he spoke to employee Scott Turner of the Alaskan Aids Assistance Association that led to him being involved in the non-profit world originally. He ended up doing his field experience for psychology class with 4A's and would go to Mad Myrna's to pass out condoms and lube on the weekends. The organization also did free HIV testing through blood draw and one night, there was not a lot of interest. "I snatched the microphone from Kristara, back when it was just a small showroom, and I said that if ten people would get tested I would do drag the following week. We had eighteen people get tested, which was a record at the time. Nobody wanted to go to the bar to get blood drawn and get tested." he recalled. This led to him performing the next week wearing a borrowed dress and makeup painted by drag queen Silva Stone, while he took to stage and performed Proud Mary by Tina Turner. He didn't have a bra so by the end of his number the tennis balls he was using as fake breasts had turned on his chest. Corina the drag queen was born.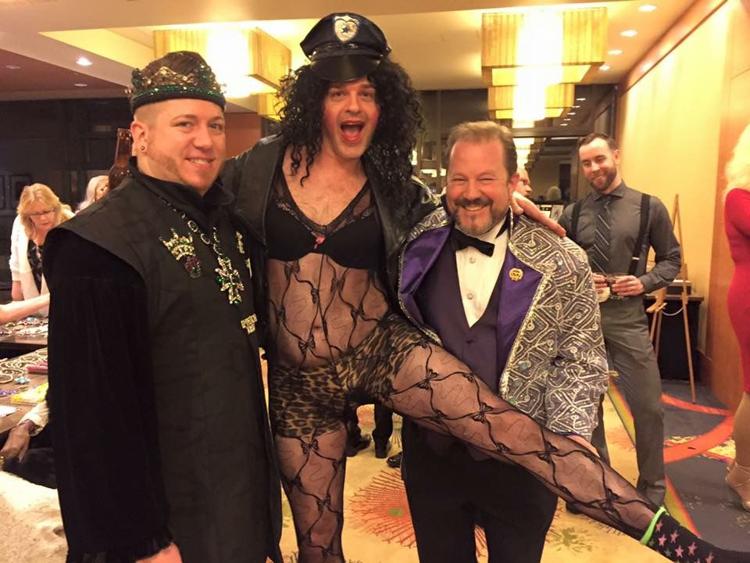 It was at this point the he decided to run for a title with the ICOAA, but he will admit that it was probably best that he didn't win the first couple times he tried. "I was never the most popular person. I was trying to get friends." he said. Scott Turner had become Emperor of Alaska, along with Sister Mary Sunshine Vicki Evans as Empress, and they saw potential in Crowder and created the Barony of Spenard in order to give him a title. This is when his drag persona Corina became Baroness Corina, The Rainbow Girl of Spenard. Crowder went on to win the title of Imperial Crown Prince twice, and eventually became Emperor twice as well, and that's when it started to make sense to him. "It wasn't until the first time I stepped up as Emperor and I realized it is not about me. Everything clicked."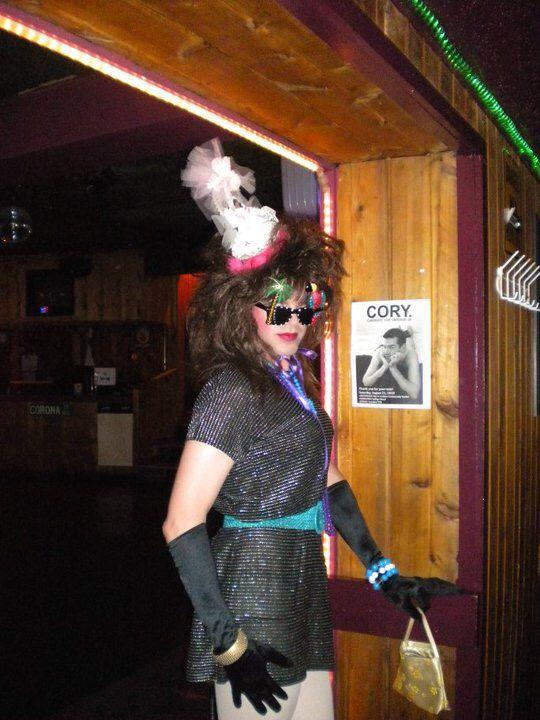 For many years Crowder worked in a cubicle. It took him longer than he likes to admit to realize that he was miserable and making the wrong choices again his life. His desire to give back to a community that had supported him and given him scholarships for college was reinvigorated. The amount of work that he puts in can be tiring, but he enjoys the end result of helping raise funds. He also looks to the next generation of members of the community that are growing up and hopes that they too will begin to produce fundraisers of their own. He is realizing that he is at the same age now that his mentors were when they started helping him find his direction.
It was during his first reign as Emperor of the ICOAA that he was having a drink at Myrna's while Myrna himself was bartending. Crowder was trying to think of a fundraiser to do, and when a strip show was suggested he decided to go with it. The bar had been bringing up professional male dance troupes and they weren't well attended so he decided to go in a different direction. All body types, men, women, drag queens, drag kings, and more have all been part of his shows.
One of the reason's behind the success of the shows has been the amount of work the he put into them in the beginning. For the first few Crowder was a one man promotions team. He would make up quarter page flyers that he had on him at all times to pass out, and he would have them on every table at events like the Friday Night Diva Variety Show at Myrna's. Whether or not you have a title from an organization is irrelevant. "All you need is a good idea, and a little elbow grease." he laughed. Now it has gotten to the point where the events have become easier. The majority of his dancers for the shows return for each event. He has this family of dancers being the people that are out with the flyers now, and each strip show has been standing room only when it comes to attendance. Even when he was dared by Evans to throw one on five days notice, they still raised $2500 that Saturday. Another member of the team is his host Darcy Kniefel who is happy to be a part. ""He has a brilliant entertaining idea, that started as one, and became many more. He is very smart in the way that he does it. It is fun for those that perform in it, those that attend it, fun for those that work it. Let's face it, we all want to have fun!" she told me.
Crowder has stated that by next summer he hopes to be done throwing this event as he moves on to the next phase of his life. His friends will tell you that he has said this before, but this time he might actually mean it. He recently decided to make an abrupt change in his career goals, and recently graduated from culinary school. By the time next summer rolls around he will have been involved in charity and non-profit work for twenty years, both as a titleholder and just as someone who cares and wants to give back. He stated "I like doing it, I like making people happy. I can do that with a strip show. That's what I love about culinary. You can bring people joy with food and ice creams."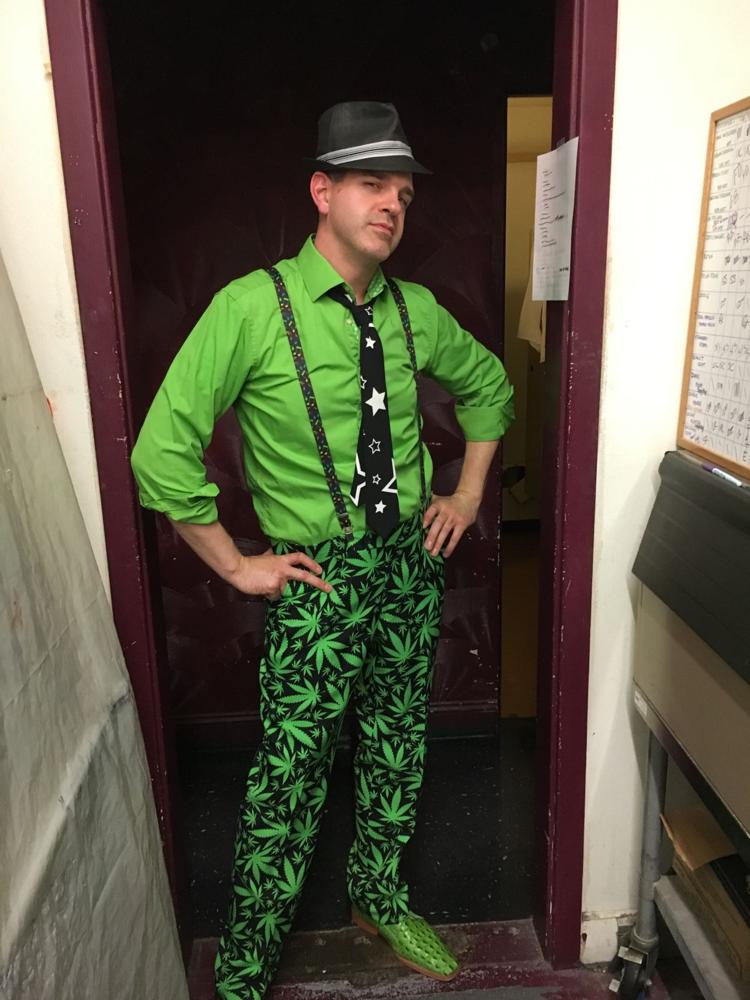 He has one more goal in mind when it comes to all of the charity work that he has been involved with, someday he wants to have a moment with his idol. "Maybe Cher will get wind of it, and I can meet her. I want to share a Dr. Pepper with Cher. Then Dr. Pepper can be a sponsor of the strip shows." He encourages anyone that would like, to please share his information with Ellen Degeneres in hopes that she can provide that introduction.
Crowder has said that he would like to move on to doing different things, and there are several in the community who have offered to take over producing these events in the future if that ever actually happens. Crowder has admitted that even if he lived in another state, he would most likely pick them up and do them in a new location. His Merry Strip-mas event is one of his favorites. "There is no rhyme or reason why I do it, I just like making a difference. I don't consider it some big huge thing, it's just something I do a couple times a year to help the puppies."
Cory Crowder Presents Summer Strip-Tacular will be Saturday July 21st at 10pm. Mad Myrna's. 530 East 5th Avenue. Must be 21+ with ID. This event will be a benefit for the ICOAA. For info please contact Crowder at ccrowder79@gmail.com