Last month at the Alaska Center for Alternative Lifestyles, a new artist had his first show as an adult. Robert (his name changed at the artist's request) has been a member and regular attendee of events at ACAL and had put together a photography show for the monthly First Friday Erotic Art Show. The photographs were hung on mirrors near the stage; a reference to not only the fact that is was a self-portrait series, but also the exposed nature of the images.
Many of the images were in obvious reference to Robert's journey as a transgender man. There were also images that corresponded to his kinks and fetishes; some were humorous, and others provocative. The reaction from those that came to see the show was mixed, but all responses were positive. Some people were moved to tears by the art, some were titillated, and some were uncomfortable... in the best way. For friends of Robert, some were surprised at the skill the young man possessed with a camera, and started to ask for rates, and whether he would be interested in photographing other people. Two images sold immediately, and he was immediately peppered with requests about the date of his next show. Robert has no formal training as a photographer, simply some time spent with a parent who is an accomplished one. Some of his images are shot from a Canon, others from his smartphone. He creates his own lighting and does edits on Photoshop for fun. The real power in his images comes from the truth in each exposure.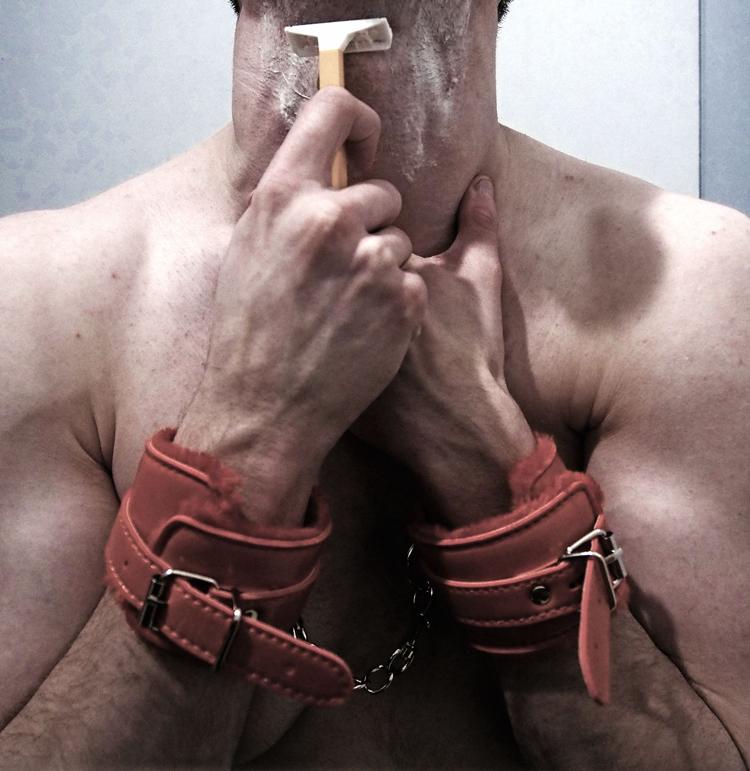 I asked Robert about his inspiration behind his work, especially given the very different reactions from those that look at them. His answer told me so much about his journey. "So, prior to transition, I hated looking at myself. Mirror, photos, I hated that shit. School pictures were a crapshoot; I never made eye contact with myself when I was in the bathroom. It felt disgusting. When I finally started transitioning, the first thing was cutting my hair short. That felt good, and I liked how it looked." He explained, continuing "Then I started hormone therapy, and after I started growing facial hair, that's when I also started taking selfies semi-regularly. I'd taken portraits of myself before, but as said, I didn't get anything out of it. In my transition, I began to enjoy it. There were points I could even look in the mirror and feel better about what I saw."
Some of the more moving images included just his hands, bound, while shaving his neck, and the first picture to sell is of nothing but his body in leather and a jock strap, the word BOY scrawled across his chest in black ink. With the raw, angry feel of his work, some might assume that his art comes from a darker place, but on the contrary, Robert sees this show as a celebration of who he is becoming.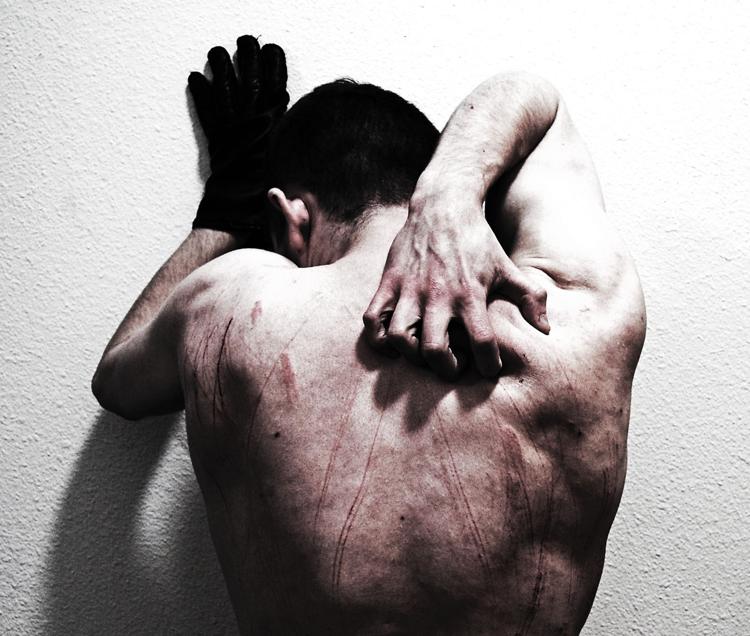 "I happened to look at the mirror without thinking about it, and I suddenly felt serene. I had no idea why, I wasn't looking in a meaningful way or whatever, it just happened. I realized after a few seconds that I've finally gotten to a point in my transition where I achieved a feeling of 'rightness' he said, using air quotes. "In the case of me being trans, I didn't feel that visual-derived dysphoria. I've never even thought about that type of dysphoria before. I've had several more occurrences of that serenity in seeing myself, and it feels like a fuckin' miracle. The average person goes the distance to make themselves look better, in a way where they aren't just comfortable, but they feel euphoric about how they appear (such as with wearing a suit or makeup), but I'm not even at that point, I'm just blown away at finally experiencing that feeling of normality in myself"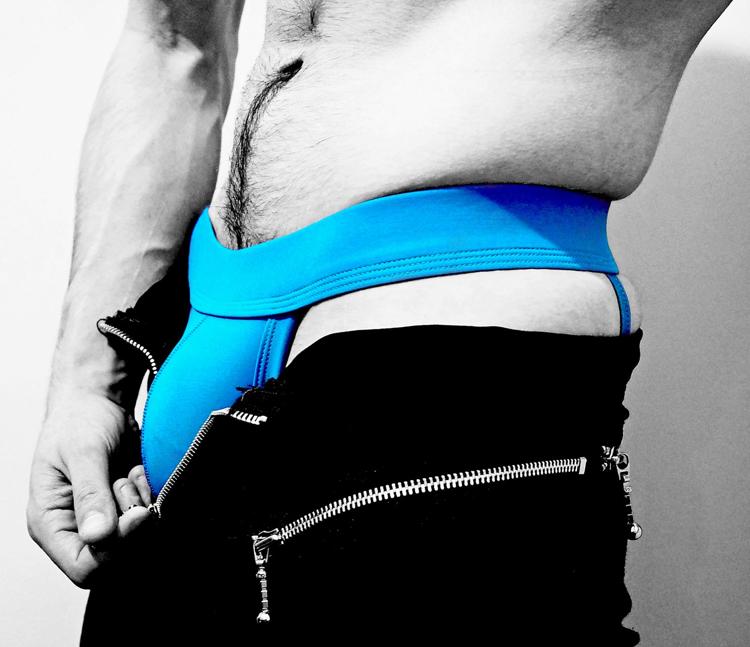 Many of his images also reference marks from the BDSM play that he experiences at ACAL. A place where he has found a comfortable community. In his own words from a previous writing he had submitted to the owner of ACAL. "before I found ACAL, I didn't ever "give up" feeling like I'd never be accepted in the world, but rather I never bothered feeling like I COULD be accepted. Now, people are voluntarily putting in the time and effort to prove me wrong, because they chose to see something in me, I never wanted to; me. They see me, my nakedness, my trans-ness, and they WANT it to exist."