Since Anchorage has seen an increase in the number of COVID-19 related hospitalizations, residents have been scouring social media platforms looking for information on how the pandemic is affecting their city. Some healthcare workers have taken to social media sharing their own personal struggles and making attempts to share with the public what the  situation inside of our hospitals looks like. If social media accounts are to be taken seriously, local hospitals have hundreds of healthcare workers out sick or quarantined because of COVID-19, and the Emergency Departments are burdened with Covid patients.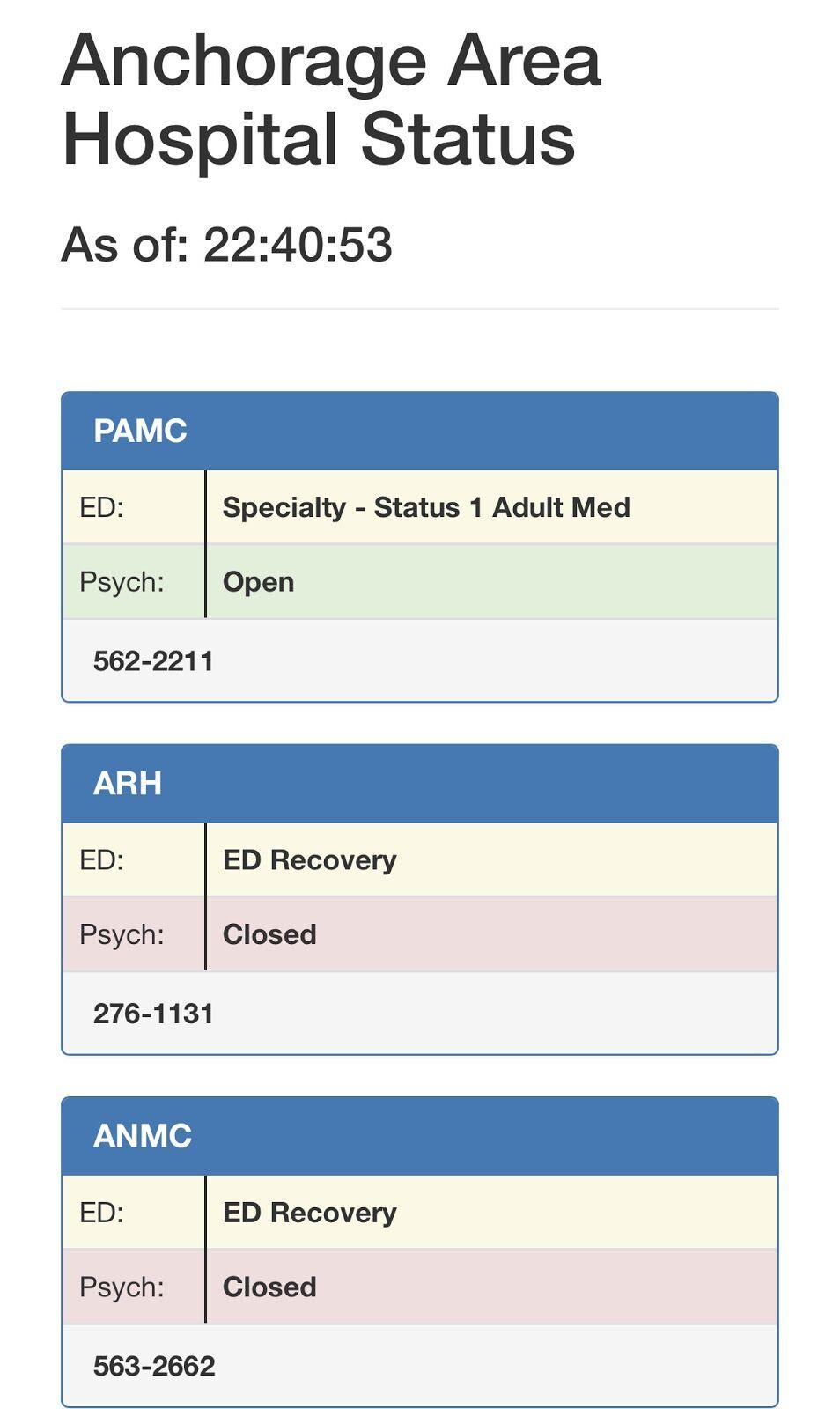 An online link to the Anchorage Fire Department's Anchorage Area Hospital Status webpage is increasingly being shared throughout social media. The page, publicly accessible from the municipality's website, can be an indicator of what's transpiring at Anchorage Native Medical Center, Providence, Alaska Regional, and JBER.
According to the page's description, "The webpage displays the status of the emergency departments and certain specialty care services at the four primary hospitals located within the Municipality of Anchorage which receive patients from the Anchorage Area Wide EMS System and beyond. The webpage is updated every minute."
For the past 24 hours I've been randomly checking the website to see how hospitals are reporting their Emergency Department status to the Anchorage Fire Department, here's what we know.
On November 27 at 12:02am, twenty-four hours ago, Providence was reporting that they were "Specialty - Status 1 Adult Med."
Speciality closure occurs when "a hospital is experiencing unavailability of critical resources. The hospital's Specialty Closure(s) will remain in place until the resource(s) become available and AFD Dispatch is notified."
"Status 1" means, "Unstable, immediate threat to life or limb."
Alaska Regional Hospital was "Open" and Anchorage Native Medical Center was the same status as Providence.
By 3:20 in the morning, Providence and Anchorage Native Medical Center were on ED recovery status and Alaska Regional remained, "Open."
"ED Recovery" is when "An Emergency Department (ED) is experiencing an event which acutely depletes resources and notifies AFD Dispatch of its change in status."
Att 8:36pm, on the evening of November 27, local hospitals changed their status again with all three hospitals reporting they were on emergency department recovery and at midnight, the early morning hours of November 28, Providence is on Specialty - Status 1 and both Alaska Regional and ANMC are on emergency department recovery.
One Valley resident, who said Mat-Su Regional was too busy and didn't have the specialist her husband needed available this week, shared part of her and her husband's personal experience after making their way to Providence seeking treatment for a non-COVID illness writing to The Blue Alaskan: 
"I've been all over your posts lately, I appreciate the straight forwardness of your posts. My husband got sent to Providence ER yesterday because Matsu was incredibly busy and didn't have the specialist on call he needed. He has never seen an ER busier than it was yesterday. Nearly every bay was full, every bay had a hazmat tent. (They put him in the 'safe' children's wing) He was the only one in the non-covid waiting area. One patient before him and two after him were taken to the COVID waiting area. The ENT he saw said 80% of her patients are COVID. Not that I didn't already know this is serious, but the state of the ER department REALLY confirmed it."
An article written by Alaska Public Media just a few days ago appears to confirm social media posts and comments from healthcare workers that "hundreds of health care workers are having to take time off because of exposure to COVID-19, or catching it themselves. That means staffing shortages, including in Anchorage."
Alaska Chief Medical Officer Dr Anne Zink said on November 27, that the surge of cases in Seattle means that Alaskan patients must stay in our state when they would typically be transferred to Seattle, a situation all but certain to create more of a staffing strain on our fragile healthcare system.
Alaska DHSS has not been able to keep pace with the number of new Covid cases coming in, and they have disabled parts of the Coronavirus dashboard the public uses to assess the "climate" of their local area. The state of Alaska has not reported the epidemic curve, rate of transmission or the average daily rate on the dashboard as the modeling application, which reports such information, has been "under construction" for over a week but relaunched on November 28
When you factor in a reported backlog of over 900+ Covid cases not yet applied to the dashboard, over 1,600 positive Covid cases that were never reported to the state by a local Anchorage lab, Alaska DHSS's inability to process new Covid cases quickly enough to keep pace, the online accounts from healthcare workers and emergency department patients sharing their personal experiences, we really do have to ask what's going on in the emergency rooms and whether the situation in them might be more stressed than what we believe.