By the time Violet Kaye dreamed up her plan to host a protest rally in Town Square Park on Saturday, the immediate crisis had already been averted. HB178, introduced a day earlier by Rep. David Eastman (R-Wasilla) wasn't going to see the light of day anytime soon for a number of reasons.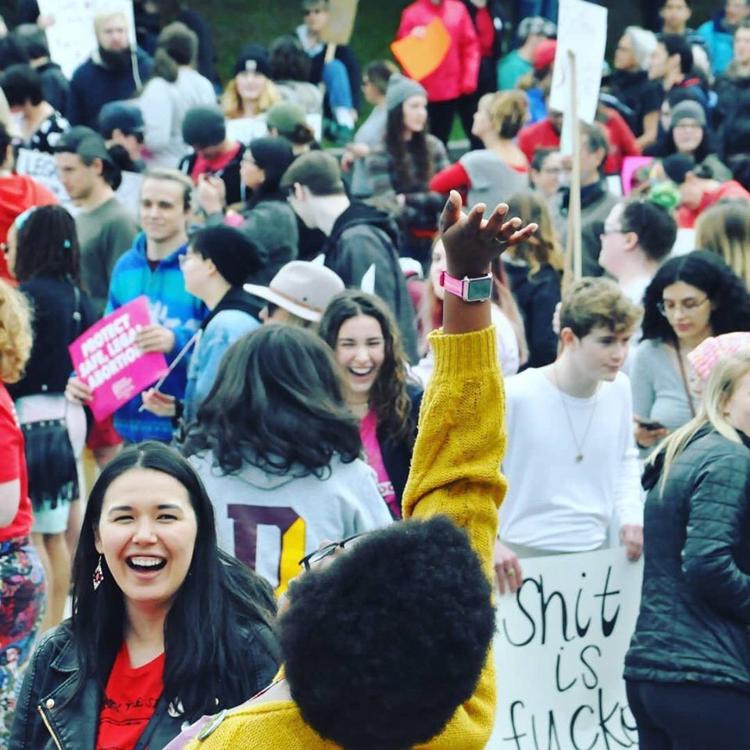 One was that the 30-day overtime legislative session called for by Gov. Mike Dunleavy was meant to address the unsolved issue around the state budget and crime laws, expressly not an opportunity to introduce a bill tackling the most contentious social issue of our time.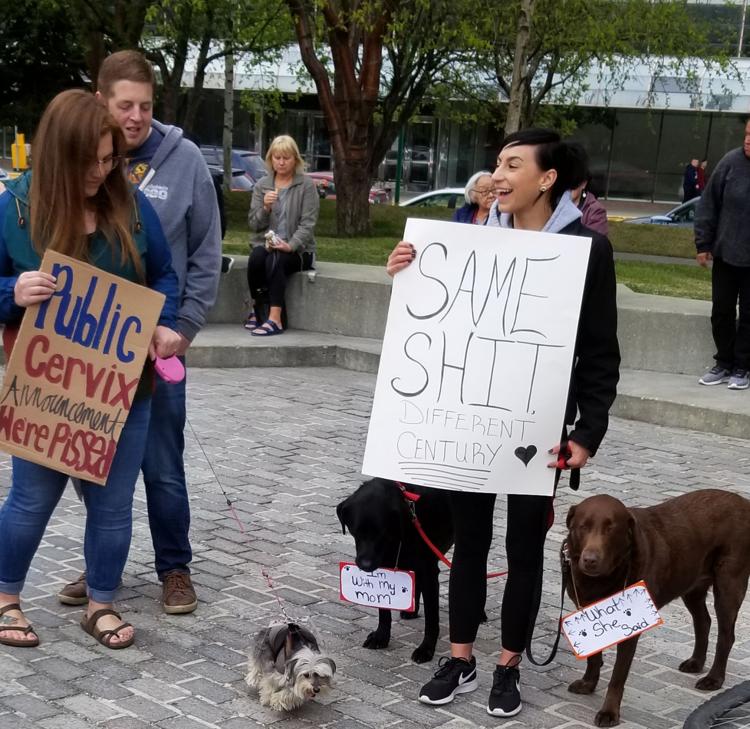 Secondly, the bill was introduced by Eastman, the designated assclown of the Alaska legislature, who's never successfully authored a piece of legislation but has been censured by the body for behavior that's either sexist, racist, or otherwise bigoted — sometimes all at the same time — and embarrassing for the minority caucus in the House.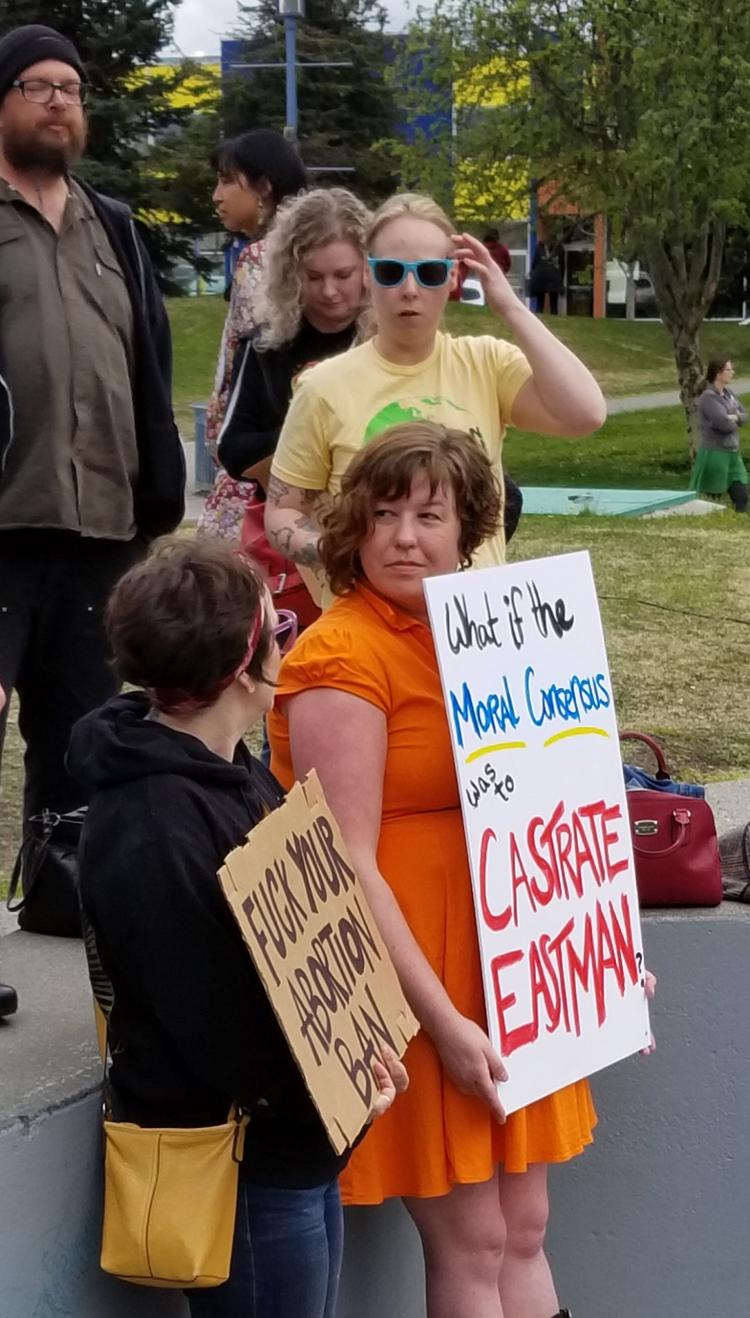 Thirdly, Alaska's conservative streak is decidedly more libertarian than Bible-thumping impulses in states like Georgia and Alabama, which have recently passed draconian laws meant to start a judiciary showdown they hope will land in the Supreme Court as a direct challenge to Roe v. Wade.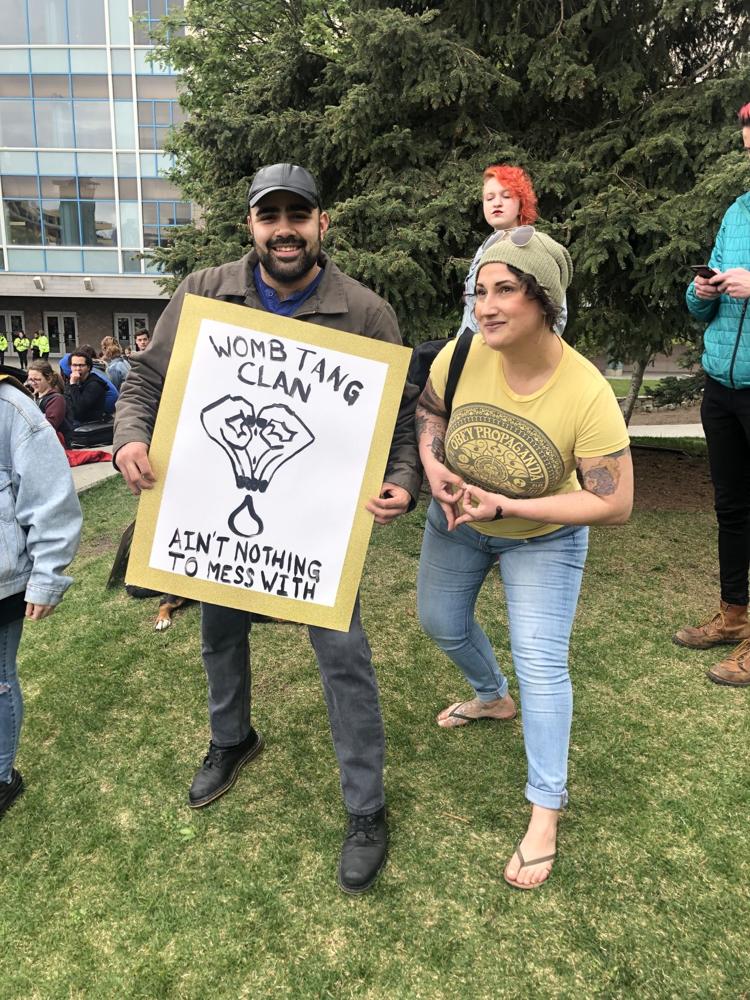 Fourthly, in the blockbuster Hulu series 'The Handmaid's Tale', Elisabeth Moss' character Offred tells us as a point of reference that in this dystopian future, the capital city of what little remains of the United States of America is Anchorage, Alaska, perhaps an homage to that libertarian spirit, or, more likely, a recognition of just how far away Anchorage is from the rest of what is to become Gilead.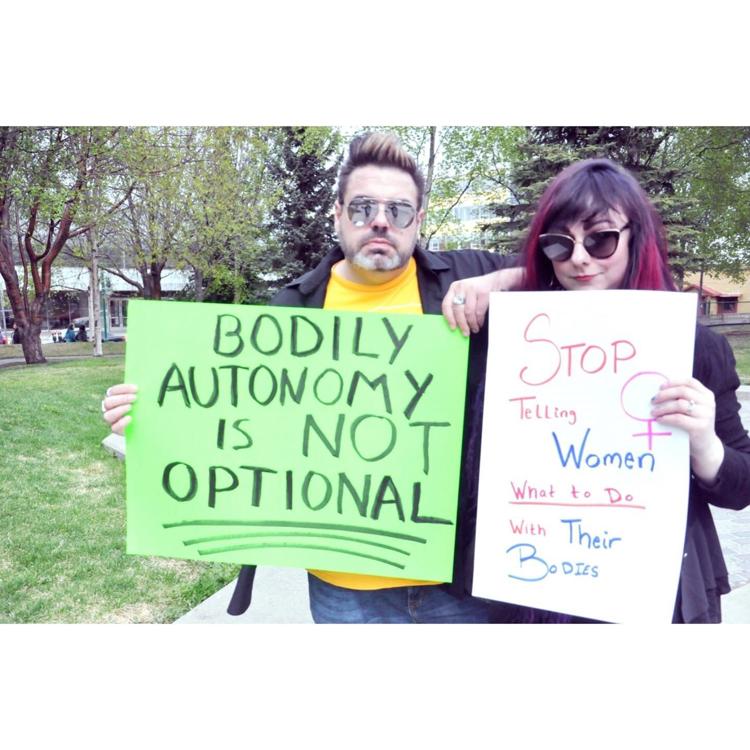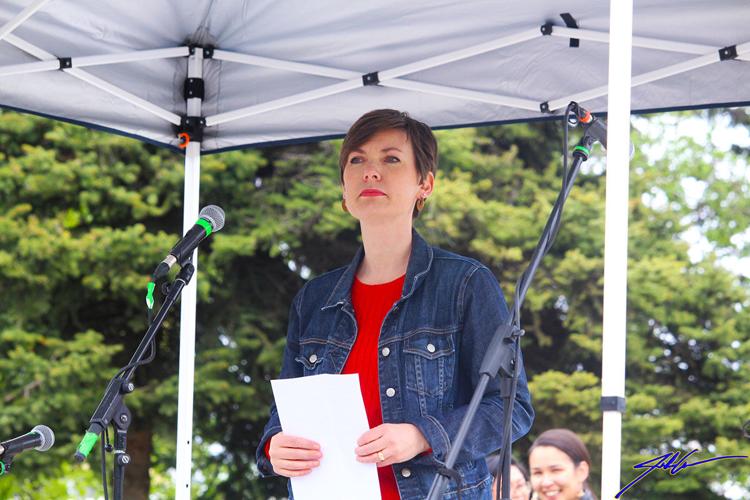 Finally, and most crucially, HB178 was guaranteed to not get a legislative audience until at least next January because House co-chair Ivy Sponholz (D-Anchorage) used her power to quash it, and will continue to do so, as she told the hundreds of enthusiastic supporters downtown on Saturday.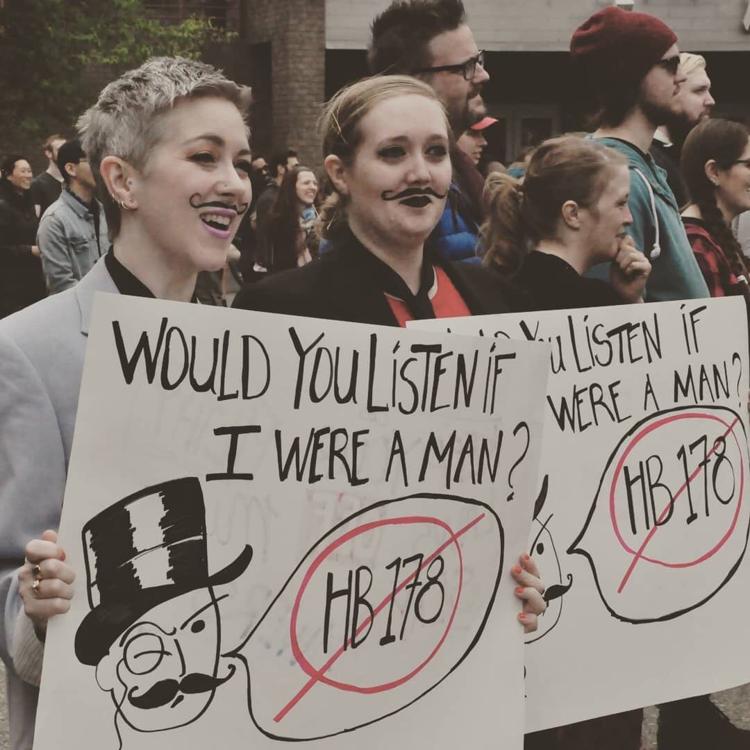 "Alaska is not going to be the state to go in front of the U.S. Supreme Court," Sponholz told the crowd. "Representative Eastman's bill won't get a hearing in the state of Alaska as long as I'm (committee co-chair)."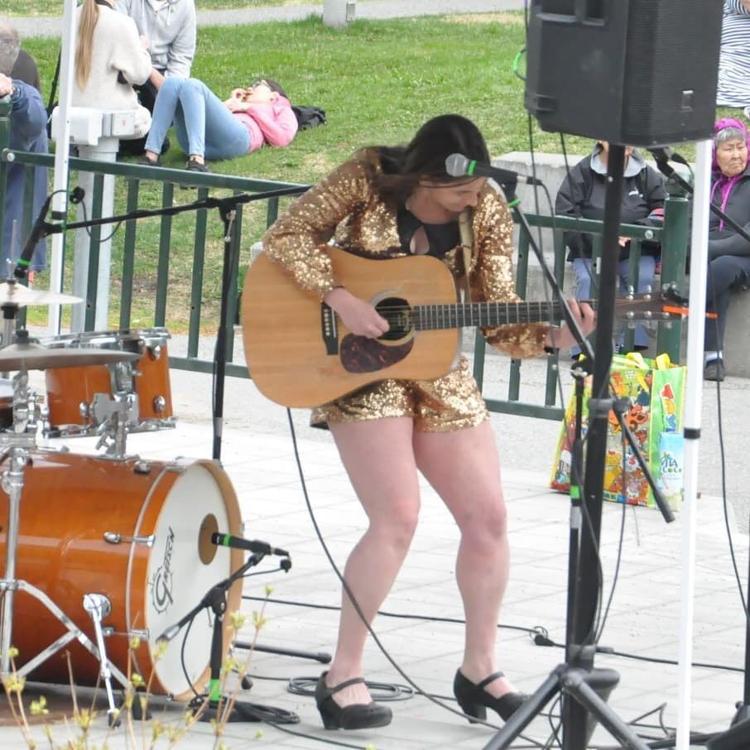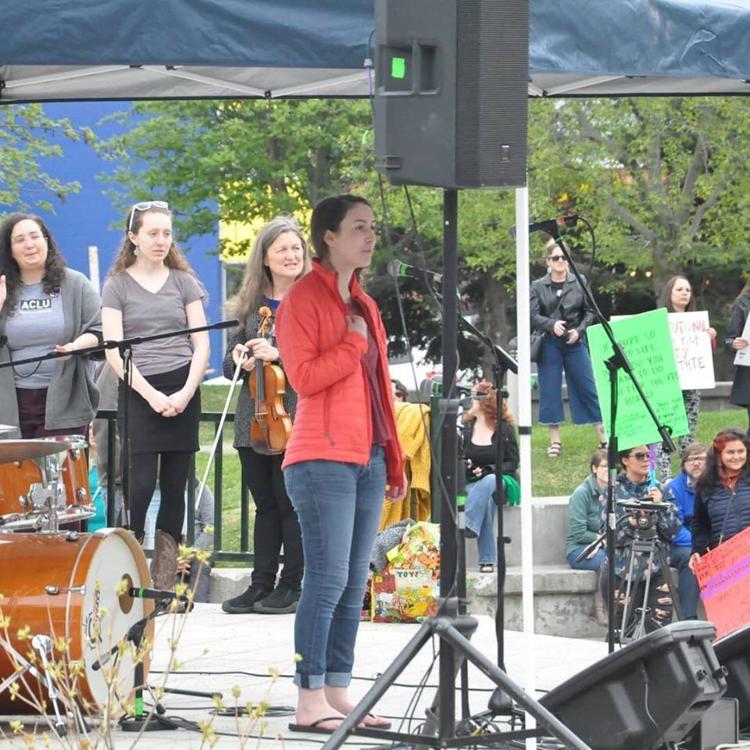 Sponholz went on to distinguish Alaska from the mostly southern states that have passed such bills.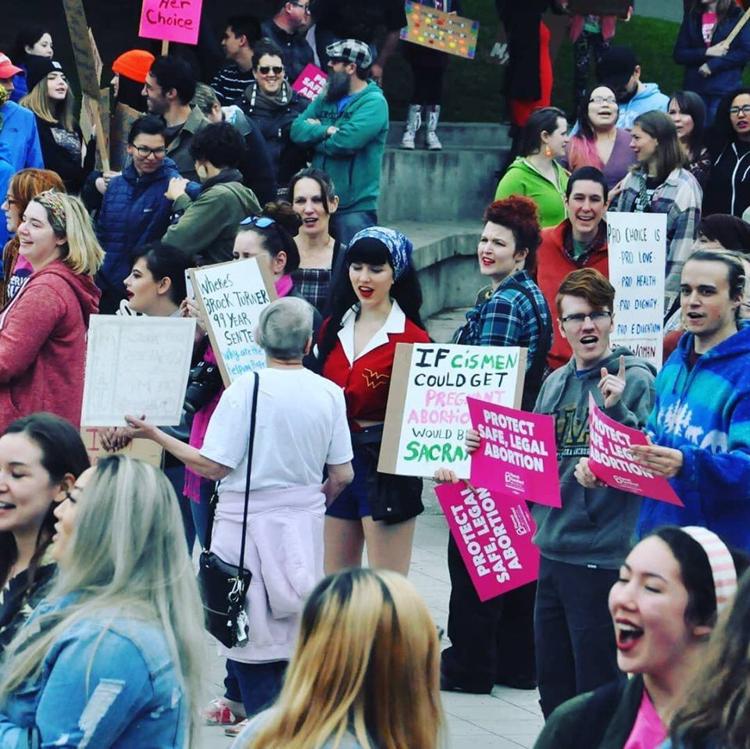 "We're in a time when we need to know representation really matters," she said. "In Alaska, 38 percent of elected officials are women; in Alabama it's 16 percent. That's a problem. We need more women elected to office in Alaska, and in the (country as a whole)."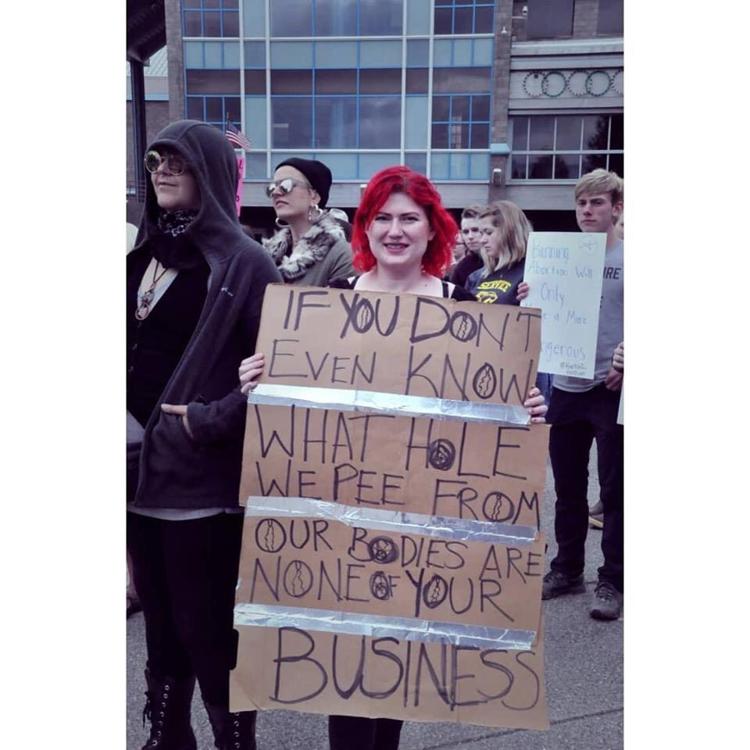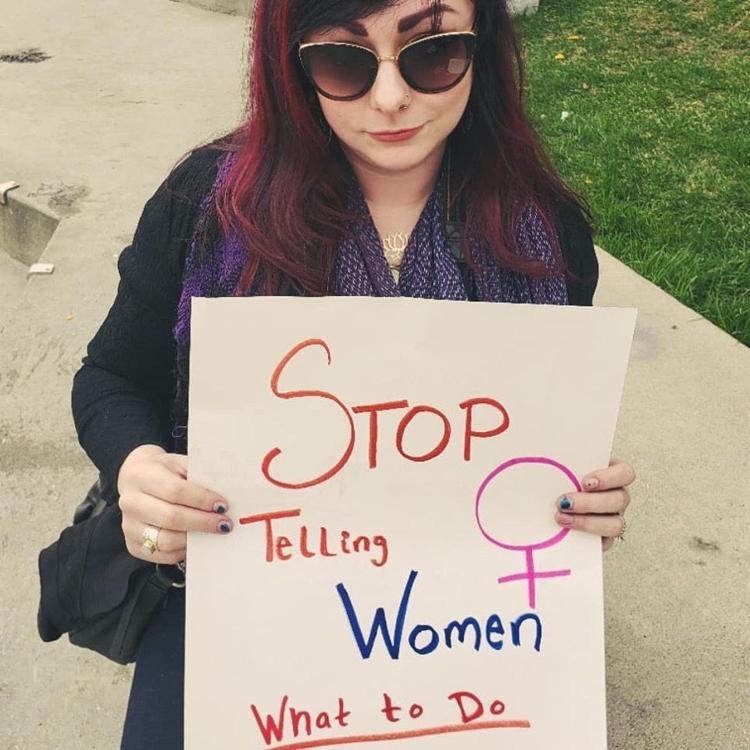 That assurance may keep abortion in Alaska safe and legal for the time being, but the spirit behind Saturday's protest was directed at the sausage party that is the GOP nationally, and an opportunity for some fun, spicy and creative sign-making.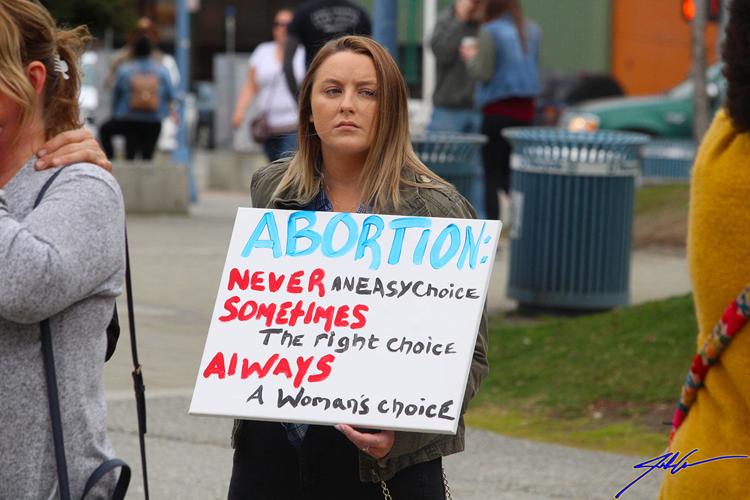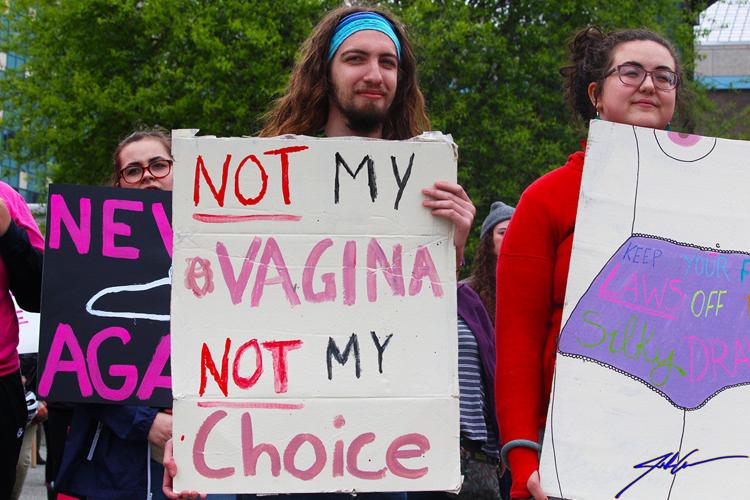 "Even though we know we're probably safe here, we don't get to feel safe — we have to react. We can't sit back and trust our lawmakers to protect us anymore," Violet said. "There's some really great signs out here. The best way we can deal with really hard times is humor, so I'm totally for that."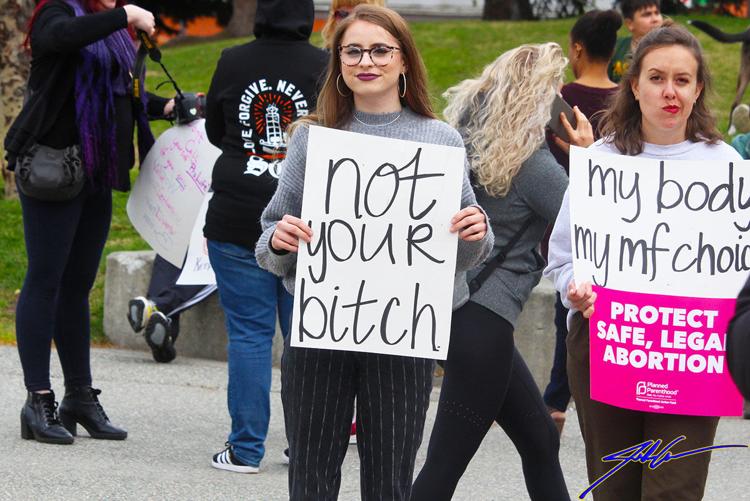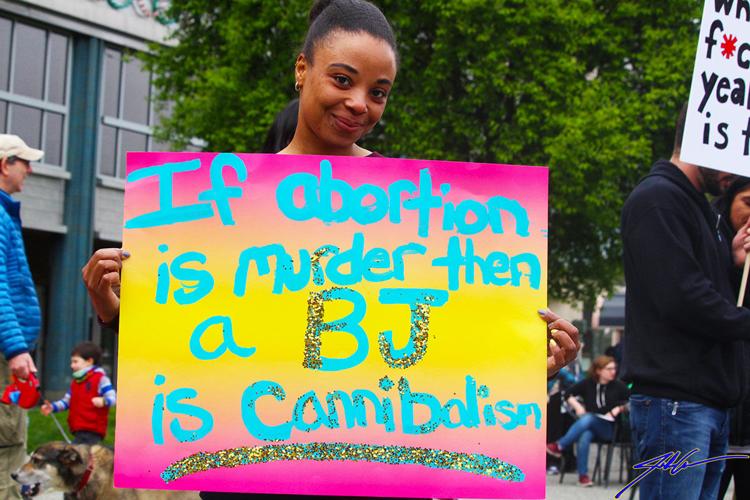 It took no time at all for Violet's Facebook post to explode. By Friday, nearly 2,000 people had listed themselves as interested or going and the physical turnout didn't disappoint with upwards of 1,000 passing through the nearly 3-hour rally at one time or another.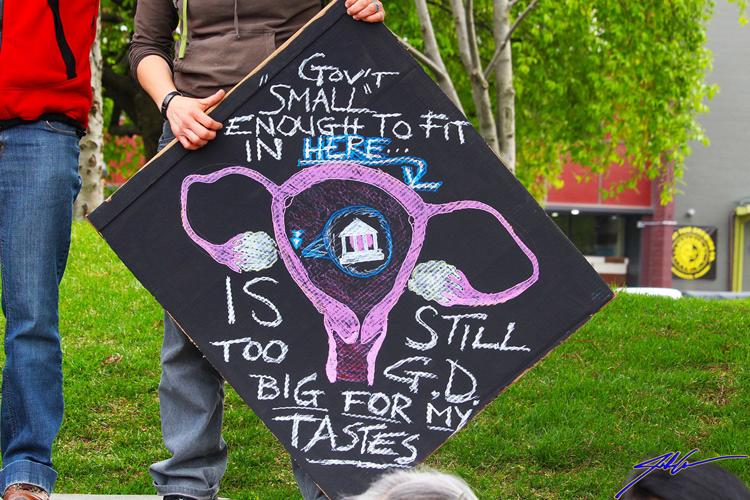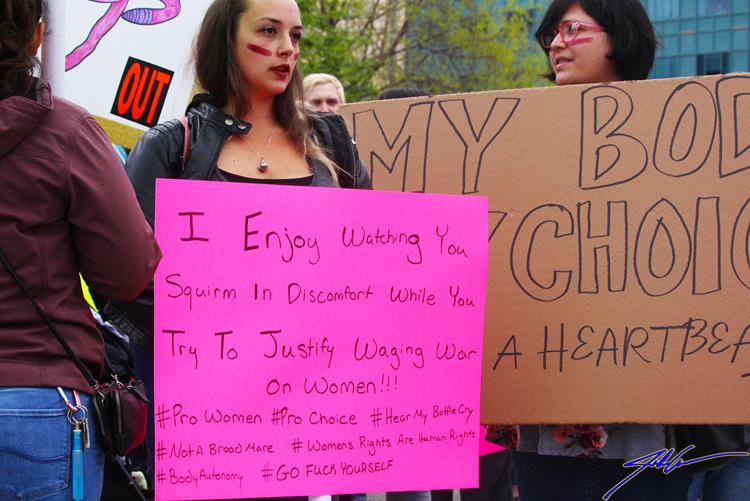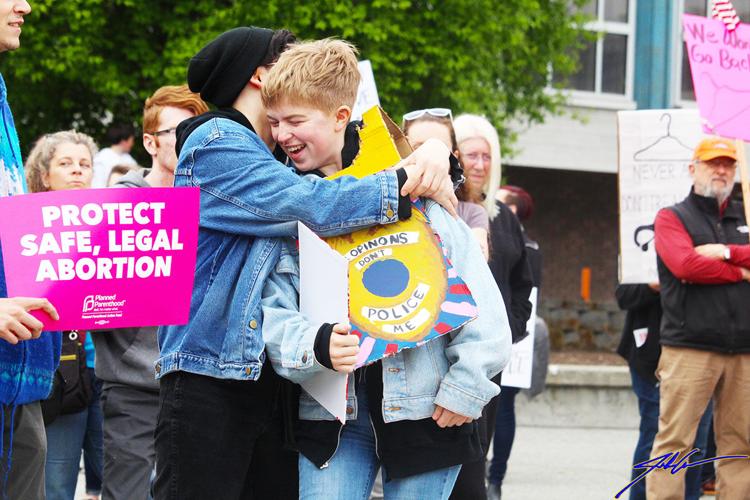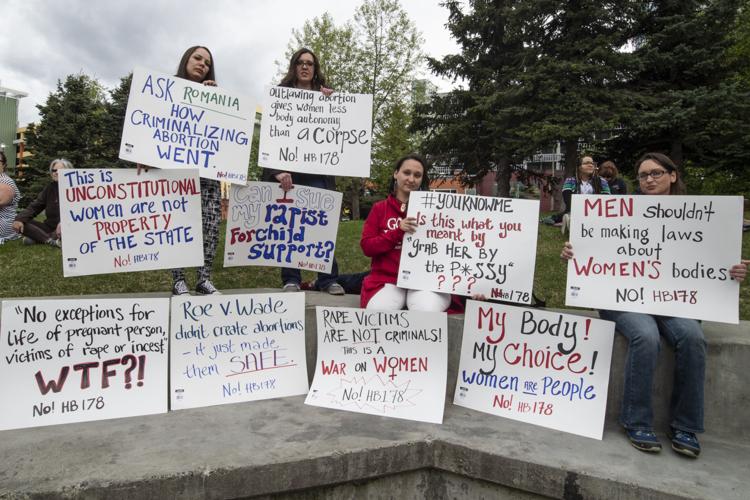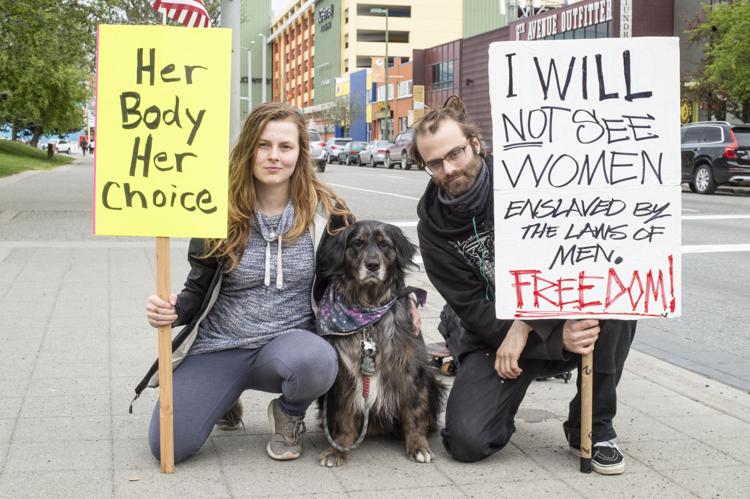 "I was seeing other states passing these laws and I was angry, burning behind a computer screen about what was happening in other states like Alabama," she said. "Thursday I caught wind of this and thought, 'oh, this is close to home — I've got time.' So Thursday night, or whenever the thunderstorm hit, that was the sound drop of me crushing the patriarchy, I guess. It got good traction from the beginning. When I woke up there were hundreds going, as opposed to 100 maybe. I was surprised, but we used our social capital and we had people from the community — comedians, indigenous leaders, everyone from different backgrounds. It's important to me that we represent that diverse community at this rally."
The sign-making was remarkable in its cleverness and uniqueness, with stinging satire and few that were identical to others.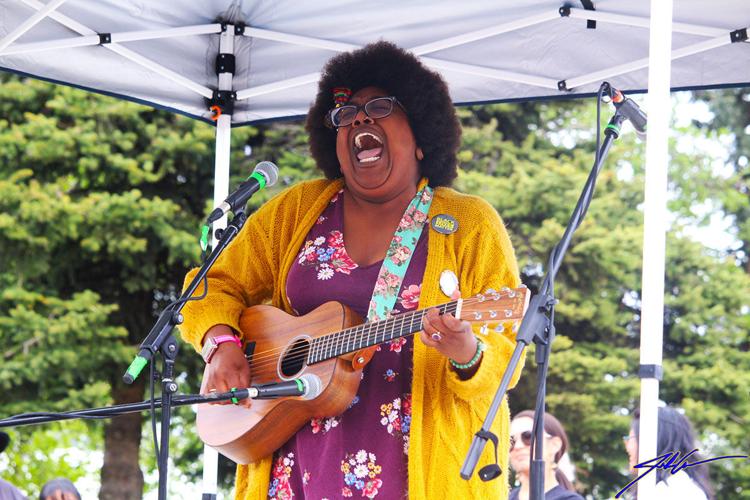 Gail Davenport, toting a sign that depicted the hypocrisy of the Republican Party trying to outlaw abortions while doing nothing to prevent schoolchildren to be killed by gun violence, spoke about the meaning behind her effort.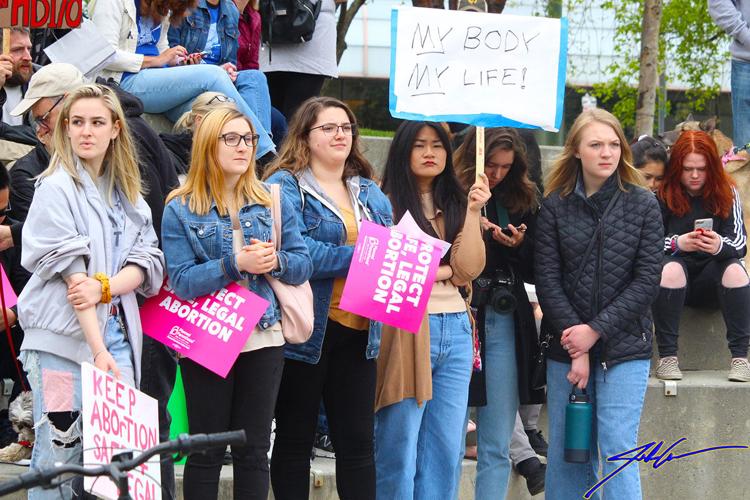 "To me, it illustrates the hypocrisy. The Republican party seeks to be very against abortion and women's rights but don't seem concerned about people's rights after they've been born. They don't care if kids are shot up in schools, but they do care if a small bundle of cells is aborted," Davenport said. "I think, obviously, religion has a lot to do with it and I'm not sure why they don't see the connection between gun rights and kids getting shot up in schools."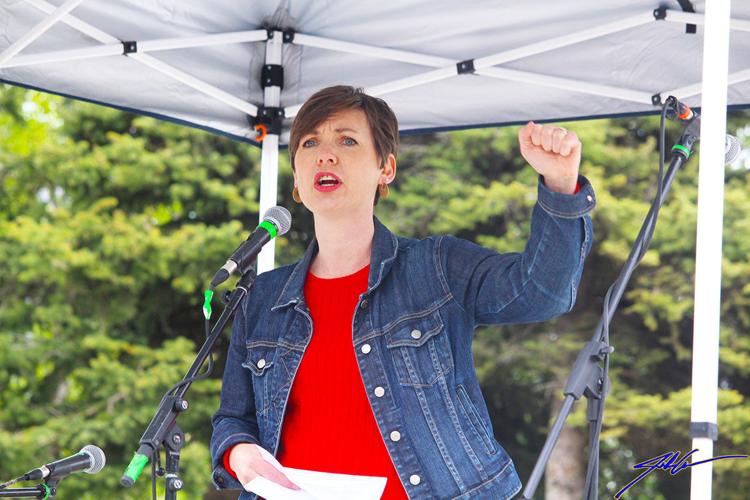 To her left was Taylor Swartz, a medical professional, whose sign depicted the shape of fallopian tubes, which, along with hangers, was a common graphic of the protest, with the U.S. Capitol building trapped in the uterus. The caption read: "Government small enough to fit in here is still too G.D. big for my tastes."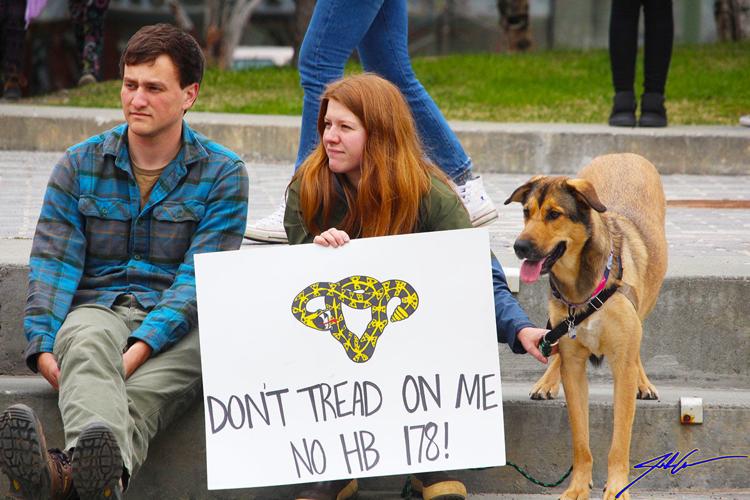 "There's all this jibjab about life beginning at conception and so forth, but most people, if they took even a basic biology class would see that (an embryo) doesn't really resemble anything like a human being until 3 or 4 months. It looks more like a well-evolved sea monkey till that point," Swartz said. "Republicans' big selling point to people is small government and prosperity and here they are regulating women's access to safe birth control… To me it's just about control."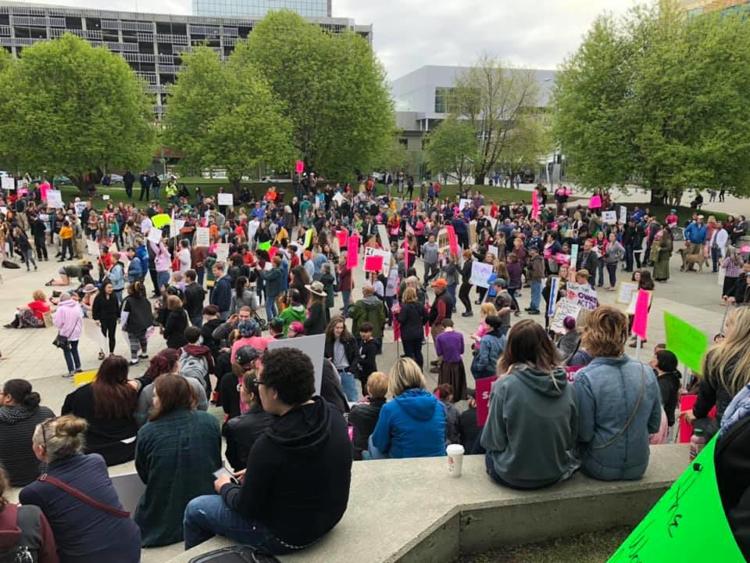 Other signs, attached throughout this story, were mostly carried by women, who maybe for the first time in their history in our culture, are being rewarded and encouraged for trying to be funny. Since time immemorial, men have been falling over themselves trying to be funny in the at least subconscious hopes of impressing women, but a funny woman has never been particularly valued until now.
Local stand-up comic Kass Smiley shared her personal story of abortion as part of her speech, which she originally planned as more of an oratory essay, but wound up being more akin to her standup act.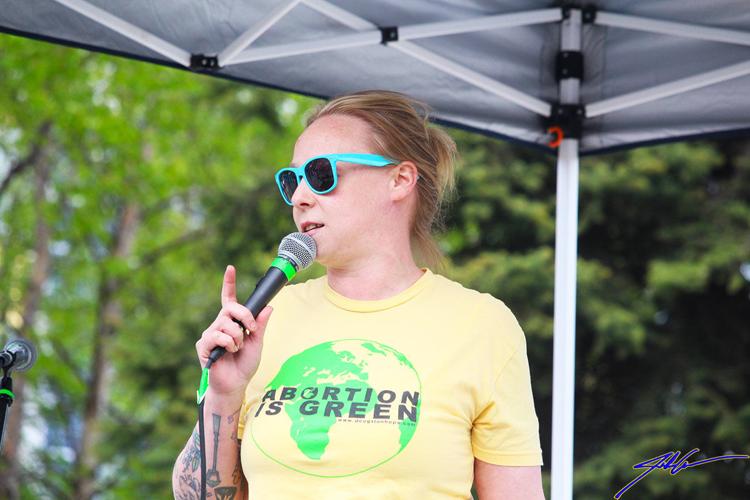 "I think for some men it can be threatening when they see women can be smart and quick and funny and witty — it's a big ego killer to a lot of dudes," she said. "I've been on a couple of dates where all is going great until I put out a couple of zinger jokes and then it's not so great. It can be intimidating."
Smiley, who last month put on the wildly successful B4UDie Comedy festival at venues around Anchorage, said seeing women rise in the previously male-dominated world of comedy has been a source of confidence for her.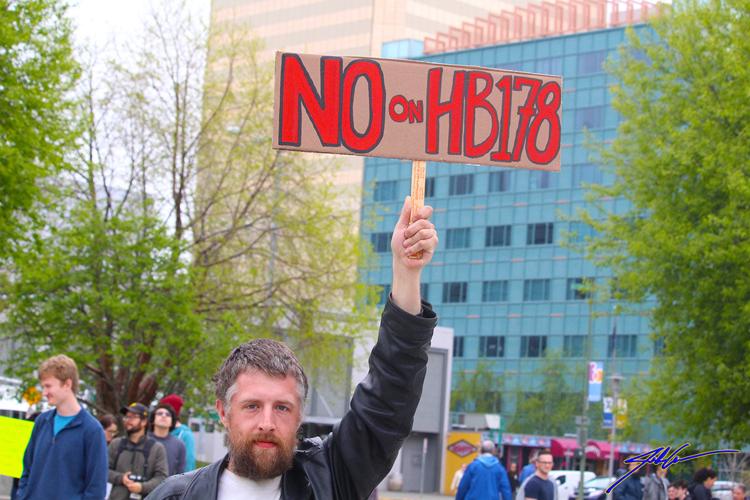 "Women are empowered by the visibility of comedians on TV — Amy Poehler and Tina Fey have done a lot, but there's also been a lot of pioneers like Phyllis Diller and Joan Rivers," she said. "A lot of times women are the jokewriters in the room, but the men get on stage. So it's important to get that visibility. That's why I'm doing my standup in front of a crowd like this so some people can see that and feel empowered."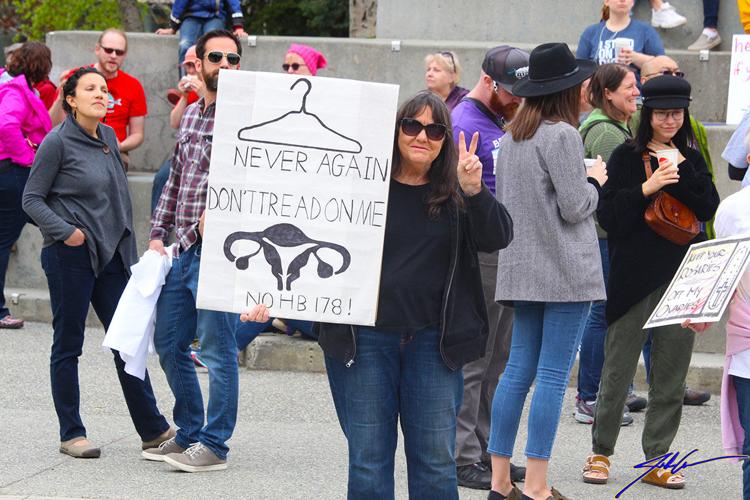 Saturday's unexpected success in turnout and enthusiasm means the pro-abortion rights movement in Alaska is now many way's Violet's baby — a responsibility and an off-color pun, she's ready and willing to own.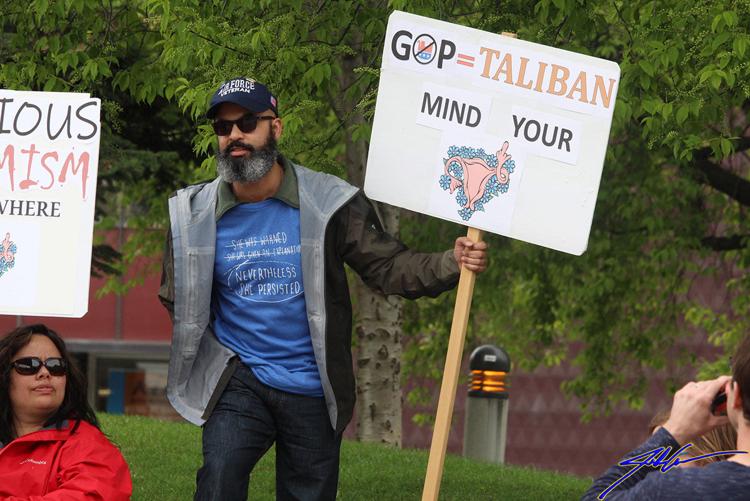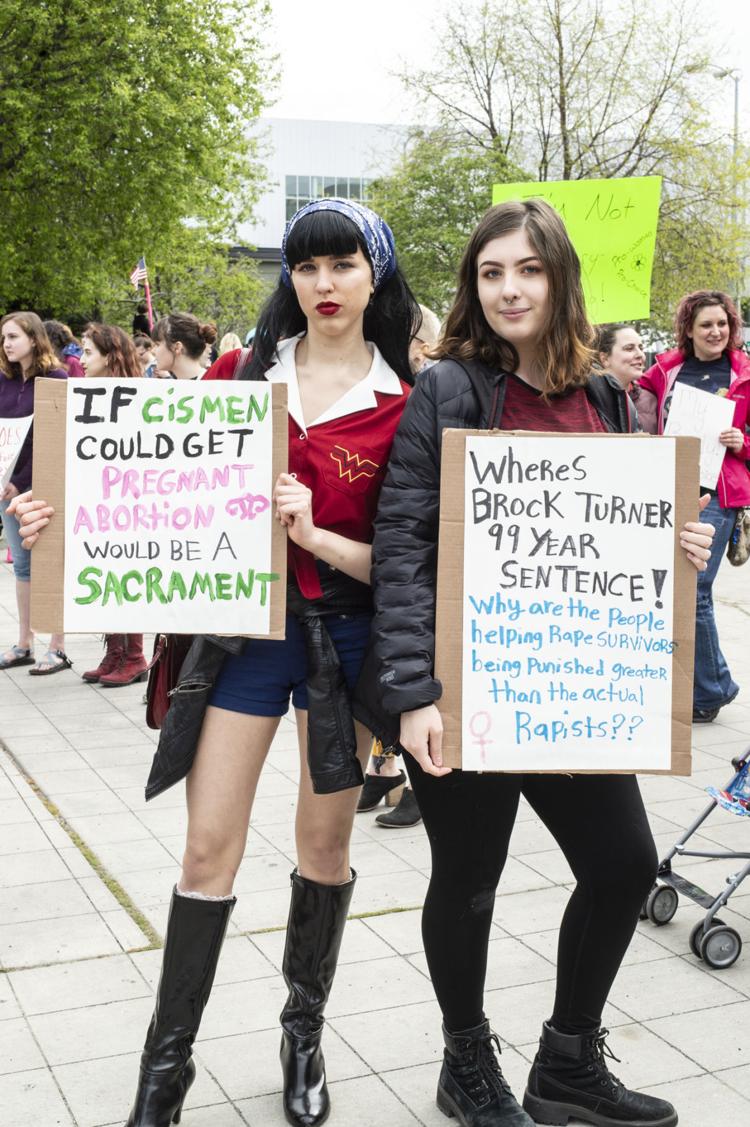 "I like it! I consent to this baby," Violet laughed. "We're definitely thinking about what's next, certainly more sustained protesting. We're going to be right outside David Eastman's office in Wasilla. We hate his face and we're going to tell him."
Hate Eastman's face, though they might, Violet and her fired up protestors undoubtedly owe the Wasilla rep — or at least his narcissistic need for attention — a debt of thanks.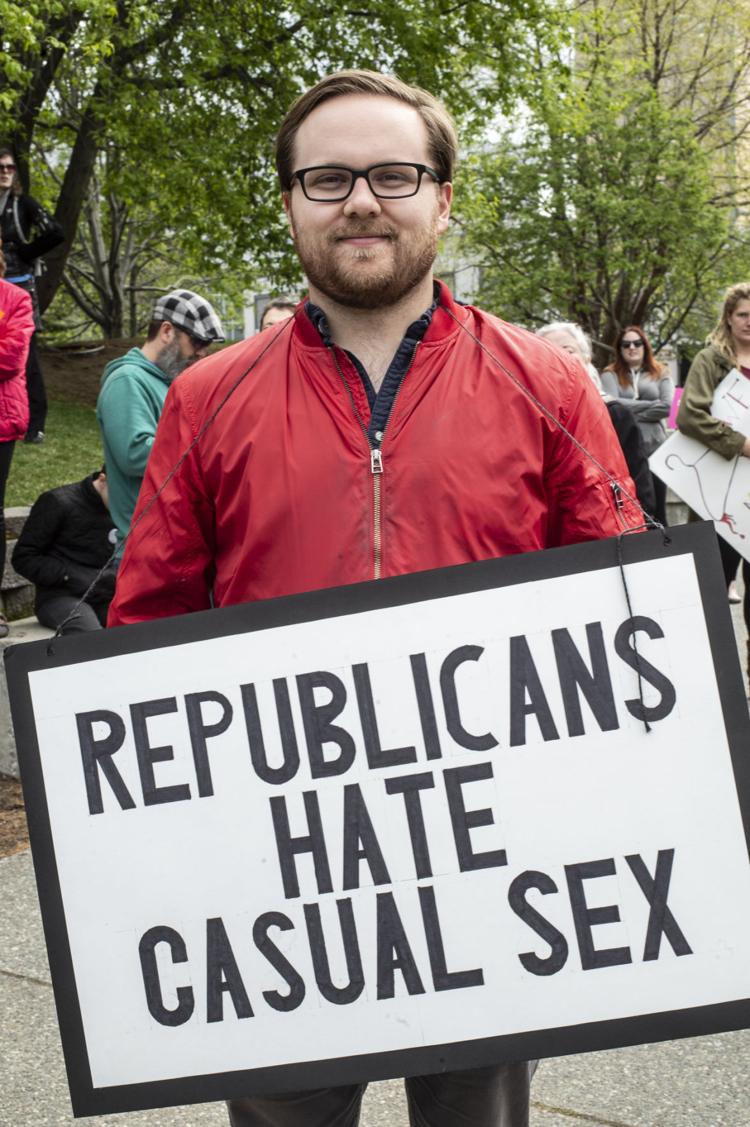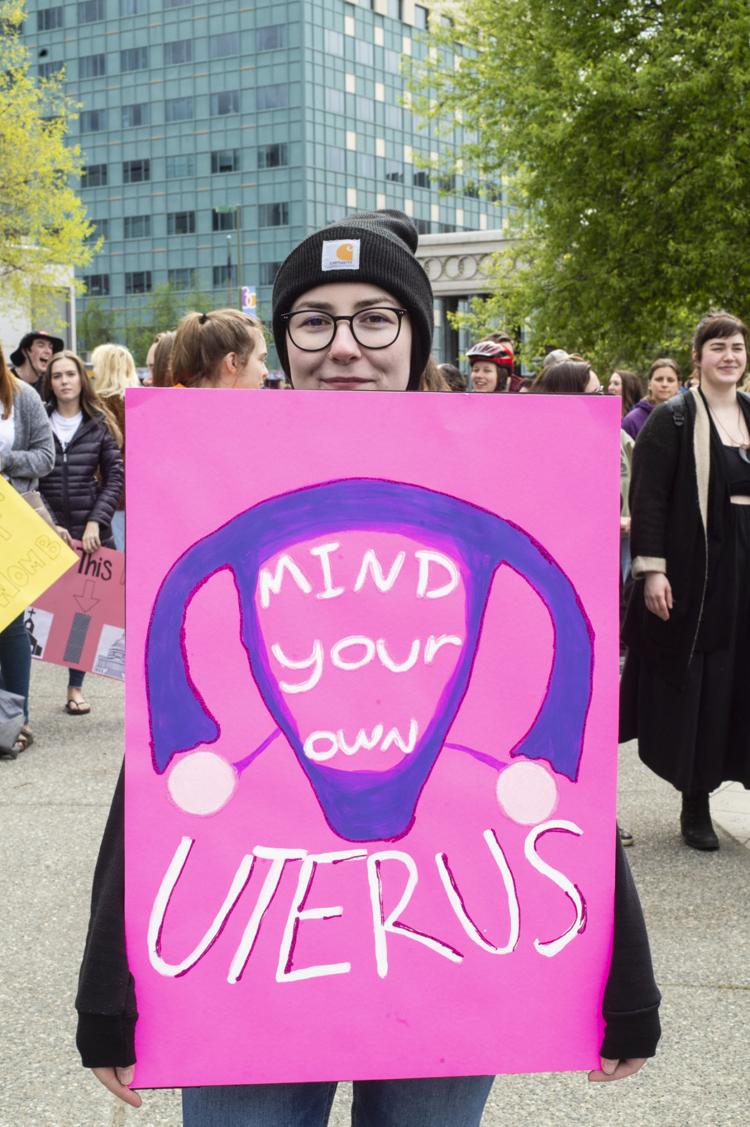 "Yeah, thank you for creating all these meaningful connections and the backlash to these idiots in government," Violet said. "When the (anti-transgender) bathroom bills came out, we stood up and now we have stronger protections thanks to the backlash it had created."