A vagrancy problem that has only gotten worse under progressive leadership and displeasure from small businesses over the city's COVID-19 restrictions — not to mention the previous mayor's unceremonious resignation over a sexting scandal and the swarms of Trump backers still fired up over their führer's defeat — should make this April's mayoral election a conservative candidate's to lose.
Technically, the Tuesday, April 6 election (by mail) is non-partisan, but in this political climate labels couldn't be any more important, and with 9 candidates entered two days before registration closes on Friday, it's not likely any one of them will reach the required 45% of the vote necessary to avoid a runoff two weeks later.
In that sense, the April 6 election isn't so much of a primary as it is a semifinal with conservative and progressive candidates on opposite sides of the bracket.
As is the case nationwide, the conservative wing finds itself deeply divided in Anchorage politics. The most virulent of Trump supporters, likely to be aligned with or sympathetic to the Save Anchorage Facebook group, have found their candidate in political newcomer Dave Bronson, who has garnered the full-throated endorsement and ethically questionable campaign support of controversial assembly member Jamie Allard of Eagle River.
It's doubtful, however, that an extremist like Bronson could win in a runoff against the well-prepared, well-staffed and well-funded campaign of progressive assembly member Forrest Dunbar, making the right's best bet at moving a conservative into the Penthouse at City Hall former radio station and advertising agency owner Mike Robbins.
Robbins, who divested the last of his radio station holdings last fall to run full-time for mayor, is in nothing short of a dogfight against forces on his right — the ilk who might want to hang him with the same noose they'd prepared for Vice President Pence when storming the Capitol.
The irony of this — as it surely was for Pence — is that Robbins is a great fan, admirer and supporter of Trump. He even attended Trump's inauguration in January 2017.
Not only is Robbins a 'Trump guy,' a case could be made that his life and the twice-impeached President's are eerily similar, adjusted for scale, of course.
Both were media and marketing moguls, both have been divorced multiple times, both are married to Eastern European wives, both have had significant problems with the IRS and both have run beauty pageants overseas, with Robbins pulling off the inaugural Miss Hawaiian Tropic Romanian, spun-off from his dating site 'Romanian Romance', which he insists was not a mail-order bride business.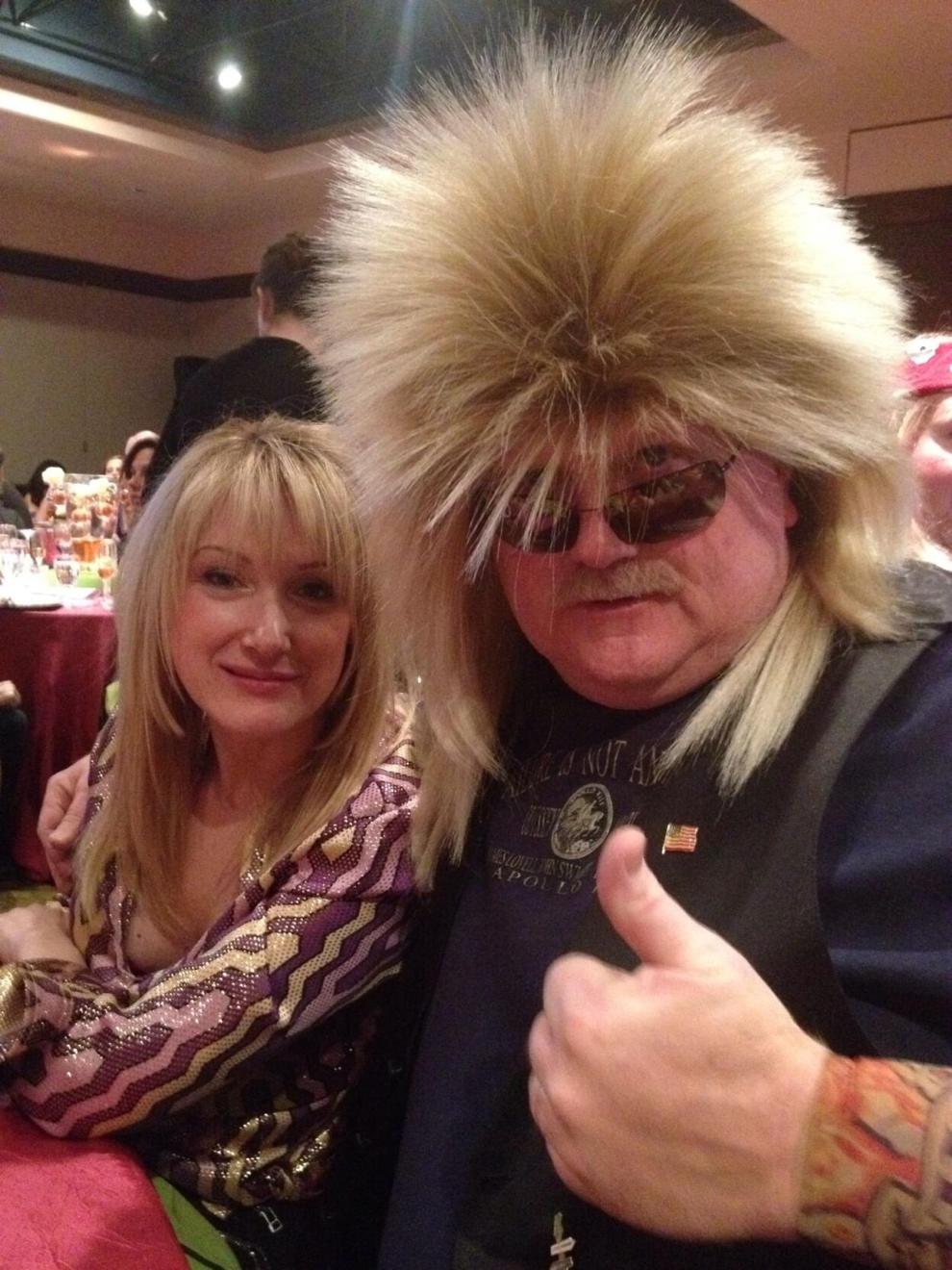 "I kind of met a girl on the Internet; I always wanted to travel. I was divorced and single and thought, well let's check out some of these places I hadn't been to. I met a girl and fell in love," Robbins said of his adventures in Romania around the turn of the century. "(The pageant) was just something to do — something different. It was just fun; I was just looking for a way to have fun at the time."
But unlike the silver spoon Trump, Robbins is the epitome of a self-made man.
At 14 his father dragged away from his hometown of Phoenix — and more importantly away from his first girlfriend — to Anchorage. He attended West High for a while, but like many of the 'Dazed and Confused' generation, had better things to do. After a couple of attempts at alternative schooling, he dropped out of high school altogether. He got his GED at 18 and never stepped into a classroom again.
Crashing with friends in Spenard, Robbins' first foray into business was as a door-to-door salesman selling bound leather photo albums. He and his friends turned that hustle into a business of their own, expanding into Seattle and Portland-area markets.
From there, he got into TV and radio, selling advertising. In 1985 he relocated to Phoenix to help out his sister, who had just had a baby and was recently divorced. 
Robbins worked at KOY FM alongside DJ and former Partridge Family star Danny Bonaduce at the time the mercurial redhead when he infamously assaulted a transvestite on the street.
"He more than punched her; he kind of beat her up," Robbins said. "He was surprised. I guess he had some things done and wanted more done, but when he found out she was a guy and couldn't do any more stuff, Danny beat him up… I think (Bonaduce has) cleaned up his life now and his life is a lot better now. He was a great DJ."
At the same station, Robbins dined with MC Hammer and worked with another quasi-celebrity in Jessica Hahn, made famous as the mistress in the scandal involving televangelist Jim Bakker.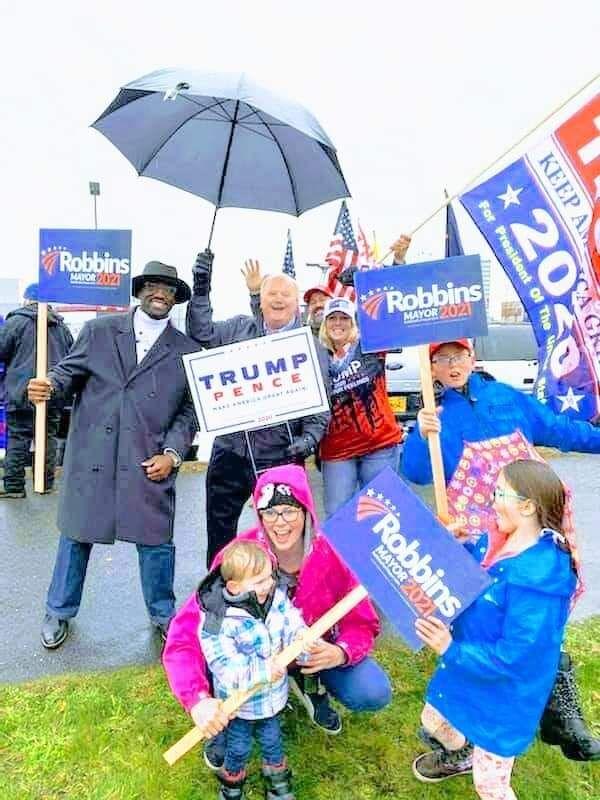 "Of course, being the entrepreneur that I am, I ordered 10 cases of her Playboy cover and we (had an event) at a nightclub where she sat and signed autographs. It was a lot of fun… there was a hot tub involved… It was an interesting time," Robbins recalled. "She was an interesting woman — kind of lost, very young and ended up in a position I don't think she intended to be in. I'll never forget one time she came into my office and asked if I knew how to make a plane reservation. She was trying to get a friend over from California… That was the beginning of our friendship — she only lasted there like a month."
Armed with these experiences, Robbins came back to Anchorage in late 1990 ready to make his mark on the Last Frontier. He took a job at KWHL and quickly ascended to marketing manager. In 2000, he used a novel approach to broadcasting, applying his low-frequency Channel 6 TV licence to set up 87.7 FM, The End, later to be known as KZND before selling it and MOVN 107.5 FM in 2019.
"At 87.7 we put on an alt-rock station — it was a unique format. We launched this Channel 6 frequency and, of course, we were the first ones in the country to do that," Robbins said. "We had to go to court for that. We took on Arbitron, took on the FEC, and paved the way for Channel 6 stations across the country and they're in New York and L.A. and everywhere now. As a low power TV station there wasn't a ton of value, but in New York it's impossible to get a radio license, so overnight it took off."
Despite having popular stations in the radio market, Robbins wasn't immune to financial difficulties. By the time he'd sold off the bulk of his radio empire, Robbins was deeply indebted to the IRS. Not wanting to disclose his amount owed, Robbins said he paid off the entirety of his debt to Uncle Sam around the time he sold KZND and MOVN.
Robbins said his tax trouble started around the time of the Great Recession when he prioritized continuing to pay his employees over meeting his tax obligations. As the decade wore on, visits from the taxman became more regular, and a visit to his station from an agent one Christmas Eve prompted Robbins to eject her from the premises.
"(An advisor) recommended I stop, give up do something else. It would've been a lot easier and made more money and advanced my career, but I'd struggled very hard to keep the radio business going and alive," Robbins said. "I'd probably do the same thing again. The bottom line is it was one of those things where I couldn't just walk away and stiff all the investors. It just wasn't who I was."
Robbins said his decade-long battle with the IRS hasn't affected his view of the state and taxation.
"It didn't necessarily color my opinion about government," Robbins said. "I made the choices that put me in that place and I take full responsibility, so I don't feel bad about it. I don't look at it as 'screw the government' or 'screw the IRS' — it wasn't the IRS' fault. They're supposed to collect the tax."
Robbins' first foray into politics came in 2018 when he was campaign manager for Mead Treadwell in his Republican primary run for governor against Mike Dunleavy.
He said the final straw in his decision to run for mayor came in June of 2019 after the Anchorage Assembly passed AO-65, legislation meant to curtail 'conversion therapy' for LGBT youths.
"That was the last straw — the assembly tring to go solve a problem that didn't exist," said Robbins, himself the father of a transgender child. "I had a really strong feeling that the government had no business interjecting into the conversation between a parent and a child in that relationship and that's what AO-65 did, it put government square in the middle of that conversation and it's not OK with me."
Having a transgender child and trying to curry favor with voters not supremely keen on advancing LGBT rights is an apropos of Robbins' position in the mayoral semifinal, though Robbins insists he's not running against Bronson, he's running against the progressive frontrunner Dunbar.
"Bronson's not our competition — Forrest is," he said. "We believe we'll be in the runoff against Forrest. I think we have a path to 45%. I'm the only businessperson in the race with real world experience and that bridges a gap no one else in the race can bridge. There's certainly no way Bronson can get there — he's too far right, and while that's OK, he's just kind of aligned himself with that and that's who he is."
Asked whether the implosion of the final days of the Trump presidency that hit its crescendo in the Capitol riots hurts him or Bronson more, Robbins took a more broad approach.
"The events of (Jan. 6) were very sad… the real question for me is how did we get here? How did we get to the place where people don't trust government?" Robbins said. "Whether you're a Trump supporter or a Biden supporter, why don't, in general, don't people trust? Look at our assembly, look at our mayor — people have lost trust and that's why you see demonstrations… that's why the Black Lives Matter folks were demonstrating — they didn't trust what was happening. How did we get to the place where we distrust leaders so much? It involves leading with integrity and as much honesty and openness as possible."
CLARIFICATION: In the original version of this story it was implied that Robbins was with Bonaduce when the assault occurred. Robbins since clarified that he was not with Bonaduce at the time.