Editor's Note: After multiple attempts to seek comment from Holy Rosary Academy the school's headmaster has declined to respond to questions. In emails sent to all of the Catholic Schools within Anchorage, there was one reply, that from Brian Ross, principal of Lumen Christi High School, who wrote:
"Lumen Christi's non-discrimination policy explains that our school does not discriminate on the basis of sex, race, color, national or ethnic origin regarding admissions and in the administration of our educational policies, scholarship and athletic programs, and other school administered programs.  As a Catholic school in the Archdiocese of Anchorage-Juneau, Lumen respects the dignity and value of every person as made in the image and likeness of God."
There was no mention of protections for LGBT students and in a follow up question to that point, Ross responded:
 "Lumen Christi supports our non discrimination policy as sent earlier.  We reiterate that we respect the value and dignity of each person."
We appreciate Mr. Ross for his response.
Born female, anatomically, Morgan Smith was always different from the other girls — and different from the boys, too.
That perpetual queerness caused him to be persecuted and bullied throughout public elementary school, culminating in an event in 8th grade when he was pinned to the ground by fellow students who then wrote 'fag' on his forehead. Morgan's parents were disappointed that school officials did not take the offense more seriously, even sending Morgan back to class with the slur still visible on his forehead. His mother, Tasha, pulled Morgan out of school immediately thereafter.
Morgan's parents knew they needed to do something, so they enrolled Morgan and his younger sister Natalie at Holy Rosary Academy on Fireweed Drive in Anchorage.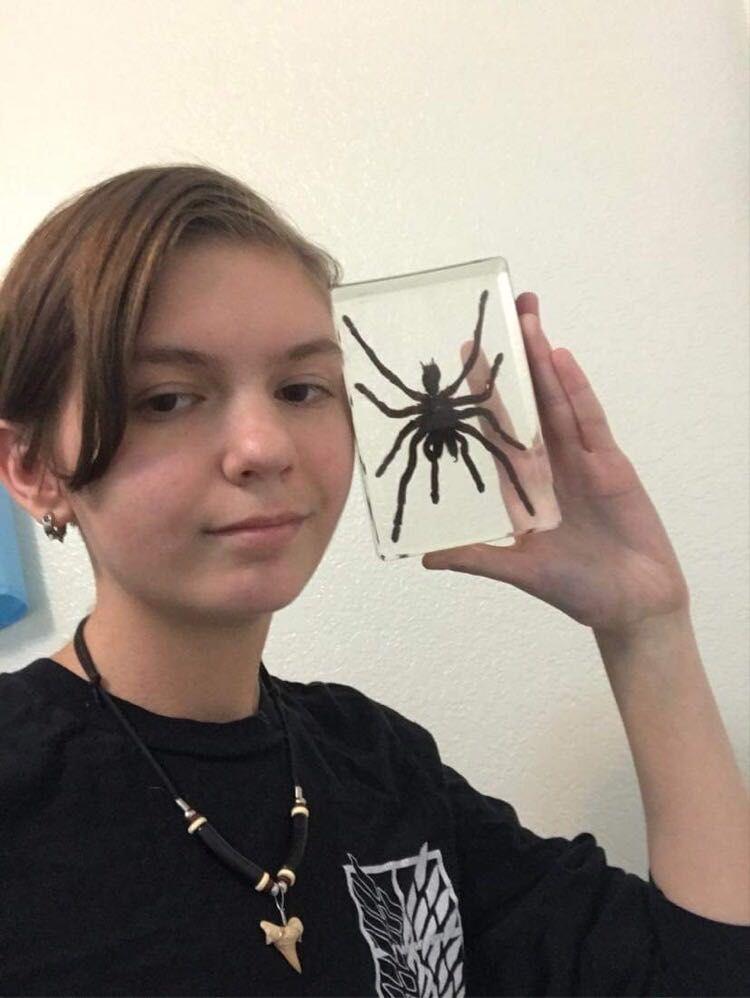 "Even though we're not religious, we enrolled Morgan in Holy Rosary Academy because Morgan had been having issues with bullying at public school," said Morgan's step-father Joe Joyner. "They have a very good reputation for their educational system, helping kids get to college and they could tailor Morgan's curriculum to his strengths and weaknesses."
Overnight the bullying stopped things got better for Morgan at Holy Rosary — so much better that at the end of his junior year last spring, he decided to come out as transgender — hardly a surprise to anyone who knew him, but potentially a sticking point at a Catholic school where boys wear uniforms with pants and girls skirts.
Identifying as male, Morgan preferred to wear pants and to be referred to by his preferred pronouns.
"In April we sat down with the principal and at the face of it he was very understanding," Joyner said. "We weren't pushing for anything that year — there were only 3 or 4 weeks left to the school year — we were just saying, hey, next year Morgan would like to present as a boy. We weren't asking for use of boy bathrooms or anything like that, just a pronoun change and a uniform change."
The family left the meeting feeling confident everything would be cool, and as weeks went by they figured no news was good news.
"Through the summer we e-mailed them, tried calling, tried getting any sort of correspondence, but they were always pushing us off, saying somebody will call you back," Joyner said. "It was no response until basically we were like, OK, since you aren't talking to us, Morgan will present as a boy and we're getting boy uniforms — just be aware."
That silence ended once the Joyners received their 2021-2022 enrollment packet at the end of July that included additional pages promising adherence to the Nicene Creed of 325 A.D. and extensive language that seemed to single out gender identity and sexual orientation.
In the final 1,270 words before parents sign in agreement this year's HRA content closes with the following:
D. Statement on Marriage, Gender, and Sexuality.
In accord with the constant teaching of the Catholic Church, we believe that man and woman are
created by God in His image and likeness. (Gen 1:27.) … Therefore, one's biological gender is established by God and cannot be changed…."Marriage" has only one meaning: the matrimonial covenant, by which one man and one woman
unite themselves in a lifelong partnership ordered toward the well-being of the spouses and the
procreation and upbringing of children. (Code of Canon Law 1055.) By its very nature, the
marriage bond "is perpetual and exclusive." (CCC 1638.) … In order to preserve the integrity of the Catholic Church as the Body of Christ, it is imperative
that all employees and volunteers agree to and abide by this Statement on Marriage, Gender, and
Sexuality. School employees and volunteers have a special duty to live this statement since they
serve as role models for society and the church community.
According to Joe Joyner this was new language that he couldn't help but wonder was put in place because of his step-son. The school did not respond to questions as to whether this was new language and, if so, was it put in place because of any particular student.
He said Tasha went to the online app to re-enroll both children for the coming year only to find they had been deleted from the rolls. After all, Joe supposes, if Morgan Smith is going to enroll as a male, rather than a female, then that may as well be a whole new human being made to re-apply as though he were a brand new enrollee. And since each student at Holy Rosary enrolls as a family, that meant Natalie was likely out of luck, too.
"He's now a new student instead of somebody who's been going there. We could sign this and turn it in and pay another $600 fee to the school to get both Morgan and Natalie in, but they already know about Morgan because we told them," Joe said. "Also, according to this contract, if they kick us out we're still liable for the year's tuition, which is about $10,000 per kid."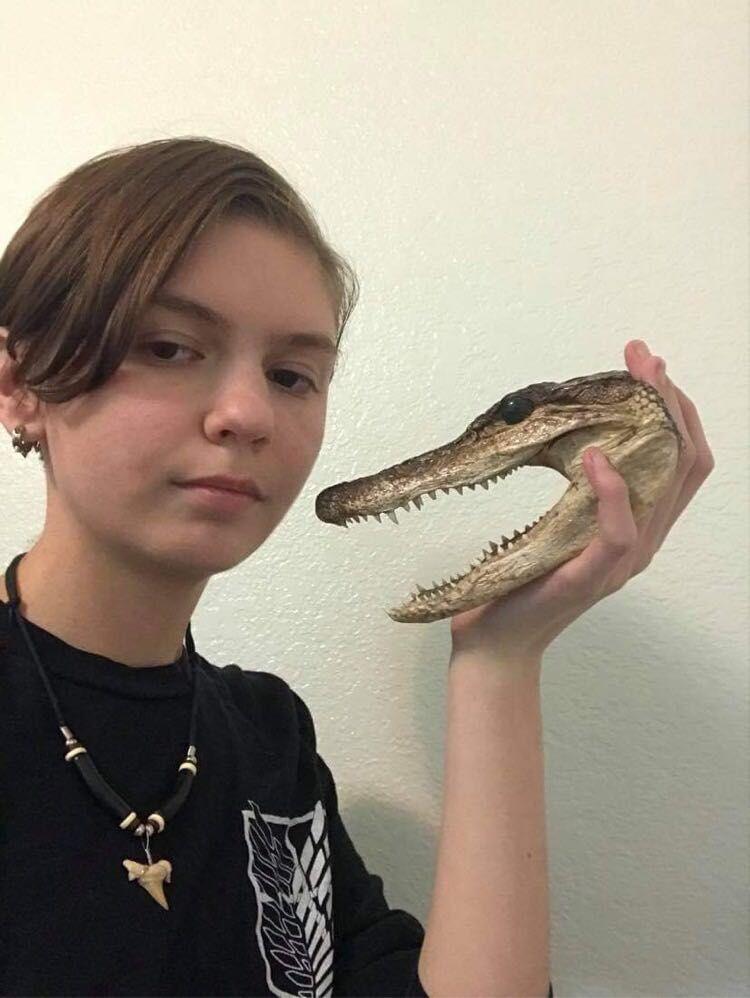 According to email correspondence between Joyner and Newcomb, provided by Joyner, dated Aug. 4, Newcomb acknowledged hearing the Joyners' appeal and said he would take their concerns to the school's board.
Five days later, Newcomb wrote in an email to Tasha Joyner that Morgan could not be considered for re-application at the school because of an overtly rebellious social media post in which Morgan painted one arm red and one arm black with a pentagram on his left wrist, putting fingers from both into his mouth, face otherwise cropped, and because of Mrs. Joyner's assertion that "demons are not real."
"Given the fact that you think, as you state in your note to me, that images and language of this kind are acceptable content for a Holy Rosary student to share on-line, we clearly do not have a functioning partnership with you for building up the Catholic culture of the school.  For that reason--although it gives me no pleasure to tell you so--you will need to find other educational options for your children for next year, in a setting that better aligns with the values that you hold and espouse with respect to the occult and the diabolical.  It is the clear, public, and consistent teaching of the Catholic Church since the days of Christ's earthly ministry and His casting out of demons, that the forces of darkness are real."
And with that, any fleeting hope of Morgan or his sister remaining at Holy Rosary Academy was gone with the wind. Morgan's plainly rebellious, Macabre commentary on Instagram gave the school a convenient reason to deny his application, apart from the contentious social issue of gender identity and sexual orientation.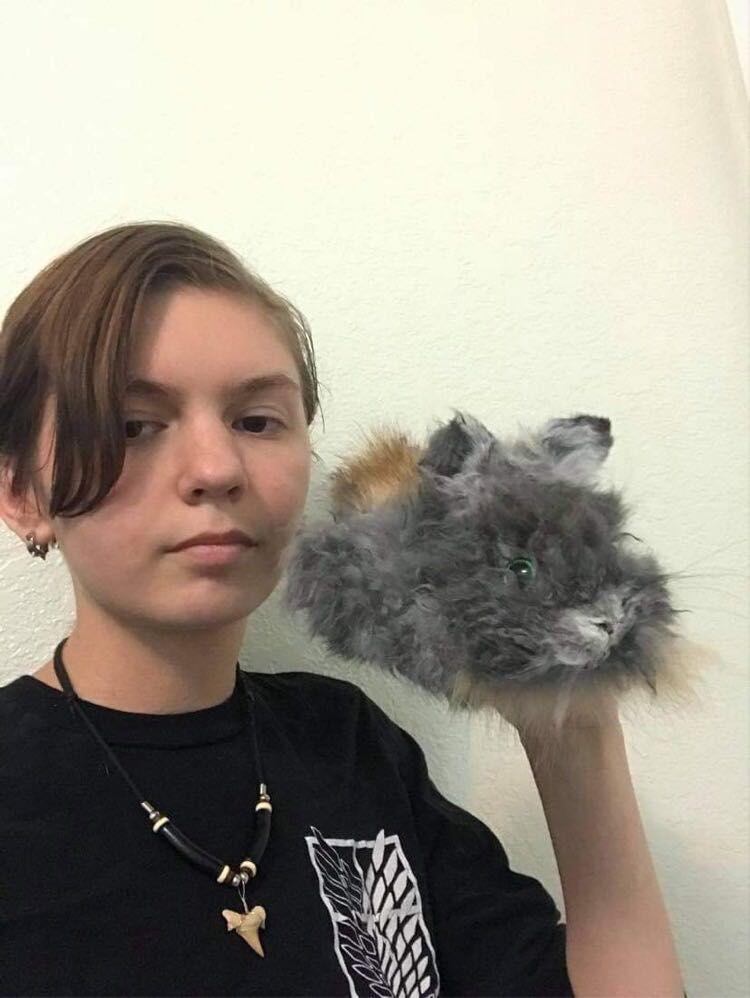 For the Joyners, this journey has found a relatively happy end. Joe reports that Morgan is off to a good start to his senior year at Service High School and continuing to pursue his interest in taxidermy as an intern at Knight's Taxidermy in Anchorage. Natalie is also doing well, Joe reports, as an eighth-grader at Hanshew Middle School.
Legally speaking, the courts have consistently sided with the right of private religious schools to discriminate against students so long as they receive no state or federal funds. The Anchorage Press is currently attempting to ascertain whether Holy Rosary Academy receives any public money.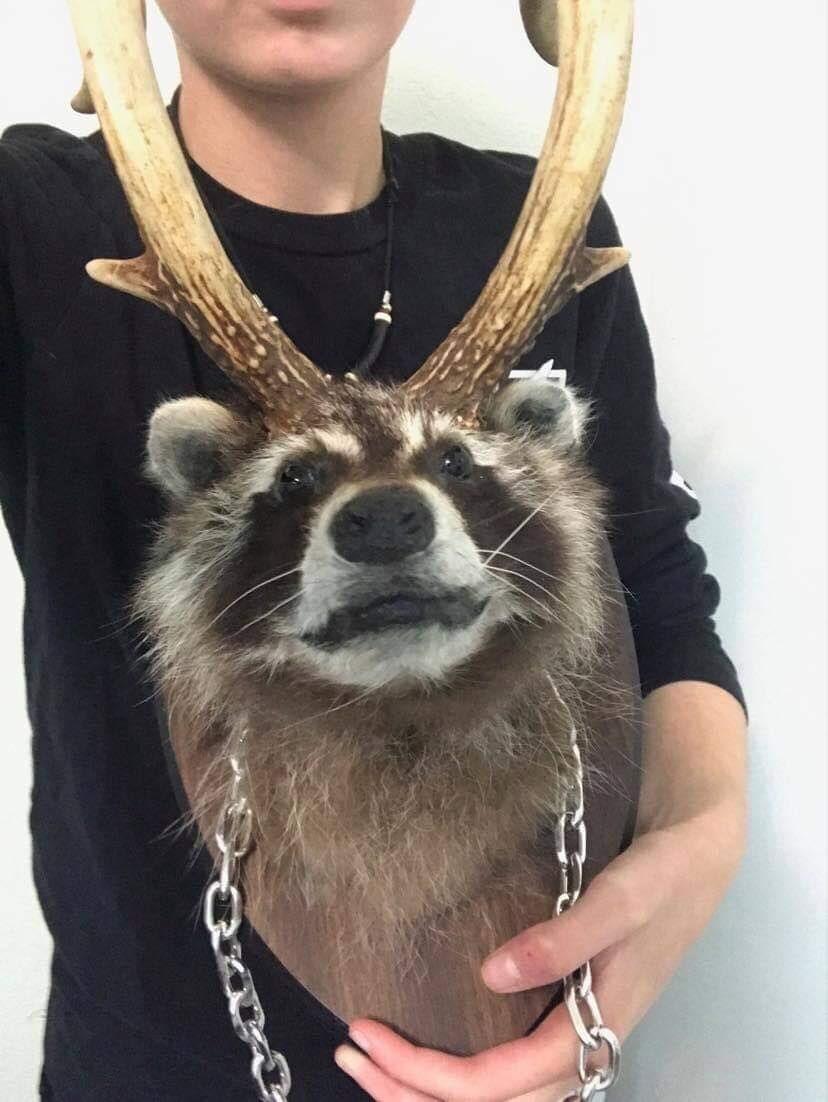 Another question posed to Newcomb that went unanswered was whether the school intends to deny enrollment to other students whose parents do not follow the Nicene Creed, which would also prohibit the participation of non-believers like the Joyners and many others around the nation do quite openly when they enroll their children in Catholic schools for reasons of education, athletics or, as in the case of Morgan, to avoid being treated less-than-human.