When his relationship with his girlfriend/business partner ended last year, downtown apparel retailer Mikey Huff began asking himself life's important questions.
His business, which had occupied his time and talent for 12 hours each day, was now a thing of the past, and apart from the obvious disappointment came the despair of wondering why he worked so hard at pursuits so fleeting and so vain.
"I made a list of all my skill sets to figure out where I wanted to lead my life at this point," Huff said. "The list I came up with was photography, storytelling and community building. In the moment I saw those as seeds to try to plan a new future for me in some way. It sounds lofty, but I had to find something to change the direction I was going."
Serendipitously, Huff came across a story on Facebook that drew a big, red target around where he was meant to aim. It was a story sponsored by Bombas socks talking about the demand for sock donations in the winter months.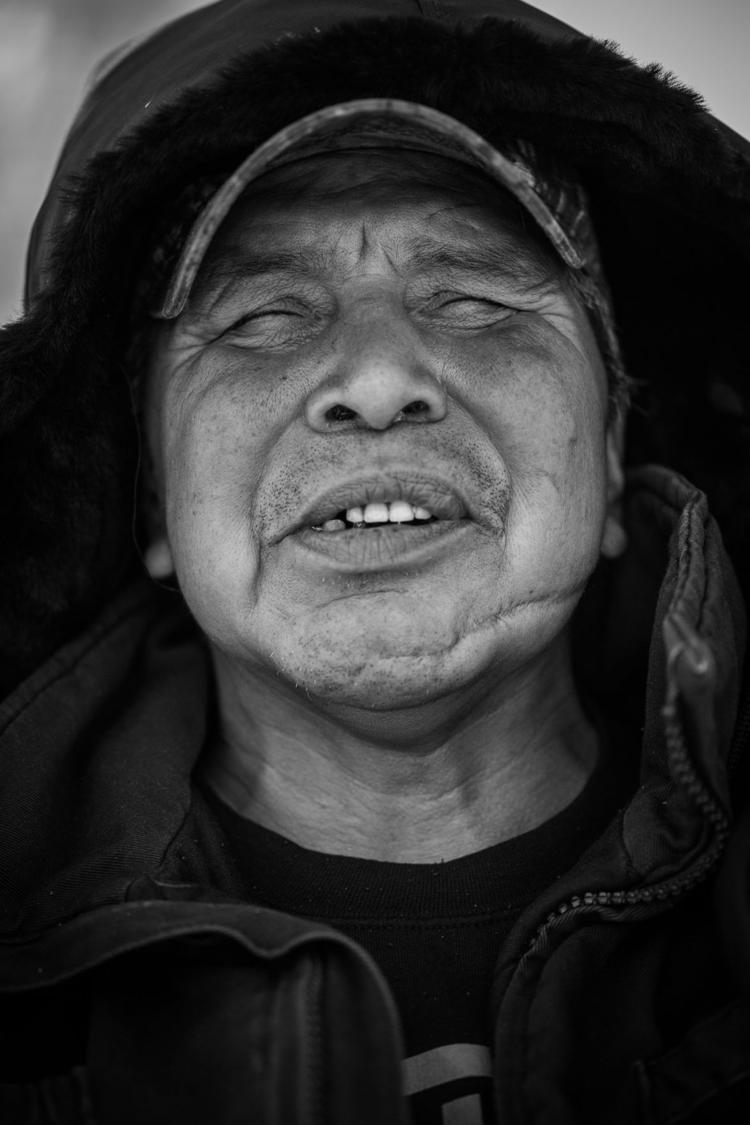 Huff picked up his camera, worked out an arrangement to be escorted around downtown by the Anchorage Downtown Partnership's 'ambassadors' and began his work on what he called the 'Wool Sock Project', wherein he would take portraits of homeless people in Anchorage — and later in the Lower 48 — and give them socks, food, water and a sympathetic ear to hear their stories.
Last week, Huff shared some of those stories in a presentation of his photos at the Anchorage Museum.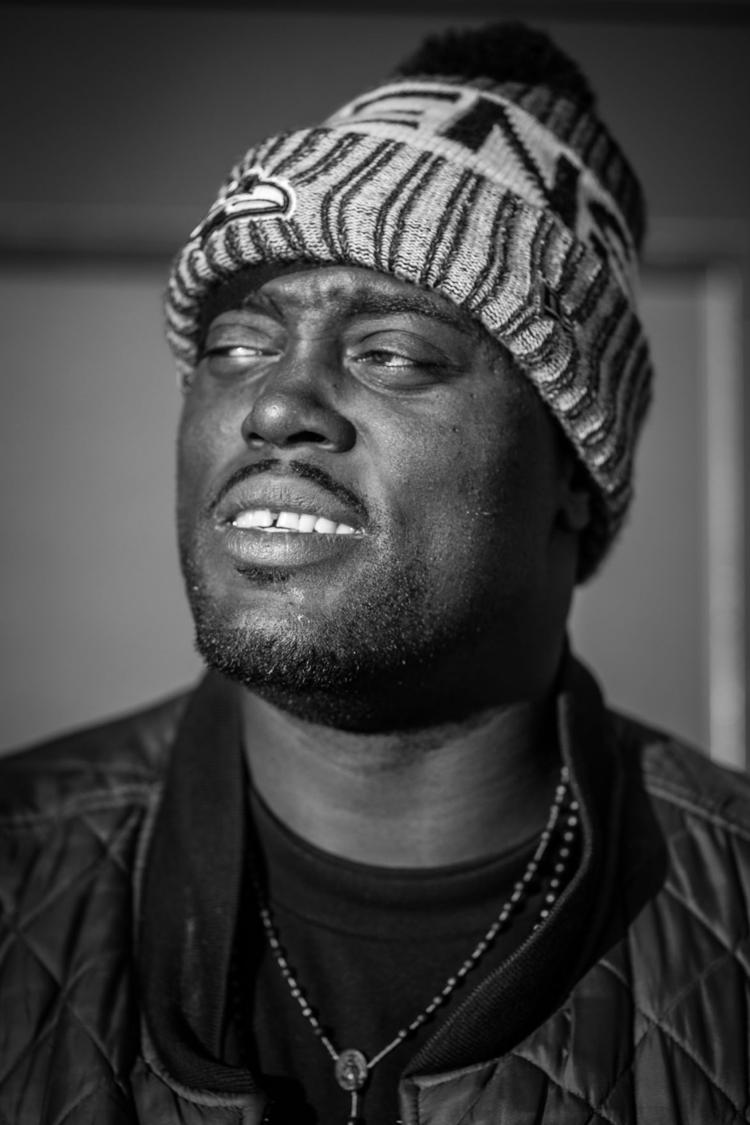 "I realized in that moment that my prior life had been very selfish. Being very financially successful I could retain some kind of social status, but I realized when it all exploded on itself, it didn't mean anything in the end," Huff said. "I wanted to do a short-term project, but when I dove in, there was more to it than I originally thought. My skill sets of being able to approach people and make connections in ways others might not — I just went full-bore with it. I started out with a backpack full of socks, but it evolved into what it is now, with public speaking and connecting with humans on a different level."
Breaking the ice with his new subjects wasn't so easy.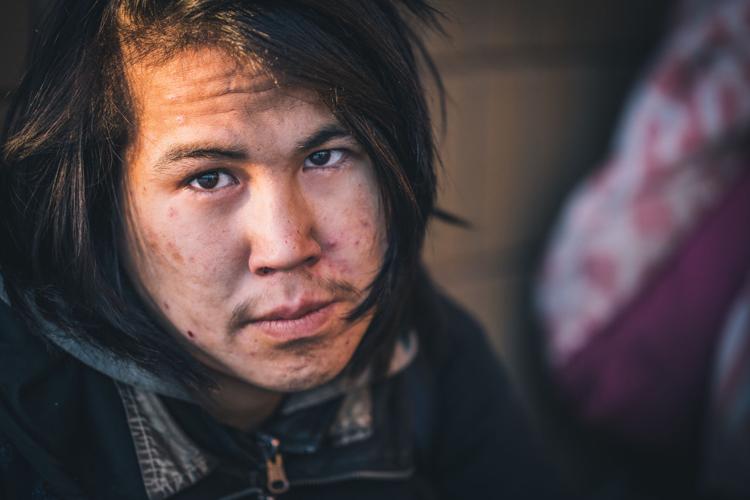 "Something that shook the project foundationally was the realization that we use the term 'homeless' and when we give people that label, it lumps them in with a lot of negative connotations — drunkards, alcohol, drug addicts, people who don't want jobs. But I realized that when I went out and spoke to a plethora of people in that position, they all were there for a different reason — all unique stories," Huff said. "It made me think that we're just a community and there's a subsect in this community that's referred to as 'homeless', but what was important to me was that the only thing these people had in common was that they don't have somewhere to sleep."
Perhaps the tightest bond Huff forged with a homeless person in Anchorage was his relationship to a man named Sam.
"I was sticking to the script and nothing was going right. With Sam I realized this whole list of questions thing is entirely the wrong way to go about it," said Huff, who would meet Sam at Dark Horse coffee on 7th and G, one of the few businesses downtown that does welcome the homeless and even has a pay-it-forward program to provide them with cofee. "He was willing to open up with me. Board games at Dark Horse in the morning became this thing that we did. As we went through that process, it really relaxed you… It was all within my skillsets anyway to talk to people. It was there at the beginning, but it took someone like Sam to get the ball rolling."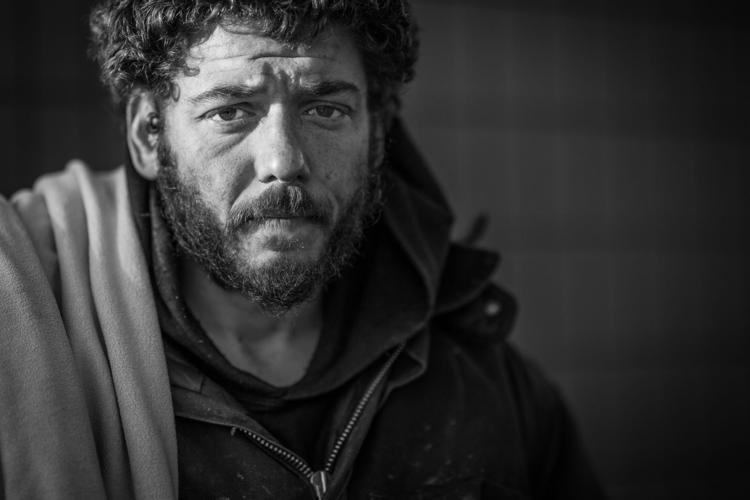 Those on hand to see Huff's slideshow last week learned that along the way, Sam had essentially adopted a Native youth who had no family, and sadly, in the end, after winding up in public housing, wound up back on the streets. An emotional Huff said he hasn't seen him since.
"The conversation just flowed naturally with him. I had a list of questions I would ask people, like how old are you or where did you come from, but one of them was, 'if I could give you anything what would that one thing include?'" Huff said. "The answer, more than anything else was more job opportunities and lower housing costs."
Huff uses those survey results to combat the hardline complaint that homeless people are just too lazy or too unwilling to work.
"One thing I've heard time and again is along the lines of 'either I'm invisible, or I'm an eyesore,' and that is heartbreaking," Huff said. "When you have that stance, that mindset gets laid into your being that when people see you in the streets, they're angry that they did. When you have that in your being, your self-worth goes to zero."
In that state, how is one expected to get a job when they can't get clean clothes or a shower, or a mailing address, or, like most of Anchorage's homeless, who've been mugged and robbed of their wallets — how do they get an ID?
Huff teamed up with barber/homeless rights activist Joshua Coombes, from England, to try to set up a makeshift barber shop tohelp the homeless of Anchorage feel more dignity and have a better chance at landing a job.
"When someone sits down for a haircut, they're there for a while and their guard comes down so you have the opportunitiy for a conversation," Huff said. "Most people are really excited. They're over the moon to get a haircut… When the mirror turns on them it's like they're seeing themselves again. I've seen a guy, who when the mirror turns his first words are, 'I'm going to get a job tomorrow.' He wept and that was beautiful to see."
Huff and Coombes took their show on the road to Skid Row in Downtown Los Angeles, and then to visit the homeless community in Venice Beach, where, Huff admits, the community has it considerably easier than in his hometown and not just because of the obvious difference in climate.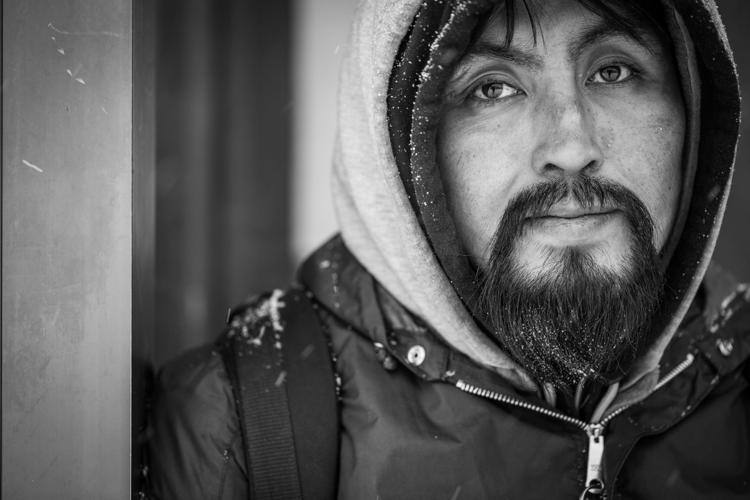 "They had showers available and water was available — because they're on the beach — but they had restrooms available. There's not restrooms available for them in Anchorage," Huff said. "One thing I noticed in L.A. was that 70-plus percent were African American.... Here, a large part of the homeless population is indigenous, which, from what I've heard is a lot of guys getting sent down for mental health or (physical) health at Anchorage hospitals, who don't have anywhere to stay and stay on the streets… Another difference is here you have a lot of young kids… You see a lot of 18 year old kids sleeping on the streets and when you dive a little deeper you see the elders take these casts of kids underneath their wings and actually lose sleep at night trying to find resources for these kids."
Huff prefers to view the situation from a humanitarian position, and not a political one. But, he says, there are a number of policy positions he's found that are simply counterproductive.
"Anyone that sets out with the intention of 'solving a homeless issue' already starts in the wrong place," Huff said. "I don't want to degrade the work they do; it comes from a good place in their heart, hopefully… But I take the human-first approach; individual needs rather than mass issues.... The same policies to help one person wiill screw over another person entirely, so I need to keep focus on 'how do I help this individual?'"
At the end of the day, 'The Wool Sock Project' is fundamentally an art show, with the work hanging on the walls and in the storefront of Akela Studios, founded by Huff and three fellow photographers on 6th Ave. and C Street. From that perspective, Huff is most pleased.
"I think it's the strongest body of work I've ever produced because of the meaning behind it," said Huff, who added that when he spoke to fellow photographers about the project, some worried it might be exploitive. "It's a very taboo subject… That's why I was using focal length on lens — not shooting someone across the street, not doing anything anonymously. Usually, I was speaking to someone for an hour before the camera comes out."
'The Wool Sock Project' is far from complete, though Huff isn't shooting as much as he'd like these days.
"Most days I go out I don't even bring the camera anymore; I just talk to people. I realize that's a disservice because people are invested in the project," Huff said. "It's important to me, but for whatever reason, it's gone by the wayside. I do view the winter months as the more important months for the project, getting resources for the winter, getting socks and food in your stomach and hand-warmers. I expect the next few months it will be picking back up."
As for the existential crisis that drew him into the project in the first place, Huff doesn't say he's cured of it, but he does now approach life from another perspective.
"I don't think it's satisfied; it's just shifted the way that I view the purpose of my life at this point," Huff said. "I realized before this my life was selling clothes — now I'm giving away clothes. It's kind of funny how it's come full circle. I realized there's a lot more enjoyment and fulfillment for me than monetarily benefiting. I'm not viewing the end of the project or where it stops."