I laughed as mud water poured over the dash while I plunged the all-terrain vehicle deep into a hole at speed. I felt water sloshing around in the floorboards as I gave more gas and climbed straight up out of the hole. We kept going places I didn't think the vehicle could handle except for the fact I was following the guides on their machines. It was like a lightweight tank that plowed through and over everything.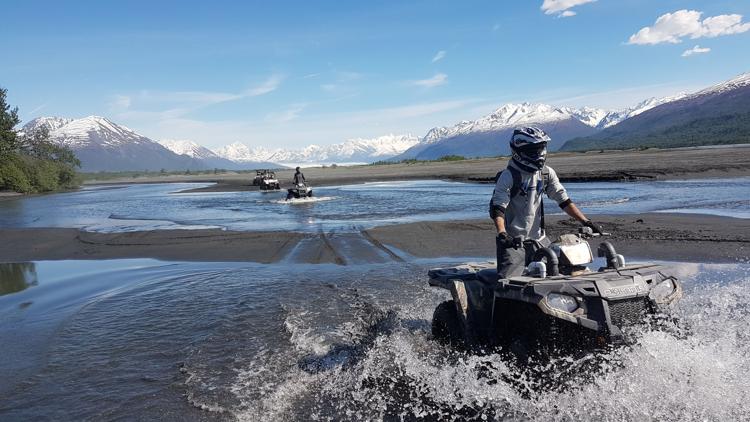 On flatter ground we hauled balls down the middle of a valley. The terrain changes as it gains water over the season but we had a wide expanse to zip around and through, a line of trees rolling by in the distance on either side, and beyond them snow dotted mountains. Bouncing, darting, swerving around, I didn't have to invent a fantasized destination in my head, I was going to see a glacier. One you can still see, unlike Portage and soon Byron glacier. They're getting harder to find and going fast. Spilling out of the mountains ahead I could see the swath of blue sawtooth ice looming.
49th State Motor Tours is a local, family owned company giving ATV tours near Palmer. They have a five star rating on both Yelp and Trip Advisor. There are a number of ways Brian Lizer and his wife, Cedar Cussins, keep it that way.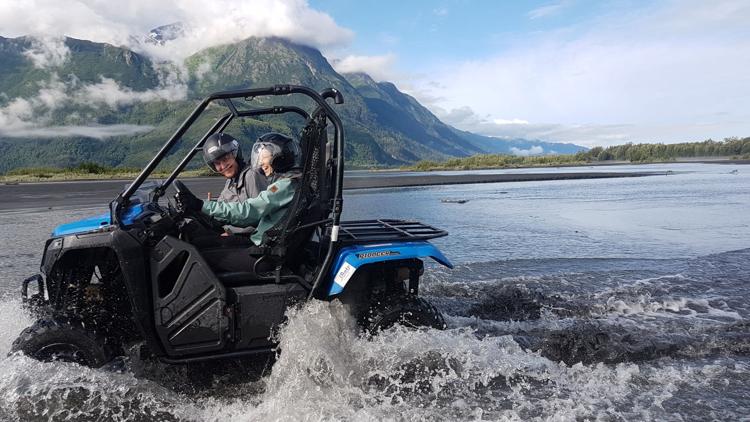 Brian serves lunch to the guests at the glacier, cooking salmon tacos on a cook stove carried out along with a neatly organized portable kitchen. While we relaxed by the glacier I asked Brian a few questions. I've actually known Brian and Cedar for a long time, and there's something they've always done better than I have. I had to ask about it.
Because what's the point of life without it? I mean, what else are you going to do?
Your slogan is "It's safe if done safely."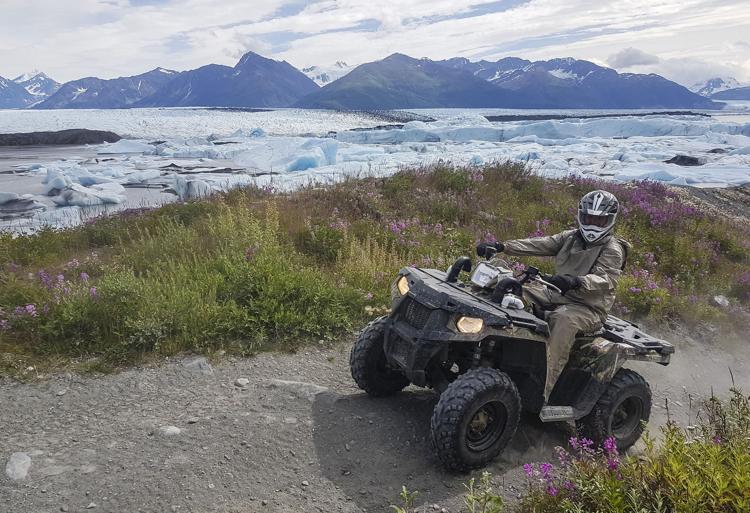 How do you make sure the tours stay safe?
Well, you think about it. I mean, you have to, there are so many angles that you have to be paying attention to. You know, it's not just about strapping your helmet on it's about making sure people stay together, and people communicate and that everybody is aware what's going on with everybody else. "It's safe if done safely" is really just about, thinking about it. Everybody's always like, "Well, that's a goofy slogan," but it's like, well yeah, but it made you think about it. Sometimes it's the littlest things that can trip people up.
How has COVID affected 49th State Motor Tours?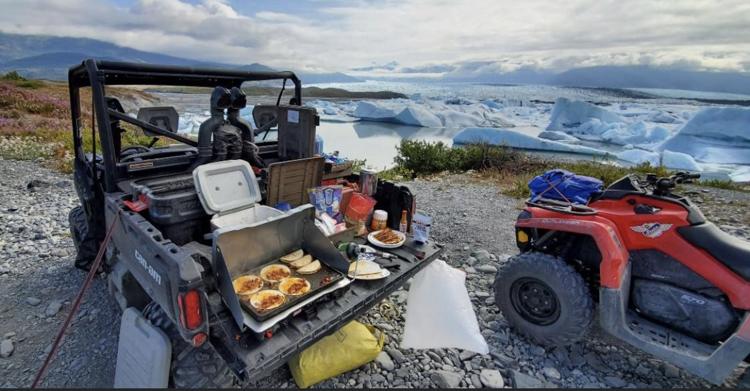 Oh, it's been devastating. Without a doubt, hands down. It's uh, this is our sixth summer and we've seen substantial growth every year without a doubt, and this is the first time that we have gone, four weeks without a single booking coming in. I think we're actually more like, I had one yesterday and that's the first one in I think seven weeks. We've never started a season with so many cancellations. I've got, I literally have at least three people that won't be working for me this summer. It's really going to come down to me and Cedar doing 90% of all the work.
But you are available for tours now?
Oh yeah, we're open. We're running tours. We have, you know, we were very particular about, hygiene, helmet maintenance, gear maintenance, safe if done safely, good goggles and all that, and I'm impressed with how much I've been able to step my game up even more still. We've added layers to our sanitization, we have a couple new processes that we're adding into it. Cedar did a lot of research and found out ozone is effective so we've bought the equipment to sanitize gear with that.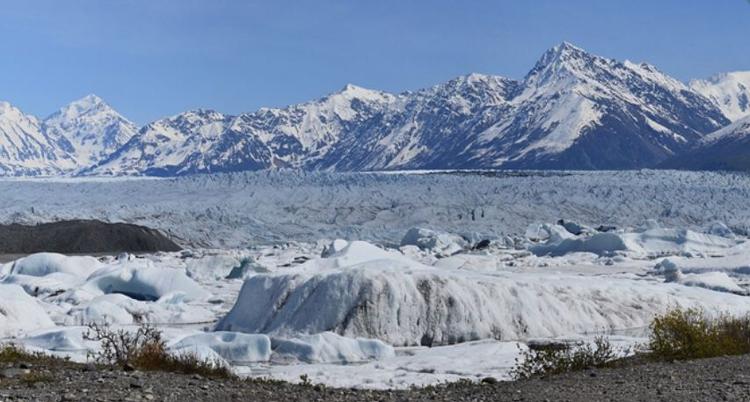 So you have taken the safety measures into account?
Oh, absolutely. Absolutely. And really if you think about it, this is social distancing. If you're going to come to Alaska, A. this is one of the most authentically Alaskan experiences you can have, and B. we tell people at the beginning of the tour, "do not bunch up together, it is dangerous." So now you need to practice some real social distancing. Brian laughed.
How late into the season do you book tours?
Uhh, we don't stop. A lot of tour companies up here are owned by snowbirds. We are not. We live here year round. You saw the snow machines in the quonset hut, jeeps. You know, towards the end of summer if people call us up and want to go out and it's super cold and the trail's not frozen we throw 'em in jeeps and we come out. So we've got means to get to do a tour any time of the year.
On the ride back I saw Brian get off his four wheeler at the top of a hill. He picked a bottle off the ground and added it to a few others I had seen him round up while we were out. Other people use the area but Brian makes sure he takes good care of it. He takes good care of guests, too, I felt like it was my birthday.
Brian and Cedar are offering a 20% discount to locals this summer for tours of two people or more. If you had travel plans outside of Alaska that were scuttled because of COVID-19, there is an excellent opportunity for an adventure not far outside of Anchorage with a big payoff. And it did take my mind off the stressful world we currently live in. While I was in the ATV, bouncing around and kicking up gravel out there, it was like there was no COVID.