Question: Add two weeks of post-travel quarantine and week after stay-at-home week interrupted only by quick dashes to the grocery store with mask firmly in place? Factor in the upheaval of converting home into workplace, for those lucky enough to still have jobs, and personal space into a school classroom and playground. Toss in transforming ourselves into homebound teachers of subjects long forgotten using online video technology we'd never used. Multiply that by the number of sleepless nights spent prioritizing how the remaining change in our pockets should be spent. And what do you get?
Answer: A craving for fresh air.
So, with winter fading, fairer weather descending, and the gradual loosening of mandates meant to keep us coronavirus-safe, cousin Joann and I took to the outdoors Saturday. Arriving in separate cars and accepting the continuing need to maintain six feet of distance, we hiked Diamond Creek Trail, four miles north of Homer, and spent the better part of a minus-5 foot low tide exploring the exposed beach between the creek's mouth and Homer.
Leaving the trailhead and following the path through bare-branched alders just beginning to bud, we were welcomed by the roar or rushing water, a telltale sign of deep snow melting at higher elevations. The muddy stream pushed its way over and around trees and rocks that had spilled down the canyon's edges, attempting to dam the creek bed. The water was not to be deterred, however, and tumbled on to its Cook Inlet destination. The green leaves of stinging nettles poked up through damp soil along the trail's edge, promising a bountiful though cautiously gloved harvest for favorite recipes. Also stretching toward the sun were broad-leafed cow parsnips, commonly known as wild celery to many and pushki in Joann's and my home village of Ninilchik. Even the prickly spines of devil's club were displaying new growth.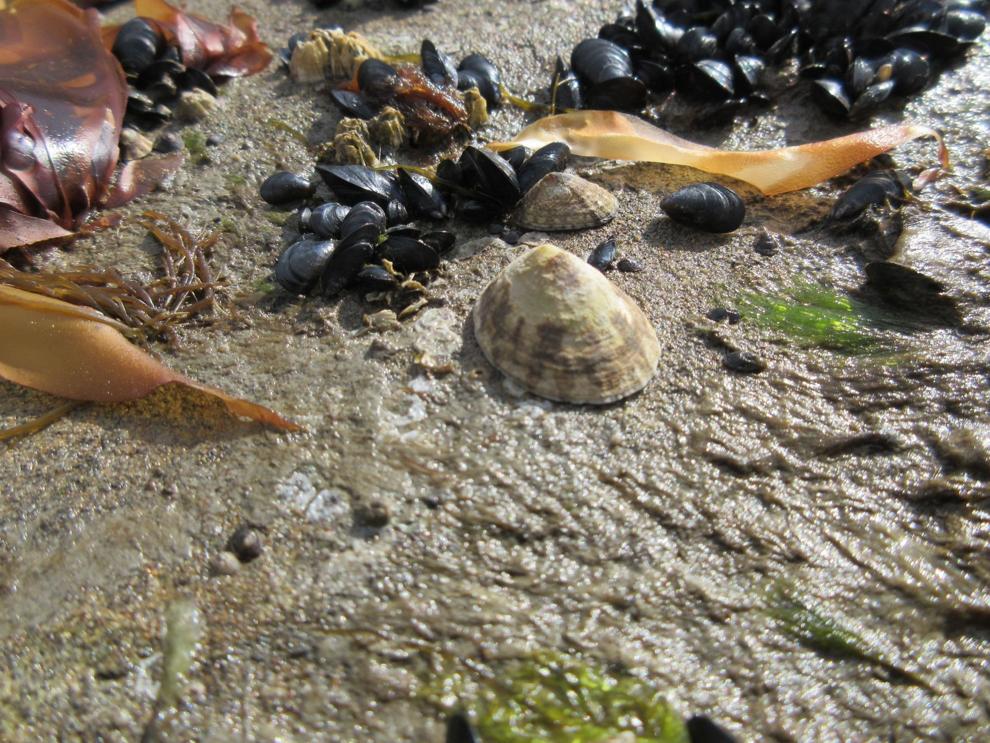 Considering the amount of winter snow that had blanketed the southern Kenai Peninsula combined with springtime thawing and rain, erosion had nearly erased several sections of the trail and turned sections into slippery mud. Fortunately, a previous hiker had strung rope for handholds which Joann and I were thankful to use.
Twenty minutes later, we reached the beach. Lots of beach, given the extremely low tide. Creek noise gave way to soothing waves rolling along the shore. Eagles called to one another as they staked their claim to the tops of exposed rocks and posed for photos. The salt-heavy scent of the Pacific's northernmost waters had found its way past the Barren Islands and created a gentle breeze across the inlet's rippled surface.
The assurance I had given Joann earlier that boots weren't needed was soon proven false as we forded Diamond Creek and headed south. Joann's water socks kept her feet warm and dry. I, on the other hand, ended up with cold, wet feet.
Clearly, I should have known better. Joann and I were born with Cook Inlet in our veins and the beach for brains. In the mid 1800s, our ancestors were among the founders of Ninilchik, a tiny settlement for Russian American Company pensioners. The village was accessible only by beach or boat. By the time Joann and I came along, the Sterling Highway was in its infancy, but we cut our teeth on stories of family members walking these shores. Joann commercial fishes and lives on the bluff above the inlet just south of Kenai. I live in Homer, on the edge of Kachemak Bay. Together, we've walked the beach from Kenai River to the end of the Homer Spit, a distance of 60-plus miles. If someone suggests an outing on the beach, she and I are first to sign up.
As it turned out on Saturday we weren't the only ones hungry to be outdoors. Joggers, fat-tire bicyclists, helmeted four-wheelers, and other walkers seemed equally intent to breathe in the air and stretch our legs. Families. Friends. Adults. Kids. Climbing the bluff. Peering under rocks. Staring into tide pools. No one we knew, but that didn't slow the frequent exchange of, "Great day, isn't it?"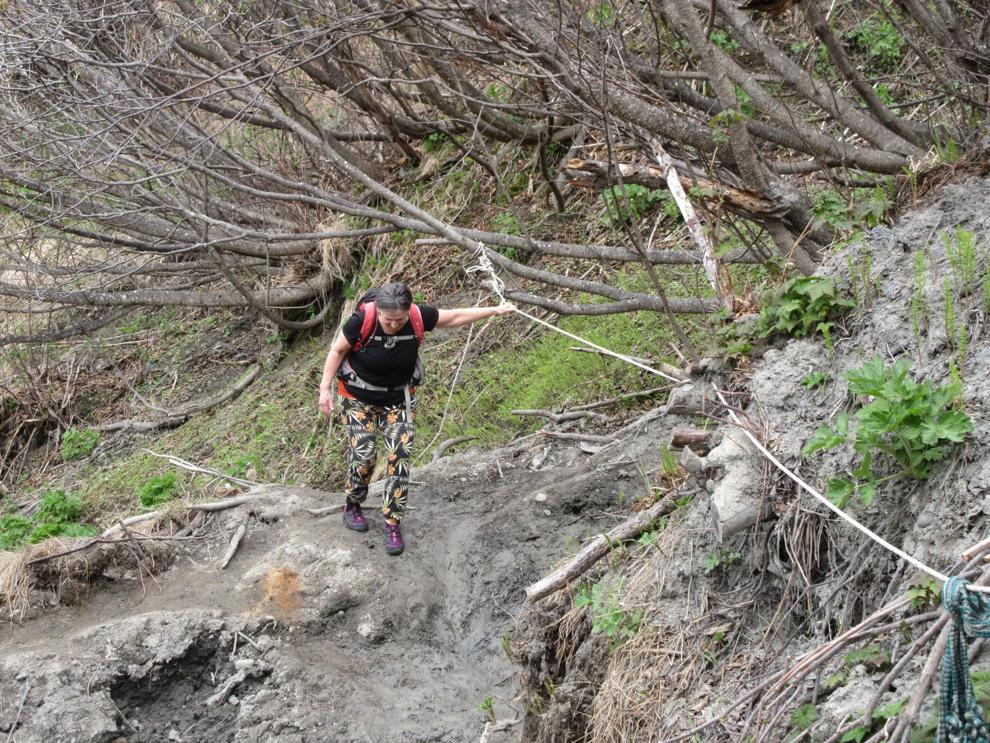 Telltale puckers in the sand, no more than a half-dollar in size, alerted us to the presence of burrowing anemones. The closer to the water's edge we got, the more we saw. Other anemones hung from rocks, while those submerged in water extended their flowery tentacles in search of food.
Beds of mussels — ranging in color from an iridescent blue to black — also clung to rocks, along with barnacles of various sizes. My favorite rock-dwellers because of the conical shape of their shell is limpets, a species of sea snail.
The bright orange of a small sea star caught our attention and we happened to spot a couple of tiny hermit crabs. Just off shore, a seal, or maybe more than one, surfaced from time to time, keeping its eye on us.
Finally, with the tide coming in, and our too-long-at-home feet and legs aching from the stretch of exposed beach we'd explored, Joann and I called it a day.
The fresh air, the exercise, the beauty of Alaska's outdoors had done their magic. We each returned home energized and ready for more.