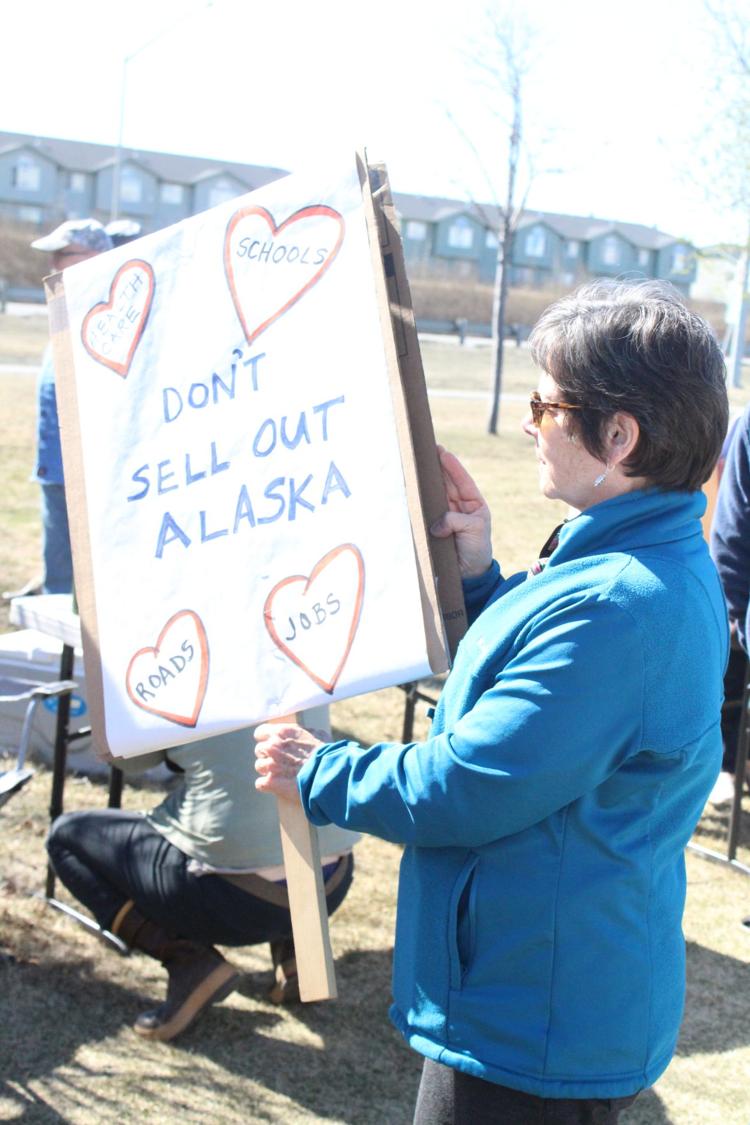 While lawmakers are rounding third and headed for home on the first session of the 31st Alaska Legislature, concerned citizens opposed to Gov. Mike Dunleavy's budget cuts are still battling in opposition. Nearly 100 people trickled slowly into Newcomb Park on Wasilla Lake to 'Stand tall for all,' a clever play on Dunleavy's campaign slogan directed as a dig against his proposed budget.
"I'm here because I think the governor's budget is highly detrimental to our state and we need creative thinking about how we're going to get out of this hole we dug," said Jan Newman. "The original budget, as it came out, was kind of meant to be shocking and disturbing so that any dial back would make us feel like we succeeded, but no, I still feel that it's a dangerous, precarious situation."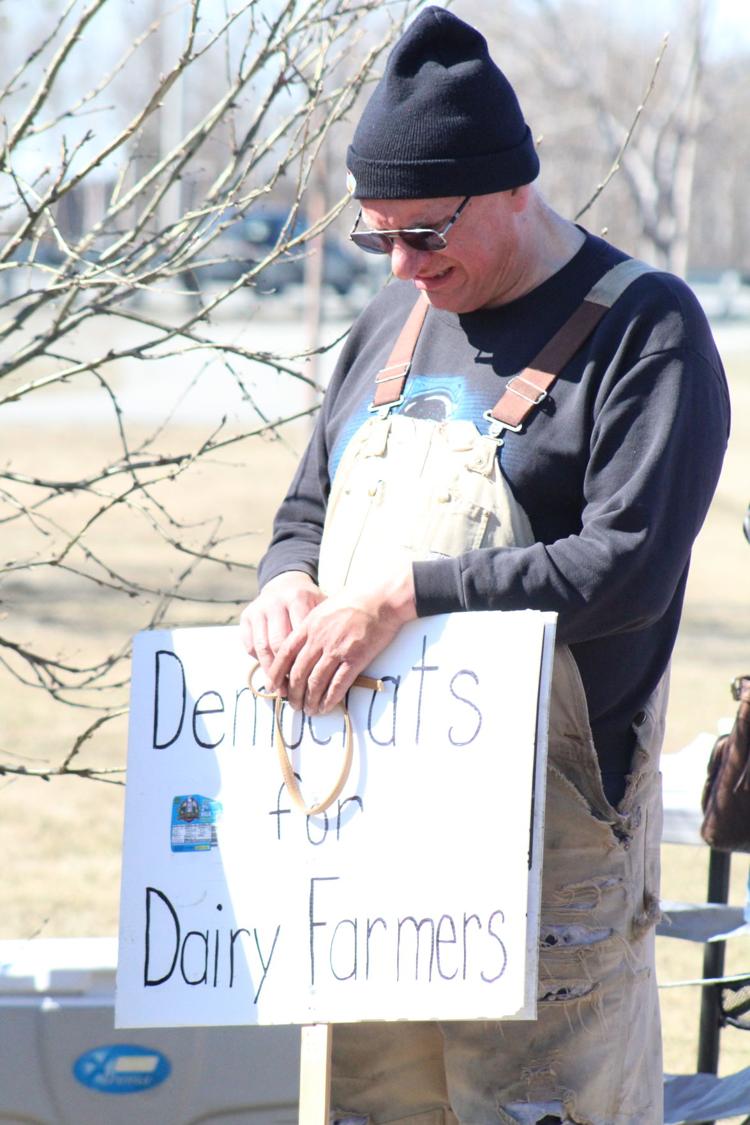 The initial 20 participants in the rally organized by Dr. Megan Aube and Janel Gagnon stood and waved signs on the corner of the Parks Highway and Crusey Street. Honks from passers by were scattered, but Gagnon was pleased that she did not hear any negative comments from passing motorists.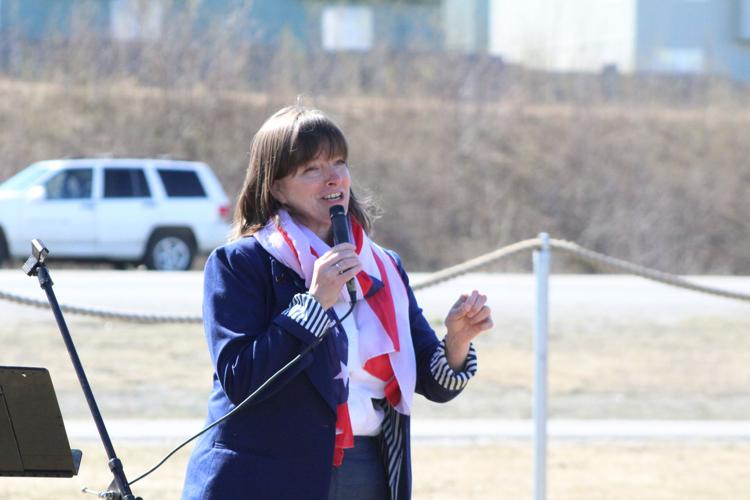 "It's a fallacy to say that all Republicans support these proposed cuts because they are so severe and affect so many people," Gagnon said. "I just was really unsure of how many people would show up and I think Sabrena Combs put it very astutely in her Frontiersman article when she said 'hey, not so fast.' Not everybody here is a Dunleavy supporter and there are a lot of people doing important work in different corners of the Valley to both oppose the proposed budget cuts but to also build up the Democratic party here. So I'm a little bit surprised, honestly, but very very happy that people felt confident enough to come out today. I think there's strength and safety in numbers."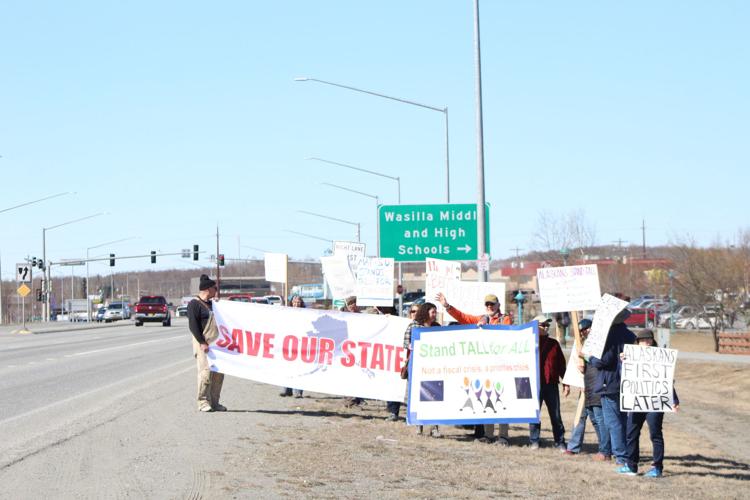 Following some vigorous sign waving, participants in the rally gathered for the national anthem and state flag song performed by Andrea Talbert. Longtime Valley sports stalwart Mike Janacek emceed the proceedings and first introduced Alyse Galvin who founded Great Alaska Schools. Galvin said that Great Alaska Schools has grown from 40 to 4,000 people passionate about defending education. Galvin ran against eldest statesman of the U.S. House of Representatives, Don Young and came close to defeating him, garnering over 131,000 votes or 46 percent.
"We have a governor who threw in a budget that does not reflect what we value. Does it? No! And somehow he got elected .We all know likely through money with his family that helped a lot — that, along with promises that he hasn't been able to keep and will have a very difficult time following through with," Galvin said. "What we're looking out for is some bold leadership for people willing to make some hard decisions so that we're set up more sustainably from the perspective of parents and educators. We're really tired of seeing this February to June, July time being so stressful that it's pretty hard to focus on every day and learning and the wonder of learning, because the teachers morale is down I think more this year than ever and in every district now as opposed to just a few."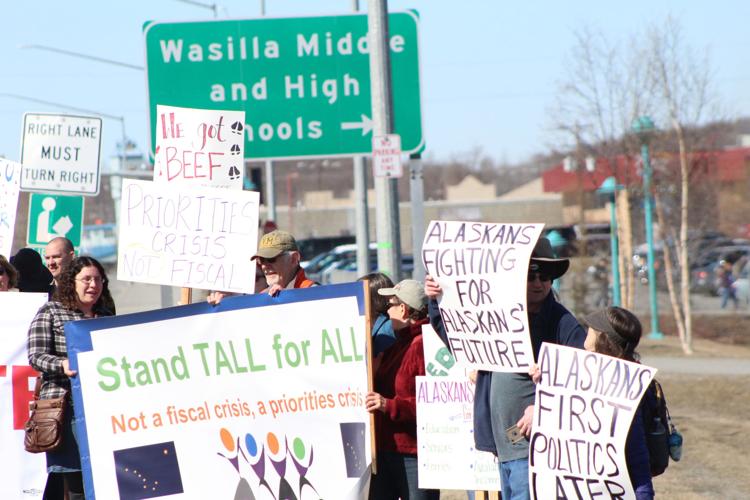 Galvin said that of 128,000 children in public education in Alaska, 50,000 should have access to early learning. Galvin said that the number of children with accessible early learning is in the hundreds, and that specifically in the Mat-Su Valley, 60 children will lose access to early learning as a result of Dunleavy's budget cuts as well as 15 to 17 jobs. Galvin said that 'stand tall for all' was exactly the message of public education because teachers care about the important work they do supporting the community above the amount that they are compensated.
"Dunleavy's wish was to cut 25%, at this point, and again thanks to the thousands of people creating pressure for the legislators to represent us; they are holding the line against Dunleavy's wish to cut," Galvin said.
Andrea Hackbarth stood at a table with signs and markers available for those who did not bring their own. Hackbarth's table was increasingly popular as the revelation that there were popsicles in the vicinity circulated throughout the crowd. Hackbarth said that most of her signs were in support of education, agriculture, seniors and social services.
"We care for all people and we want to make sure everybody in Alaska has a good quality of life and we're like willing to stand up for that and pay for that," Hackbarth said.
Galvin led chants in front of the crowd that steadily grew to nearly triple digits. Galvin said that democracy struggles when the population is not truly represented by elected officials.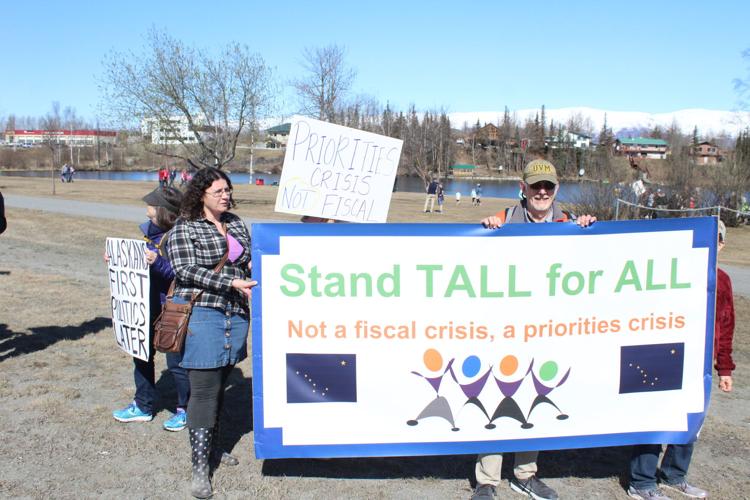 "What we're missing when it comes to the decisions though with cuts is what the analysis about how it was going to impact each neighborhood. So I'm hearing a lot of questions from the Senate finance about that. Has Dunleavy done his homework? And I'm feeling like the reason they're not taking Dunleavy's pieces is that the homework wasn't done. So it kind of is the truth is coming out and that always is a good thing for democracy," Galvin said.