Nine years ago, devoted Catholic Judy Everard was pushing herself to achieve a higher sense of humility. One day, her priest offered his congregation the challenge to perform a simple, and very literal Biblical act — wash someone else's feet.
"Father Scott, the Parish Priest at St. Pat's said he would do footwashing, who would also?'" Everard recalled. "I was praying for humility at the time and after Mass, I went up to him and said, 'I'll do it.'"
On what more fitting people should one perform this act of humility than the homeless? And though Everard had never been involved much with the work at Brother Francis Homeless Shelter on 3rd and Karluk, she and another woman began the practice that has become so popular at Anchorage's only facility of its kind, it's now known as 'Spa Day.'
"I came down — me and a Jesuit volunteer. I washed (a client's) feet and she said it was the first time she felt like a human being," Everard said. "The health impact has less of an impact than the spiritual. Our focus is being personal with the cient and just praying on the love of Jesus. We have a saying, we want to leave them with happy feet and Jesus in your heart."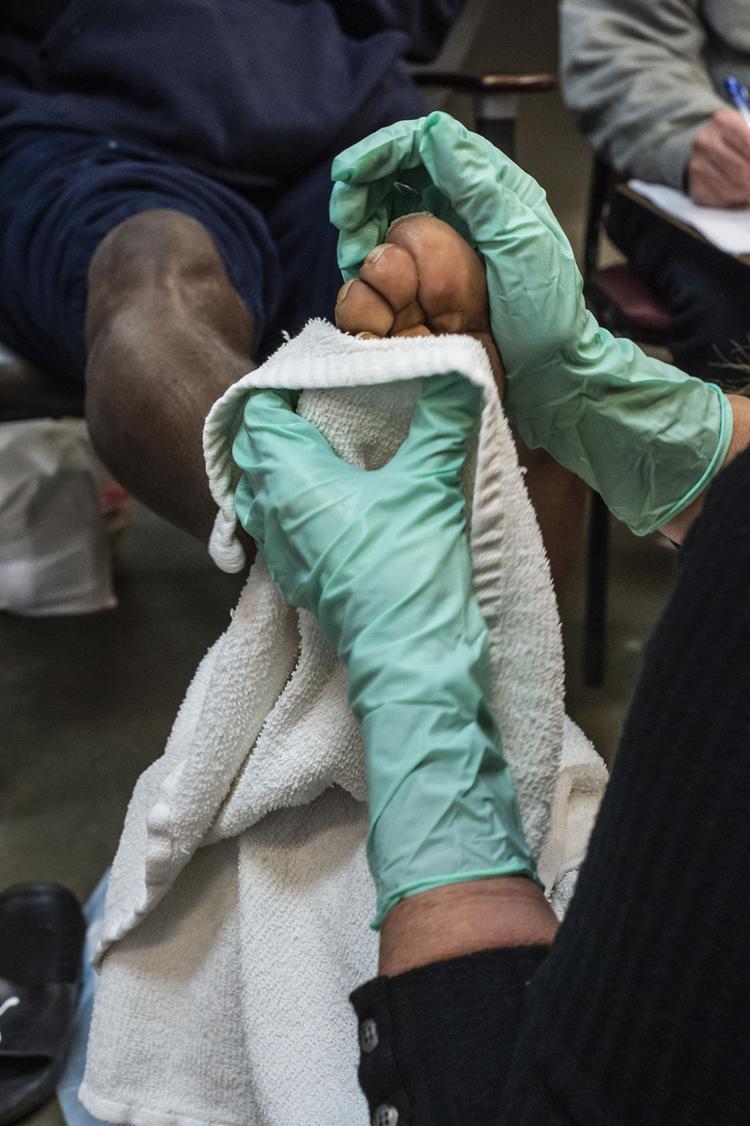 As sacrifice and humility would have it, 'Spa Day' every second Wednesday and fourth Tuesday each month except December, became so popular, medical professionals and other volunteers came forward forcing Everard into a management role, somewhat to her chagrin.
"The humble part is, I don't get to wash feet (anymore)," Everard said. "Evidently (management) is what Jesus wants me to do."
About 35 to 40 people each 'Spa Day' take advantage of the free service, which includes a foot bath in epsom salt, a nail trimming, pedicure and sensitivity test that can identify possible high blood pressure, diabetes or frostbite.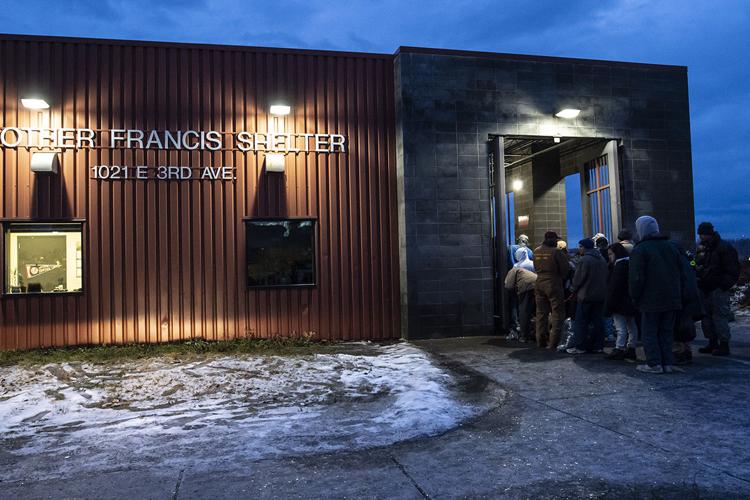 "(Shelter clients) get the most wear and tear and they're exposed to the most germs and bacteria. If you only have one pair of shoes, you're open to a lot of infections. We want to prevent blisters, ingrown toenails and all the nicks and cuts," said Anne Morrison, a surgeon at Providence Medical Center. "As a surgeon, I amputate limbs and toes… a lot of that can be prevented with proper foot care and proper shoes and socks. At winter time there's a high rate of frostbite without proper care, but we can prevent needless suffering."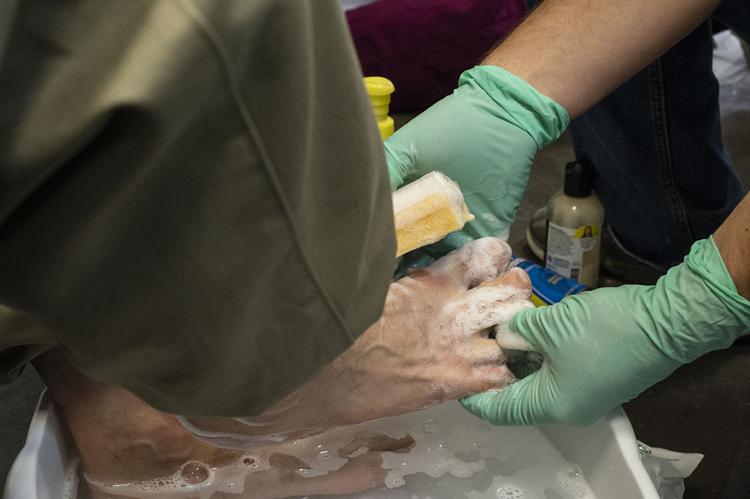 Morrison arrived in Anchorage in April and wasted no time Googling for clinics she could volunteer at. By May she was a regular volunteer at Brother Francis Spa Day, and will be until her six-month stint here ends and she heads to South Sudan, working with the Red Cross.
"Any major city has a huge problem with homelessness, but the weather elements here are more severe," Morrison said. "I'm used to South Carolina, Houston, Tanzania and East Africa, so the environmental challenges you face here are much worse."
David Rittenberg moved from Boston in 2010 and has been working at Brother Francis ever since — apart from two years at the adjacent food pantry — and now serves as Program Director.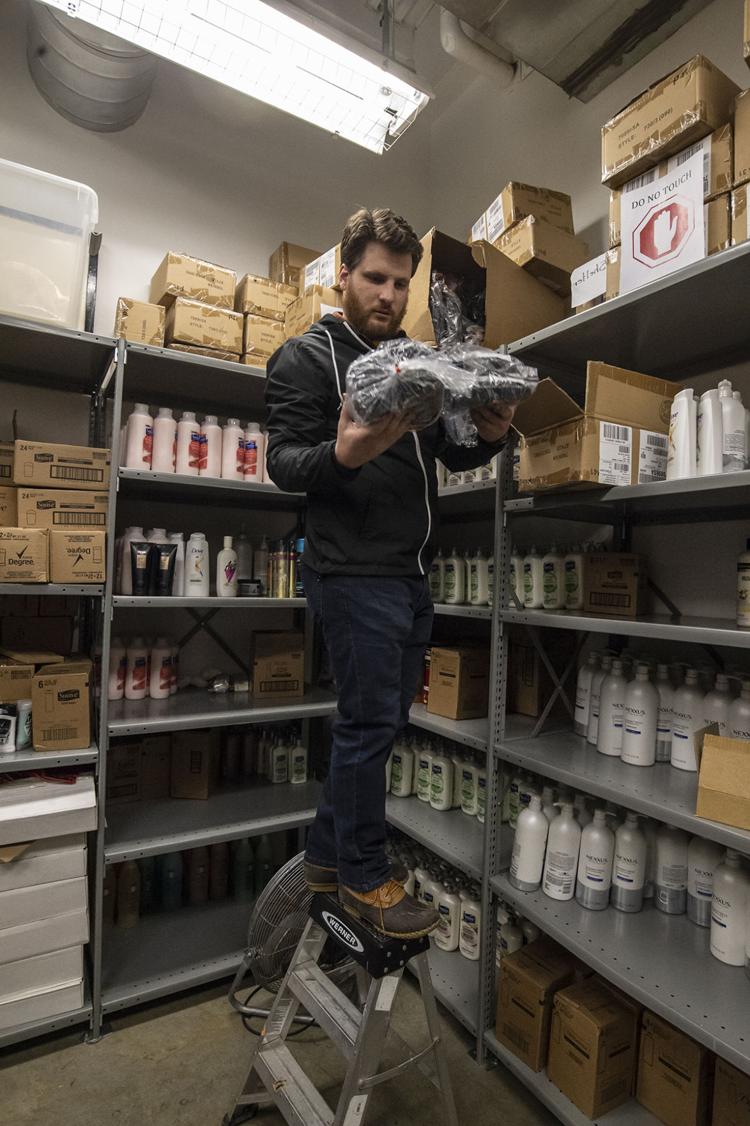 "(The footwashing) flips the power dynamic. Most of what their experiences are is from the top-down, so having a provider at your feet really humanizes them," Rittenberg said. "So from a psychological aspect it's a service for both parties. Little things like that make the difference."
In his eight years intimately involved with the Anchorage homelessness scene, he's seen the problem grow in recent years.
"We're definitely seeing more people. It used to be in the summertime we would hit 160 or 180, now we're hitting capacity in the summertime, so that's pretty new," Rittenberg said of the facility which accommodates 240 sleepers. "A lot of it is the opioid epidemic, mental health service cuts and housing has always been at a premium in Alaska. Our economy is reliant heavily on seasonal work and that brings in a lot of unskilled labor. You hear stories of people who come up here and are promisd a job, but the boat's only half-full, so they're just stuck here. It's never just one thing; there's a lot of things that have happened. Everyone who comes has a unique story, whether it's medical issues of a lost house. Some have experienced unspeakable trauama and they only way they know to deal with it is substance abuse."
One of those taking advantage of 'Spa Day' for the first time was John, one of those who'd come up from the Lower 48 waiting for work.
"Guys were telling me about it; get work on your feet," John said as Morrison pumiced the callouses on his feet. "I came up from Vegas and waiting on my CDL license, then I can go work on the (North) Slope. Just waiting on them to call me."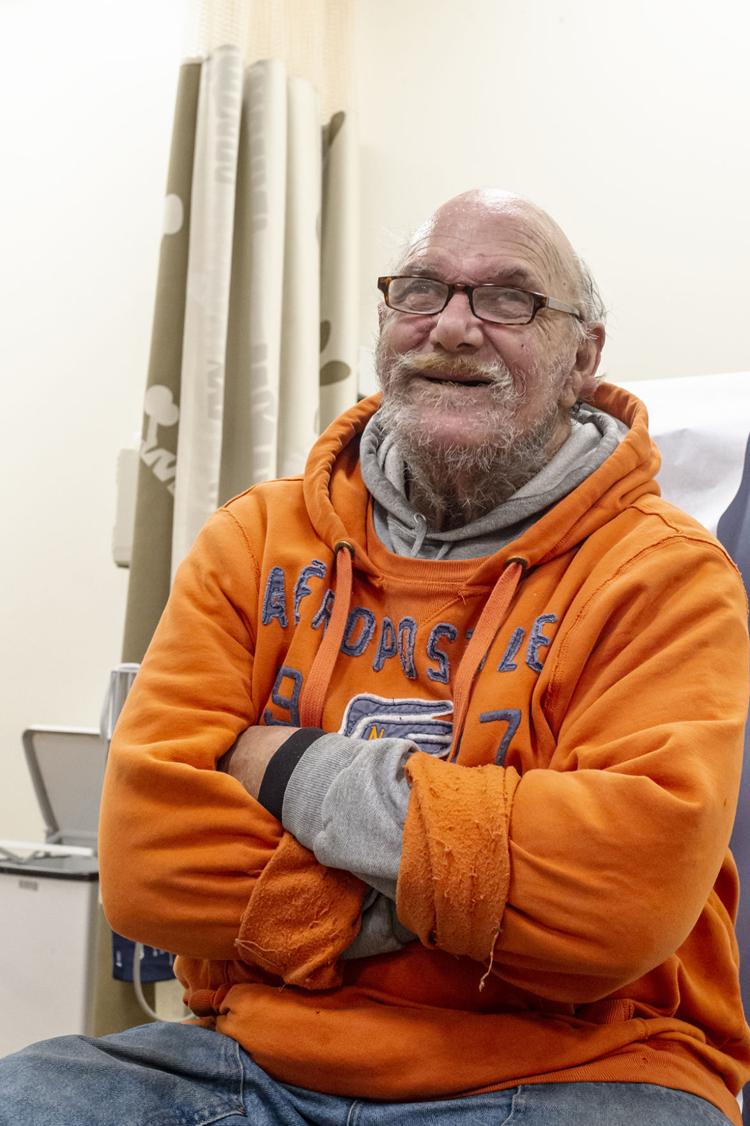 George is a Spa Day regular. He got his first Brother Francis pedicure three years ago, back when he was part of the shelter's in-house program, on and off, for a year-and-a-half, where he did handiwork around the facility to earn his keep.
Undoubtedly a Brother Francis success story, George now drives his own truck and has his own apartment, but he still doesn't miss Spa Day at his old stomping grounds.
"Seeing all these people is the best part… except for that one… and that one," George said, pointing playfully at Morrison and Everard. "Brother Francis is all about staying out of trouble."
Each night around sundown lines begin to swell at Brother Francis. The shelter used to have a sobriety-only policy, but that has since changed.
"It's substance-free, but damp. (Entry) isn't based on level of intoxication, but on behavior — they can stay as long as they behave," Rittenberg said, adding that another 50-plus can be accomodated at the Anchorage Sleep-Off Center, which apportions a certain number of slots for Title 47 cases, aka inebriates.
Once in the doors of Brother Francis, staff begins to encourage clients to join the in-house program, or at least work with a case manager. Both are incentives for limited bunk bed spaces. Everyone else sleeps on mats in the main dining/living area.
"We are, slowly but surely, developing a homelessness services network. In most cities, if I don't like to go to one place, you can go to another. But in Anchorage, we're kind of it," Rittenberg said. "There's Anchorage Gospel Rescue, but that is gospel-based, so for the poeple they reach, that's awesome, but there's also some who aren't so receptive."
Rittenberg said recent counts say there are approximately 1,200 homeless in Anchorage, but that number doesn't include those who are couch-surfing or are sleeping in their cars, which would push the number closer to 1,600, he estimates.
So if there's 240 on any given winter night at Brother Francis, and about as many others at smaller facilities, where are the rest?
"They're in our parks, on the trails… They're extremely resilient and creative — people figure it out," Rittenberg said. "If an individual chooses to sleep on Chester Creek Trail in February rather than come to the shelter, what are we doing wrong? Is the way we look at it."
Rittenberg said about 40 percent of the shelter's clients are Alaska Natives and the fastest growing demographic is those over the age of 55.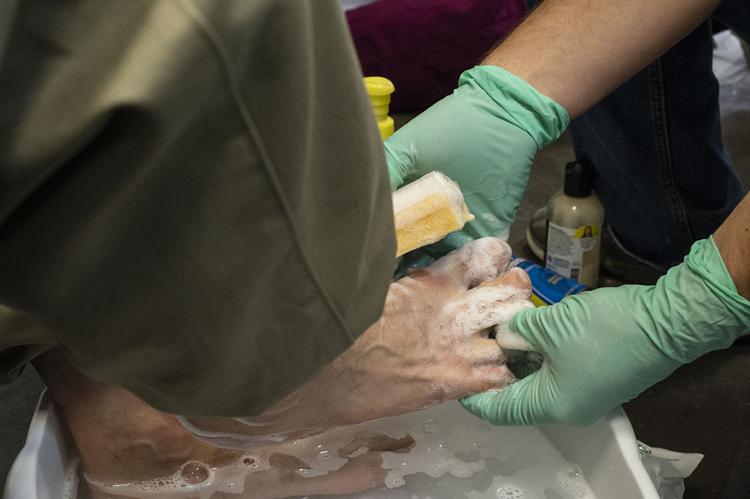 "Our over-55 population has grown by (more than 200 percent) in the last five years so we're seeing a lot of that silver tsunami. We're seeing a lot of people having difficulty providing their own self-care. There's also issues with age-related disorders and some aren't as connected to reality as you and I are," he said. "We don't provide med beds in the dorm, so the requirements for daily living include the ability to get up and down on the mats themselves. We struggle finding more appropriate alternatives, but we're serving them the best we can. One concrete solution we found was putting grab bars in the back wall. It's much easier to grab bars than a wall… I'm very proud of what we do here and I think we do a good job, but no one wants to spend their retirement in a homeless shelter."
The facility has two unarmed security guards provided by Phoenix Protective, who patrol from 5 p.m. to 3 a.m. each day. It also features a clinic, paid for by the SouthCentral Foundation that sees about 14 patients a day, as well as a respite care wing, also run by SCF that's been in operation for nearly two years and recently welcomed its 100th guest. Rittenberg said about 40 percent of those clients are recovering from surgery performed at a local hospital.
Rittenberg said the biggest misconception is that all the homeless in Anchorage are all aimless drunks. It's a misconception cleared up pretty clearly after even a cursory look of a night there.
"There was a study that found like 127 public inebriates in Anchorage, but they're the idea of what homelessness looks like," he said. "When you see someone and they're panhandling, you register them as homeless; you look at them and think, 'that's what a homeless person looks like.' But some dude with a backpack? That's just a regular guy. We see 2,600 a year and with the overflow, that's 3,500 a year. The inebriates are around 120, so that's a very small population."
Rittenberg said the governing principle at Brother Francis is that of trauma-informed care.
"It's a philosophy that shifts the conversation from working with you to what happened to you?" he said, adding that the shelter used to have a 30-day on, 30-day off policy on the in-house priority. "We want to make sure our services are not re-traumatizing. When we were doing 30-in, 30-out, all it was doing was retraumatizing, and it was like, wait a minute, all we're doing is creating arguments, saying no because of 'reasons' when it's freezing rain outside."
Everard said the footwashing ritual is key to informing that more sympathetic attitude.
"It's really small miracles that happen here — you feel a lot of love in that room," she said. "There was one night where there was a client who was rambunctious, boisterous and a volunteer, it was her first night here dealing with her. She started talking to her and they connected and it was just a miracle — nothing happens accidentally."