Lora Reinbold is a member of the Alaska State Senate, representing District G. Ms. Reinbold, who studied nursing in college and later graduated with a bachelor of science degree in business administration, is an outspoken anti-masker and apparent science denier.
Earlier this month, when Joint Base Elmendorf-Richardson Installation Commander Col. Kirsten Aguilar declared a 30-day public health emergency for the base after consulting with Gov. Mike Dunleavy and Anchorage Acting Mayor Austin Quinn-Davidson, Reinbold took to her Facebook page and bemoaned the decision, writing:
"Just before Veterans Day? If there are 10 so claimed "positive" cases per 100,000 (with 99 plus percent recovery) that's high alert? Some are hell bent on keeping this Covid disaster hype going as people are being stripped of their constitutional rights under the guise of "I'm the government and I'm here to help" Gov. Dunleavy - can you tell us if your administration changed goal posts for positives?"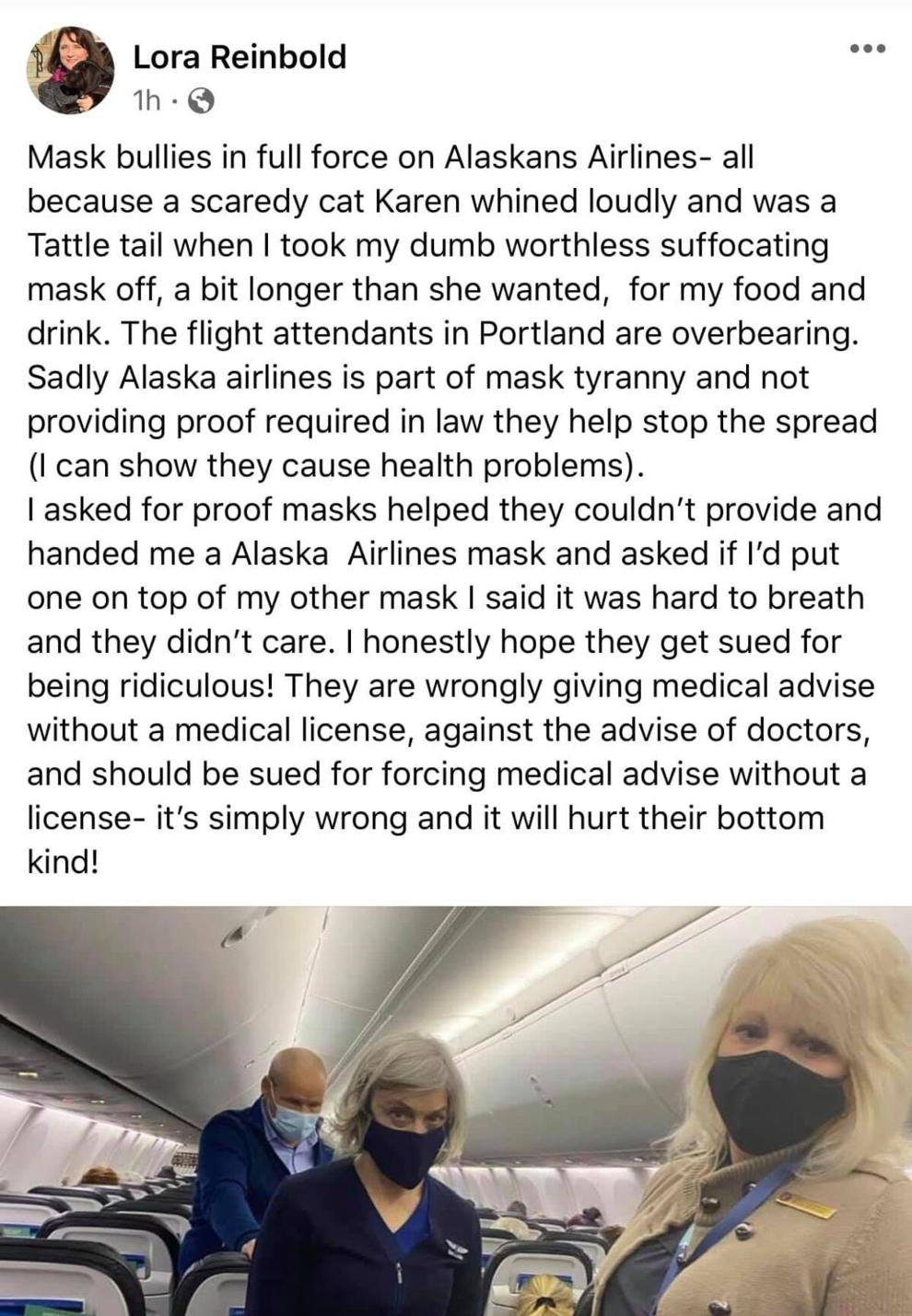 On November 8th as Governor Dunleavy announced his latest health mandates, Reinbold took to Facebook to savage the Governor, Commissioner Crum and Alaska Chief Medical Officer Dr. Zink, writing in part:
"As the beautiful snow fell, I spent the day re-reading all Governor Dunleavy's socialist health mandates. Reading between the lines, it looks like the Health Commission, Commander Crum, and Gov. D. hired Dr. Zink to tell a story of why medical tyranny is so important for Alaska via health alerts (see #11 below) and mandates. Each time I read his March 11 " Disaster Declaration" (note: per law disaster can only last 30 days) I now see it as their way to fear-monger, using Covid 19 as their front, to gain immense control over our lives."
Reinbold most recently made social media waves this past weekend when she made a public Facebook post bemoaning a passenger she referred to as "Karen." The passenger apparently expressed displeasure with Senator Reinbold's lack of mask-wearing on a recent Alaska Airlines flight, bringing it to the flight attendant's attention.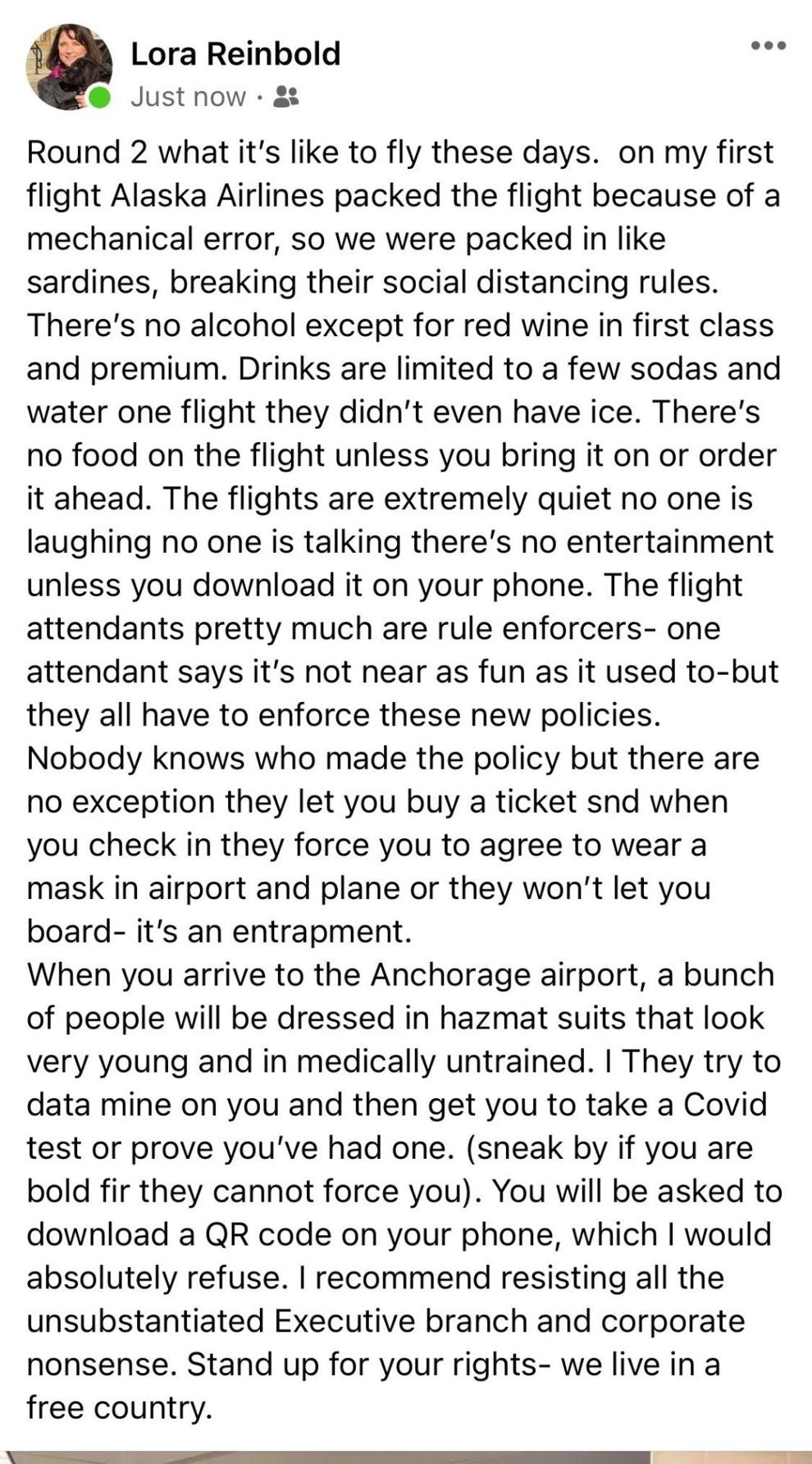 In Reinbold's post, she claimed her mask was "dumb, worthless" and "suffocating." She claimed that flight attendants on the Alaska Airlines flight were "overbearing."
The Alaska Senator also claims Alaska Airlines wanted her to wear a second mask over her first mask and that the flight attendants were "wrongly giving medical advise (sp) without a medical license."
Alaska Airlines responded to inquiry with the following statement:
"We are aware of the social media post from State Senator Lora Reinbold regarding her recent travel on Alaska Airlines...After being reminded onboard, the senator complied with these requirements and completed her journey."
Facebook followers of Alaska Senator Reinbold frequently thank her for standing up to "government overreach," refer to COVID-19 as "the flu", and parrot dangerous anti-mask rhetoric, with one of her followers writing recently, "Masks don't work or the cases all over with mask mandates would be going down. Instead they are going up."
Reinbold's disinformation campaign on the efficacy of mask-wearing seems dangerous for all Alaskans, and her comments and statements fly in the face of science. In a significant development announced last week, the CDC reported that wearing a mask can prevent you from getting COVID-19. You can read the updated CDC guidance here.