Concerned Anchorage residents packed the 49th Street Brewing Company, Wednesday, November 6, to attend Alaska Common Ground's talk "Climate Change is Here: What Can you do? Anchorage's Climate Action Plan. Goal: Anchorage will eliminate 40% of gas emissions by 2030."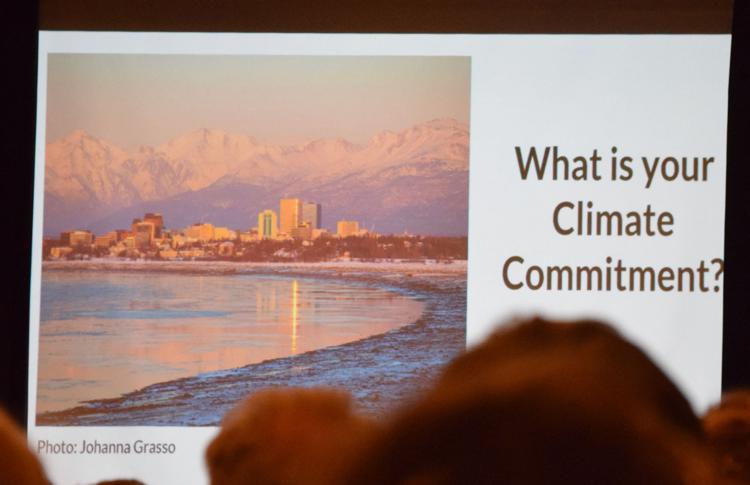 On stage were Mara Kimmel — Resilience Team Lead for the Municipality; Shaina Kilcoyne—Energy and Sustainability Manager, Solid Waste Services; Micah Hahn—UAA Institute of Circumpolar Health Studies. Moderator was Libby Roderick—Director of Difficult Dialogues Initiative (her father, Jack, was a former Anchorage mayor). The audience could pose questions on index cards—the 90-minute time constraint meant few questions got answered.
Citizens hung around the bar buying beer and pizza, while others, like me, searched for a chair. I huddled in the back row next to a guy with a tall tripod, which is why my pictures look like I took them from down a hole. Looking around the room, the crowd appeared to be in their mid-twenties, or over sixty.
The program began by noting last summer's forest fires, and the unseasonably warm November, still raining without any sign of the thermometer dipping below freezing. Several audience members thought the Muni should remove more dead trees, to aid in fire prevention, and prevent the spread of Spruce Bark Beetles. Everyone acknowledged the Arctic is Climate Change Central. The discussion reminded me of how Husband Dave and I mark Climate Change by remembering our first summer in Anchorage, 1971, when we took toddler Jenn to see Portage Glacier. She could touch it from the beach. Today it can't be seen unless you hop aboard the US Forest Service's MV Ptarmigan for an hour cruise on Portage Lake.
Those on stage urged everyone to conserve energy — turn off unnecessary lights, turn down thermostats. There was mention of the warmer weather threatening fisheries, and invasion of insects like ticks.
One of the presenters talked about becoming aware of your carbon footprint. If you type www.footprintcalculator.org you can see how much carbon you use. She measured her footprint, and discovered flying outside to conferences greatly increased her carbon use. Air travel, of course, is a hard item to eliminate, or even reduce, in Alaska.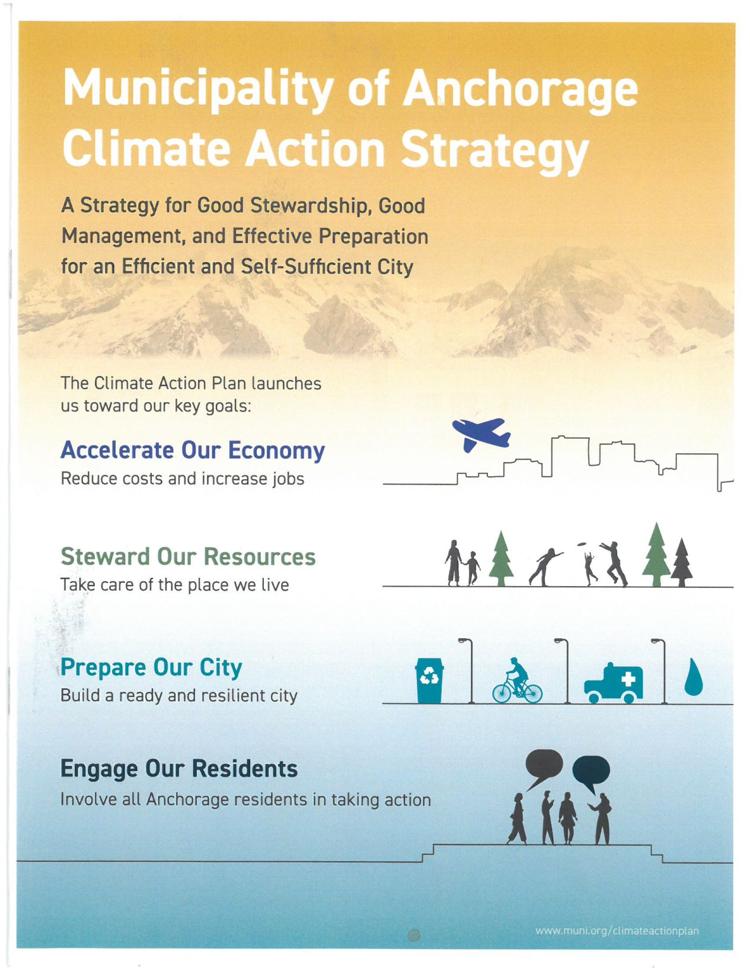 The Muni has reconfigured bus routes and riding mass transit is on the rise. Audience members suggested using smaller buses in low use areas. It was mentioned that an electric bus that had a four-month trial is no longer in use. And apparently mini buses are not user friendly to those who are challenged. However, companies like Chugach Electric are working to design charging stations, but building infrastructure is very slow and expensive. Nonetheless, the crowd seemed keen on electric vehicles as well as increasing Fire Island wind power. The police are scheduled to buy 'hybrids' as electric cars are not practical. And electric vehicles become problematic for those who need to drive to Fairbanks or south to the Kenai. The Muni continues to replace yellow-toned street lighting with energy efficient silvery LED bulbs, at a savings of $780,000 annually, and is investing in solar panels.
Year-round biking is very popular and economical, so more trails are being considered, as is safety — better lighting, improved plowing. REI was cited as being a very environmentally friendly store. The Muni employs about 400 police and could use twice as many. The increase of homeless, euphemistically referred to as 'campers', was not adequately addressed. No one mentioned Gov. Dunleavy's lack of judgment when it comes to budget cutting, and disregard for the environment.
With the possibilities of more natural disasters like the November 30, 2018, 7.1 earthquake, residents should stock-pile a week's worth of drinking water (1 gallon per person/daily). Overlooked: Home hot water tanks serve as emergency reservoirs and pets need water too. The Muni monitors Eklutna Glacier watershed and is always searching for new aquafers. Anchorage residents watered their lawns twice as much this past summer, so rain barrels might make sense.
As I typed these notes, happily in denial of disasters, I suddenly got jolted. A '4.0' earthquake, six miles across the Inlet, shook me. OK, preparedness is a good idea! Anchorage is a city of many dialects and the Muni is addressing stressful situations by providing translators to police and fire responders. Presenters pushed for increasing local food production, as Anchorage imports 95% of what is eaten. I was just buying dog food at Alaska Mill Feed and Garden, and noticed they seem to be promoting locally made products, like kale pickles—Nice!
There was talk about which plastics can be recycled — list is posted inside roller-carts. Water and laundry detergent bottles are acceptable but 'clam shells' which Costco uses for fruits are not. Cardboard pizza boxes are fine as long as they are not greasy—remove gooey parts. Silly but practical: Dave and I reuse bags for sifting the cat box, and make use of rinsed ones when traveling. Recyclables are actually bought/sold commodities, but the market is presently saturated. So how much the Muni barges-out, sells and profits from, was unclear. There is a waiting list for pink-roller-carts meant for gathering fruits and vegetables that become compost—no meat products please. And the goal is to extend the life of the present landfill which produces methane gas, presently captured and sold to JBER. A new transfer station is in the design process too. Each Anchorage resident produces about 5 lbs. of trash daily!
The crowd at 49th Brewing felt morally committed to the Paris Climate Agreement, in spite of Trump's lack of concern for Global Warming. The Muni strives for greater neighborhood cohesion, along with developing more mix-use urban areas as safer environments. Removing cars from some downtown streets, as in major cities, is also being considered. Thoughts about a carbon tax were tossed about to a crowd who was losing focus after ninety minutes of listening at the dinner hour.
Alaska Common Ground did a great job keeping to the time allotment. They provided visual imagery and kept everyone's attention by asking the audience to use smart phones for quickie polling.For example: one poll identified most in the auditorium as apartment dwellers. Further thoughts: I felt the talk was too Anchorage-centric. What we consume, and how we operate business-wise, affects the entire state. We also belong to a Global society and are often helpless when it comes to macro-problem-solving. Heating with coal and wood, jet engine emissions, and agricultural/chemical waste, can't be solved by individuals alone, who often receive the brunt of the media blame-game. Creating a productive environment to live, work and play, comes with paradoxes that can't always be balanced.
However, it was acknowledged that exchanging ideas in your neighborhood, engaging with friends in a bar or coffee shop, and ride-sharing all contribute to a healthier city, and often evolve into dynamic grassroots groups. While the crowd assembled seemed already onboard with doing their part, it was good to be reminded of how to better conserve in an Anchorage of: "Self-Reliance, Vibrant Vital Cultures, Connection to Place--www.mini.org/climateactionplan."
Mini Sleuth: Another Climate Change meeting is scheduled for December 10, and February 4, 2020, at 49th State Brewing, and a UAA/APU book talk by Paul Hawken who wrote 'Drawdown' (solving Global Warming) is planned for February13, 2020. Check periodically for exact dates at www.akcommonground.org. A reminder: this column is collecting art and artists who use Climate Change tropes—it all helps.
Jean Bundy aica-usa, is a writer-painter living in Anchorage.
Eamil: 38144@alaska.net