Last week, Mikhail Shneyder, the CEO of Nightingale College, a remote nursing school with its only physical campus in Ogden, Utah, visited his newest virtual campus of Anchorage last week to discuss with new students the challenge awaiting them as they pursue the field of nursing in the era of Covid-19.
The title of Shneyder's presentation to the nearly 100-strong initial Anchorage cohort — an audience both in person and streaming — was 'When Hospitals are Understaffed, People Die.'
After meeting with the Anchorage team, which was built at the onset of the pandemic, Shneyder found some time for some Q&A with the Press.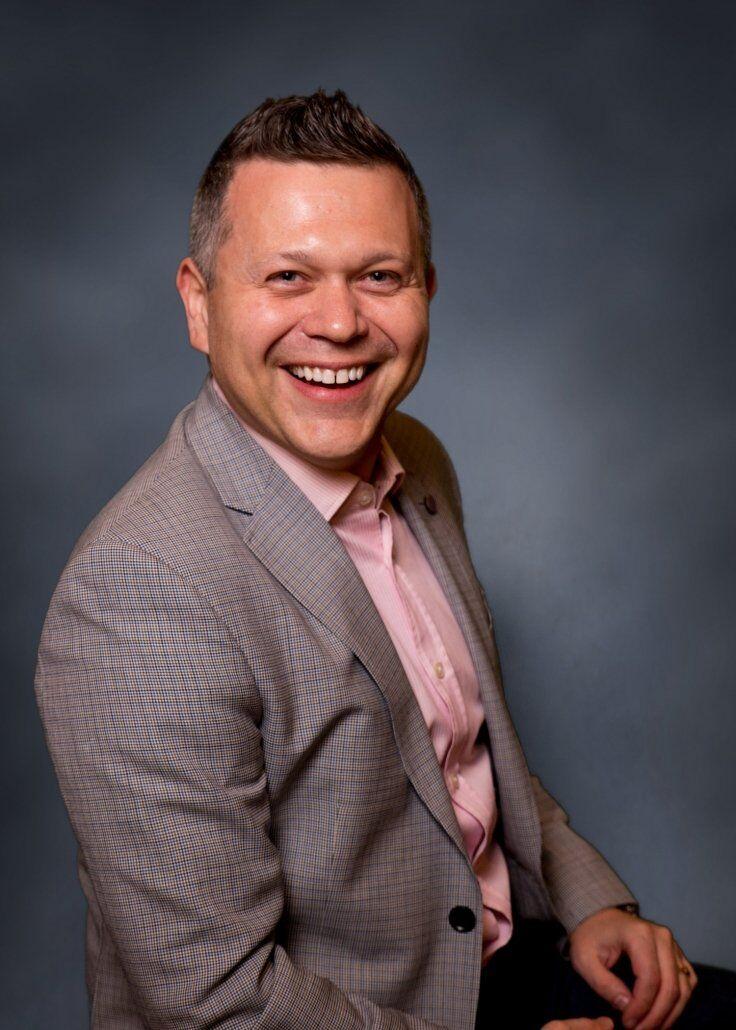 What's your what's your takeaway from the growth you've had? What's what's your thoughts on the growth of the cohort and the type of learning going on up in Alaska?
Nightingale is absolutely perfect for the needs of Alaska. We're able to deliver this education distant and remotely and reach more of the rural areas of the state, which obviously there's many of in Alaska. Most of our cohort is concentrated in and around Anchorage, with Wasilla, but there's going to be a group in Fairbanks as well. Nightingale was built with this idea of increasing geographic access to nursing education — that was the heart of this mission to begin with, and then it expanded to being able to serve more diverse demographics and being able to address learners that come from lower socio-economic backgrounds. 
You started this expanding out from the Utah campus about 10 years ago, I guess you probably never could have known that a pandemic like this would be coming, but how has that affected not only the need but your business opportunities in terms of a nursing school?
We were one of those exceptions in education space altogether and higher education —  let alone nursing — one of the exceptions to the rule. In the spring of 2020, where the vast majority of higher ed institutions shut down for a period of time and were not able to serve their students anymore, we were well on our way to our to developing our educational model with this idea, again, of being able to deliver education remotely. And when in March of last year, when the COVID shutdown really began, we were able to pivot and accelerates certain development pieces, and there was not much left to develop at that point to be able to ship this education completely into the remote environments, and hence opening up pretty much quickly. So the opportunity that came in the beginning last year is being able to deliver anywhere in the United States.... We were able to not skip a beat, essentially, and continue serving our learners and continue enrolling them and making sure that we're doing our part and trying to solve this nursing shortage that is exacerbated definitely by the pandemic. We are seeing quite a bit of an exodus from the profession right now, across the country. Both people that were planning to retire soon, and decided to accelerate their retirement, but also younger practitioners that are just giving up and saying, 'I don't want to do this anymore.' And so we're working hard and what pandemic has taught us, essentially across the country, is that we have to prepare our future nurses to be able to handle crisis and emergency situations 
What does the slope look on a chart that shows your enrollment and people are interested in joining nursing programs from the onset of COVID to now? How are you seeing the interest in people becoming students?
I think there is a bit of a shift in the interest. Folks that were sort of looking at nursing as you know, a good opportunity to have a stable career and good earnings, I think we're seeing less of that and we're seeing more people who really, really want to serve and serve their communities.
What do you see out of the first Alaska cohort?
We had a dozen or so local learners in the room, and they all they pretty much all talked about how they want to just help their communities from different standpoints. We had an Alaska Native woman who was a bit older, and she told me that she enrolled in the program and wants to become a nurse. And then so she's in Anchorage now but then wants to move back north to where she's from, and be able to just spend the last of her career caring for her community and bringing better health to her community. So I think that's, that's the shift and I think another thing as well, people now just recognize that nursing is a heroic profession — it's the frontlines profession. It requires resilience, it requires bravery and, and pushing forward. 
The students who are currently enrolled in the in the Alaska program, how long before they might be able to work in the field?
The very first few will be graduating in 2022, so it's within a year that they'll start applying for licensure next year and hopefully being able to get into the workforce fast.
What was the eureka moment for you that made you think that this is something that you could expand into a nationwide concept?
We started Nightingale College with, essentially, solving the geographic access problem at the heart of the mission, and so that question we asked right away. I'm a nurse myself and worked in services for quite a bit of time before moving into education about 15 years ago and as soon as I got into nursing education it became absolutely clear to me that it is inaccessible — it's only available in certain places and to certain people. I'm really passionate about contributing to solving the healthcare issue — improvising health equity and increasing health outcomes. Without access to education you just absolutely cannot do that. 
What is the one thing that you just can't replicate though with the with the remote learning that you wish you could, that you could if you had you know, an in class, brick and mortar situation?
The boredom. You cannot replicate the boredom is that that exists when, you know, hundreds and hundreds of people sit in the same room or 10 or 20 of them are waiting in line to use a simulator. This, this is the future of education altogether… it individualizes engagement over over and over again, just immersion into the kind of the application of studies or the simulation and then and then it's absolutely in like real time, individualized feedback that happens in remote and virtual settings... rather than a one-size-fits all kind of approach. So it is technology supported. Education is definitely the future across all professions, but it lends itself really, really well to developing clinical reasoning, which is a very important part of development of a good nurse, and good nursing practice. So it's clinical reasoning that's at the center of it, and that is way better than any on ground.