By RJ Johnson
At the beginning of February at the Avenue Bar in downtown there was a Saturday night where most of the patrons were wearing some sort of leather jacket or vest with patches sewn on. The regulars of the Avenue were asking the bartenders what was happening. The answer was simple. The Lb4Lb MC, or Pound for Pound motorcycle club, were having their annual party, and with help from the staff of the bar they had turned it into a fundraiser.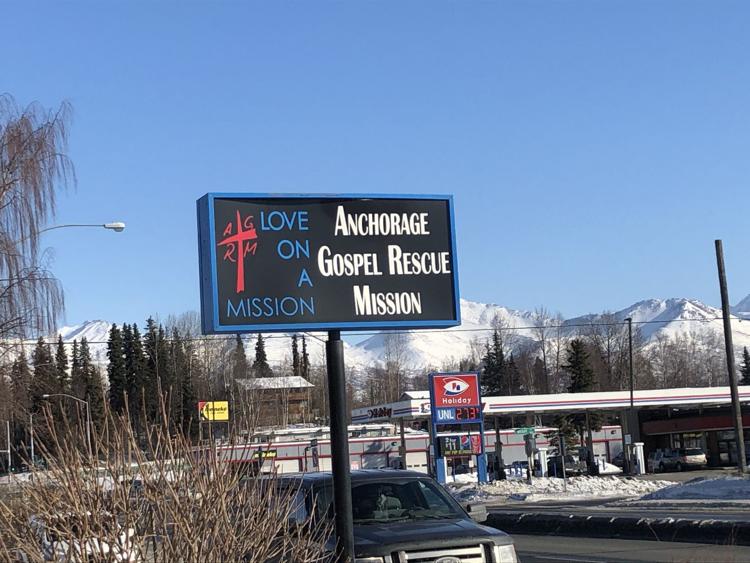 The motorcycle club has been around 17 years, and while it has always made charitable acts and donations a priority during their activities, they recently made some progress that will allow them to do more good works. "We have been non-profit, but we finally finished up the 501c3." said Mike Murphy, the current President of the organization. Throughout the night the club monitored the silent auction items and accepted donations from generous patrons. Local band The Stack donated their time to offer a free concert during the party, and DJ Blaque finished out the night giving everyone even more reasons to dance.
During the event the members of the club were informing people of the reason that they were raising funds. While hunting for a charity to raise money for the group became aware of a program that happens year-round at the Anchorage Gospel Rescue Mission.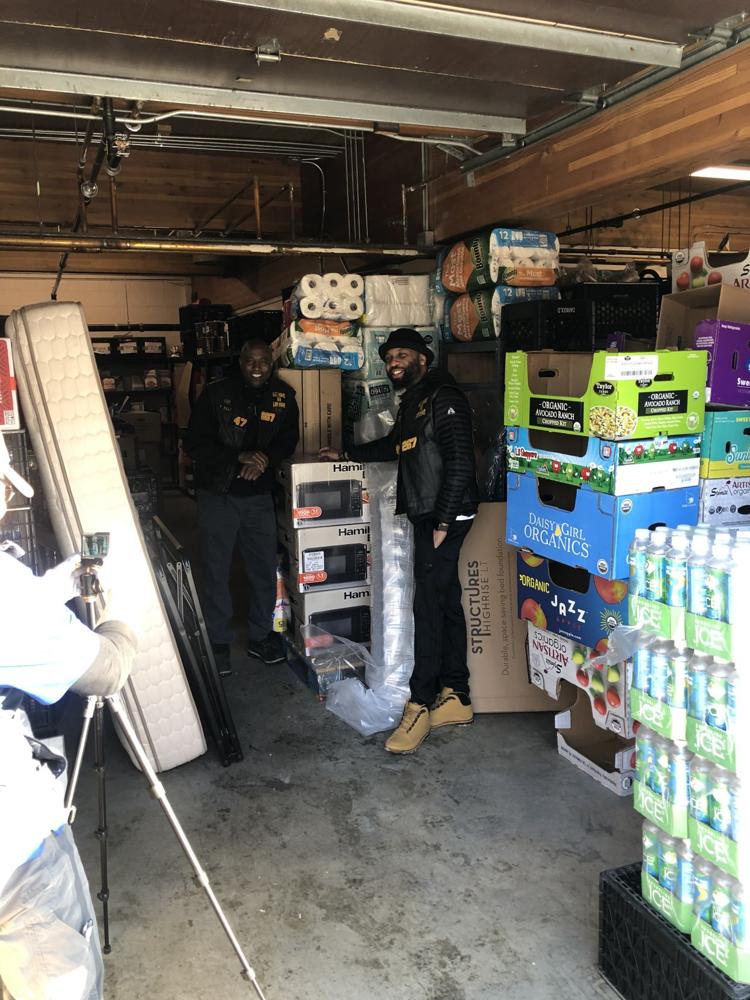 "We have a one-year residence, drug and alcohol recovery program," said John Lamentia, Pastor and Executive Director of the Rescue Mission for the past six years. "We have 30 men that are able to stay with us for the entire year and they are just getting their lives straight. They are coming around to the way that they know they ought to be."
The men in the motorcycle club had been looking for a program that would show that they were more than just guys wearing leather and riding bikes, and hopefully be a way that they could support other men that needed help. The help that the Anchorage Gospel Rescue Mission was providing resonated with the club, and they decided to go for it.
A week ago Saturday, the group rounded up all of their donations and met at the mission to present not only a check, but also several items needed for the residence program, including beds, microwaves, and more. Lamentia was all smiles as the men arrived.
"This is just fantastic, these guys coming in here like this," he beamed. "These funds will definitely help us in the day to day ongoing general operations, plus whatever else things we might need, things like food supplies, paper supplies."
In addition to the recovery program, the location provides many other day to day services.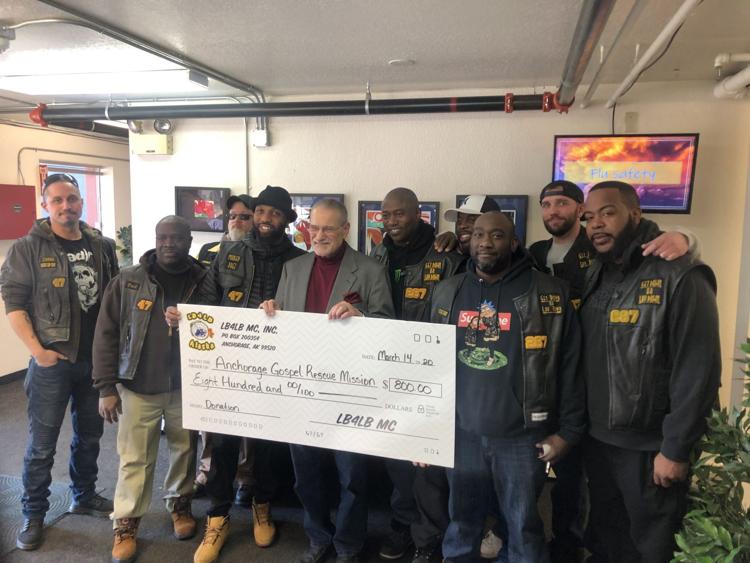 "We have room for women, we have room for sixty-two male clients, all in all we house approximately one hundred people every night," he said. "That's a considerable number to be pulling off of the street, and we are happy to be able to do that."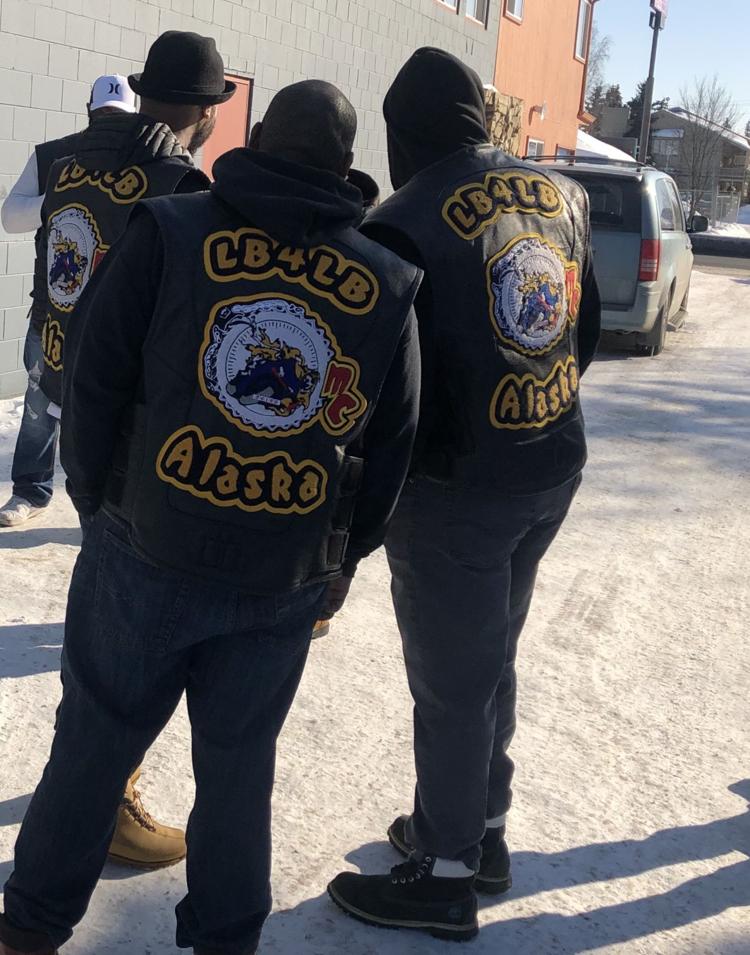 Unlike most services for the homeless, the Gospel Rescue Mission is located off of Tudor Road rather than downtown, even though that's where it got started. "This rescue mission got started back in 1965, in downtown Anchorage. I want to say it's a small church building on 7th Avenue. They came to this building in 1988. It's worked out very well. As you can see, we are in the U-med District and it's very amenable to hospital services, and all the other area services that are available in this district. We are in a good place for that," Lamentia said. "We have a chapel service in here every night from 7:30 to 8:30 p.m. We want the men to have a spiritual component as well."
The members and prospects of the club made their way around to the warehouse area of the mission after posing for pictures with the check and executive director. As they unloaded the items that were given, they laughed and joked with each other. Murphy spoke about what the fundraiser and results meant to him.
"I think it turned out great. I think the bar did great; I think the staff did great," he said. "I think everything turned out great. We raised enough money to pull off an $800 donation to the Rescue Mission." As far as the items that were given, those were received in a different way. "That was something came out of our own pockets, as well as friends and partners."
As he watched the men bringing the last of the items in the warehouse he smiled and said, "These are my brothers"
As with most people that enjoy doing fundraisers and good works, the next event is already in your mind before you finish the one you are currently involved with.
"Right now, we are planning a major function for our anniversary party this July. Every year we feed the homeless and anyone that wants to eat for free at the Mountain View Lions Park. This year we want to do it much bigger," Murphy said excitedly. "We want to get some live entertainment and get some other car and bike clubs involved. We want to make it more of a block party and get the community involved. We want to feed more people and get more food. We hope to get some restaurants, Fred Meyers, Carrs and the grocery stores involved. We will be donating all of the labor, and if we have to, the food as well, but we hope to get some donations and be able to do it bigger and better this time around."
When you are out driving around this summer make sure to watch for motorcycles. Not just for their safety and yours, but also the safety of a vulnerable community that is receiving help from riders like these.