Listening to some proponents of the Recall Rivera campaign, one might believe the campaign has proven Assembly Chair Felix Rivera committed a high crime by permitting a few more people than was permitted into the Assembly Chambers last year. You would be wrong, as the accusation levied against Rivera is an unproven allegation being spun by some as though steeped in fact.
What is not in dispute, however, is the homophobic campaign of hate which has raged in earnest across local social media since last summer.
On August 26, 2020, the Anchorage Assembly passed an ordinance that prohibits licensed medical professionals from subjecting minors to conversion therapy, becoming the first city in Alaska to do so. The victory made Alaska the 40th state to take action against conversion therapy.
Louisiana-based radio host Dan Fagan, in a Must Read Alaska opinion piece titled, 'Anchorage Assembly proposes Pedophile Enablement Act?,' written last July, accused the three openly gay members of the Anchorage Assembly — Christopher Constant, Felix Rivera and Austin Quinn-Davidson of enabling pedophiles by sponsoring an ordinance requiring counselors and clergy to endorse and validate same-sex attraction or gender confusion when dealing with teenagers.
Fagan wrote that the proposed ordinance would give a "huge win to pedophiles," and penned another opinion piece later in September — 'Cuties' culture war ramps up as pedophilia normalized.'
In fact, Must Read Alaska has published 18 pieces related to Rivera since the summer of 2020, many of them related to the effort to oust Rivera from his assembly seat, which he was just recently re-elected to in April of last year. 
Must Read Alaska's passion for tying the words "homosexual" and "pedophile" together in posts, is eerily reminiscent of similar tactics she employed against former Anchorage mayor Ethan Berkowitz, who was also the victim of a never-ending barrage of Downing's vitriol and venom.
Not to be left out of the anti-Rivera narrative, Alaska Watchman, a far-right publication which arguably makes Must Read Alaska look centrist — wrote 10 pieces related to Chair Rivera and more recently published an opinion piece by former Alaska Lt. Governor Craig Campbell, who argued that opposition to Mr. Rivera was not about his sexual orientation when clearly, if social media posts and comments are to be believed this is not at all the case.
Joel Davidson, Editor-in-Chief of the Alaska Watchman, wrote in December of last year, that "Rivera has made a name for himself by pushing a radical leftist agenda that includes a controversial LGBTQ platform," in response to members of Anchorage's LGBTQ community coming to the defense of the embattled Assemblyman leading readers to reasonably infer that Rivera's being a gay man must certainly have something to do with the effort to recall him.
In the months spanning July 2020 to present, a tidal wave of homophobic slurs and veiled threats have been hurled at Mr. Rivera across social media — disturbing content which has washed ashore in the comments of Must Read Alaska, The Alaska Watchman, Save Anchorage and other like-minded groups, many of them belonging to the the self-professed "Free Alaska Team" masquerading as saviors of Anchorage when in fact they are groups with extreme views deeply shrouded in anti-science and far-right rhetoric.
Below are just a very few social media exchanges collected from social media pages and groups largely supportive of the Rivera Recall. Proponents of the campaign of homophobia and hate made no attempt to hide their biases.
"Felix Rivera, Christopher Constant and Austin Quinn-Davidson are gay and their reason for running for assembly was to push LGBTQ agendas."
In a Must Read Alaska post regarding how election laws pertain to recall elections, Mr. Rivera was referred to as "Feel-Licks" by one follower of the blog while another user wrote that he was "missing the bracelets on his wrists and ankles."
In another Must Read Alaska Facebook post about Eagle River Assemblywoman Jamie Allard being removed from the Assembly Audit Committee, Facebook user Eivets Rednow wrote, "This is yet another act that gives us plausibility to recall Feel-Licks." In the same thread, another user wrote that it's "time to stuff him back in the locker," and another said they couldn't "believe these people haven't been drug out in the street by the citizens of Anchorage."
"Vile clown, criminal scum" and because the far-right is infatuated with pedophilia, one Alaska Watchman follower wrote, "Wow, if Pedo had a look," as another commentator took to fat-shaming the Assemblyman while yet another referred to Rivera as "immoral."
The hate didn't stop with the above comment, however, as one person on the Alaska Watchman Facebook page suggested Rivera was "trying real hard to get assassinated," and another called on others to make (Rivera's) life miserable.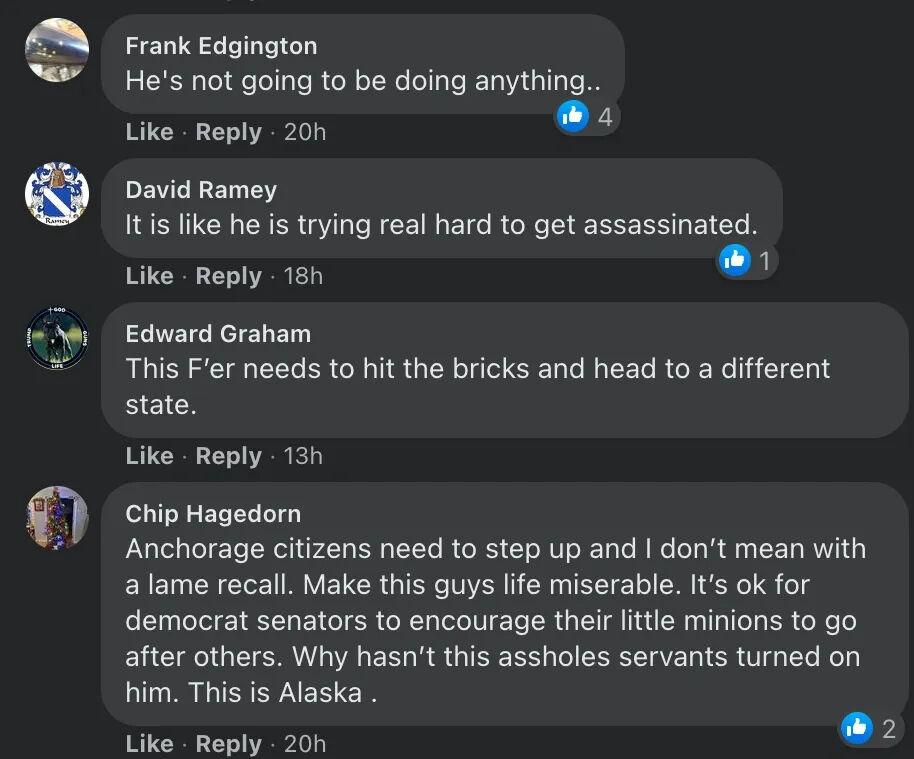 In perhaps one of the most concerning social media comments this blogger has seen in awhile, a Save Anchorage group member wrote that:
"The problem is Felix is gay. Conversion therapy reduces the supply of fresh meat to his crowd. What he really wants is to add your children to the fresh meat stock, then since he and his ilk are pedophiles they want to make that legal…"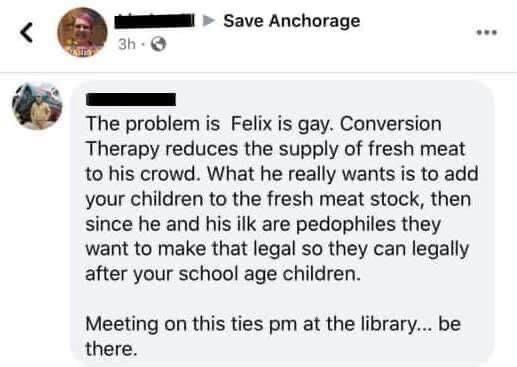 No matter how you feel about Rivera and his political beliefs, let's not pretend that his sexuality hasn't been weaponized by those supportive of the misguided recall effort.