"We get excited when Alaska is actually on the map," Dr. Anne Zink, the State of Alaska's Chief Medical Officer, chuckled as she addressed Dr. Jill Biden, the First Lady of the United States. "We're even more excited when people come and visit our big and beautiful and absolutely wondrous state."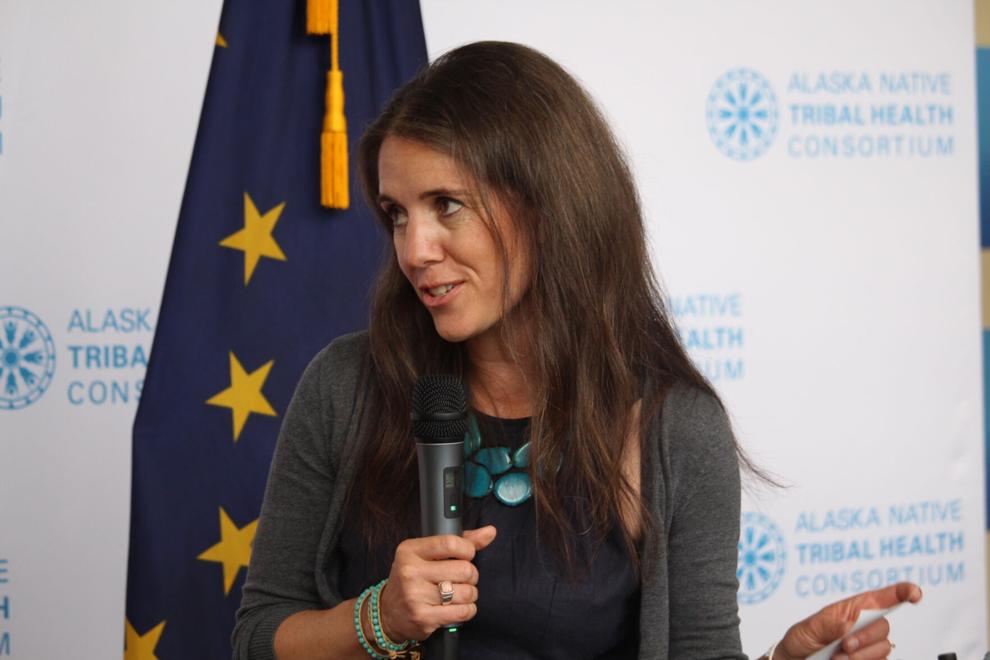 Zink was joined by Valerie Davidson, President of the Alaska Native Tribal Health Consortium (ANTHC). Each stood on opposite sides of Biden against a backdrop of the American flag, the Alaska flag, and dozens of blue, square-shaped signs with white lettering that read, "We Can Do This;" the vaccine(dot)gov website displayed prominently at the bottom.
FLOTUS used a Tuesday refueling stop in Anchorage en route to the Tokyo Olympics to drop in to the Alaska Native Medical Center (ANMC) for a tour of the 173-bed facility. The hospital is run jointly by ANTHC and the Southcentral Foundation, and cares for all Alaska Native and Native American people in Alaska, serving as both a regional hospital and a statewide tertiary hospital where patients are referred by the tribal health system. That includes members of all 229 federally recognized tribes in state.
During her brief stay, Biden received an overview of ANMC's COVID-19 vaccine outreach efforts spanning the state. The presentation was facilitated by Davidson; Zinke; Dr. Joseph Park, a cardiologist at the Alaska Native Medical Center; and Dr. Cate Buley, the Medical Director of Primary Care Clinics at Southeast Alaska Regional Health Consortium (SEARHC), to highlight the response effort to the pandemic.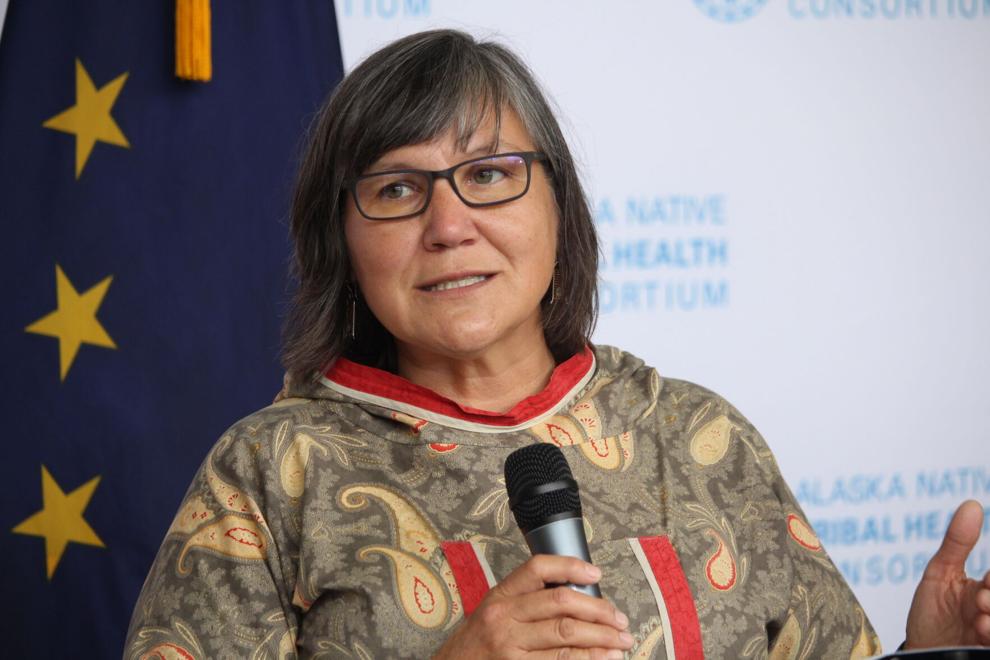 "We've been able to do early testing and vaccinations in ways that really focused on equity, that allowed our populations to be covered," Davidson told Biden. "Alaska Native people and American Indian people in our state of Alaska were four times more likely to die because of COVID-19. And so, with your support, and the State's support, we were able to get those vaccinations out really quickly."
And comprehensively. In the Bristol Bay plus Lake and Peninsula region, in Southwest Alaska, 89 percent of eligible residents have had their first shot and 75 percent are fully vaccinated. In the Aleutians East Borough, those figures are, respectively, 87 and 75 percent. On average, rural Alaska is around a 70 percent vaccination rate.
"We've seen firsthand that pandemics have on our communities," Davidson said. "We've certainly seen what happens when an entire community is wiped out."
Davidson has that right. The "Great Smallpox Epidemic" of 1835-1840 claimed upwards of one-third of Alaska Native's lives from Price William Sound to Norton Sound. In 1900, a particularly virulent strain of influenza "may have caused the death of a quarter to a third of the entire Native population" in Southwest Alaska, according to physician and author Robert Fortuine. During the Tuberculosis crisis of the late 19th and early 20th centuries, rural Alaskans contracted the disease at eight times the rate of their Lower 48 counterparts. In 1946, 43 percent of all death certificates for Alaska Natives were attributed to the horrific disease. These are just a few examples.
"A big part of my learning throughout this pandemic has been learning through [Alaska Native] history and how they've been impacted from every epidemic and pandemic worldwide, and that has really shaped our drive and how we've been able to respond in this pandemic," Zinke told Biden. "The tribal health system really is the backbone for healthcare in this state. In many places it's the only healthcare system in the area, both for tribal members and non-tribal members."
"Working with [the Biden] administration," Davidson added, "and also working with the State and the tribal health system, we were able to ensure that some of our last language-bearers and our last culture-bearers were able to be among the first people vaccinated, regardless of their age."
Biden returned praise to both women, starting with Zinke: "With steady, compassionate leadership, you were quick to calm people's fears and give science-based advice, and inspire Alaska to 'Think like Zinke.' Thank you for all you do," FLOTUS said with a wide grin. Turning to Davidson, she continued: "[ANTHC] is setting a gold standard in supporting rural communities and I'm so excited to see what this organization does under your leadership and to share what I've learned here with our team."
"The Alaska Native [Medical] Center is so much more than a hospital, as you all saw. It's a gathering place for families from across the state where they can reunite. And it's a place where you can celebrate new life and also pray over those to whom we must say goodbye," Biden trailed off a bit as the sentence concluded before picking up again: "The center brings healing through community, and I think that's what's so powerful about this place."
First Lady Jill Biden, Zinke, and Davidson all tried to walk a fine line in celebrating the advances made in combating the COVID-19 pandemic that has halted life for so many Alaskans – and ended it for too many – while emphasizing that the task is nowhere near done. Alaska suffered from 882 new reported cases of coronavirus just this last week – a 140 percent increase over the previous week. The rise, prevalent across America, is attributed to the new Delta variant and flagging vaccination rates.
In Anchorage, for instance, vaccinations haven't just slowed; they've cratered. According to the most current data offered by the municipality, 66.8 percent of Anchorage residents eligible for the vaccine have received one dose, while just under 60 percent have been fully vaccinated. That's well higher than the national rate of 57 percent for the first dose and 49 percent for both, but it's not enough to stop the spread, let alone send COVID-19 the way of Polio.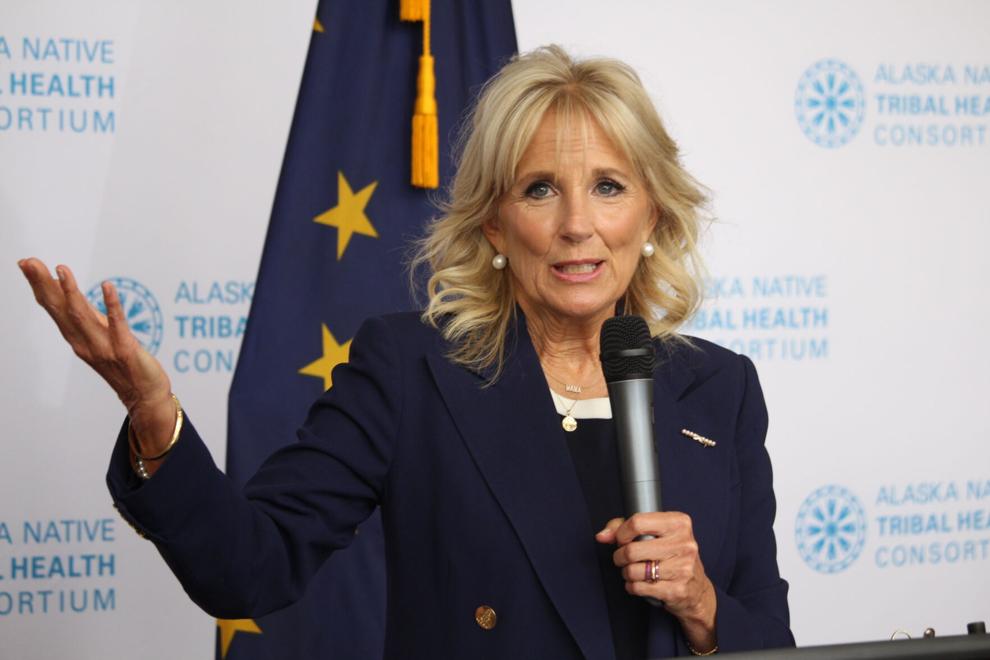 The zenith of single doses in Anchorage in a single day (3,514) came on March 18. That number reached its lowest clip over this past weekend, with only 43 people receiving their first dose. The highest one-day tally for those receiving their second shot was on April 8, when 3,192 people completed their vaccination. By comparison, so far, for the entire month of July (from the first to the 20th), only 2,536 have gotten both shots. On Monday, July 20, 86 new cases of COVID were reported in Anchorage while only 46 vaccinations were given. That's a concerning trend.
"We know that this last push is really the hardest of all," Biden's appeal came laced with urgency. "I'm here today because your health matters to me and to the president."
About an hour after the wheels on the First Lady's plane left the tarmac at JBER, President Joe Biden would tell a CNN town hall audience, "My wife just flew to Alaska today! Alaska! To do an event to make sure people understand to get vaccinated."
"I'm asking all of you who are listening right now to choose to get vaccinated. Maybe you think whether or not one person gets vaccinated doesn't really matter, but it does," Biden concluded. "Even one hospitalization – even one life lost – is too many."