It's 7 p.m. on Saturday evening. The sun is still drenching the parking lot on Spenard Road near Koot's, the landmark windmill casting a long shadow across the 15-20 vehicles parked side-by-side, all facing north. From the bed of a rented pickup truck, a handful of local comics take turns reaching into individual bags for sanitized, single-use microphones. They perform 10- to 15-minute routines, full of personal and social observations. There are a handful of coronavirus punchlines.
From within the cars, the FM dial is tuned to an unused frequency — today, it's 107.9, the upper extreme of the dial. Within the parking lot at least, the voice of the comics come through above the static. Listeners are tuned in, engines running, heat blasting on this below-freezing day. Car horns spontaneously go off as listeners show their love for a punchline or a premise. Honks instead of applause, as listeners are instructed to NOT exit their vehicles or pass anything from window to window. Not only are we six feet apart, but we're individually sealed in steel and glass. As the show goes on, the spattering of horns becomes the vuvuzela drone of a soccer match. We're in this together.
Following Alaska's first in-state death due to COVID-19, Governor Mike Dunleavy last week issued a statewide stay-at-home order, saying, "We crossed a line today."
In addition to banning non-essential travel, the Governor ordered Alaskans to maintain six feet of distance from each other when outside or conducting essential business like grocery shopping. As of Monday this week, 29 other states in the union had issued similar orders.
Life, as we know it, has ground to a halt. Save for a few of the most science-denying holdout states, the American way of life — consumption — has been put on hold. Our favorite restaurants, bars, venues, movie theatres, retail locations, and gathering places have been shuttered by government mandate, and we've been relegated to our homes, forced to choose between Netflix, et al, or, God help us, a book.
Enter Drive-In Comedy: a genius way for local comedy fans to still enjoy a social activity while observing health and safety precautions even more stringent than officially mandated.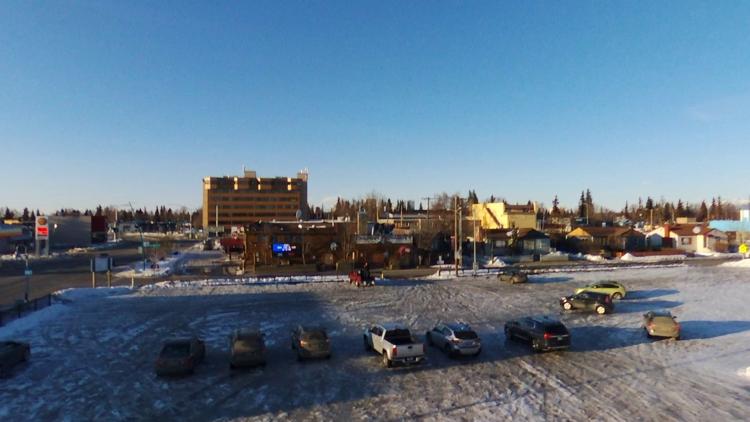 Alex is a visiting comic from Las Vegas. He was scheduled to make a repeat appearance at this year's 2nd annual B4UDIE Comedy Festival. When the festival was forced to cancel, he considered a life change.
"The thing that set it in motion was Kass Smiley and B4UDIE last year," Alex says. "When I was there, I really fell in love with Anchorage. I saw Girdwood [and the Animal Conservatory], I took a helicopter onto a glacier, I was in love with this place and I said to myself, 'If there's ever a summer when I don't have to fly every weekend, then I'd love to spend it in Anchorage.'"
As both Anchorage and Vegas began to shutter, he saw his opportunity.
The minute Alex landed, he says he began to put together a plan to keep comedy going while abiding by the local mandates. He'd watched a few comedy livestream attempts- some of them good, others not. But Alex says his approach was deliberately aimed at a more local audience. "You're going to compete with Netflix, Amazon, Youtube? The whole point of local comedy was to get people out of the house," he says. "So I started racking my brain for what we could do that would be safe."
Alex found a low-power FM transmitter at Best Buy, the kind made to broadcast an mp3 player to a car stereo. With a little rigging, he got a legal-limit 200 foot range. He reached out to local comics for gear. He looked into the local mandates to make sure that what he was planning wasn't breaking any laws. But most importantly, he made sure that he wasn't putting anybody in danger.
"I want to be real clear; the goal is zero-risk," Alex says. "If infection gets spread, it doesn't matter how much fun you have, it's a total loss."
His pickup truck is draped in signs, with only two messages: TUNE TO 107.9 and STAY IN YOUR VEHICLE. For the next event, he plans to pay someone to make sure that happens. That is, of course, if there is a next event.
"We're in a special situation. I think with the previous mandate from the mayor we were 100% OK," he said. "The governor's announcement was right before we kicked off the show. I'm willing to be lawful with our underground comedy show. I want to make sure [officials] know that we've taken every precaution."
There is currently no second Drive-In Comedy event planned, but Alex says to follow his Instagram @JustAlexComedy for developments.