Joyce Vigil's ordeal began with a fever and a cough so sharp and dry it was "like a dog barking."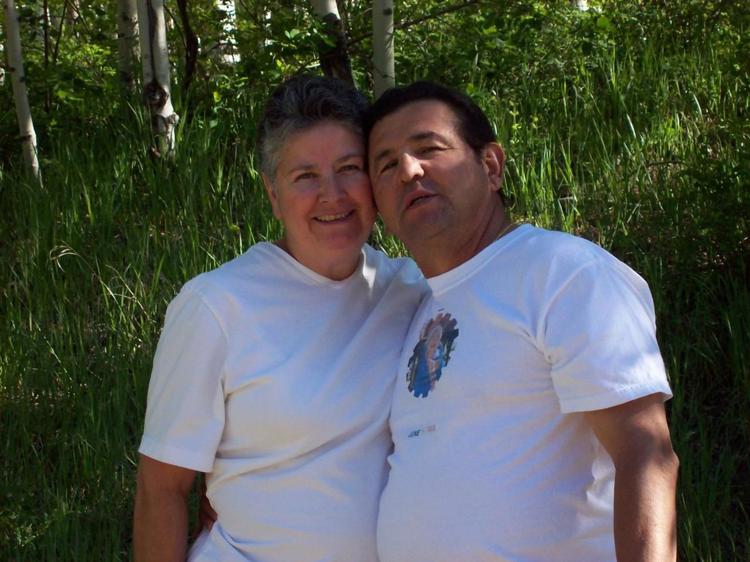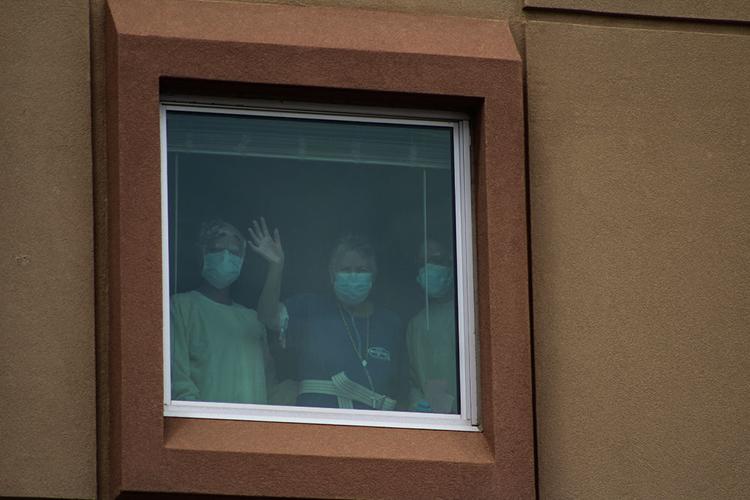 The Olathe, Colo. woman stayed overnight at Montrose Memorial Hospital March 30, then went home, only to return April 2 — this time for 25 days, spending most of them on a ventilator, as her family waited and worried. 
Vigil, 66, had COVID-19, the respiratory disease caused by the novel coronavirus.
Vigil's husband, Jim, a 70-year-old man fit enough to keep up with the younger members of his softball team, also contracted the virus.
As she battled for her life in the COVID unit, Vigil wasn't aware of everything happening to her husband, who became so ill he had to be transferred to St. Mary's Hospital in Grand Junction.
 She didn't know that every hour, a team of medical professionals was in her room, rotating her body in a "swim mode" position.
When she was at last off the ventilator, she didn't know where she was — or that nearly a month had passed. She lost time.
And, later, she lost Jim.
He died on April 24, within hours of Joyce coming home.
"You lose a whole month of your life. That is a strange place to be. Your whole body and mind is gone," Vigil said.
"Until it hits home, you won't realize what this horrible disease can do to a body, and everybody pays for it, not just the patient, the entire family. The doctors and nurses, to see that grief on their face."
Vigil has limited recollection of her second trip to the hospital. She knows Jim took her there and then sat in his truck for five hours, waiting for word, until their daughter Nestorita Vigil convinced him it was OK to go home.
Vigil recalls being escorted to an exam room — and being told not to touch anything, because COVID-19 was suspected.
"I remember walking back to the exam room with my arms crossed over my chest. (Nurse) freaked me out. I thought, let's play it safe," she said.
Medical staff flowed in and out of her room; a CT scan followed.
"That's all I remember from there. They must have vented me right away and taken me to the COVID unit. I have no recollection of anything," she said.
She later learned she had to be kept in a prone position and was constantly tended by nurses and doctors.
"Every hour, they had to put me in what was called the swim mode, my left arm above my head, my right leg up, and my face facing opposite of my arm. Every hour, they would switch me and put me on the other side, with my head turned the other way. That was four 18 hours a day.
"I was on the ventilator for two whole weeks. They did that 18 hours a day, nonstop. That's tremendous work and stress for all involved."
Her care team included Drs. Andrew Bolton, Justin Tanner, Michael Brezinsky and Jhana Whendling.
Vigil said she flatlined several times during her stay, but survived because of the dedicated medical care.
"I just kept wanting to die and wanting to live. They kept me going," she said.
Jim was hospitalized April 9 and transferred to St. Mary's on April 11. Vigil is positive she could sense his presence.
"They said we were in the same unit, the COVID unit, but there was a small wall dividing us. I swear I knew he was in there. I sensed him. I wish they had put us together for just a little bit, so we could hold hands, that we could feel each other's vibe," she said.
Vigil also hazily remembers hearing what she thought was Jim being told about what to expect of his transfer.
Courage, tragedy mark Olathe woman's COVID survival tale
Joyce Vigil rests against the window sill in her room at Montrose Memorial Hospital as family members in the parking lot below hold a "We love you" sign.
(Submitted photo)
"People told me it was probably my subconscious. I could hear his cowboy boots. I could feel like he was in there walking around, and they were getting him ready to go to St. Mary's. But he was already vented. I remember I could hear the flight for life helicopter. They took him and everything was dead silent."
After she no longer needed the ventilator, Vigil was transferred to ICU. Even though a machine was no longer forcing air into and out of her lungs, she still needed significant medical intervention to remove fluid buildup — "suctioning," and every 10 minutes.
"It was like somebody holding you down and the bed was filling with water and you just know you're going to drown," Vigil said.
Because she could not talk, she would have to tap her chest to signal nurses, then point to a chart to indicate what she needed.
"I memorized that chart, so I knew exactly what to point at. I would have this severe, severe cough with all this junk in my throat. That's why I thought I was choking to death," she said.
"Every inch of my body (hurt). I actually thought I had been in a car accident. My arms were black and blue. I thought, if my arms look this bad, what do my legs look like?"
When she glanced at them, they were "perfect."
"I couldn't figure out, why was I there? Why couldn't my husband come see me? Why couldn't my grandson?"
For reasons she cannot explain, Vigil thought she was in Durango and had been in a car crash. It put her into a panic — how would she get home?
"I thought we had been in a big accident there. But nobody ever mentioned my husband or grandson. I thought they had died in this accident," Vigil said.
Doctors told her she was still at MMH.
"I cried a good 10 minutes, because all this time, I was so far away, but I was so close to home."
On the home front, Vigil's family struggled, too.
Grandson Anthony watched his grandfather drive his grandmother to the emergency room on April 2.
"I remember she told me that she was going back to the hospital and she loved me, and she'll be back," Anthony said.
He broke down, though.
"I wasn't sure I was ever going to see her again. I know my grandpa was just so worried about her."
As Jim's health declined, Anthony kept him isolated in his bedroom, tending to his every need, while also navigating the household finances.
"I just tried to keep his mind going, to try to get better. He told me when I'd check that he was doing fine. I know deep down he was just so worried about my grandma. I know he wanted her home," Anthony said.
"I don't think it registered in his head what it really meant as far as being on a ventilator."
Jim's fever and cough subsided, but then one day, his oxygen level suddenly plunged. Anthony loaded him into the truck and flew from Olathe to MMH, "pedal to the metal," until reaching the ER.
Anthony had to leave his grandfather there. He was told Jim had stabilized.
"By the time I got back home, my mom had called me. They had to put him on a ventilator that quickly. He was on the verge of a heart attack and was in critical condition. I got him in just in time," Anthony said.
Jim was taken to St. Mary's in part because he also needed dialysis.
"The virus doesn't just attack the lungs. It attacks other organs in the body. Any weak link you have in the body, it's going to take advantage of that," Anthony said.
"The virus just took over his body. He gave it a good fight, just strong, and tried everything he could, and I know the doctors tried everything they could try to help my grandpa. He wasn't able to make that turn for the better."
At Montrose Memorial, Joyce battled her way back. She was able to correctly identify Easter as the most recent holiday — and also her birthday — when nurses came into her room to sing to her.
She was told Tanner spent a night at her bedside, holding her hand, trying to think of what more to do — "I heard he was actually crying," Joyce said.
She spoke lovingly of Anthony, Nestorita and her son, Andrew, who were frantic, both wanting information and fearful of answering the phone; wanting to visit, and not being allowed.
Once Joyce was in ICU, she was given a tablet that allowed her to Facetime her family. Her son, she said, started crying.
Then came news of Jim on April 23. Doctors at St. Mary's were not optimistic that he would survive the night.
"I was mad at everything and everybody," Joyce said.
"I was even mad at God and then I apologized for being mad. My faith felt like it was down the tubes."
She begged to be discharged and, on April 24, walked out of the hospital.
"I was very proud of myself that I could walk out," she said.
But, no sooner had she been settled in at home, the call came from St. Mary's. Jim was leaving them.
The family raced to Grand Junction and, suited up in full protective gear — "like we could be walking on the moon" — Joyce, Nestorita and Anthony went into his room.
"We all reached over and gave him a kiss and told him how much we loved him," Joyce said.
Via Facetime, Andrew said his goodbyes from Aurora, pleading with his father not to go. Nestorita played a song she and Jim used to perform as part of their band.
"A tear welled up in his eyes. I told him, "Honey, it's OK to go home now. You're tired. The angels are waiting for you with open arms.' And he left us," Joyce said.
"We didn't think we would ever get to see his face again. So many people die without ever seeing relatives or friends."
Because of restrictions on large gatherings, the Vigil family was not able to have a proper funeral for Jim, which Joyce said she understood. "But it was just so plain. It didn't feel like we had done anything to honor him," she said.
"Every night when I go to bed, I reach over to my husband's side and I pat it and say 'Goodnight, honey. I love you.'"
A plea to others
Joyce, who suspects she contracted the virus via community spread, is reassembling her life, but there is a long road ahead. She said she is grateful for her family, the community, and also for the doctors and nurses at both hospitals.
"I can't even explain how grateful I am to my family. It has been a long, long road. Every day is a different challenge," she said.
Joyce is undergoing physical therapy, receives care from a home health nurse, and, multiple times a day, from her daughter and grandson.
"It's a very, very slow process. I am thankful that I can walk on my own. I'm just weak and I need to get my strength. That's going to come very slowly," she said.
People should not underestimate COVID-19, the Vigils said.
"Use common sense. I get that everyone wants to open things up and get back to work, but you hear all these reports of a second wave," Anthony said.
"If we do get a second wave — and I hope we don't — I think it will be worse. It's not just going to hit 70- and 80-year-olds. … I just hope people stay home as much as possible and wear masks, if you do have to go out in public," he said.
"Stay home, stay home, stay home," his grandmother said. Although many people recover, the virus has sickened babies, children and adults both young and old. As Joyce's experience shows, not everyone survives without being profoundly affected.
"It's a serious disease. People need to pay attention to what's really happening. … This coronavirus has no age group. It will take whoever, young or old. It doesn't matter if you're rich or poor. The virus will take you," she said.
"For people who say they don't believe the coronavirus is that bad, or we're exaggerating, or we're going too far — they can talk to me anytime.
" … It needs to be known. Until people actually know someone who has actually gone through this, and one of us didn't make it, it's detrimental to our whole life."
Katharhynn Heidelberg is the Montrose Daily Press assistant editor and senior writer. Follow her on Twitter, @kathMDP.