When the 300-year-old red cedar log T.J. Young was recently carving was a seedling, a group of Haida people were making their first migration to Prince of Wales Island. The land around where Hydaburg now sits featured scattered villages behind sloping beaches, with wood smoke rising from large communal longhouses. Totem poles towered over dugout canoes parked above the tide.
Much has changed in the three centuries of that tree's life. However — thanks to the careful stewardship and initiative of many passionate people — the bountiful natural resources of the area, and the proud arts and culture of the Haida, remain.
Over the past four months, Young and three other artists have spent nearly 10 hours a day transforming that 27-foot, 30-inch-diameter log into a traditional dugout canoe.
The project was funded by three grants secured by the Hydaburg Cooperative Association (HCA) that enabled the community to hire four local artists to work together on the project. Young was joined by Sylvester "Sonny" Peele, Greg Frisby and Cadence Peele, Sonny Peele's grandson. The project has been a healing "quarantine" of its own for the artists during the coronavirus pandemic.
The community plans to use the canoe for cultural events, and the maiden launch and name giving ceremony for it will take place next summer.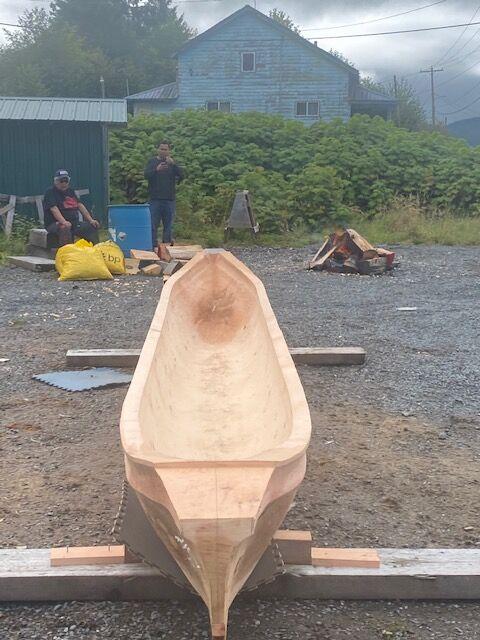 Young, who grew up in Hydaburg, is an emerging master artist who has devoted himself to the perpetuation of his culture. He returns home each year to work with other aspiring artists in the village. Over the years, Young and his brother Joe, along with several others in the community, have been instrumental in breathing life back into the traditional arts in Hydaburg. Young said he's lost count of the number of totem poles he's worked on in the past 20 years. He's carved poles for galleries in Anchorage, received commissions for jobs in Texas and Washington, and completed a few projects for Sealaska Heritage Institute.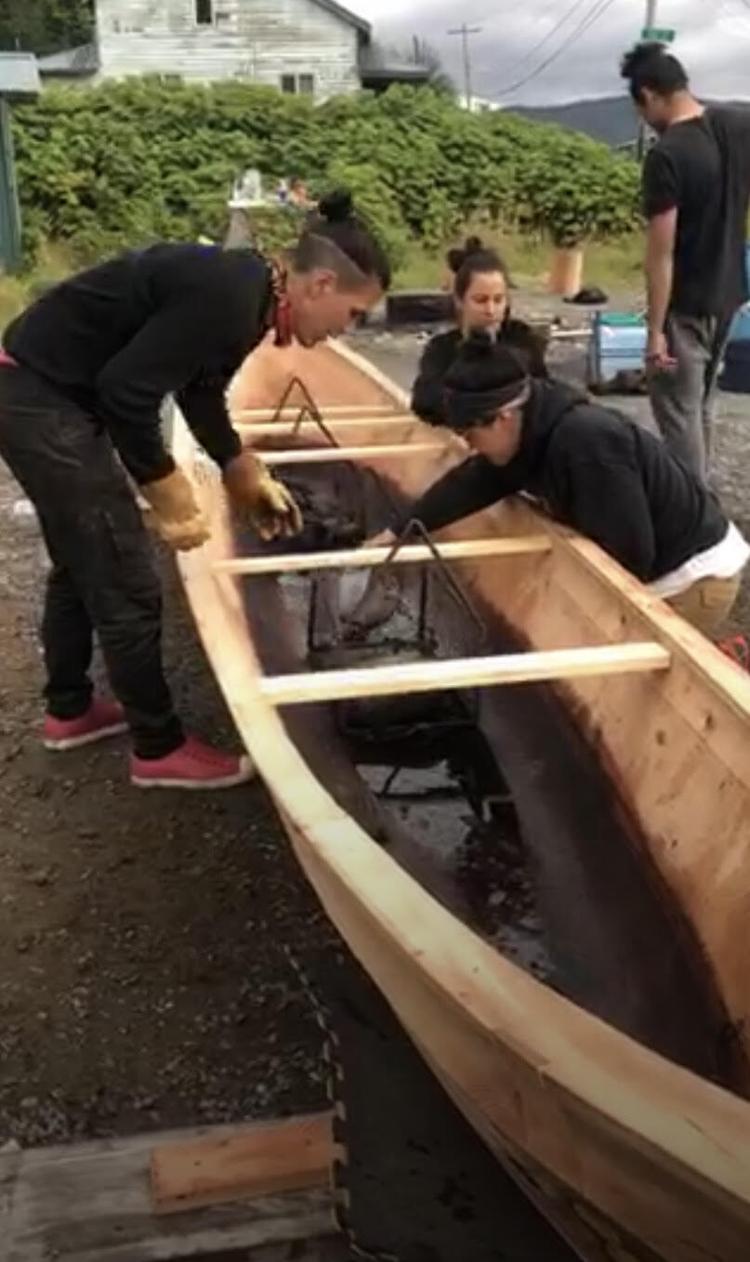 When asked which one is his favorite, he didn't hesitate to name his first totem pole, carved with his brother Joe in honor of their late grandmother Gladys Morrison. "She passed away in 1997 and the following year we decided to carve a little totem pole for her. It's still sitting in front of her house. It was a gift in honor of my grandma and it had her crest on it — a beaver with an eagle on the tail and a watchman on top to represent my grandfather looking out at the ocean."
At 39, Young still considers himself a student of the art. In 2010, Young graduated from the Native Education College Jewelry Program in Vancouver, British Columbia, and learned the basics of engraving from renowned artists Dan Wallace (Kwakwaka'wakw; Haida) and James McGuire (Haida). From 2012 to 2016, Young worked as an apprentice for Robert Davidson, one of Canada's most respected and important contemporary visual artists. Davidson has practiced the Northwest Coast art form for more than 50 years. Young said he learned "what fine art looks like" by working on a daily basis with Davidson, who was born in Hydaburg.
"That experience really shaped the way that I look at the art form and how I view myself as a Haida," said Young. At one point, Young was joined in Davidson's studio in White Rock, British Columbia, just north of the Canadian border, by artists from Skidegate and Masset. "My fondest memory of the apprenticeship was sharing stories with others from three different Haida villages," said Young.
Young credits his grandfather Claude Morrison as a major influence in his life and his journey as an artist. Morrison introduced Young and his siblings to Haida art, language and traditional practices during their formative years. When Young was a teenager, his grandfather first taught him how to hand-carve halibut hooks. In that moment, Young knew that he wanted to learn as much as he could.
The HCA tribe has been the catalyst in helping to resurrect the culture in Hydaburg by investing considerable resources to renovate the totem pole park and build a carving shed where locals of all ages can work on projects. The carving shed has become a popular gathering place for the community where people can stop by to visit with the artists. In many ways, it's almost fitting that the carving shed has become the cornerstone for the community. It sits at the center of town, just on the edge of the shoreline overlooking the narrows near the bridge that bisects the village.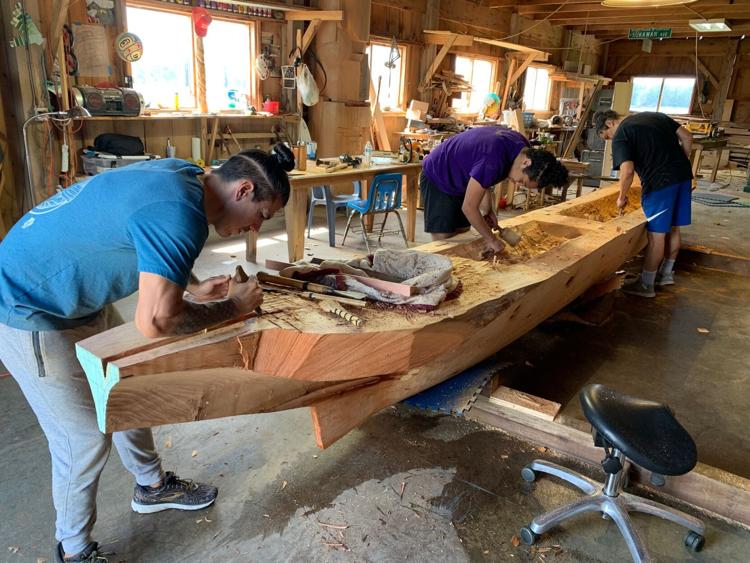 On any given day, you'll find Elders working alongside youth building bentwood boxes, practicing formline, painting paddles and working on other art projects. The day that Young and his fellow artists finished the canoe, a group of students from Hydaburg's Xaad Kíl language immersion preschool, Xántsii Náay, stopped by the carving shed.
"This place is really a source of healing and strength for the community," said Young, speaking of the carving shed. "Everyone is welcome here. It's a safe place for the kids to come by and work on their projects."
For Young, the canoe project was special because it allowed the community to come together during a challenging time.
Young's Haida name is Sgwaayaans and he was born into the Yaadaas Eagle Clan.