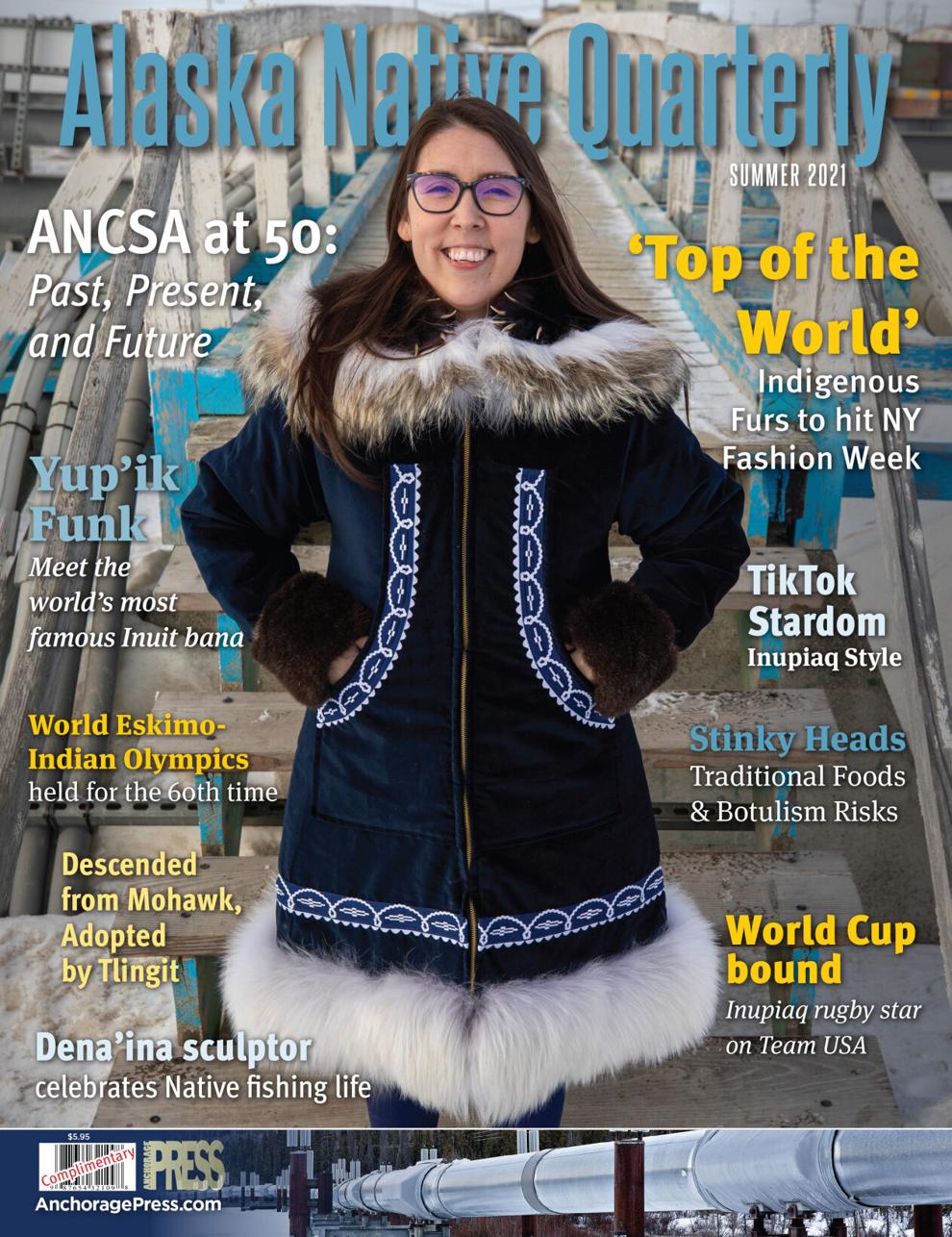 A bill giving formal state recognition to Alaska Native tribes is moving through the Legislature. House Bill 123, sponsored by Rep. Tiffany Zulkosky, D-Bethel, is in the state Senate after being approved by the state House on May 19, the last day of the Legislature's regular 201 session.  Zulkosky chairs the House Special Committee on Tribal Affairs.
Sen. Donny Olson, D-Golovin, has introduced a similar bill in the Senate, SB 108. The HB 123 has not yet been assigned to committees in the state Senate, but it will undoubtedly make its way to the Senate State Affairs Committee, where Olson's bill has been sent. With the legislative at an advanced stage it is highly likely to pass when the Legislature convenes its next regular session in January.
HB 123 and SB 108 would not change the legal relationships between the state and tribes but there is hugely important symbolism at stake, according to Zulkosky. 
"The federal government has a special and unique relationship with tribes that the State would formally acknowledge through this bill," she said. 
"While the federal government embraced needed change and went on to pass the (federal) Self Determination and Education Assistance Act in 1975, Alaska's statutory policy towards tribes is still a relic of the past." Many struggles faced by Alaska Natives today "have been reinforced by the state's historic policy of telling its tribes that they have no standing,in state law," Zulkosky said. 
"Despite the shared values between tribes and the State that seek to ensure vibrant and healthy communities, Alaska obtained statehood during an era of federal Indian policy where the federal government sought to terminate its trust relationship with Tribes, forcing tribes to abandon their identity," she wrote. "It is time to break from this outdated policy. HB 123 serves as a first step, formalizing in statute that the State of Alaska will no longer deny tribes' existence. This provides a first step towards stronger relationships between Alaska and its tribes."
There is historical support for this effort.
"The current state of the law is clear—there are 229 sovereign tribes within Alaska. Yet there continue to be misunderstandings about the existence of tribes in Alaska and their inherent sovereignty," former state Attorney General Jahna Lindemuth wrote in 2017 in a memorandum to then-Gov. Bill Walker. "A common misunderstanding is that ANCSA extinguished or terminated Alaska Tribes. But ANCSA settled, and extinguished, tribal claims to aboriginal title; it did not extinguish tribal governments. Because ANCSA did not explicitly terminate Alaska Tribes, it does not affect Alaska Tribes' status as sovereign governments." 
Misunderstandings may have been furthered by unsuccessful, but well-publicized, arguments in litigation asserting that Alaska Tribes did not exist and lacked inherent sovereignty, Lindemuth wrote. Nevertheless, the Alaska Supreme Court has rejected several direct requests to overturn John v. Baker (a foundation state decision on the legal status of tribes) and has consistently held that Alaska Tribes exist and are sovereign governments. "Thus, there are no unresolved legal questions regarding the legal status of Alaska Tribes as federally recognized tribal governments," Lindemuth told Gov. Walker in her memorandum.
Despite that, four Republican House members voted against HB 122 when it passed the House on May 19 — David Eastman, R-Wasilla; Chris Kurka, R-Wasilla; Kevin McCabe, R-Big Lake, and Ken McCarty, R-Eagle River — all members of the conservative House Republican Minority. However, one Republican in the conservative House Minority, Rep. Sarah Vance, R-Homer, has signed on as a cosponsor of the bill.
Interestingly, one of the state's major industry organizations, the Alaska Oil and Gas Association, has weighed in on the bill.
"Nothing in this legislation appears to relinquish the State of Alaska's authority over particular lands, peoples, or activities, create any additional burdens on the state or private industry or impact the rights of Alaska Natives as set forth in the Alaska Native Claims Settlement Act, or under other applicable law," the Association wrote. 
AOGA's statement is unusual. Usually, the association does not comment on issues like this, but AOGA was likely asked to do so in this case to assure wavering Republican legislators that the bill would not alter the state's authority over its lands or its relationships with private resource companies.  
There are 15 cosponsors in the House who have joined Zulkosky as cosponsors. Except for Vance, all are Democrats, along with the two Independents who are members of the House Majority. A similar bill was put before the Legislature last year, but work was cut short by the early termination of the 2020 session due to COVID-19. 
Kendra Kloster, of Native Peoples Action, an advocacy group, told the House Tribal Affairs committee that formal state recognition would recognize reality on the ground. Alaska has 229 federally recognized tribes which provide community services including public safety, economic development, and environmental protection. 
"Formal relationships have been established with the federal government. However, no formal recognition by the State of Alaska has been made," she said.  
Alaska Native tribes have existed since before statehood but they were few in number and increased to the current total only in the 1980s when the federal government moved to encourage local management of health and social service programs, and recognized local tribal entities as organizations to carry out those functions.
The Alaska tribes are different from Native American tribes in the Lower 48, however, in that they do not usually hold ownership of land, or at least substantial acreage, as compared with the Lower 48 where long-established tribes own large land tracts on reservations. In the Lower 48, most tribes claim an autonomous "Indian Country" legal status that makes them partly exempt from state and municipal laws and taxes.  
When Alaska became a state in 1959, state officials resisted the assertion of tribal rights because they wanted state laws to be applied uniformly across the new state and they were concerned that if Alaska tribes came to own lands, which some do, they would assert Indian Country status, creating create pockets of land under different legal jurisdictions.
Most Alaska Natives were opposed to the traditional reservations in the Lower 48 because of the continued influence of the U.S. Bureau of Indian Affairs over tribal decisions. Alaska Natives opted instead to own lands privately, under state laws, through the Alaska Native Claims Settlement Act, or ANCSA, enacted by Congress in 1971. 
Regional and village corporations were created under the claims settlement, but they were organized as private entities under state laws and Native shareholders in the corporations had total control with no federal, or state, oversight.
In the 1980s, however, many new tribes, almost all of them small and community-based, were formed to provide local health and social services through federal contracts. These were federally recognized so as to be able to provide services under contract but they also served to represent local Alaska Native people in "government-to-government" relationships that also developed under federal law. Under government-to-government relationships federal agencies are required to consult tribal entities, for example on federal decisions on major resource development projects. Because the state never formally recognized tribes there is no similar set of consultation obligations for state agencies. 
HB 123 could change that. 
In practice, however, state agencies often work with tribes under more informal arrangements. For example, there are cooperative agreements that have operated successfully for years between the state Department of Fish and Game and tribes in Interior Alaska and along the Kuskokwim River involving management of salmon and subsistence fishing. 
Similar cooperative arrangements govern subsistence hunting in other areas. And state agencies now recognize tribal authority in Alaska Native child welfare and adoptions.