There are more than just a few Alaska Native artists who have been gifted at capturing the real heart and soul of Native culture. Some grew up in the villages, some in towns like Anchorage and Fairbanks, but all are equal in stature because they all share one soul – that of their ancestors and our people.
Our ancestry is the source of all Native art, the stories, the legends, the myths, and the heritage. And artists who carry the mental capacity and spiritual strength to transform stone, ivory, wood, silver, baleen, whalebone, and increasingly, other mediums from the Earth, to complete interpretations of Native culture in art all share the gifts freely given to them from thousands of years of our existence.
Let me name some of them: Sylvester Ayek, Inupiat artist from King Island and Nome; Larry "Ulaaq" Ahvakana from Barrow, (now Itquagvik), the late Jim Schoppert from southeast Alaska; Nathan Jackson, also from Southeast Alaska; Ron Senungetuk and Joe Senungetuk, both of Wales; my son Mark Tetpon, and others who are known for their skill and ability to interpret our past, present, and future.
(Mark and I use our Inupiat names on our work; Nasoalook and Delutak. He's now learning the art show trail, and just returned from an invitation only art show in Sisters, Oregon. The show was held at the Raven Makes Gallery. Sisters is a small town in Oregon that is famous for the community of artists that it is.)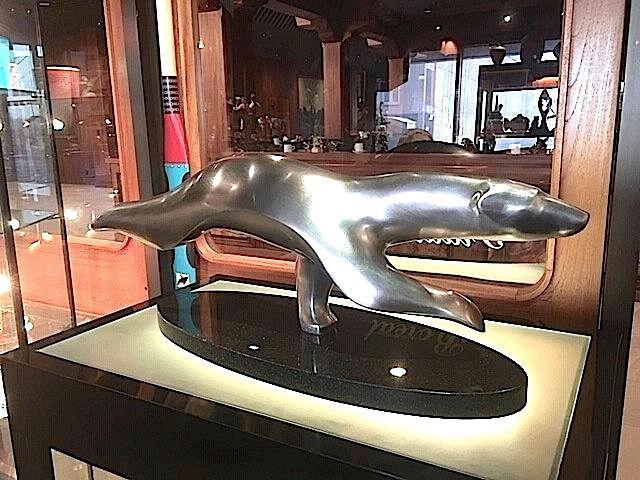 Most artists have a favorite mentor for style and design. For me, there are many who have done a complete scan of our ancestors and had the presence of mind and spirit to capture it in their work.
One artist stands out, however. That artist is the late Melvin Olanna of Shishmaref who passed away in 1991 of a heart attack. He was 55.
His wife Karen Olanna said this week, Melvin was a hunter first and artist second. "He was most comfortable out on the ice, hunting seal, walrus, and oogruk," she said.
Melvin grew up in Shishmaref, a village in Northwest Alaska where he learned to hunt on the Bering Sea ice at an early age. But he had one leg that was shorter than the other and he concluded early on that his life would best be spent as an artist. As a kid, he once made up a story so he can stay home from church to carve a piece of ivory. He sold it to the local store for 75 cents, his wife said. That was his start.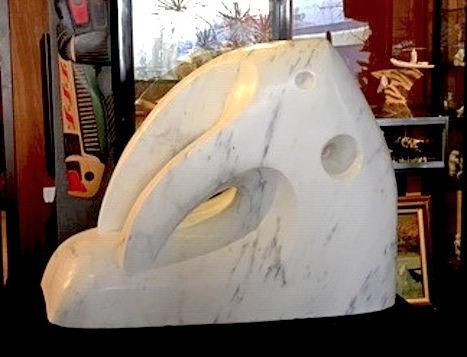 Olanna lived on the Suqwamish Indian reservation in Washington state for years and traveled between Alaska and his home there during his long art career.
Olanna also studied at the Institute of American Indian Arts in Santa Fe, New Mexico under the tutelage of the famed Alan Houser, an accomplished sculptor. Olanna and Houser did many art shows all over the country as a team.
Olanna's prized pieces, in storage since 1991, are now at the Borealis Traditions Gallery in downtown Anchorage and have never been seen before. The gallery is located at the Captain Cook Hotel on West Fifth Avenue.
My favorite is a bronze polar bear about 30-inches long and 12-inches in height. It is a super-sleek design that captures the swiftness of the largest sea and ice animal in the Arctic. It is simply called Running Bear.
Olanna has other pieces that show how he moved from the traditional realistic Native art forms to the abstract. There are two very large pieces done in alabaster – one is a bird and the other is a walrus — and both are distinct in design.
All of his artwork is must-see. As an artist myself, I can imagine the internal mental strength it took to complete the works.
Doing art is hard work. It takes unrelenting focus to gain perfection. It is tiring to the bone. It is tiring to the mind, body and sometimes, to the spirit.
When I see a piece of Native art, I examine it to find how difficult it must have been to take it from a design of the mind, the spirit, and the culture, to that of becoming reality. Sometimes it takes days, sometimes weeks, and sometimes months.
Melvin Olanna, who was gone too soon, mastered the process and it shows.