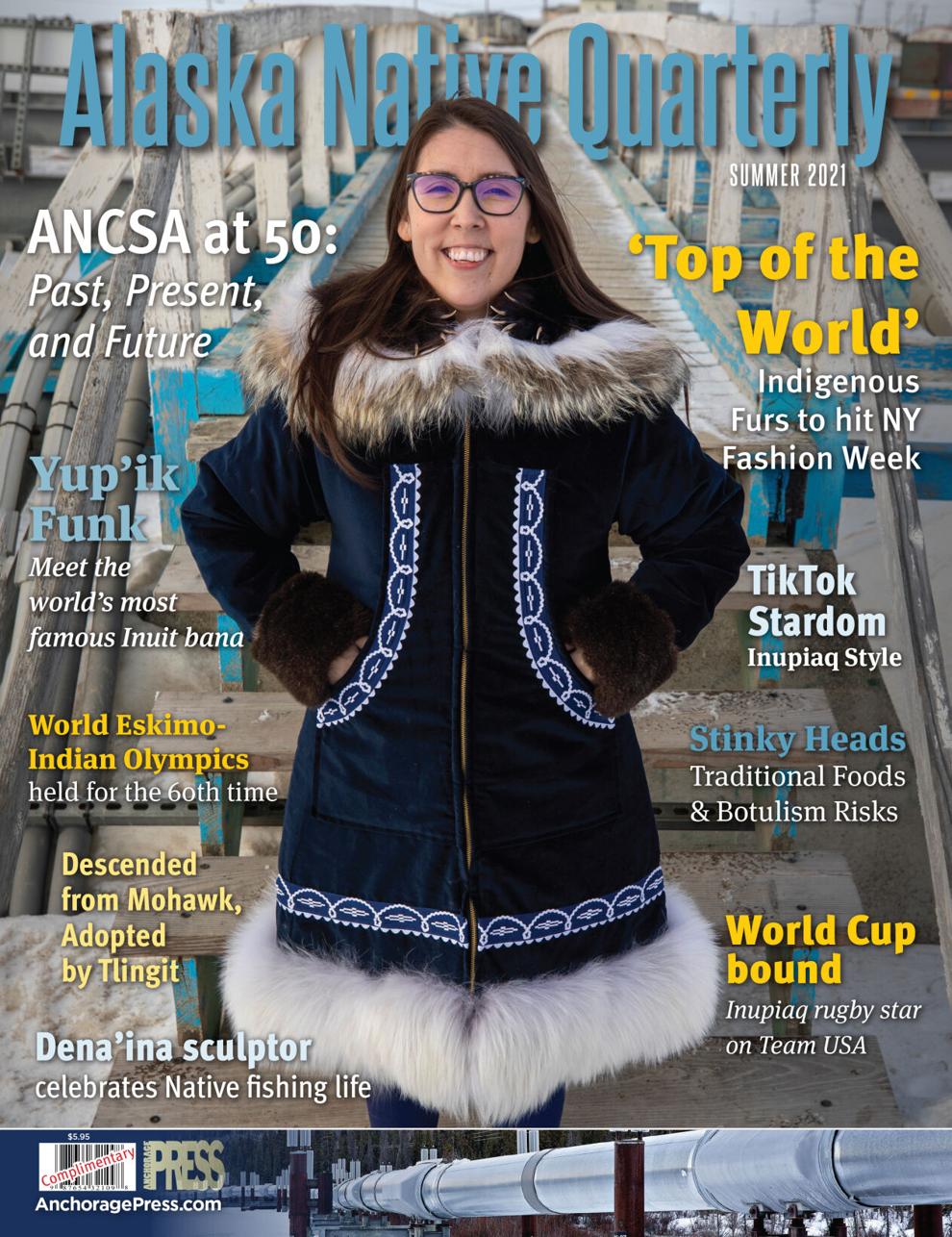 Indigenous languages are a bedrock of culture among Alaska Natives, but apart from a handful of exceptions they are endangered. 
There are 21 Indigenous languages officially recognized by the State of Alaska, but every year there are fewer proficient speakers of these as elders are lost and the power of Western culture exerts powerful influences among young people.
"The land we call Alaska is home to around two dozen Native languages, spoken in and near Alaska for many thousands of years. Each Alaska Native language is a treasure beyond value, holding cultural knowledge of a unique people, a unique history, and a unique way of viewing life," the Alaska Native Language Preservation and Advisory Council wrote in its 2020 report. 
However, "every Indigenous language in Alaska faces threats from colonial English-only practices, and nearly all of them are critically endangered," the Council said in its latest report. 
The Council compiles a report to the governor and state Legislature every two years on the state of Indigenous languages. The language Council was formed by the state Legislature in 2012.
There are only rough approximations of the numbers of fluent speakers and their age ranges for each Alaska Native language, but surveys provide some indication. 
According to the Council's 2020 report, one language — the Doogh Qunag of Holikackuk — now has no living proficient speakers. In the Dena'ina language of Southcentral Alaska, there are only five proficient speakers. In the Dihthaad Xt'een Ian Aandeeg language of Tanacross, in eastern Interior Alaska, there are only 10.
In the Ahtna language of the Copper River region, known as Koht'aene Kenaege, there are 15. Of the Tlingit language of Southeast Alaska, Lingit Yoo X'atangi, there are 60 proficient speakers.
Some languages are still strong
There are, however, some Alaska indigenous languages that appear to be in relatively healthy condition — for now at least. For example there appear to be 10,000 proficient Central Alaskan Yup'ik/Cup'ik, or Yuntun/Cugtun, speakers, who live mostly in Southwest Alaska communities, according to the report. 
There are another 1,000 speakers of Saint Lawrence Island Yupik, known as Yupigestun/Auzipigestun, many living in Savoonga and Gambell on Saint Lawrence Island in the northern Bering Sea. 
There are 2,500 Inupiaq speakers in communities on the Arctic Slope, Northwest Alaska and the Seward Peninsula. The language is also known as Alaskainuit-Unaganinupiatun.
These numbers are only estimates based on surveys done several years ago. It's quite likely the number of speakers has actually declined since the surveys were done.
Schools banned Native languages in early years
Much of the responsibility for the loss of Indigenous languages is laid to early school administrators — both secular and missionary — who banned the speaking of Native languages in schools. 
These travesties were eventually recognized, and it was actually the U.S. Bureau of Indian Affairs that began to make changes in the English-only policy in schools in the Lower Kuskokwim region in 1969. 
An experimental program of "Yup'ik First Education" for students who spoke only Yup'ik was started in the fall of 1970 in one kindergarten in Bethel and one each in four Yup'ik villages.
This was a pilot program of teaching Yup'ik speaking children in their own language, but the results were so profoundly superior to the previous English-only schooling that the BIA quickly expanded it to several other Lower Kuskokwim schools, the Commission said in its 2014 report. 
Also during the early 1970s, some public schools in Alaska Native villages began to offer small amounts of instruction in local Native languages. Not all Alaska Native communities have had Native language programs in their local schools, however, and almost all of these provide only very short amounts of time for instruction in the local language. 
There is now an increasing awareness of the loss of languages and progress is being made to slow the erosion, although much of it is grinding to a halt.
"Bethel's Yup'ik immersion program has had great success in teaching young people to be conversationally fluent and academically competent in Yup'ik alongside with English," the Council said in its 2020 report.
Native language immersion schools have been operated in Bethel, teaching Central Yup'ik, from 1995 in a Kindergarten-to-sixth grade charter school), as well as in Hooper Bay (Central Yup'ik/Cup'ik); Kotzebue (Iñupiaq) since 1998 to present; in Utqiaġvik (Iñupiaq) from 1995. There is a K-4 partial immersion program in Mekoryuk (Cup'ig, 1999 to present); Nanwalek, 1999-2002, pre-school, and since 2019 at College Gate Elementary School in Anchorage (Central Yup'ik).
There is also a sharper focus on what teaching techniques work best: "Language "nests" for young children and language immersion schools are the most powerful institutional means of teaching a language," the Council said.
"Children (sometimes as young as a few weeks old, in the case of language nests) spend the day interacting with adults who speak to them only in the language." 
Language immersion schools are also proving to be effective. Across North America have a 55-year track record for helping young children develop high conversational and academic fluency in an additional language while also developing academic fluency in a national language such as English. 
"However, a limitation on programs like language nests and language immersion schools is that they require that there be highly proficient speakers, with training and experience for teaching children," the Council said.
Not all school districts have programs
Few Alaska school districts have incorporated Native language programs, except through a handful of charter schools, which are operated by districts but mostly in separate schools. Most of the language programs are operated by nonprofits and funded with grants. 
"One of the problems with grant programs is that it's difficult to attract people if they know they only have a couple of years of funding or, in the best case, maybe five," said April Counceller, of Kodiak, who is a member of the Native languages council. 
For language programs to be successful, however, there must be a high degree of community support and participation. "Language schools are an area that are highly dependent on local support and control," the Council  said in its report. 
The "control" part, particularly in teacher certification, might be a source of conflict with the local school district. "The Council strongly supports the right of local communities to participate in deciding training and credentialing standards for language nest and language immersion teachers," the Council said in its report.
"One thing that I've thought about a lot is how teachers become certified. And maybe we need to be looking at how can we get more of our Alaska Natives certified as teachers, and not just a limited certificate but full teachers that have all of the authority that all the other teachers have, to bring that into classrooms," said Erin Monteith of Juneau, who has been active in language programs. 
In 2013 and 2014, the languages commission contacted school districts across Alaska regarding their Alaska Native language programs. 
"It turns out that many districts are unclear on whether they have Native languages in their schools. In some cases, the district office does not know whether a class is to teach 'language' or 'culture; and, if it is a language class, whether the teacher speaks the language with the students or just talks about it in English," the Council said.
The University of Alaska has also been active in Native language studies. The Alaska Native Language Center at the University of Alaska Fairbanks was established by state legislation in 1972 as a center for research and documentation of Native languages of Alaska.
 It is now recognized as the major center in the United States for the study of Inupiat, Yup'ik and Northern Athabaskan languages.  
The Kenai Peninsula College in Soldotna currently offers the study of three Alaska Native languages: Dena'ina, Ahtna, and Yup'ik. KPC is the only university campus offering Ahtna language instruction. 
Language "revitalization" involves bringing a language back to stability with continued maintenance to keep a language from becoming endangered. But this is not quite so simple and routine in real life as Native communities struggle to turn back the tide of language loss, the Commission said. 
Language revitalization is about two things, said William "Pila" Wilson, a leader in Hawaii's language revitalization efforts for three decades.
It is first protecting the speakers you have while making new ones; and, second, to make sure the language is the language of power and use. The primary goals are to make sure there is a stable population of speakers—which most often means creating more speakers than are lost—and making sure the language is used in as many places as possible to communicate about as many things as possible, Wilson said in the Commission's report.
"For languages to regain their place in populations that reside on that languages' ancestral territory; language planning efforts should be specific, decisive, and informed by local, regional, statewide, and national power structures and social tendencies," the report said.
State Administrative Order 300
The 2018 Commission report made a number of recommendations that were included in Administrative Order 300, signed by former Gov. Bill Walker on Sept. 23, 2018. 
Among other things the order required the state Department of Education and Early Development to coordinate efforts among school districts, the University of Alaska, government and nonprofit entities to implement language programs in public schools and the university. 
A report was to be made to the governor by June 1, 2019, that would lay out steps needed to achieve the goals of the Administrative Order. The order also directs each state department to incorporate traditional Alaska Native place names in signage for state-supported projects.
"Each principal department, through their Commissioners, shall strive to assure that all newly-created, replaced or reprinted state and local highway and marine signage contain accurately spelled traditional Alaska Native place names," the order said.
There are no indications that any of these things have been done. Despite the change in state administration in December, 2018, Administrative Order 300 remains in effect. A spokesperson for Gov. Mike Dunleavy said the order is still, "in review" three years after Dunleavy became governor.