World music, as the genre is known, is fundamentally about the blending of musical styles from every reach of the globe, agnostic to the history of trade routes, geographic borders or language.
It traces its beginnings in popular culture to the early 1980s, but it's a concept brothers Phillip and Stephen Blanchett discovered one evening in Wasilla, circa 1995.
"It all started when my brother asked me to teach him a Yup'ik dance," Phillip recalls. "Stephen, at the time, was wanting to learn a song, and as we started singing in unison he, instead, started singing harmony. But he wasn't singing like I was. It was with a different kind of intention and it immediately triggered my impulse.. We were singing these Yup'ik songs — that in particular was an Inupiaq song with two parts, as more of an R&B or gospel style."
The most succinct description of Pamyua's sound is 'Inuit Soul Music'— a label the band embraces and has been cultivating for the better part of 25 years.
"From the very evening we stumbled upon this sound, we knew we had experienced something together very special, so we created a little 10-minute repertoire, brought it over to our dad's house and showed it to him. He immediately rattled off an elevator pitch  of the possibilities of what we could do with it in terms of the music industry with dance and education," Phillip said. "I believe 100 percent in what we were doing and why we did it. It was pretty clear to us that there was a need within the community in Anchorage and Alaska to be able to learn and understand more about the beauty of Indigenous culture in Alaska, amplifying a message of cultural diversity."
Once the Blanchett Brothers took the stage, the Alaska music scene took notice.
"We started performing and got some press immediately, so that very first performance we brought in elders to help us showcase the dances before we sang a capella harmony to showcase the traditional way these songs are done. We had three elders drumming for us, before our duet. It was an incredible session," Phillip recalled. "It wasn't that we didn't want to travel with the elders, we wanted to explore ways to figure out how to continue to grow our group.
Not long after, the brothers added Yup'ik dancer and composer Ossie Kairaiuak, a Bethel Native, who had recently earned his MFA from the University of Alaska Fairbanks and was deeply involved in the Native dance scene.
"I was talking with Alice Crow (later Enrollment Director for the Calista Corporation), who is also from Bethel, and she said, 'what about Ossie?'" Phillip said. "I had met him briefly prior, and I called him up and asked, 'can you sing?' He said he'd been in pep band, played sax and had a background in music, so he joined the group."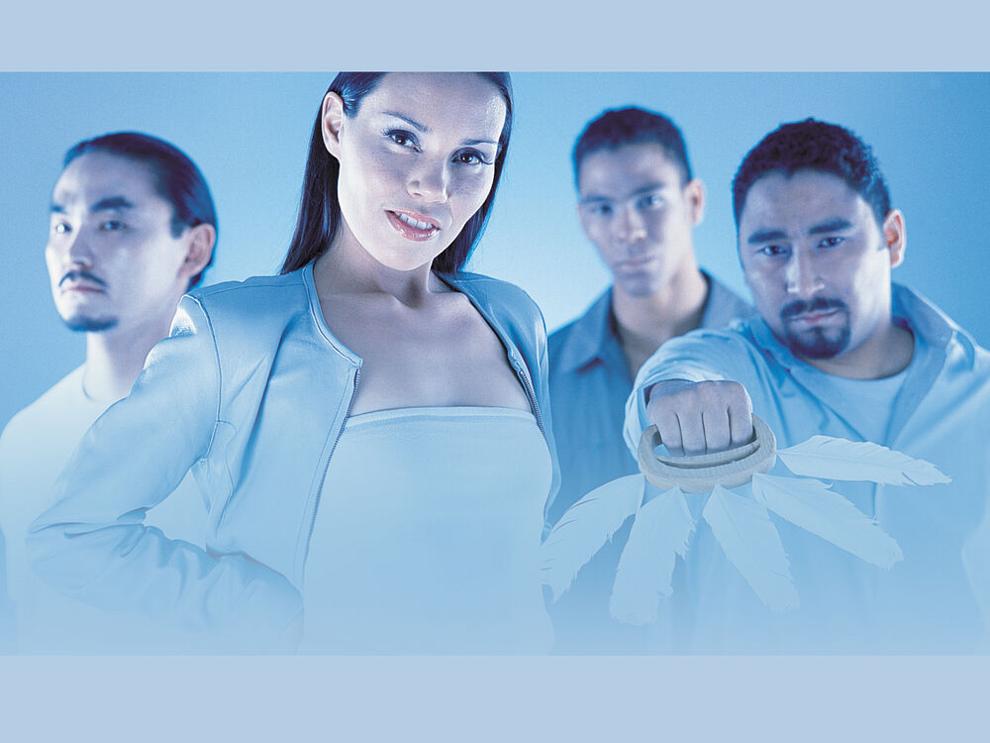 A year later, the trio became a quartet with the addition of vocalist Karina Moeller, whom they met at the World Arctic Games, where she was representing her home country of Greenland.
"Greenland has a really strong history in recorded music — rock and folk, but there weren't a lot of Inuit musicians that were wanting to do soul, R&B, syncopated funky music," Phillip said. "When she saw us we initially had a connection because of the ancestral ties between Greenland and Yup'ik, even through to Bethel. The languages were so similar many of the words were easy to understand why they meant what they meant."
So was born Pamyua, the name taken from the Yup'ik word meaning 'encore,' which would go on to become "The most famous Inuit band in the world," according to Rolling Stone magazine.
"We took parts of our culture that inspire us, especially Yup'ik dancing, and worked to honor that through our singing and arrangements. The arrangements are influenced by our background — for Stephen and I, we are African American — a lot of R&B and gospel and funk and Indigenous music from Africa and the Lower 48," Phillip said. "It's really music intention from the heart, from the soul for us… It's hard to describe, it's so influenced."
Influence is at the heart of world music, and for Pamyua, the mashup goes beyond Inuit and 70s style soul and funk. Beyond influences from the circumpolar north, Pamyua intersperses Mongolian throat-singing and even Australian didgeridoos into their act.
"Being raised in the Bush, we're immersed in our ancestral culture. The more learning and traveling we did throughout the north, it was a more affirming, wonderful surprise to understand this world is so culturally rich, so when we hear references to related cultures from Greenland and Canada and Russia and Alaska," Phillip said. "When we moved to Anchorage that's when we really began to discover the lack of awareness people had about cultural diversity."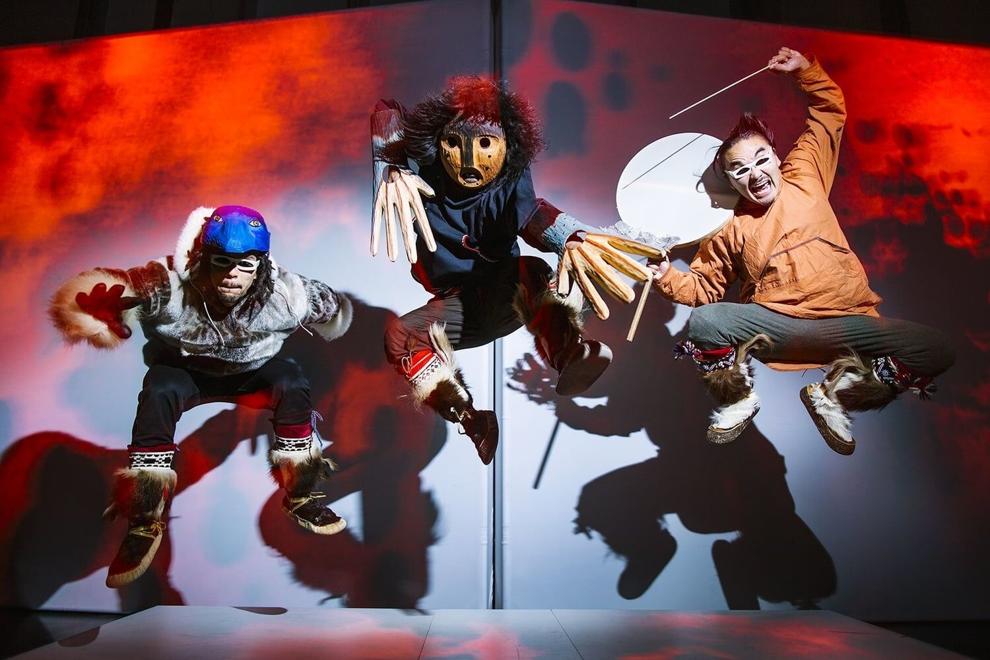 Three years ago, Pamyua was recognized for their contribution to world music when they played the California WorldFest in 2018. They were invited back in 2020 before the pandemic derailed everything, but returned in 2021, headlining alongside the globetrotting pan-genre  band Ozomatli.
"That was one of the eye-opener festivals for us," Phillip said. "Being so far from Alaska, doing events mainly in the north and places in the north somehow affiliated with Arctic Inuit, it was one of the first festivals that didn't have anything to do with Inuit culture. The energy and community a festival like that can bring, we were so excited about our invitation."
Blanchett said his band's music seemed to fit right in, even though it was a 'pretty unfamiliar genre' for most of the festival-goers.
"Ozomatli is an incredible fusion band with Latin roots. Their music is very familiar for people who know about the long history of the music of Mexico and Latin America… There's a melting pot of Latin music," Phillip said. "The reaction of the audience to cumbia rhythms amplified with a big 808 bass with rapping was really cool to see. For us, we don't really have a certain rhythm or flair that people are like, 'that must be Inuit music.' We're just up there sharing a musical experience familiar to us; communicating our excitement and intention."
Just back from that experience, Pamyua is headed back to more familiar pastures, among the headliners at SalmonFest in Ninilchik Aug. 6-8. It's the band's first appearance there since the festival's name was renamed from SalmonStock. 
"This is our first real tour since COVID and we've kind of resorted to where we were some years ago when we toured with a lot of funky musicians, bringing the energy and noise and it's been really good," Phillip said. "It's a different vibe on stage with a traditional drum set, bass and keyboard. We're bringing the same band we had (at California WorldFest) to SalmonFest, and of course, we're back home in Alaska, so who knows?"
Following SalmonFest, Pamyua's next major Alaska project is a collaboration with the Anchorage Symphony that had been in the works until the untimely death last year of conductor Randall Fleischer.
"We're basically orchestrating our funky tunes as we wanted them with the strings of the symphony, and so with that comes the masks we have on our albums and photos. Masked dancing was a huge part of the traditions that were condemned by the missionaries, so we're visually telling stories on stage using masks with choreography, theater lighting, eclectic sounds — not just rock and roll, but more experience through arrangement," Phillip said. "With (Fleischer's) passing we're just taking things step by step. We were working with him on so many plans. He was an incredible loss in so many ways. We're in no rush, but there is going to be a performance. We're very grateful for the connection with the Anchorage Symphony and we'll definitely be working with them. It's just getting back into the swing of things."