Born and raised in Unalakleet, a small northern Inupiaq community, Nick Hanson was not unlike most Alaskan rural kids. Growing up in a remote village of just 750 people inaccessible by road, he struggled to stay busy and find purpose after high school – a place he had once found success competing in sports and the Native Youth Olympics.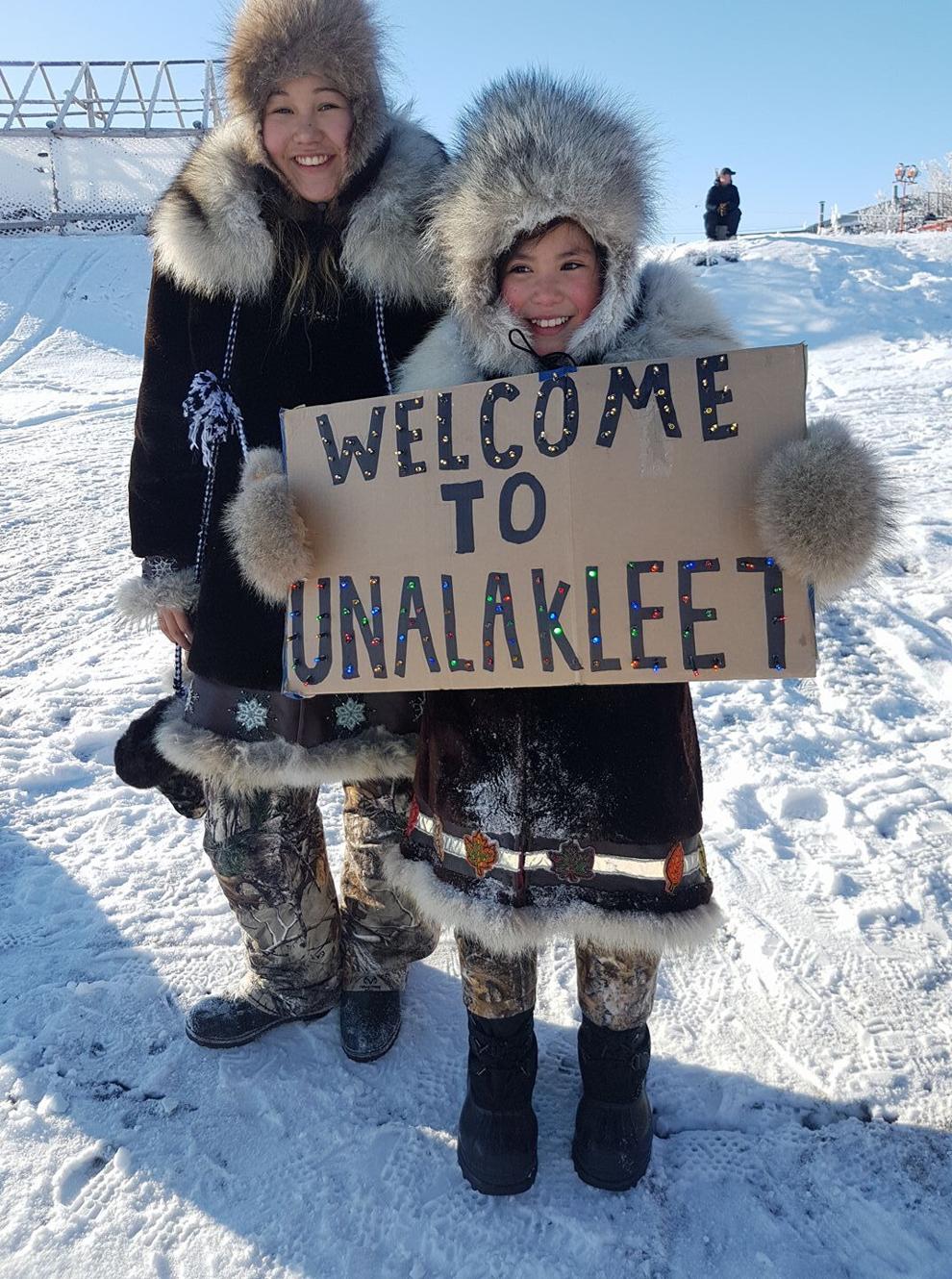 By the time Hanson was 25, his hope for the future started to crumble.
"I was going through a pretty bad state of depression in my life," Hanson said. "I wasn't in college, I wasn't working, and I had already lost 10 or 11 of my basketball teammates and classmates to alcohol related deaths or suicide. I contemplated suicide at that point."
It was during this time that Unalakleet suffered another tragic loss of a young adult to suicide, someone Hanson said he looked up to as an inspiration. 
"He was a kid that taught me everything I know about the Native games and turned me into the athlete that I am today. When he completed suicide it really sent me to this dark place," Hanson said. "I lost my girlfriend, I was losing my friends, I was losing my family, and I just made a decision, 'what more is there to live for?' So I rode my bike off the edge of a cliff thinking I was going to die and there is nothing I can do about it."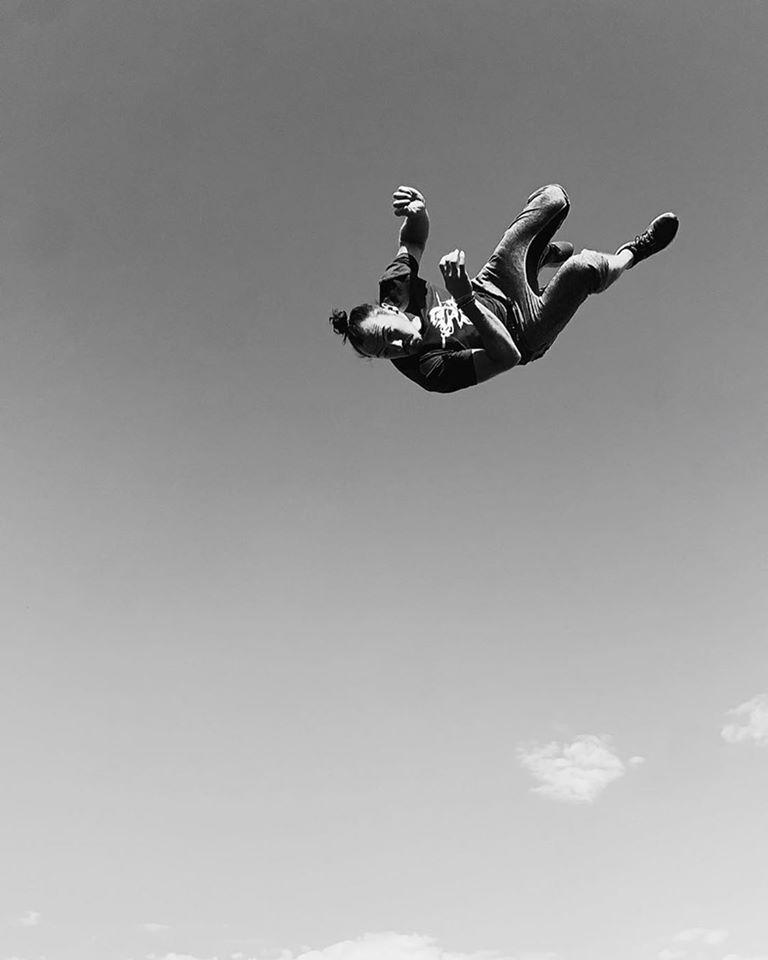 As fate would have it, Hanson not only survived the plunge, he stuck the landing on the earth below, unharmed and bike intact. His initial response was not what anyone might have expected, full of excitement more than terror. Perhaps that moment ignited the spark for the high-energy sports Hanson would one day pursue.
"When I rode out of it all I could think about was, 'Yo, how come I didn't film that? That was great! All I could think about was telling my family and friends what happened. When I came back everyone understood what was (really) going on," he said.
Hanson spent the next two weeks under close suicide watch by the community.
In the time that followed, close friends continued to find ways to support Hanson and help him put positivity back into his life.
"I wasn't doing anything really, because I was just stuck in a rut because of the losses I had been suffering over and over again," said Hanson. "I was like thinking, 'man what else is there?'"
That's when Aiden Ivanoff, an 8th grader who enjoyed pranking his mom and posting the videos on YouTube, introduced Hanson to American Ninja Warrior – NBC's high-octane obstacle course competition. Hanson found renewed inspiration watching the show and he and Aiden decided to get to work.
"We started building this ninja course out in Unalakleet and the next thing you know, I was competing on this show and doing all this crazy stuff that I never expected to be a part of my life," said Hanson.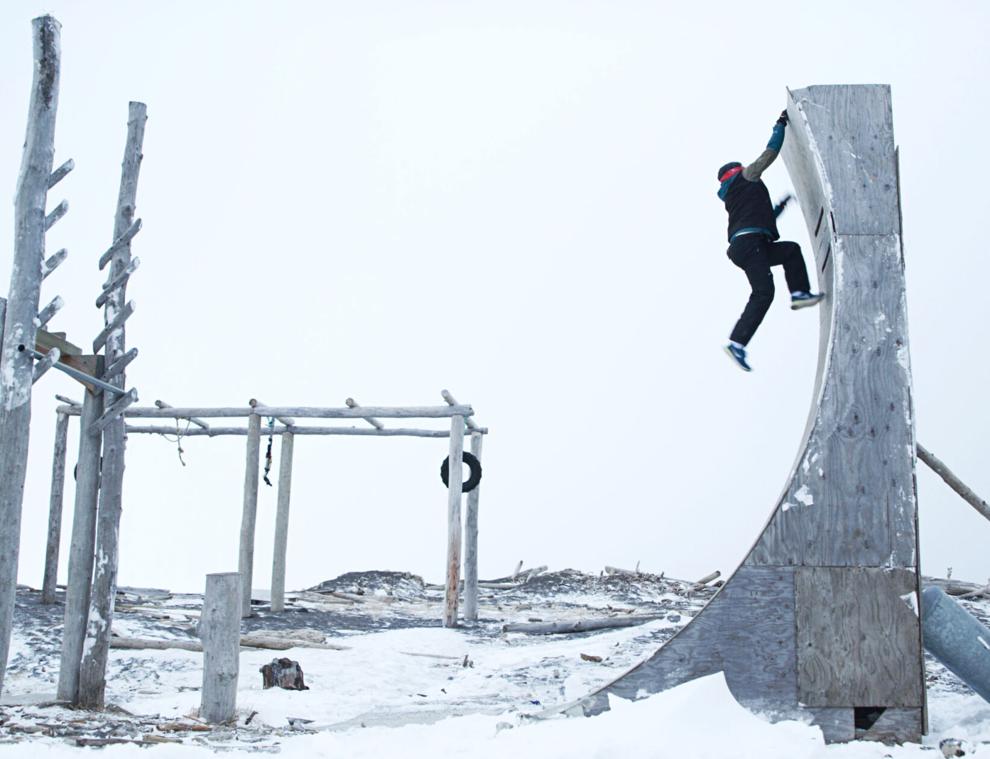 Hanson applied for American Ninja Warrior by submitting a lengthy questionnaire and visual reel showcasing his athletic abilities. 
"They ask these very interesting and provocative questions to try to get to know who you are, like 'what's your greatest athletic achievement?' then to completely contrast that, 'what's the most tragic thing that's ever happened to you?'" Hanson recalled. "What better way to showcase who I am and to share the Alaska Native games and my ability to kick a ball 8 feet in the air with both feet and land? I sent them clips from WEIO (World Eskimo and Indian Olympics) in Fairbanks. They called me up and said we want to learn more. I've still been explaining it to them for 6 years."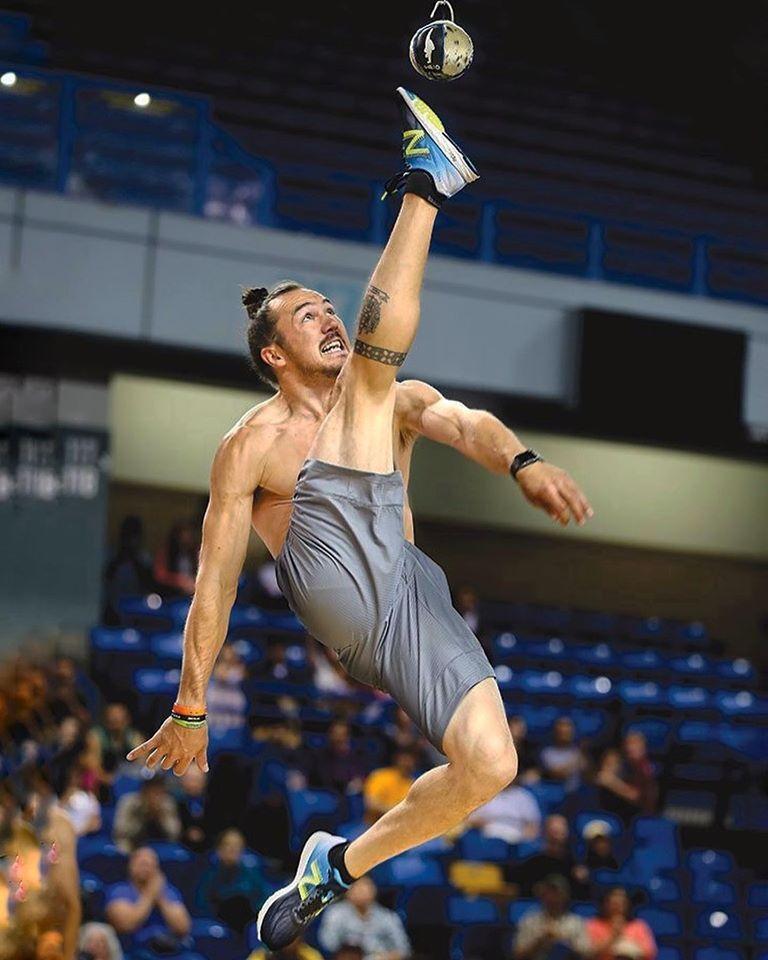 After completing his first year on the show, Hanson took his enthusiasm and the platform it provided to inspire others to join him. He formed community running clubs, posted workouts online, and shared his life story through social media which led to invitations to speak to K-12 students in schools throughout rural Alaska.
"I'm just trying to pay it forward, to say, 'hey look there's more to life than what we're doing and now I have a 100%, all-day-long positive attitude-type life," he said.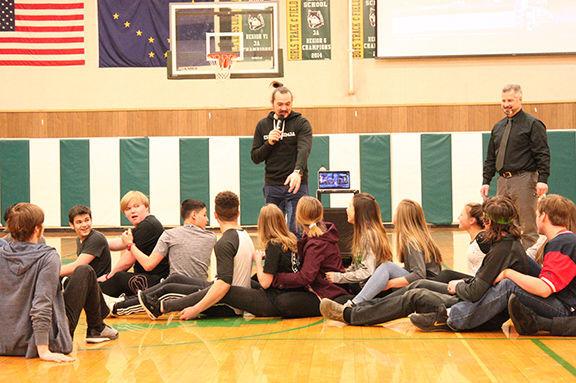 Hanson continued to train in his pursuit of becoming the next American Ninja Warrior and was again selected to return for a second season, but his dreams of competing were nearly crushed due to lack of finances.
"They don't pay for anything. We have to pay our own way down, find our own lodging, find our own transportation while we're down there, and then we get an opportunity to be on this crazy show and win a million dollars," said Hanson. "My second year I had no way to get to Ninja Warriors to be on the show. I was completely broke. I had literally nothing to my name."
Determined to find a way, Hanson turned to Native corporations, other Alaska businesses and even social media for help. He set up a GoFundMe page, which never gained much traction, only raising $300 of the $2,500 needed to get to the show in L.A.
That's when he received an unexpected call from Heather Handyside, the Vice President of corporate communications and community engagement for GCI.
"I was out warming up for cross country running and almost melted to the ground," Hanson said. "She said, 'we love what you're doing with the kids and motivation that you have on your social media. Tell us what you need, who you need to be there, what it's going to cost for a vehicle, what it's going to cost for tickets, and we'll take care of all of it for you.'"
"The next thing I knew they invited me to be an ambassador for their brand and now they're my premier sponsor athlete," he said. "Kind of like LeBron James and those guys sponsored by Nike — I have my own little GCI niche."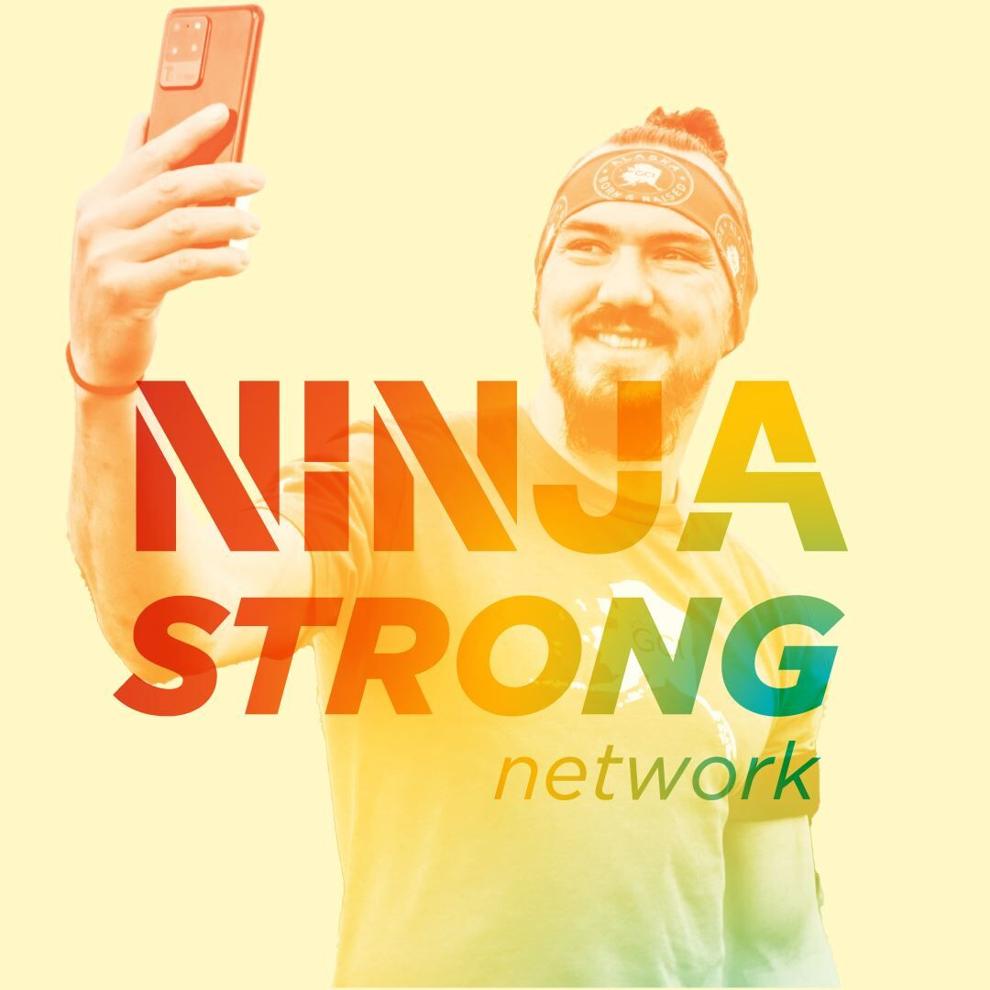 "We first reached out to Nick because it was so remarkable that a guy from a small Alaska town would be on a televised, national stage," Handyside said. "We knew he must be a great athlete. But after getting to know him, we discovered what a genuine, lovely person he is. Nick has an amazing ability to connect with people. And kids just idolize him everywhere he goes. He handles it all with grace and is a great role model."
Grateful for the GCI sponsorship, Hanson was able to return not only for the second time on American Ninja Warrior, but with their continued support, 2020 marked his 6th appearance on the show until the Covid epidemic struck and ended Hanson's mid-run for the famed Million dollar cash prize.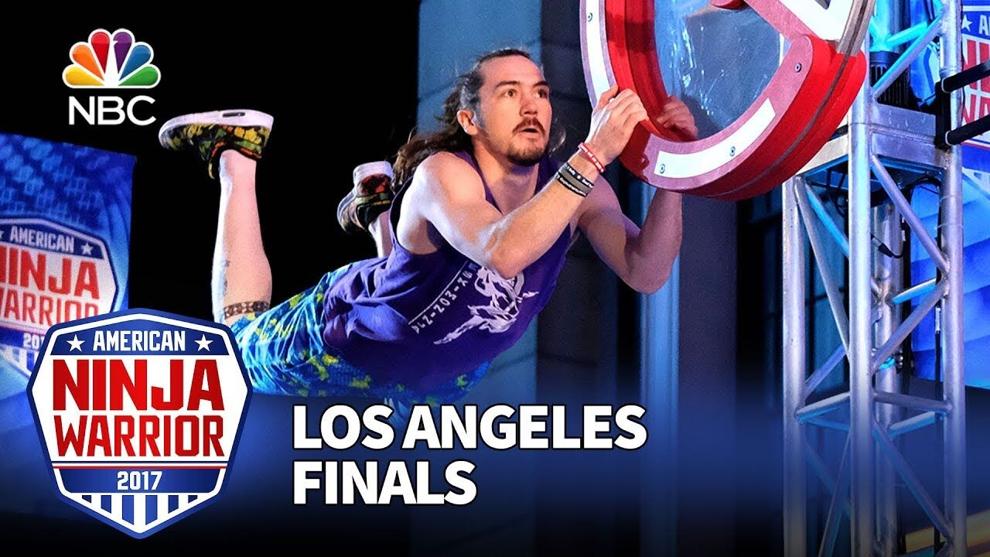 Hanson said he was on the ground in L.A. beginning to film and preparing to compete on March 13-14 in the finals when the executive producer of NBC called a meeting to inform the Ninjas that for the safety of themselves, staff, and their fans about to fill the bleachers, the show was postponed until further notice.
"Honestly, it was pretty devastating because of the hard work and preparation going into the show. We were in the thick of it, ready to rock and roll and then 'boom!' you get cut off," said Hanson. "Thankfully Ninjas are very understanding. There were a lot of heads in the room that calmed people down and, myself being one of them, that stood up and said, 'This is the real deal,' and I appreciate the producers making decisions for us on our behalf."
Emerging from 2020 and the threat of the Covid crisis drawing to a manageable end, NBC's hit series American Ninja Warrior has announced the show's return with a new season for 2021 with Hanson invited back to compete as the 'Eskimo Ninja'. Hanson has made it to the finals several times over the years but failed to take home the million dollar grand prize. He was able to bank some smaller cash prizes along the way by scaling the optional 18-ft Mega Wall at the end of the course, in a single attempt earning him $10,000 in both 2018 and 2019.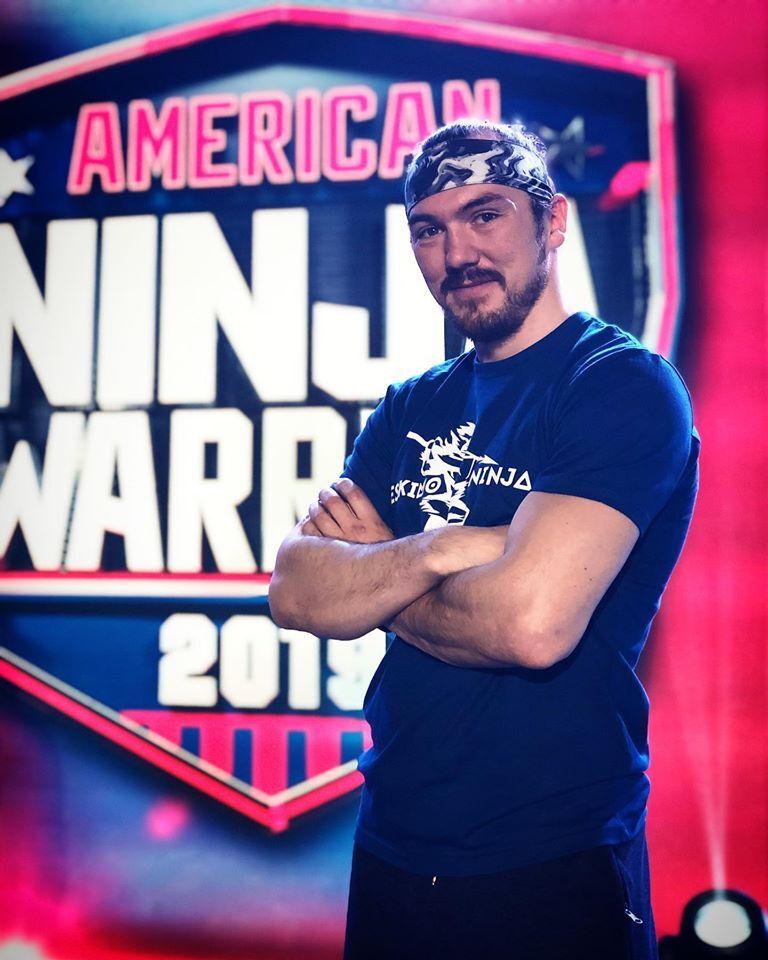 "I'm stoked to have an opportunity and another chance," said Hanson. "As far as training goes my course is outside so I didn't really have to worry about gym closures or anything like that, so getting ready for Ninja Warrior, was kind of the same."
NBC has also made a notable change to the format of the competition including hosting the entire season over 1-week and in a single location rather than spread over various dates and locations around the country, said Hanson.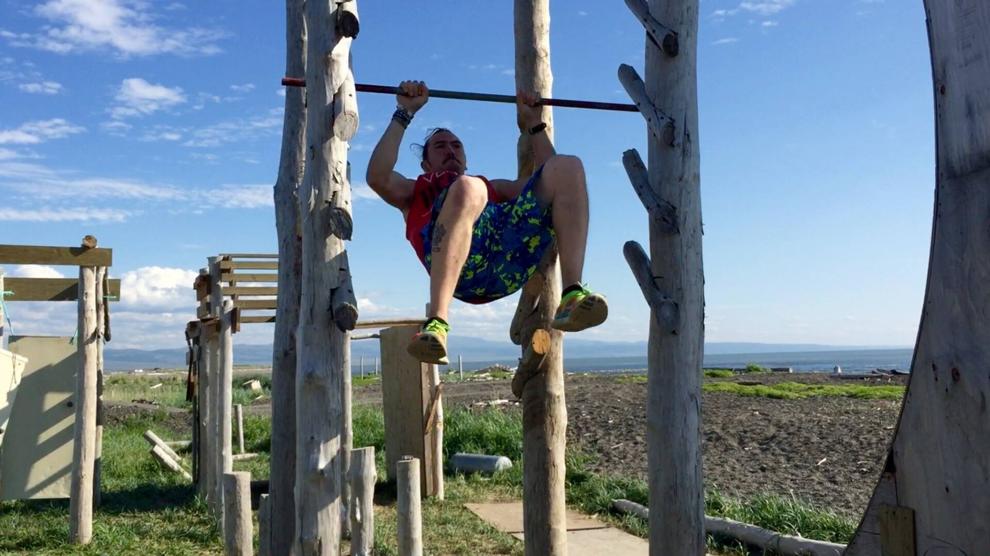 "This year they are bringing all of the athletes back in a bubble and we're going to film in Tacoma Dome," said Hanson. "It's going to be like what the NBA did for the (season reset) when they all went to Orlando and then they stayed there during the rest of their season and the playoffs."
Filming for the 2021 season will conclude in April and air on NBC in May.
Hanson says his relationship as a brand ambassador for GCI has helped keep him connected to others, providing new and virtual ways to continue to work with the community. GCI posted Hanson's live 20-minute workout sessions from his home in Unalakleet over their Facebook page in 2020 for people to join him in his workouts to alleviate daily stresses related to Covid and hunkering down. A common theme that Hanson often shares in his motivational talks is that "you have to stay physically active to stay mentally stable."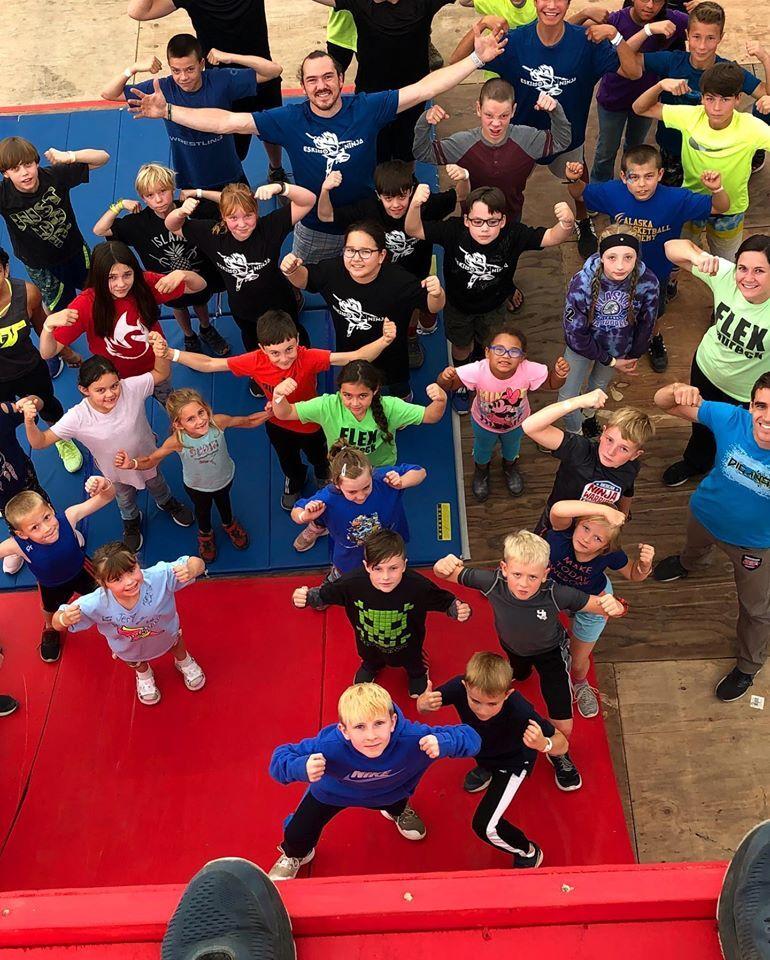 Hanson's desire to motivate others through exercise and wellness led him to be able to not only continue public speaking engagements, commercials, and social media to promote their 5G network, but to help GCI advocate for suicide prevention across rural Alaska.  
Hanson has since appeared in classrooms all over the state including Cantwell, Anderson, and Healy in the interior, as well as students of Southwest Alaska visiting Bethel and Dillingham in Bristol Bay.
While the Covid pandemic has postponed statewide travel, Hanson took it as an opportunity to try something new. Rather than traveling to rural communities — most only accessible by air or water — he reached out and suggested meeting with K-12 rural students via virtual visits. 
"I took it and I just ran. I was like, 'how about I just get on Zoom with your kids and we spend 1 hour in each classroom that will give me one full day at your school?'" said Hanson. "I get to hang out with all the kids and help them to handle this and how to maintain a positive attitude mentality through this whole situation. It turned out really good, a lot of schools saw that I was willing to do virtual visits and it's been just amazing." 
Hanson's role as an ambassador includes congratulating the awardees and assisting the communities with how to be successful in launching their programs. He then stays connected with the communities and schools during the course of the year to help maintain enthusiasm, celebrate and recognize their achievements so far, and to remind them to just have fun during the process.
"I share a little bit about my story, how I was able to accomplish my goals or rather not accomplish my goals," Hanson said. "I talk a lot about my failures because you can't be successful if you haven't failed before."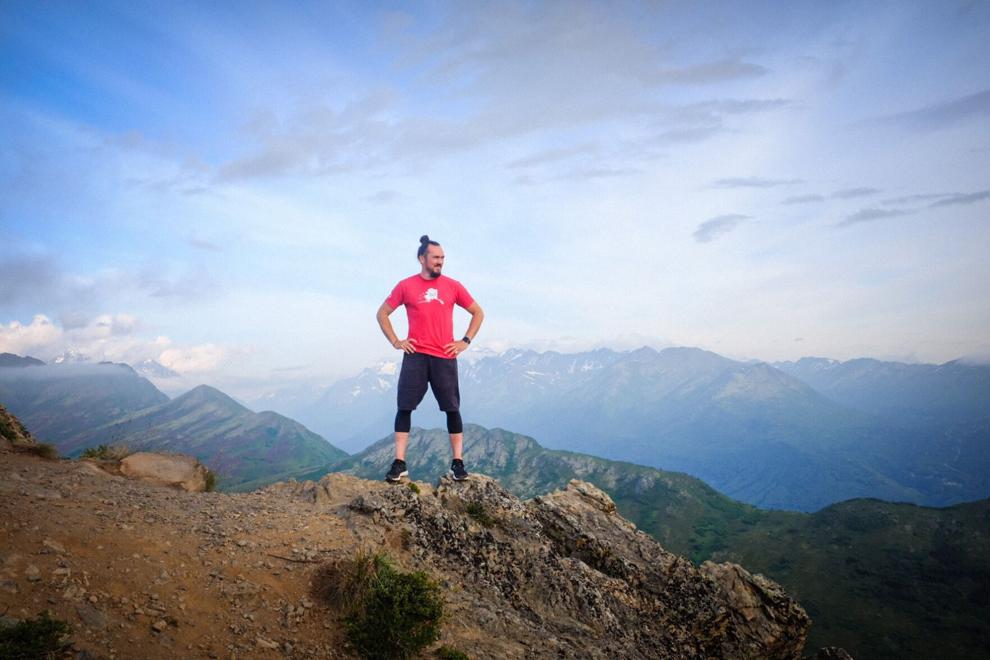 The GCI Suicide Prevention Fund provides funding to promote suicide prevention efforts throughout Alaska. Grants are awarded annually and range between $2,500 and $10,000 and are intended for one-year projects, according to Jenifer Nelson, senior manager of corporate communication and community engagement. 
"There is preference given to rural applications, because we know that's where the work really needs to be done.Suicide rates in Alaska are more than twice the national average; even more significant in rural areas," said Nelson. "These communities identify what is going to work for them and their community members." 
Over the last five years, with the assistance of the Alaska Community Foundation, GCI has given more than $470,000 through the GCI Suicide Prevention Fund to local organizations for suicide prevention efforts.
"I don't think a lot of people see that side of what GCI does," said Hanson. "GCI has done so much to take care of me and they give so much money back to the community for education and programs - I just wanted to help shed some light on it."
If you or someone you know is in crisis, call the National Suicide Prevention Lifeline at 1-800-273-TALK (8255), or the Crisis Text Line (text HELLO to 741741). Both services are free and available 24 hours a day, seven days a week. The deaf and hard of hearing can contact the Lifeline via TTY at 1-800-799-4889