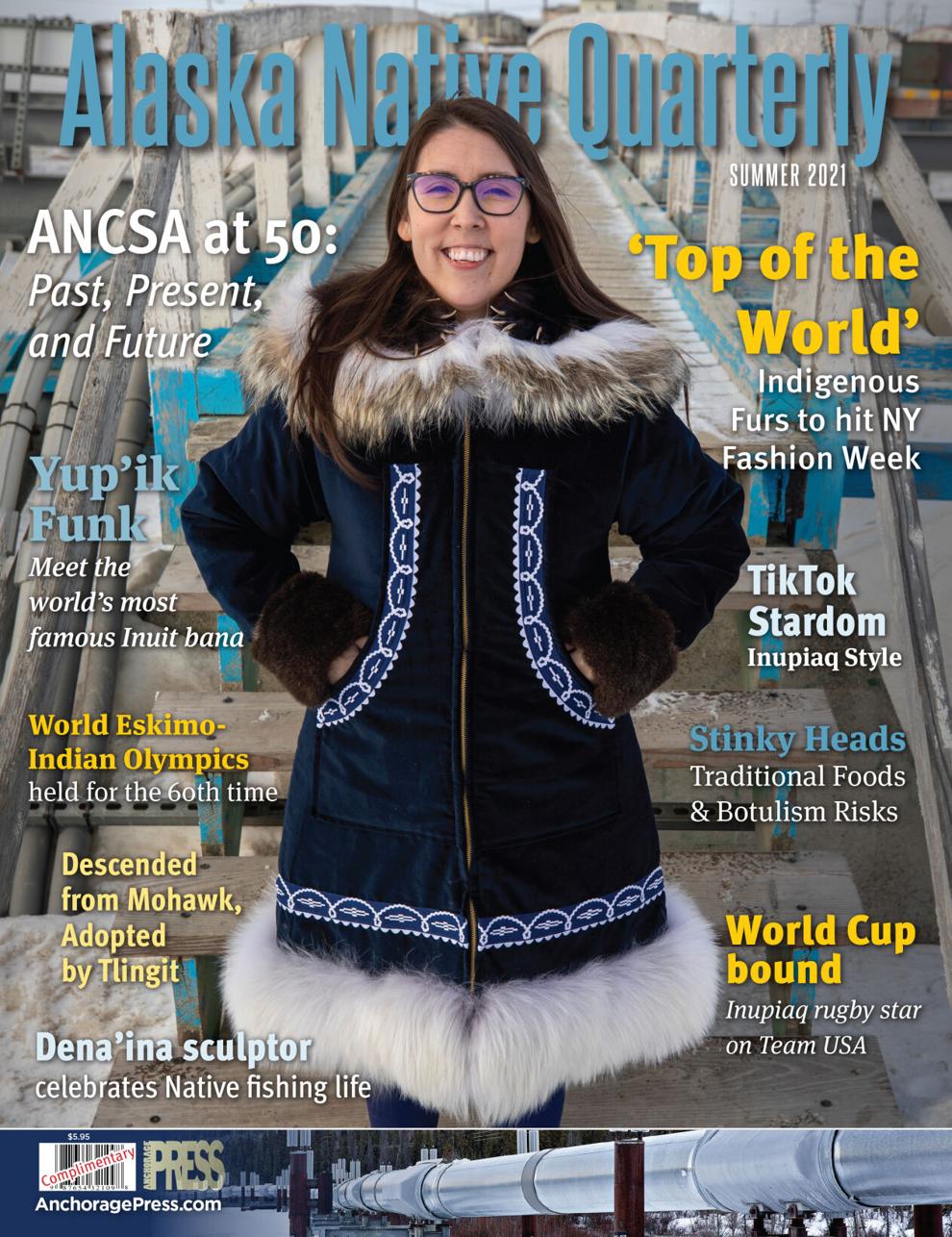 On August 1, a new graphic novel called Chickaloonies was announced. It is an all-ages, fantasy adventure comic and the latest work from Dimi Macheras and Casey Silver. The two live in Seattle, Washington, and created the comic over the last couple of years.
Macheras, a Chickaloon Tribal Citizen, was born and lived in Alaska but moved to Seattle as a young adult. Together with Silver, they are 80% Studios, an independent visual arts studio striving to bring stories like Chickaloonies to life for themselves, Alaska Native, Native American, and others interested in their stories.
Macheras and Silver will be in Alaska from August 14th to the 25th to introduce Chickaloonies, a 100-page graphic novel. The first event is at Bosco's during Free Comic Book Day from noon to 3 p.m. in Anchorage. Other events follow.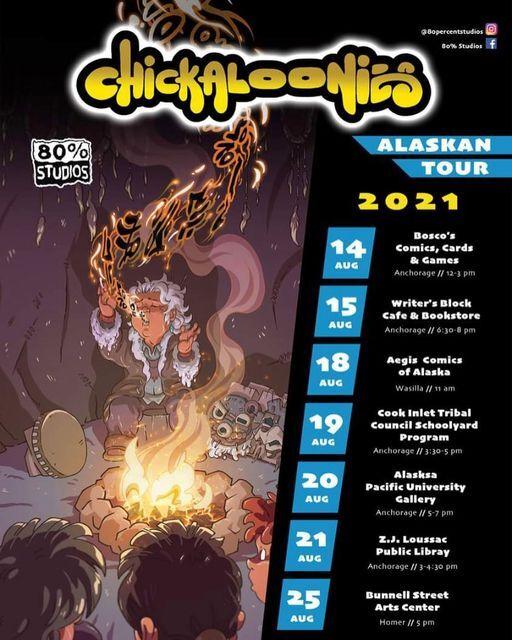 Chickaloonies is the first in a series of stories for all ages that tell the fantasy adventure of two Indigenous friends who begin a quest to find the sun during a time of perpetual darkness. The comic draws on traditional stories from Chickaloon, a tribe based in southcentral Alaska. 
Chickaloon is an Ahtna Athabascan Tribe about a 90-minute drive from Anchorage, just north of Palmer. Macheras' grandmother, a respected Elder of the Chickaloon Tribe, told traditional Ahtna Athabascan stories, called Ya Ne Dah Ah or "Ancient Teachings." 
"She would tell these stories using different voices and act out the characters and their movements using her hands," said Macheras. He listened to these stories with his cousins and others in Alaska when they were children. He never forgot them, and he returns to Alaska to carry forward a storytelling tradition with the graphic novel.
Describing his partnership with Silver, "the collaboration between the two of us yields something really special. Being able to bounce ideas off each other, the outcome is something greater than you could come up with on your own," Macheras said.
He continued, "You know that it takes a very special breed of artist to create and do something on their own. Casey knows how to tell a story well, and I am more of a visual storyteller. In comics, we can combine both of our skill sets that create this rounded out artistic product with great imagination and creativity."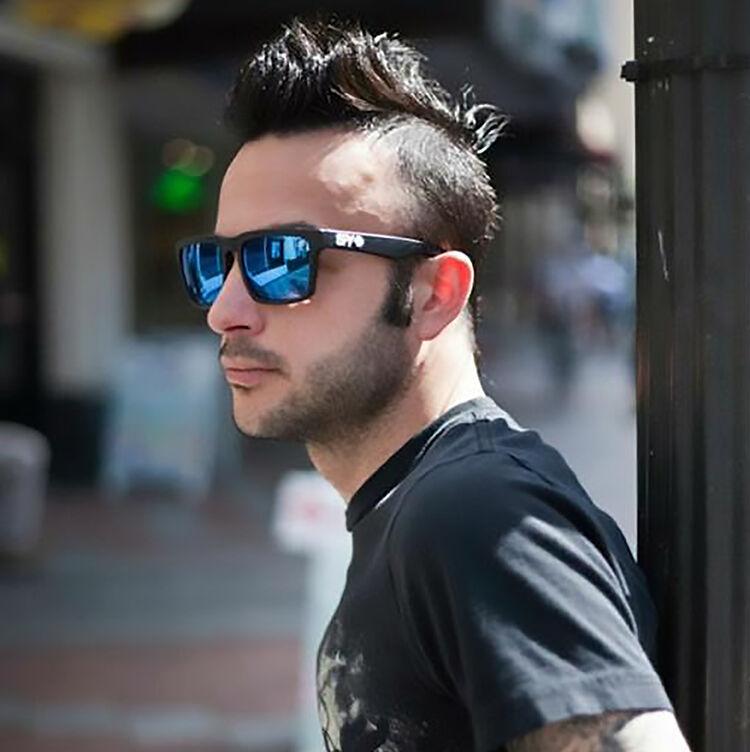 In many Western depictions in the media, Indigenous people are often shown as one-dimensional, stereotypical, or presented negatively. The media is influential as it reveals and validates roles in society, who we are, and what we can be.
Representation in comics, especially those not frequently depicted, offers storytellers like Macheras and Silver an opportunity to share stories rooted in an Alaska Native tradition. 
Macheras and Silver have garnered some success with a special edition pre-order recently offered with a limited run of 50 copies, sold online on ESTY. They sold out within the first 12-hours. The comic books were signed and hand-numbered. The package also included a signed and numbered full-color print.  
As a part of Chickaloonies, creative process artist Melissa Shaginoff provided support as a cultural advisor. She is a cousin of Macheras. Shaginoff is Udzisyu (caribou) and Cui Ui Ticutta (fish-eater) clans from Nay'dini'aa Na Kayax (Chickaloon Village, in Alaska). 
As an artist and social activist, her artwork includes a range of media formats, all of which reflect her Ahtna and Paiute knowledge and protocols. She is also the curator of Alaska Pacific University's Art Galleries.   
Shaginoff work is centered on realizing greater agency and equity of Indigenous people through art, with the comic and her own work. Along with Macheras and Silver, they aim to tell new Ya Ne Dah Ah stories. Carrying forward the traditions of storytelling like his grandmother and mother before him.  
Art was an essential part of Macheras' life from an early age. His grandmother, Katherine Wade, founded an Ahtna Athabascan tribal school for elementary students in 1992 called the Ya Ne Dah Ah School. Wade was a fluent speaker of the Ahtna Athabascan language. Wade's daughter Patricia Wade who was Macheras' mother, also told these stories throughout Alaska.
Macheras follows a long storytelling tradition to future generations that his grandmother and mother used in classrooms, conventions, and conferences across Alaska. A new graphic novel called Chickaloonies will be introduced in a series of events in the coming weeks.