It was a drab and snowy February afternoon when I navigated around a giant tree stump and opened the door to Magpie Artworks, workshop of internationally acclaimed Alaska Native artists Alvin Amason and Perry Eaton — longtime friends who rhapsodize that their studio has 'everything their wives won't let them keep at home.'
To the right is Eaton's mask-making domain. Stacked wood chunks, which could be an art-installation by themselves. Revolving racks of chisels and gouges peek around table saws to disk sanders, while drawers hold screws and baggies of feathers. Mexican masks stare down at Eaton's workbenches. A woman with a Hoonah sweatshirt (artists borrow space) collects her finished drum hoops. A bag of kibble, used to feed live ravens, slumps against a giant dust remover, as does a rack of assorted clamps resembling fierce teeth, giving this huge machine a monster-esque appearance, and heralding Amason's painting area, where oars and buoys hang from rafters. These remnants of their Kodiak childhoods are now studio scenery.  
Amason embeds/dangles wooden shapes: animal appendages, and branches onto canvases, so more chisels/gouges meander around buckets of brushes, arranged like cut flowers, and paint tubes stacked like caught fish, waiting to be filleted, or in paint language, squeezed. 
Continuing to work 9 to 5, Amason and Eaton mostly do commissions, with buyers flying-in. "Eaton is good with tools and I'm the colorist," Amazon says. Both know when to step back and let projects dictate what's needed. They impart Formalism and Context, pulling from their Sugpiaq/Alutiiq heritage, while borrowing from the aesthetic timeline of bygone artists—always peppering with a soupçon of humor. They are gracious gentlemen, having packed conceit away into one of the art containers stacked about. 
Alvin Amason (b.1948) was raised in Kodiak by his grandfather, who was a bear guide. After graduating with a BA from Central Washington and an MFA from Arizona State, he spent decades as professor at the University of Alaska (Fairbanks and Anchorage) developing Alaska Native Arts curricula.  He received the Governor's Individual Artist Award for Arts and Humanities, 2018.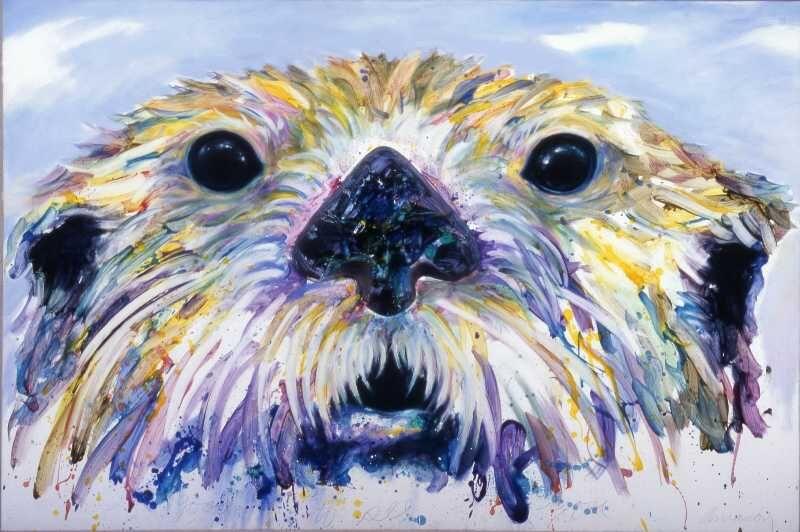 Amason's 'Good to See You' 1984,may look like he used markers on the piece, but look again. Complementary colors: purple and yellow form the Sea Otter's face; touches of green, splashes of water, reflected in the sky, embed this animal into the universe. Like philosopher Jacques Derrida, Amason sees no separation between the subject and ambient surroundings. But it's the rendering of eyes, demanding viewers do a double take; the painted glint is the soul of his pieces. Like Robert Rauschenberg (1925-2008), Amason is not content to portray 'objectivity' just relying on two-dimensional flatwork. The Otter's nose bursts through the canvas' fourth wall, confusing fact with fiction like trompe-l'oeil genres.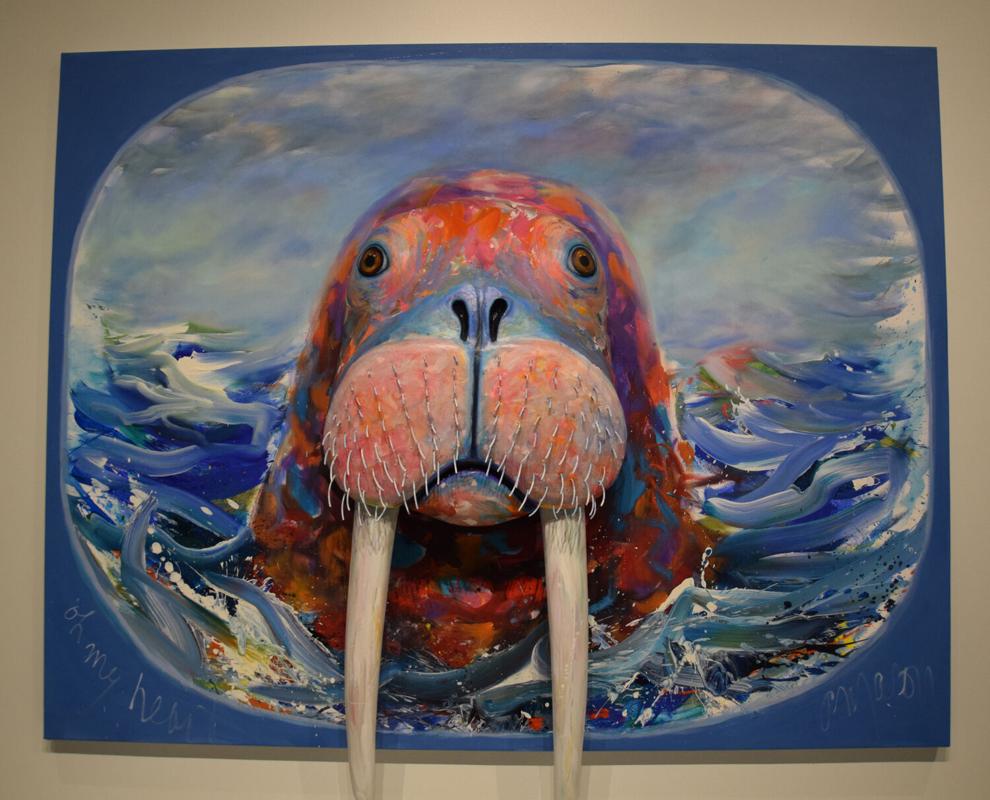 Amason's 'Oh My Heart' 2015,was frontispiece for the exhibition:  'AIVIQ &NANUQ: Sea Horse and Sea Bear of the Arctic' (Anchorage Museum, 2019). His Walrus, painted in reds, optically pleads with viewers to acknowledge Climate Change, which affects the North, and beyond. Akin to Willem deKooning's (1904-1997) technique, Amason's audacious blue/green brushstrokes depict the turbulent, polluted ocean, mirrored in his skyscape. Carved wooden tusks break through the frame, connecting the Walrus to a Heidegger-ian Earth, in need of fixing. Simultaneously he constrains the composition with a television-esque frame making the viewer contemplate—what is reality?  
With Global Warming, animals and vegetation have to adapt inherited skills, unlike humans who can remove themselves, (most times) hurling money and sticking band-aids on catastrophes. Plight of Arctic wildlife, losing habitats, is embedded in this work.
"I make what I feel like making….It's got to be something that kind of pulls at you," Amazon said. "In Alaska, there are indigenous people all over the state, different groups and lots of mixes. The artists, wherever they're from, have something that's not just them—it's in the environment they're from, being familiar with one place for a long time, over generations. I believe that infusion gives them a sense of rhythm. They respond and see things in a certain way. Each area's rhythm is unique—the rhythm the earth has, and the sky, and all the elements, and the rhythm the cosmos has for the people."  
Perry Eaton was born in Kodiak in 1945 and spent his childhood aboard his father's fishing boat. He attended Grays Harbor Community College. Eaton worked as a machinist for Boeing, was founding President and CEO of Alaska Native Heritage Center, and received a Governor's Award for Distinguished Service to the Humanities, 2006.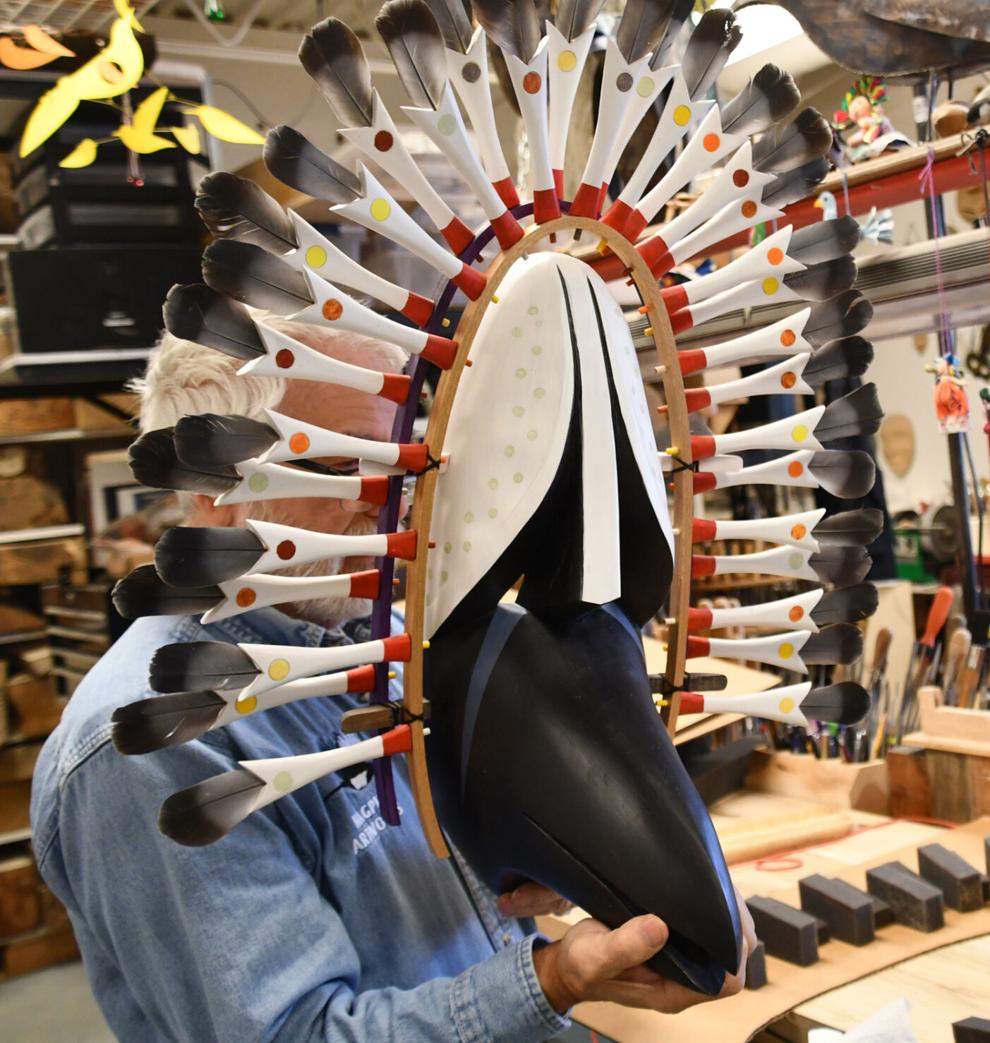 Eaton's 'Transformation' (2021),client-gifted to the University of Washington, is a metaphor for student achievement. Feathers attached by encircling hoops in UW colors adorn the Raven's head, about to soar like a recent graduate. Blood-red paint symbolizes the energy of undergraduates. Multi-colored dots below feathers rejoice in the multiculturalism and diversity of the student body. 
In mythology, Ravens are often tricksters, seemingly appropriate for the wide variety of mischievous behavior occurring on campuses. Choosing specific species of wood for the exact degree of dryness, while studying grain patterns, takes decades of skill. Generational Alutiiq mask-making conjoins a modern narrative using hand and power tools.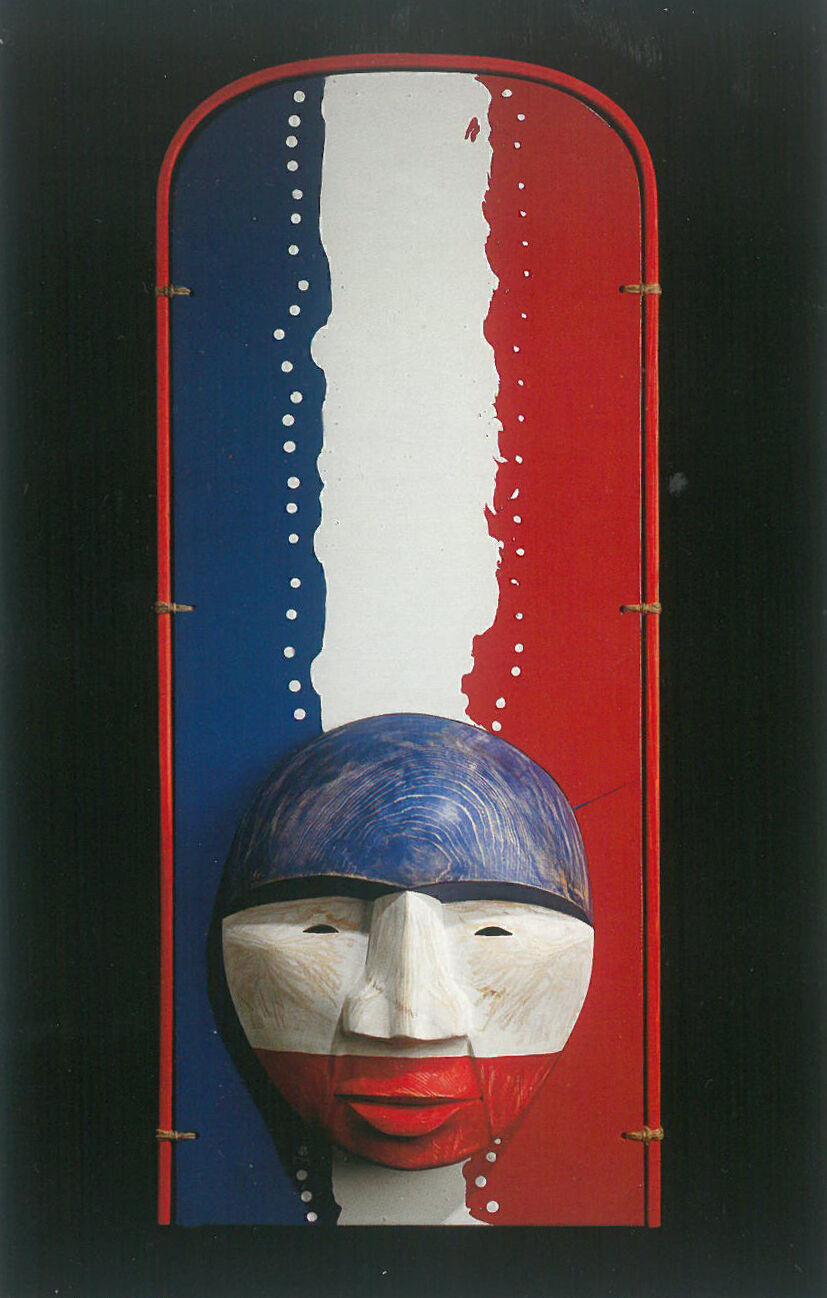 Eaton's 'Assimilation or Affiliation' (2004), is a plank-mask, painted in an American flag motif, suggesting enigmas. Alaska Native history layered with settler presence is the story of abuse and discrimination rationalized as progress. 'Black Lives Matter' is a reaction to the continuation of American intolerance, while escalating detritus fetches up because of overlooked Climate Change. There's a similarity to Jasper Johns' reworked Stars and Stripes designs, allegories for ambiguities found in America. The Raven composition reminds onlookers that all races/religions deserve to live in America with dignity and equality.  
"The Alutiiq word for mask—Giinaquq—means 'like a face, but not really'. The term reflects the mystical place that carved faces held in classical Sugpiaq culture," Eaton says.  "Masks have a life unto themselves. When you are in their presence, you are linked to the lands' people in ways that can't be explained in words… After a lifetime working in various art media, I've gravitated to sculpture focused on the transformational wooden masks of the Alutiiq people of Kodiak Island (email to author)."  
Sadly, masks are often overlooked by museum visitors who see them as cartoon-esque.  Ancient Alutiiq masks, made from driftwood and shaped with whalebone and stones were made to please spirits who provided for the people. Historian Hans Belting writes, "The history of the human face begins in the Neolithic period with masks that represented or replicated faces….They served as official proxy faces for spirits of the dead, who had lost their bodies…. In doing so, the man-made mask imbues itself with a life that it lacked when it was a mere object….By transforming the body, they imbue it with a symbolic power that allows the expression to take on a life of its own."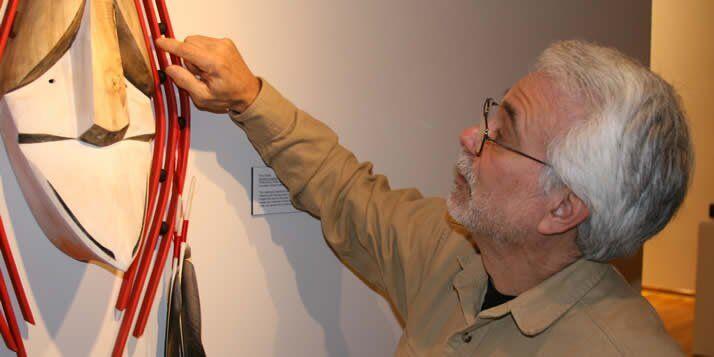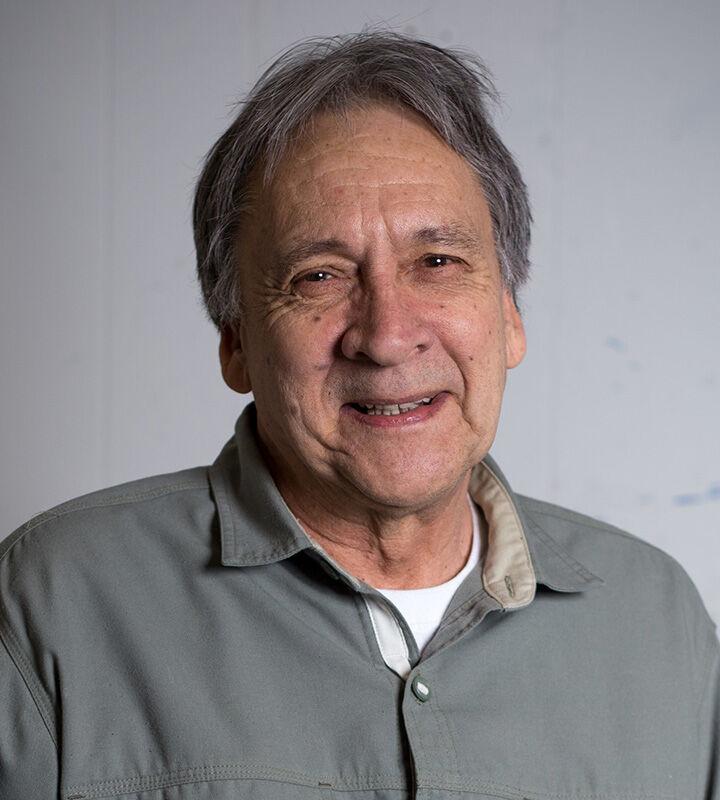 Amason and Eaton are especially proud of work appearing in 'Exposition Alaska, Passé/Présent' (2016),at Musée-Boulogne-Sur-Mer, marking the tenth anniversary of a unique French/Alaskan cultural exchange. 
In 1871-1872, Alphonse Pinart (1852-1911), a French ethnographer, spent six months on Kodiak where he was given masks, which he then donated to the Musée-Boulogne-Sur-Mer in France.  During World War II, Normandy, including this town, was heavily bombed by Allied Forces, however, masks were saved by museum staffers at great personal risk. In 1995, University of Alaska, Fairbanks student Dominique Desson, under the auspices of Dr. Lydia Black, wrote a dissertation: 'Masked Rituals of the Kodiak Archipelago' about the forgotten masks. Aron Crowell, Director at the Smithsonian Arctic Studies Center writes,  "(Alaska Native artists) seek to recover ancestral techniques, nearly lost in the turmoil of Western contact, to draw on this artistic endowment to create original forms, always with respect toward what came before; and to teach younger generations the ethic and practice of creative heritage."  
After extensive negotiations, 34 old masks flew to Alaska for the show: 'Giinaquq: Like a Face — Sugpiaq Masks of the Kodiak Archipelago' (2008). While removing masks from original place and purpose, morphing into museum artifacts can alter their meanings, these masks have added to their narrative by cementing détente into the future.  
"It was ground breaking from a European museum perspective. No museum wants to loan objects to Indigenous peoples because they fear once they travel to their original home, they would never be returned," Eaton recounts. "The working relationship between (Musée-Boulogne-Sur-Mer and the Alutiiq Museum, Kodiak) has been studied by other European museums, holding what is known as 'colonial' collections."  
Fast forward to 'Exposition, Alaska Pasée/Présent' (2016), at Musée-Boulogne-Sur-Mer, where 27 Alaska Native artists displayed work that was either gifted by the participants or sponsored by Regional Corporations, adjacent to the ancient masks, thus commemorating a unique partnership between French and Alaskan aesthetic institutions.  
"The most valuable thing about this [mature] collection is that it shows us the shape and form –the attributes that define a Sugpiaq mask," Eaton concluded. "No other single collection has this substance."