It took over an hour for the Anchorage Assembly to agree on a resolution to condemn insurrection Tuesday night, and even then it wasn't unanimous. 
After Assembly Chair Felix Rivera laid out rules for the public audience, Assemblywoman Jamie Allard warned that a resolution was about to come up that condemned violence in the U.S. Capitol building, and that the language identified Trump supporters. Allard asked the audience to hold their response for the public testimony portion of the meeting. 
Allard knew what they were here for because, as has been the case for most Assembly meetings over the last 10 months of Emergency Orders, Allard had been in communication with many of them via the Facebook group Save Anchorage. The group was given advance notice of the resolution, and planned their outrage accordingly. 
The resolution, introduced by Assembly Members John Weddleton and Crystal Kennedy, was titled A Resolution Of The Anchorage Municipal Assembly Joining And Recognizing Other Elected Officials In Condemning The Violence At The U.S. Capitol And Urging Citizens To Work Together To Strengthen And Protect Our Cherished Democratic Institutions.
The language that followed became the source of a nearly hour-long hangup. "Whereas, on January 6, 2021, a protest devolved into riot and the U.S. Capitol building was seized by President Trump's supporters seeking to stop the certification of the election, resulting in the deaths of five Americans…" it begins.
Kennedy, in what she called an effort to not further divide and inflame, asked to amend the identifying language of the resolution to "a small group of Trump supporters, not representative of the vast majority of Trump supporters throughout the nation and including this state". Pointing to the more than 74 million Trump 2020 voters, Kennedy asserted that most wouldn't approve of the violence on the Capitol building. 
Maybe not, but Trump supporters nearly all continue to maintain that our elections were fraudulent. This was displayed in minutia in the Assembly chambers. One by one, the members of the Assembly weighed in with amendments, then amendments on the amendments. Each version of language inched more distance between Trump supporters who broke through windows to storm the Capitol building, and Trump supporters who merely traveled to DC in the belief that the election was stolen from Donald Trump by some deep-state conspiracy. At one point the language read "though our own Alaskans who were present took no part in the rioting, a small group of Trump supporters, not representative of the vast majority of Trump supporters throughout the nation and including this state…" 
But the piece de resistance came from Forrest Dunbar, who didn't object to the long-winded placation, but proposed instead the following statement of purpose: "who traveled to DC to support the peaceful transition of power and acknowledge that Joe Biden won a free, fair and legitimate election."
Naturally, those in attendance were in uproar. 
For the past week, Trump supporters — those who lived through the last four years and voted for a second round — have been disavowing violence. First, they blamed the violence on Antifa. Once over one hundred suspects had been identified as either QAnon or Trump supporters, they simply distanced themselves from it. Must Read Alaska's coverage of the Capitol insurrection has been scrubbed from social media. Jamie Allard posted to her Facebook page that she feared being de-platformed.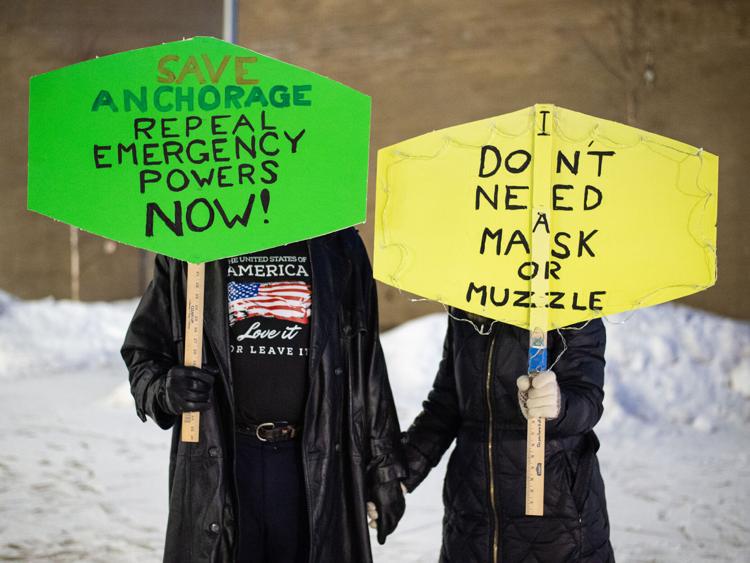 Across the nation, Republican politicians and pundits are denouncing violence- but don't you dare suggest that the election was anything but stolen. Trumpers aren't giving an inch on that conspiracy. It's that exact baseless and delusional conviction that led to violence in D.C. and is in danger of spilling over again before Inauguration Day. And it's a delusion that continues to be fostered by the likes of Suzanne Downing, Jamie Allard, and Save Anchorage. Throughout the election, they parroted the Trumpian narrative that mail-in ballots were fraudulent. After the election, they carried the narrative that the election was stolen. Only after Trump supporters beat a police officer to death with a fire extinguisher at the base of the brutalized Capitol building did Republicans nationwide even begin to suggest that Trumpism had gotten out of control. And even then, Jamie Allard refused to vote in favor of the resolution. Back the Blue, indeed.
The Dimond Center Mall will close on Sunday, January 17th after flyers of an armed demonstration in 50 states listed the shopping center. That location was rumored to be mistaken by organizers for Dimond Courthouse across from the Alaska State Capitol in Juneau, but manager Bob Dye told ADN he doesn't believe that story and will remain closed out of an abundance of caution.
Anchorage Police Chief Justin Doll issued a statement Tuesday advising the public that APD was working with state and federal law enforcement to monitor hate-based communications online. Doll also said there would be increased police presence at demonstrations and surrounding government buildings. Must Read Alaska headlined his statement as "Anchorage Police chief says department has no specific threats". Not yet, but they're monitoring for hate-based threads and they're provided archives upon request, including Must Read Alaska's panicked recent dirty deletes. If only there had been some form of alternative press keeping a regular eye on the unstable, violent, and seditious sentiment that became a mainstay of Alaska's fringe right.