When I started looking into Black history in Anchorage, I started with three women: Blanche McSmith, the first Black female state representative; Zula Swanson, a famous Black madam; and Emma 'Queenie' Walker, owner of one of the first black beauty salons in Anchorage, Queenie's Beauty Box. Each woman came from very different walks of life, and each had a very different story to be told. But all three women had a common link.
They all attended Shiloh Missionary Baptist Church.
Shiloh Baptist Church was established Sunday, May 25, 1952 in the old Carpenter's Hall. Their first building opened its doors in 1954 at 229 West 8th Avenue, a now defunct address absorbed into the land used for the Fitzgerald Courthouse and Federal Building.
An undated photo from Shiloh's early days features a plain, boxy tan building with two front-facing windows and classic black iron-railed front steps. Gathered around a bright yellow welcome sign are members of the congregation, all dressed in their Sunday best and smiling in the bright light of an Alaskan summer. The picture speaks to the closeness of the congregation, a social and community hub where Black people gathered to worship God and share in the hope of a better tomorrow.
As urban renewable and development efforts took over the city, Shiloh found itself in search of a new home. The church purchased land on the corner of East 20th Avenue, and built the church from the ground up by 1976.
41 years later, the church still stands tall.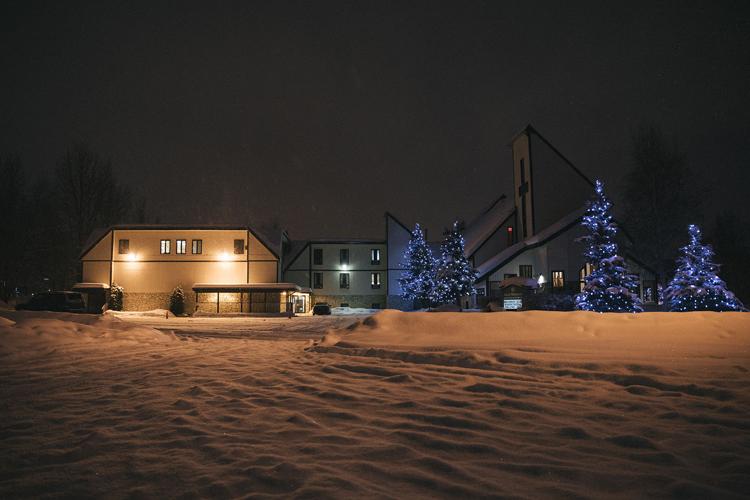 A LEADER IN THE HOUSE OF GOD
If you want to find the heart of a church, you have to go to its pastor.
When I first meet Reverend Alonzo B. Patterson, he greets me with a warm smile and a firm handshake. His hands are rough; these are hands that have been put to work. As a pillar of the Black community, Patterson has seen his congregation through many trials and tribulations.
Patterson was born is Wilson, Louisiana, a small village about 40 miles outside of Baton Rouge. His family lived in Mississippi for a time before moving to New Orleans, where Patterson eventually graduated high school before joining the military at age 18.
"I've traveled through the United States, then overseas, back to Texas, back to New Orleans and then to Alaska," Patterson explains. "I spent 7 years in Fairbanks. We built the Corinthian Baptist Church, and then I was called to this church in 1970."
Anchorage in the 1960s and 70s was still heavily segregated, and Blacks in Alaska faced overt discrimination frequently. "Much of Alaska was small family businesses, including the banks," Patterson says. "If you were not a part of that family or their friends, you had a hard time getting a job. Many of the jobs for African-Americans were either construction or government jobs."
A place of peace, love and acceptance for many Blacks was Shiloh Baptist Church.
"The church was and always has been the sanctuary in the Black community. It is the meeting place, the community center, the focus for support and help, the place you come to be important, the psychologist for your particular problem, the time to shout out your frustrations and the only place to be significant. You could be a Deacon or something in the church where in the rest of the community you were just another Black person," Patterson explains. "The church was for us a panacea for many of the social ills that existed then and still have relevance."
In the old days, the pastor of the church was often the only public voice for the Black community; speaking out against the government or your employer could cost you your job. "In the Black church there was nothing they could do because the community took care of the pastor. [Whites] couldn't fire him, they couldn't silence him, and even if they killed him there'd be another to rise up from among the people to deal with the issues and bring Black people together," Patterson says.
As the pastor of Shiloh Baptist for the last 40 years Patterson is, in many ways, a historian of Black culture in Alaska. It is a role that he doesn't take lightly. "I feel like I have to be the keeper of our historical plight and try to speak to each generation in my time. It is a powerful responsibility because if I go to sleep on my watch, then the next watch will have nothing to build on and that's [what I mean] when I talk about community gatekeepers. We're responsible to make sure that that gate remains open for the next generation."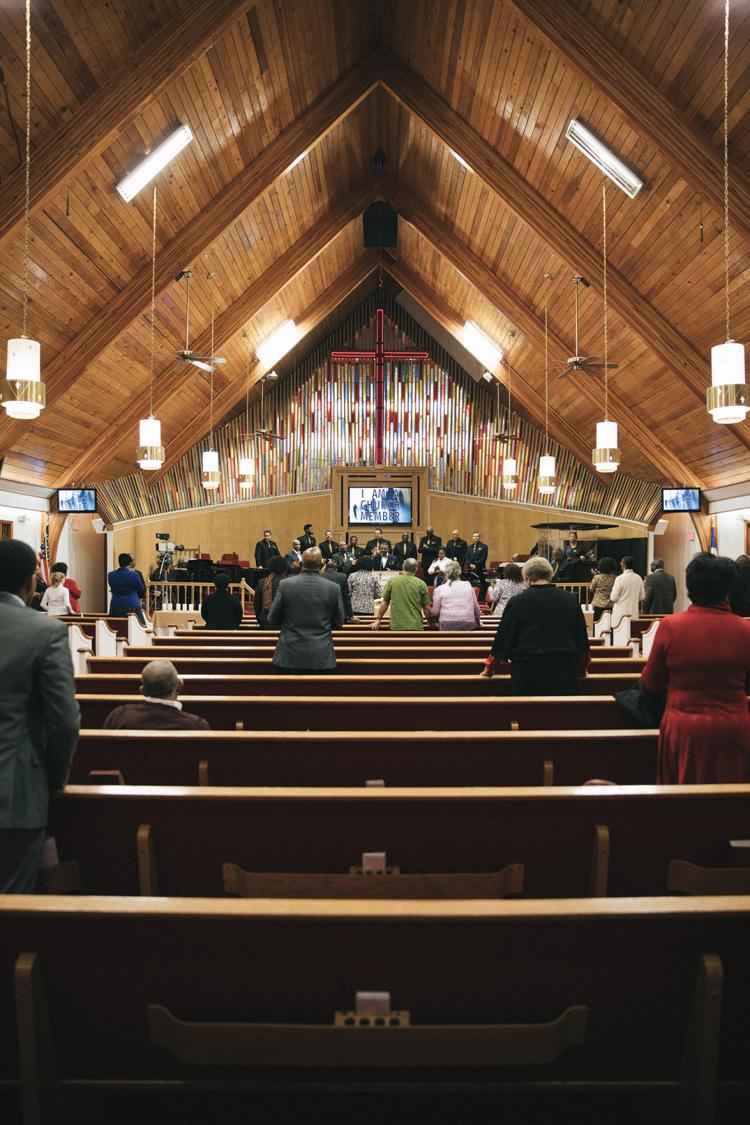 My mother says that I've been to church plenty of times in my life, but I only remember a handful of experiences. One that stands out in my mind is attending church with my Great-Aunt Edith when I was 14-years-old. It was a small, family church in one of the Carolinas, the kind of place where a women watched me walk in heels for the first time and said I walked just like Janie, my grandmother.
In the middle of the service, I turned to see my Aunt Edith waving her hands in the air, tears streaming down her face.
"Why are you crying," I had whispered to her.
My Aunt shook her head not in judgment, but in a way that said that no words could fully explain.
Church has never been that kind of place for me. All my memories of church, aside from that day with Aunt Edith, are from my childhood. I remember being excited because I got to wear a velvet dress and fancy shoes, bored at a Catholic service, and awkwardly trying to take communion at a friend's church after a Saturday night sleepover.
Walking into Shiloh feels different.
Perhaps it was the fact that for the first time in my life, I alone was making the decision to attend church. It was the early morning service, much less crowded than the contemporary service at 11, and the pews towards the back were mostly empty. In a typical "I'm a visitor" move, I sit as far away from everyone as I possibly can.
But half of Sunday service is the social interaction, and ushers and congregation members alike each take the time to shake my hand and welcome me to the church. Women I've never met lean in and kiss me on the cheek; it reminds me of the kisses my mom used to give me before I left for school.
This is the spirit of the church: if you're here, you're family.
The service starts promptly at 8 a.m. with the choir and Reverend Undra Parker leading the congregation into the first song of worship. Rob Heartwell, Shiloh's Minister of Music and a congregation member, sits at the keys and sings soulfully into the microphone, his deep vibrato echoing through the chapel.
When Reverend Patterson steps to the podium, it is clear to me that he has taken our conversations to heart. His sermon speaks to the history of not just Blacks in Alaska, but those even further in our past.
"I am thankful for my heritage," Patterson says, voice full of conviction. "For my mother, my father, my granddaddy, my great-granddaddy."
Shouts of "Yes, Lord!" and "Amen!" ring out from the congregation. There is no shame in voicing your love for God and doing it loudly. Here, response is encouraged and welcomed. It feels less like a sermon and more like a conversation. Twice the Reverend turns to look back at the choir behind him, allowing them to be a part of the dialogue as well.
Patterson speaks of many important members in the Black community: Thel Davis, the first Black principal of a state elementary school; Walter Furnace, a successful banker, school board member and prominent Republican state representative; and John S. Parks, an activist who worked towards the improved living conditions of Fairview and who many consider the grandfather of the city's public transportation system.
"Have an appreciation for those who endured," Reverend Patterson says, closing his sermon.
To my right, a woman sits with her bible perched atop her raised knee. Its pages are wrinkled and tattered; some stick out too far, while others are dog-eared. With a blue pen in hand, she writes little notes along the margins, flipping the page delicately as she reads another passage.
Looking at it brings me comfort.
What a world her book has seen; and yet still, it endures.
---
Zakiya McCummings is a lifelong Alaskan and former staff writer at the Anchorage Press. She is a senior at the University of Alaska, Anchorage, and hopes to speak with more Alaskans about the history of our Black community. Email her at contact@zakiyamcc.com.