About a year ago, Rob LeFebvre, Fred Brosius and Brian Fontaine, who together account for three-fifths of the disco/funk cover band Boogie Shoes decided it was time for a side project. It didn't take long for them to settle on their their dream assignment — bold and challenging as it may be. Kizmet even delivered them the perfect date to launch it — Nov. 30, 2019, 40 years to the day since the release of Pink Floyd's 'The Wall', which some might argue is the greatest rock album of all time and without question the greatest rock opera in history.
"I've done The Wall before, many years ago at a simple house party I threw with a couple of guys," Fontaine, the bassist, said. "Ever since I've wanted to do a much stronger version of it with a full group and really put the nails on it. We're really hitting every part of it, recreate every part of it as much as possible. At some point we had a meeting almost a year ago. It was an instant fire, strike-the-match kind of idea."
This was the conception of 'Floydian Slip', a Pink Floyd tribute band that wouldn't just cover the legendary British band's hits, but play the entire two-album masterpiece in proper order, just as it was done in 1979.
"It's a rock and roll show within a theatrical show," LeFebvre said. "We're trying to recreate that as much as we can for a smaller stage."
Drawing more so from the live shows than the film, the original Floydian Slip trio picked up local musician Jonathan Cannamore, who plays in rock bands Concrete to Clouds and House Opinion, to play keyboards and narrate the parts of the Schoolmaster. On drums, they picked up Francisco Badillo, who plays with the local funk group Superfrequency as well as mariachi band Agave Azul. They also added three background singers — Elle Janacek, Aly Shaw and Kaylee Vardeman, who takes on the role of the protagonists doting and overprotective mother in the songs 'Mother' and 'The Trial'.
They secured well-respected local musician Steven Bacon to handle the complicated sound balances associated with 'The Wall' and got video artist Matt Terry to create the necessary visual accompaniment projected onstage. Anchorage Opera helped supply the costuming and practice space.
Working with Erickson Productions, Floydian Slip managed to secure the theater at 49th State Brewing Company and started selling tickets. To their near astonishment, ticket sales went so well they sold out the Nov. 30 show and added a second show Sunday, Dec. 1, also at 49th State.
"We weren't sure what to expect," Brosius said. "We're happy and humbled by the outpouring of support. It wasn't something we ever envisioned or talked about — we weren't even sure we could do a first show."
'The Wall' tells the story of the character 'Pink', whose first memories are of war-torn England. We soon meet his clinging mother, brutish father, oppressive schoolmasters, fickle girlfriends, existential despair, life as a rock star, drug abuse, musical experimentation, societal absurdity and finally his victory over 'The Wall', a steady metaphor for the dividers society puts between people and that keeps the individual from discovering and embracing his true empathic self.
It's a favorite especially of now-middle-aged men like the founders of Floydian Slip, who grew up finding tremendous succor for their teen-age angst in the character of Pink.
Brosius grew up in Pennsylvania and still remembers the first time he heard 'The Wall'.
"I was hanging with some friends and one of them got this copy of The Wall from his uncle," he said. "We played Magic (the Gathering) and watched the wall. I was sucked in. That got me through high school; it spoke to me."
Fontaine grew up in Anchorage and remembers listening to it religiously as a senior at Dimond High.
"I listened to it almost exclusively in English class; I had on my headphones all of the time," he recalled. "I was listening to it at tennis practice — constantly."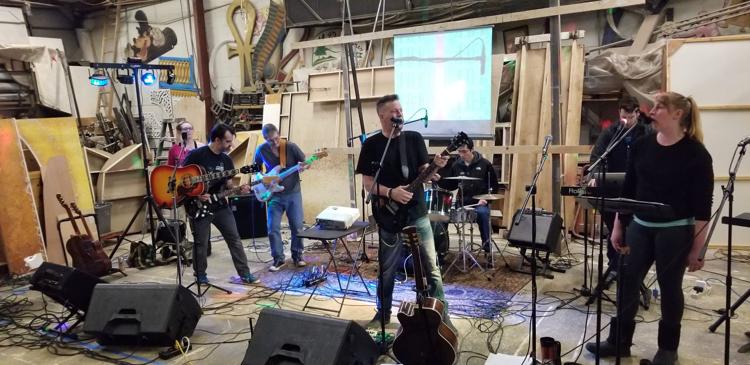 LeFebvre, growing up in Southern California, was first turned on to it hanging out with fellow 'classic rock nerds.'
"That's all I listened to for months straight," he said. "I lay in bed in the dark and let the story play out — it's so great."
LeFebvre sings the parts played by Roger Waters and Brosius handles the David Gilmour parts.
"To me, the challenge is getting it all correct and doing it right, note-for-note as close as I possibly can," LeFebvre said. "I'm memorizing lyrics, which I haven't done for years. It's all those tiny little things with a band of eight people together to make a sound that everyone has heard since they were 13."
LeFebvre said that while we may not see a resurgence in rock opera, there is a growing appetite for tribute bands. He got a first-hand look at that when Boogie Shoes opened for the Queen tribute band that played at the Alaska Native Heritage Center this summer.
"What we saw at that Queen concert, which was fantastic, was as close to Queen as anything I'm going to see," he said. "We're not impersonating musicians, or anything, but that live album, when those chords slam down and the crowd goes fucking insane, I want the experience we give these people to be that intense and I think we can do it — I really do."
The band says that no matter the success of Floydian Slip, Boogie Shoes will continue on well into its second decade, and next up might be a live reprisal of Pink Floyd's 'Dark Side of the Moon'.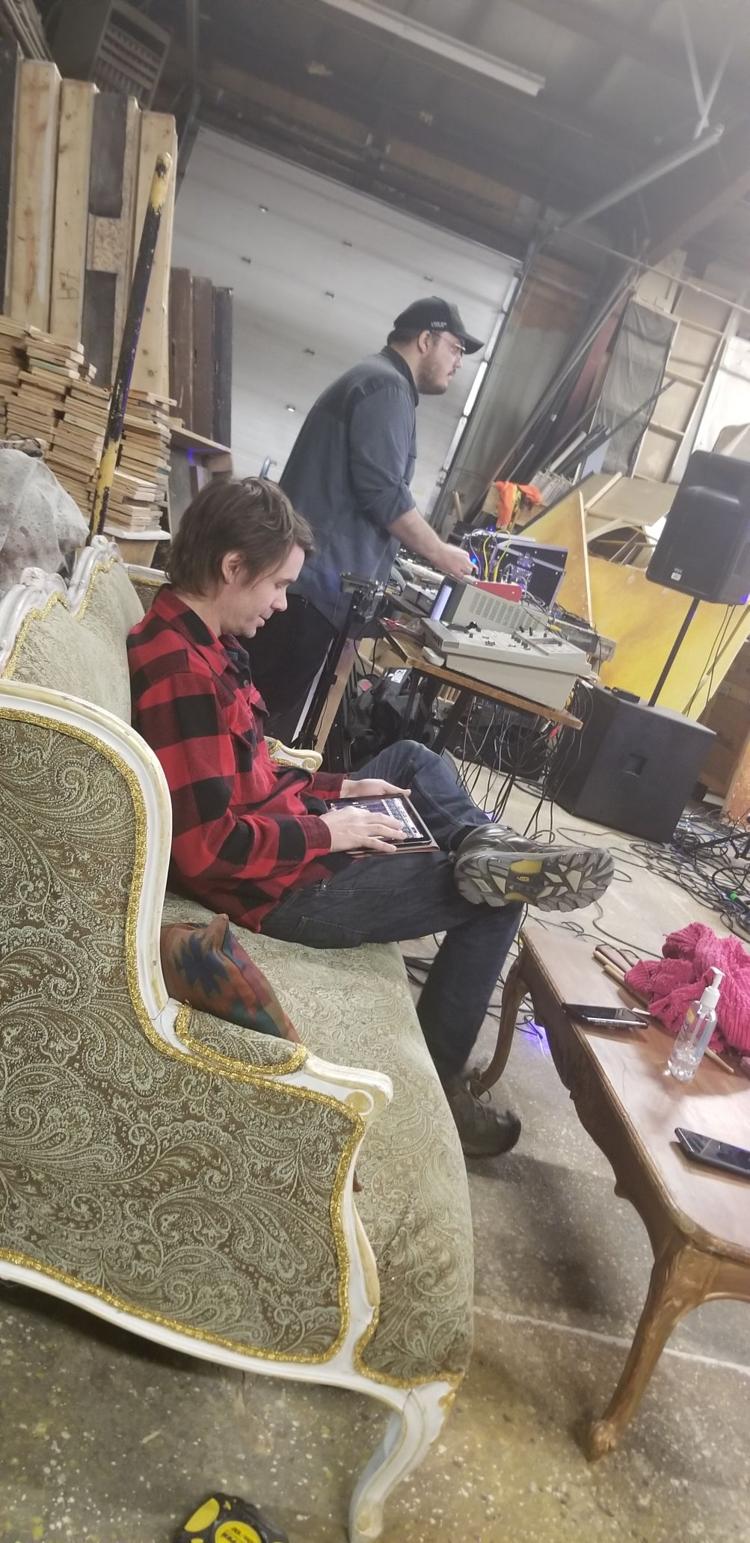 "We jell with this music; We know it and can sing it and play it backwards and forwards," said LeFebvre, who added that the band has recorded its practice sessions and been impressed by their quality. "We're all really critical of ourselves, but we go home after one of these (practice sessions) and listen and say, 'this sounds really damn good. That sounds like 'The Wall'."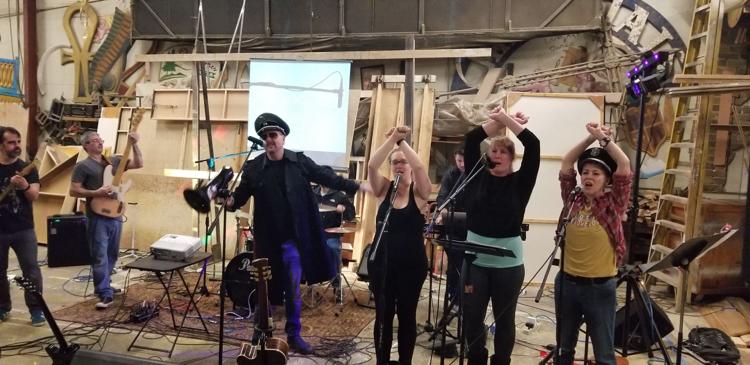 Fontaine is confident the audience at 49th State this weekend will feel the same.
"The reason I'm doing this is I'm hoping we'll give people who enjoy Pink Floyd a semblance of the authentic Pink Floyd experience," he said. "Maybe you didn't see Pink Floyd, but something close to it and see 'The Wall' as it was meant to be done live."
EVENT: November 30, 2019 (SOLD OUT) and December 1, 2019 at 49th State Brewing Co., 717 W. 3rd Ave. TICKETS: $30 — floydianslip.bpt.me
Fred Brosius — lead guitar, vocals
Rob LeFebvre — guitar, vocals
Jonathan Cannamore — keyboards
Francisco Badillo — drums
Kaylee Vardeman, Aly Shaw, Elle Janecek — backup vocals
with Matt Hickman as the Emcee
Steven Bacon — sound tech
Matt Terry — video artist