If you ask someone if they know Afroman, odds are they will sing you the line; "…but then I got high."
Long before there was Soundcloud, Spotify, or Instagram, artists had a much harder time getting their music out to a wider audience. Then Napster came along and music fans could share their favorite albums with people all over the world. That website was what catapulted southern based rapper, Joseph Foreman, to the top of the charts in over 10 countries.
You may be more familiar with Foreman by his stage name of Afroman.Famous for his song about getting stoned and forgetting important things to do, years earlier he was at the point of giving up when his cult classic hit 'Because I Got High' became a worldwide hit. The song is a comical hip-hop track a that has been parodied, used in soundtracks, and remixed many times. In 2014, Afroman partnered with WeedMaps and released a positive version of the song which includes many of the ways marijuana can benefit someone.
Joseph is also comfortable with criticism and uses it to inspire even more great rap songs. He tells a story of putting his picture online and asking Internet trolls of what they thought he looked like. He took those responses and turned them around into a battle rap in "Old and Fat." "@OGAFROMAN" is a diss song all about the people trying to imitate or claim to be him. Shortly after being named the #1 One Hit Wonder of the 00's, he released an EP with the title track, "One Hit Wonder'" that is a wonderfully witty response to being called that. I questioned why fans forgot about him and lists off many of his top songs that fans want to hear.
Having grown up listening to his breakout album, the Good Times, I was excited to hear that he would be coming to town back in 2017. I listened to Afroman extensively during high school and my circle of friends could recite every line of many of the songs that came on the Good Times CD. We weren't heavy stoners, but the blend of comical raps, catchy hooks, and smooth instrumentals, made for the soundtrack of many of our own good times.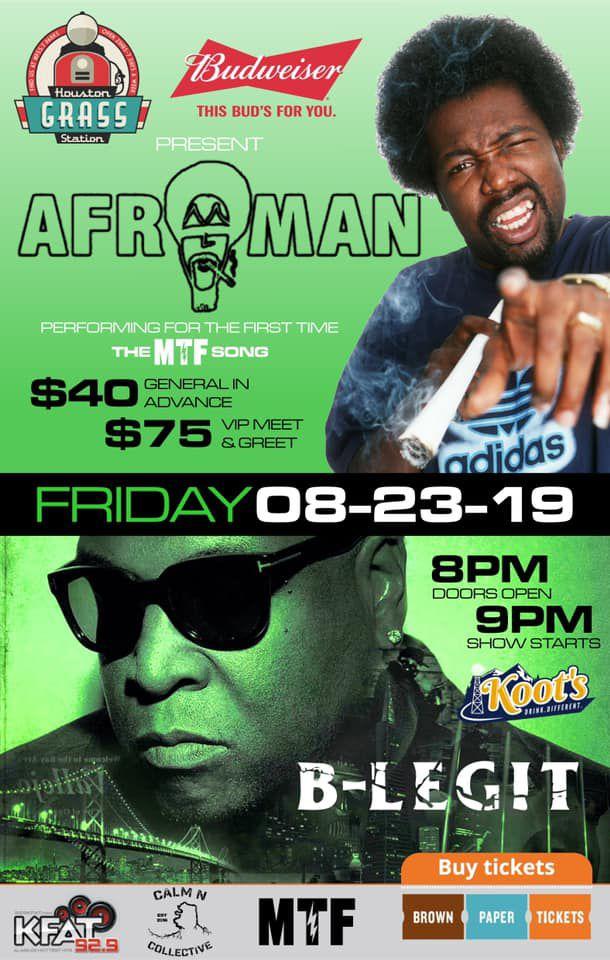 With "Because I Got High" receiving mainstream attention, the excuse of being too stoned became a common and often joking reply. The comical reciting sexual adventures (or failures) from "Crazy Rap" and "She Won't Let Me Fuck" were what inspired us to form our own rap jams. The first three tracks of the album definitely got the most plays and sing-a-longs among my friend and I, but don't let that fool you into thinking they were my only favorites.
"It's been a long, long time I've been smoking, smoking marijuana. It takes me out of my mental ghetto and places me in the Bahamas. It puts my mind at ease, indulging myself in the calm breeze. And my problems will float away beyond the palm trees."
That's how Afroman begins his hit song, "Tumbleweed". Songs like that one, "Hush" and "Palmdale" carry with them a feeling of a hopeful yearning. They paint pictures of paradise and are the perfect song to help get your spirits lifted.On the opposite end of the spectrum, Afroman's energetic songs like "Tall Cans" and "Let's All Get Drunk" advocate turning up the party without getting so crazy that his character would get into any trouble.
Since I had spent well over a decade loving Afroman's CD, I was certain I would be singing along to the majority of the 2017 show. I was I wrong. I had been idolizing him for almost 20 years and had no idea he was such a prolific artist. Hearing new songs for the first time at the show had me laughing and grinning ear to ear.
With over 30 albums, not only does Afroman have an impressive catalog of tracks, but he also shreds on the guitar. Setting his exclusive beer "Cold FroT5" down to play riffs for the crowd and to sign autographs, he knows when to hype up a crowd or to settle them down. Breaks between songs are often filled with both anecdotes and jokes. It is easy to see that Joseph loves his craft and that is one of the reasons why he was nominated for a Grammy. Best Rap Solo Performance was the category and that is a title I would still bestow on him today.
Since the concert two years ago, my playlist of top Afroman songs has grown quite a bit and I am sure that I will have a few more favorites after the show this weekend. Last time he was here, I was lucky enough to snag an autograph, photo and one of his own branded beers. This time, I am hoping to make him to laugh at a dirty joke.
My (Current) Top 10 Favorite Afroman Songs:
Because I Got High (Positive Remix)