The life of a musician is usually one of constant movement. For many, home is a place that you come back to, but never really stay. If you are a touring musician you get used to being crammed into a Prius, Sprinter van, or tour bus travelling constantly from gig to gig. If you play the local scene, you are out every night, playing wherever you can. Either way, life is always new. New venue, new people — every night is different. This past spring, the threat and spread of the COVID-19 pandemic brought that to a grinding halt.
If there is one thing (besides the virus itself) that seems to be nearly inescapable during these COVID times, it's loss — loss of plans, loss of employment or income, and sadly, for some, loss of loved ones. So much loss.
As a musician, Karrie Pavish Anderson is no stranger to the life of constant movement. As a human being, she is no stranger to loss. 
"Years ago a number of loved ones passed away — all within a short time. (...) It was just blow after blow after blow. Looking back on it recently, it was a bit like 2020 has been to the world," Pavish-Anderson recalled in a recent interview. Those experiences led to the writing of what has become one of her most popular and beloved songs, 'Climbing'.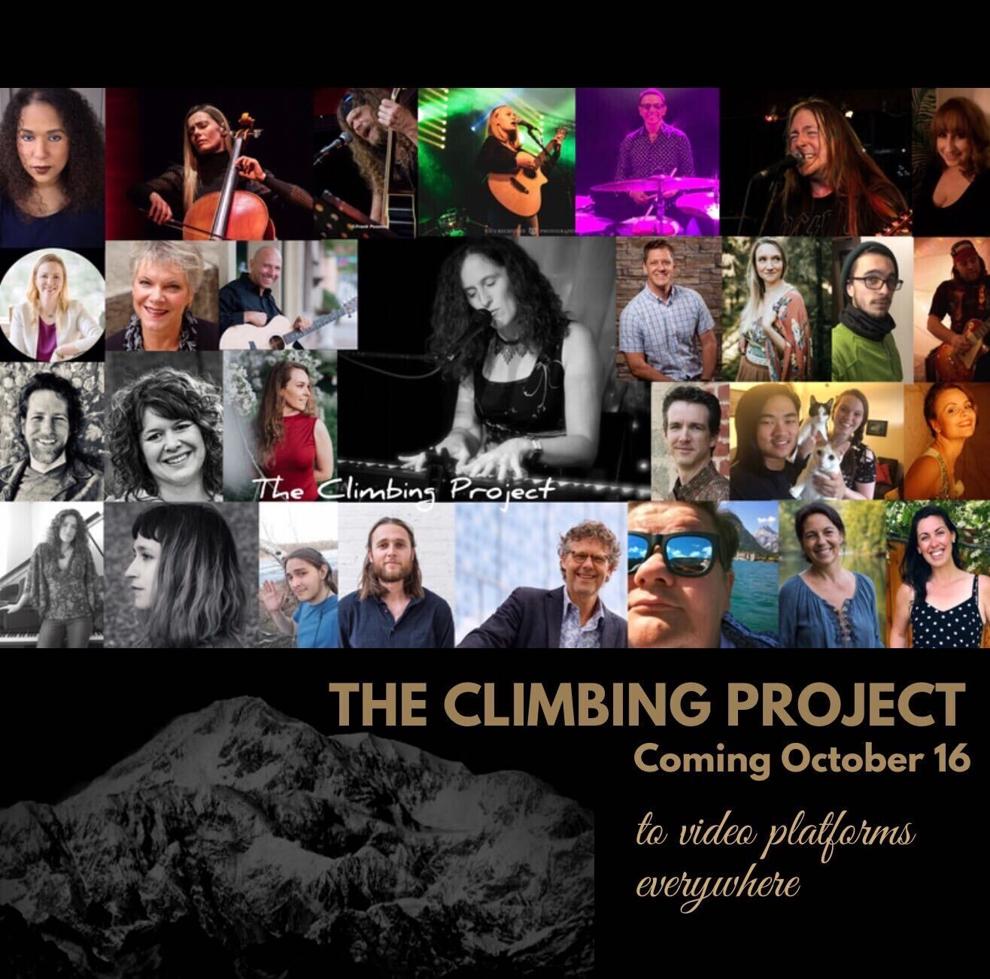 More recently, Karrie endured another crushing loss. In early 2018, she sustained a moderate traumatic brain injury, which forced her to not just cancel all of her tours, but basically put her whole career on hold. It also meant temporarily moving away from her home, her husband, and their dogs in Galena and back on to the road system, where she had better access to the treatments and therapies she would need to recover. She notes that while writing 'Climbing' about the grief of the loved ones she had lost all those years ago, she could never have guessed it would later help her to cope with the grief of almost losing a part of herself. "That is what it is to keep climbing. You have to keep journeying forward." This year that journey led to what is now being called The Climbing Project. 
Early this year, Karrie signed on to what was going to be one her first live performances since her injury, a set at Spenard Jazz Fest. At that time SJF was originally planning a festival like they would any other year, namely in-person, in venues and homes around Spenard and Downtown Anchorage. But as the number of COVID-19 in Alaska began to rise, it soon became apparent that was no longer feasible and they instead began creating a "Hunker-Down Edition" of the festival with live-streamed online concerts taking the place of in-person events. "Where I am now, the internet doesn't so much 'stream' as it trickles", said Karrie, half laughing. "Originally, the plan for this year was going to be special. A couple years ago, Yngvil Vatn Guttu (Festival Director for SJF) talked with me about having a 'Climbing' performance with a full gospel choir. We were finally working toward that goal for this year when the COVID travel mandates hit." 
Gov. Mike Dunleavy announced a state-wide non-essential travel ban on March 27th. Spenard Jazz Fest was due to begin just 50 days later on May 16th. 
But not travel ban, nor pandemic, nor distance, nor a 3-megabit-per-second internet connection were going to stop Karrie from making this happen. 
"I started brainstorming how I could present my art without being able to livestream. (...) I thought, well, maybe I could still perform 'Climbing' with a choir of friends somehow," she said. So, with just less than two months before the start of Spenard Jazz Fest, Karrie got to work. 
"I had a goal of creating a diverse project in every possible way. That was really important to me. (...) I originally invited local artists, Tlingit, Yupik, Athabascan, Black, Chinese, British, German, Canadian, part-time musicians and full-time musicians ranging from metal to opera, scientists, interior designers, students, professors, family, friends, abled and disabled, Christians and atheist, people of all ages." 
Though not everyone she invited was able to be part of the project in its final form, in all Pavish Anderson (virtually) brought together more than 30 musicians and a seven-member production team, from six countries and twenty-six cities, spanning at least thirteen different time zones, all living in their own unique realities of life changed by COVID-19. "It was a blessing in disguise," said Jaunelle Celaire, Associate Professor of Music and Music Department Chair at University of Alaska Fairbanks, one of the featured vocalists in the 'Climbing' project, "to see how music brings so many people together. People from all over the world came together through a pandemic, and shared their gift of music. This project will definitely be medicine for someone's soul."
In conversations with some of the project's contributors, almost everyone remarked on how Karrie made sure they all understood that this was "their project", not simply "her song." It was to be a truly collaborative effort — something many had not had since the music industry had gone silent. 
"Initially (that silence) was crushing," remembers Lucy Peckham, one of co-producers of the project. "April was one of the worst months I have ever endured. I don't do 'unemployed' very well. But working with Spenard Jazz Fest and especially learning new skills while working on The Climbing Project with Karrie and everyone else was entirely a sanity saver." 
Pulling from her own experiences with loss, Pavish Anderson knew that in a time like this the core of this project had to be connection. Looking back on it, not only did The Climbing Project bring together artists from all walks of life and all across the world, it brought together those who now found themselves "hunkered down" together, and let them get collaborative, artistic, and inventive. 
While some were able to record their part in the comfort of a home studio, others had to rush to get takes in the seven minute window between the brown and purple line trains (of Chicago) or record in the bathroom because "that was the only relatively quiet room in a house with two small children." 
One vocalist discovered that "clothes make for great soundproofing" when recording in a closet, while another knew "the project had run low on tenors," so she invited her brothers, who had recently moved in with her family due to the pandemic, and taught them the tenor part "on (her) daughter's pink plastic toy piano." 
To say the making of The Climbing Project was a challenge would be an understatement, but with a song about determination and resilience, everyone knew you just did what needed to be done.
That really is what 'Climbing' symbolizes. The song's message is one of "perseverance, self-acceptance, mercy, and love", of "striving forward no matter what the situation", and the belief that "we all have (...) our mountains to climb". In a year where each new day seems to bring news of rising COVID infections, social tension, and political divisiveness, 'Climbing' reminds us that there is light at the top of the mountain, the shadows of the valley will not hold us forever, and that there is always a way forward.
The music video portion of the project is due to hit YouTube, Facebook and IGTV this coming Friday, October 16th at 11:15 am AKT, 7:30pm AKT and 8 pm AKT respectively. Pavish Anderson will also join KTNA's 'Sound Vision' program between 2-3 pm AKT to talk about the project and the song. KTNA can be heard on-the-air locally at 88.9 FM or online globally at KTNA.org.
The audio-only version will find its way to iTunes and all streaming services in mid-November, and tickets to the release of the 'Climbing Project' documentary, showcasing the stories behind and making of the project, will be announced very soon. The money raised from those ticket sales will go to help support the musicians, techs and engineers who helped make this project possible. 
Karrie Pavish Anderson can be found on all streaming platforms, as well as Facebook, Twitter (@KPAsing), and Instagram (@karrie_pavish_anderson). For all things Climbing Project, visit her website karriepavishanderson.com.