Like the Alaskan waterway they're named for and the moving sound they're about to unleash, Tanana Rafters are ready to prove that they can flow like a musical river with their upcoming release, 'BEND.'
The local Americana Folk band has just celebrated its fifth anniversary coming off their 2019 Anchorage Folk Fest performance. The annual gathering of cross-generational folk music artists serves as their birthday seeing that 2014 marked their debut performance there. Following that, Tanana Rafters have been getting excited for the March 23rd release of their second album, and getting it into the ears of listeners everywhere with a slew of shows coming up in Alaska and a wide open summer.
The band started at the end of 2013 as a 4-piece, gaining a drummer/cajon player soon after. The quintet performed, toured and recorded an album within 3 years time. Then, the bassist got married and decided to leave Alaska for medical school and the drummer also jumped out of the raft and flew to Spain, leaving the question of what to do as a band?
"We had a period of about five months where we weren't sure what we were going to do and hardly played," Whiteman said. "We thought about starting a new project. Eventually, me, Matt, and Harrison talked it over again and all decided that we wanted to keep Tanana rolling."
The Rafters stayed afloat and found bass playerDuane Black and drummer Bruno Zinno. "It's been high speed ever since," Whiteman declared.
The new rhythm section reshaped the band. "We've had a very big shift in our sound in regard to presentation," said bandmate Harrison Jennings. He called the beginning the band's "warm up phase" with a mellower sound.
"Now we've taken it to the next step," Jennings said."We want to expand and get a bigger audience."
Now with Tanana Rafters, version 2.0 reborn with Jamie Whiteman (vocals, guitar), Matt Faubion (lead guitar, harmonies), Harrison Jennings (mandolin, fiddle), Duane Black (upright bass, harmonies), and Bruno Zinno (cajon, drums), they got back in the studio to capture their revived enthusiasm and recorded, 'BEND.'
The essence of the records mood could be summed up in the lyrics, "I am high/I am low/I am something to behold", from 'Old Friend.'
The "high and low" segment correlates with the lively sound Tanana Rafters have presented with this new record. As a whole, it sets the tone to behold Whiteman's honey-coated voice that ranges through deep whispers, painful cries, country twang and tones of a traditional Irish songstress.
'BEND' follows 2017's 'All My Fault' and offers a more polished sound since their debut. Whereas 'All My Fault' was recorded in a studio with everyone packed tightly in a room together recording live, the band prepared for the making of 'BEND' with more organization and multifaceted experience from everyone involved. It was recorded in layers over live takes and maintains a bright organic character.
Capturing that live performance sound Tanana Rafters was striving for in the studio can be tricky for any producer, but when you have Evan Phillips behind the mixing board, musicians often express that they've gotten the results they were looking for.
As a well-established singer/songwriter himself, Phillips name holds a lot of weight regarding recording and the local music scene. With his tenure with The Whipsaws, his collaborative projects and solo recordings, Phillips has taken all that experience and his enlightened ears and has been recording bands since the mid-2000s. In addition to his own music, Phillips has been crafting the sounds of bands such as the Super Saturated Sugar Strings, Laura Oden, Emma Hill, Hanna Yoter Band and now in 2019 — Tanana Rafters.
With 'BEND,' Phillips delivered once again.
"We really wanted this album to sound professional and while we are a live band, the album still sounds like us," Whiteman said. "He was awesome to work with and a great fit for our sound and working style. A total professional I highly recommend. I'm impressed and happy with what we got."
As the primary songwriter, Whiteman found the recording sessions extremely flattering. She said, "There's a team of highly skilled people who all like my songs enough to spend time on them and are really doing their best to honor them. That's a highlight for me; the reassurance that the work I put in and the songs I create are worth their production time."
The title 'BEND' was chosen due to the various ways it can be defined. As Whiteman pointed out, it can be a verb, noun and is also inherently descriptive.
"If it's written in all caps, it feels like a command — BEND!"Whiteman explained. "I feel that life has commanded me to bend in the last few years, in ways I thought were impossible or would hurt and in many ways I did not see coming."
As for the cover image, Whiteman has a personal and more deliberate intention. The cover art by Rebecca Lowe, displays Whiteman alone in front of a snowy hill holding a bowl of water that had been propelled upward and captured in mid-air showing the bends and twists of the water. Her eyes are locked looking through the water that covers most of her face, giving the effect that she's staring directly at the reflection of what life has thrown at her — a twisted world going in unpredictable directions.
The level of production and maturity in musicianship are amongst the things that stood out. Lyrically, it's an album of relationships, self-identity and acceptance. 'BEND' is a flowing mix of human emotions.
In 'The Yukon', the album's first track, Whiteman calls out older acquaintances who have spoken down to her since she's been a young songwriter. "You are not a mountain, you're not immovable," she sings."You change just like the rest of us; we are all a part of this world."
It's a song of seeking security when one needs a lift of confidence free from judgment. Whiteman said, "I was insecure from all the life bending I was doing, and wanted to hear stories of movement and change from people my grandparent's age, but every time I tried to start a conversation like that, I'd get advice and criticism instead of stories of hope."
'Gone Out Walkin'' is a heartbreaker with an traditional country sound showcasing pedal steel guitar, mandolin, a walkin' bass line and sweet backing vocals. Whiteman called it, "my style of love song because the story is imperfect and true." But as a whole than band sees it as their "honky tonk" song.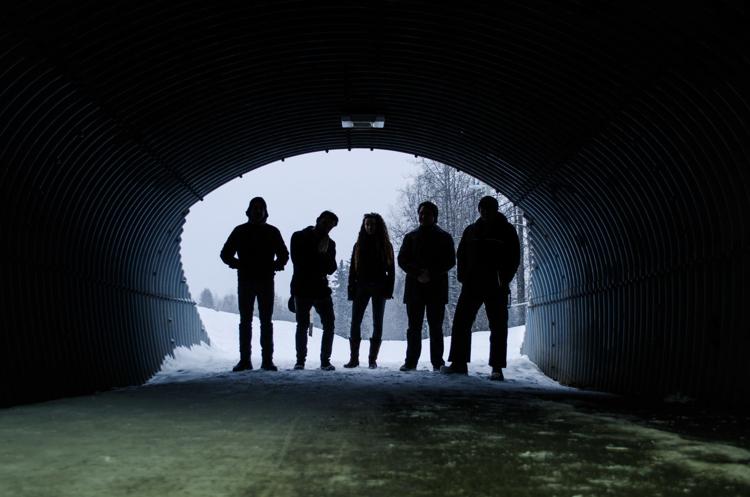 There's a great mandolin solo provided by the fancy fingers of Harrison Jennings featured on a track called, 'The Water' — which is the song people will get when they pre-order the album online and relates with the album's cover art in title.
'Sweet Luisa' was a song the band struggled with to sound right prior to recording, it shines within the eleven songs on 'BEND.' It opens delicately, letting each layer of instruments sway in, including a cello and hand drums. The words tell a story of observation and comparison. "Every once in a while I see a girl that's perfect. Nobody's perfect of course, but I think people can be perfect in and with their imperfections, depending on how they navigate, cope with and expose them," Whiteman explained.
'For My Father', despite its serious lyrical content involving the sudden and curious death of Whiteman's father, holds some of the most interesting sounds to come out of this band.
'For My Father' starts off quiet with a strumming guitar, but then all of a sudden a much more rockin' version of Tanana Rafters steps in with distorted guitars and a heavy sway that gets your attention. This sound is especially evident during the fiddle solo by Jennings that sounds like the spirit of Jimi Hendrix came over him and took over his violin. Further in, Faubion gets his chance and whips out a guitar solo reminiscent of the the wild finesse of Wilco's Nels Cline — a major change in the way Fabian has approached his guitar work compared to the last album.
The remainder falls nothing short of that Alaska folk sound Tanana Rafters has evolved into over the years that fans have enjoyed since their debut on the Wendy Williamson stage.
'BEND' is a colorful portrait of how dynamic the band has become. Zinno adds new flavor through his days playing flamenco style drums, and playing a full drum kit simply adds more solidarity within the group. Black and the rest of the band also possess impressive skills behind their instruments.
"It's fun for me where we can play songs that are soft and emotional with this level of energy and intensity," Black said."Other songs are completely rock and roll, for real — the range of dynamics we have as a band are awesome."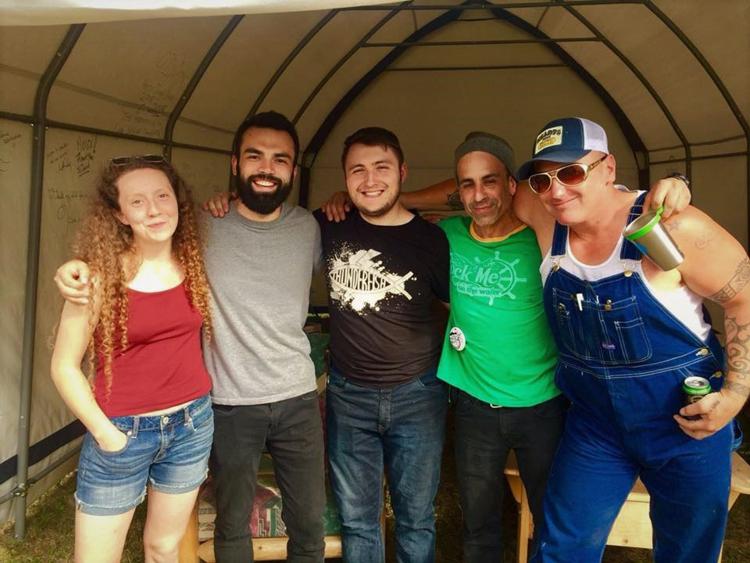 Their varying abilities prove they have can redefine the broad term "Americana" music. The band actually joked and claimed they're really an "Americanada" band because of Jennings' and Zinno's Canadian backgrounds.
"I totally love my band," Whiteman concluded joyfully."I feel like I was adopted into a hilarious musical family. It's a big dose of unfair luck that I found them and that we've been able to keep playing together. We're definitely not stopping any time soon."
Tanana Rafters have toured all over the state and beyond and they are doing it again throughout Alaska during March and April.