Randall Craig Fleischer, beloved music director of the Anchorage Symphony Orchestra, has passed away at age 61. It was an unexpected announcement that shocked the city's arts and cultural community last Thursday.
Anchorage Symphony Orchestra executive director Sherri Reddick in an email the next day: "To the ASO Family and Community. Never in my 30-year tenure have I been more saddened to write to you…with the sad news that our beloved Music Director Randy Fleischer passed away last night.
"This announcement will be short. As Randy was beloved by many across the country…we wanted you to learn of this from us."
Reactions from the community were swift:
"Maestro Fleischer's passing was sudden, unexpected. His contribution and commitment to the Anchorage Symphony Orchestra and to the cultural vitality of our community cannot be overstated," said Ira Perman, a long-time symphony supporter.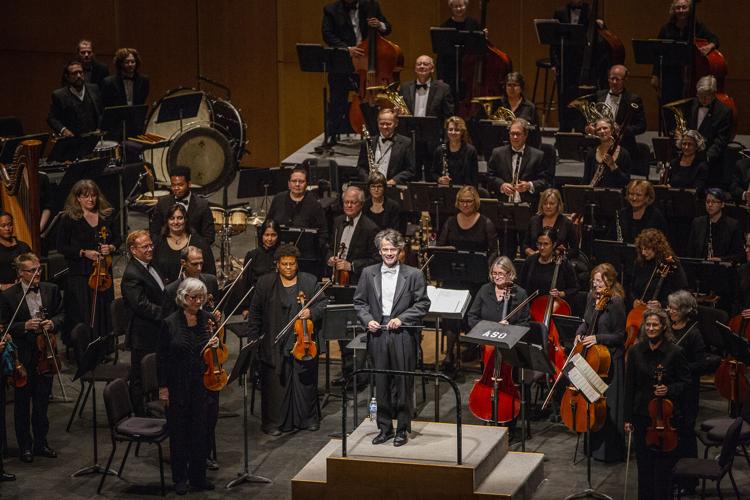 "This comes at a challenging time for the Symphony, already faced with disruption of its performances due to COVID restrictions which have curtailed public gatherings," Perman said in an email.
Reddick was so saddened that it was difficult for her to put thoughts together for an interview on Fleischer's contribution to the symphony and Anchorage.
"We worked together for 21 years," she said. "My fear always in speaking of Randy and his impact is that I will not do him justice.
"Randy brought our orchestra into the 21st century. He made it an art form that was more accessible for everyone, opening it up for people with no experience with classical music, making it more relevant and combining it with the music of our time," she said.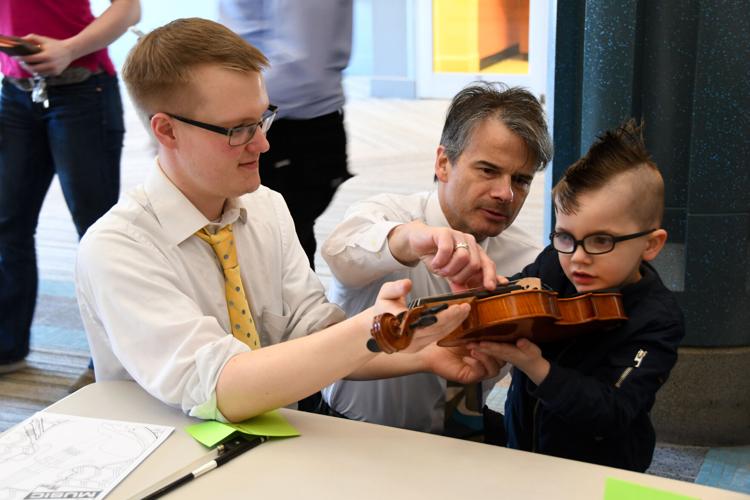 "I was in awe of what he could do. He would talk about his ideas and I could not imagine what it would be like, and how he could bring all of these different cultural traditions or music genres together. Then I would see and hear his pieces, and it always worked," Reddick said.
Anchorage wasn't Fleisher's only responsibility. He was also music director for the Youngstown Symphony Orchestra in Youngstown, Ohio and the Hudson Valley Philharmonic in Poughkeepsie, New York and conducted winter concerts for the San Francisco Symphony.
He conducted in prestigious venues San Francisco Symphony Hall and the Kennedy Center, as at the Vatican in a private concert for Pope John Paul II.
He loved working in Anchorage, however, because the community embraced his creativity, Reddick told the Anchorage Daily News in a separate interview
Fleischer was known for his lively presence in conducting, or in almost any interaction with people.
"People asked me if he was like this off-stage, and I could assure them that he was. He would walk into a room and the energy would just be changed. He could even do that in video zoom meetings," Reddick said in her interview with the Press.
Reddick said Fleischer's ideas brought innovations to the Anchorage Symphony that most orchestras are just now experimenting with. One was performing historic silent films with music, like Charlie Chaplin's 'City Lights' in a classic concert. The audience was so enthusiastic that the Anchorage Symphony began offering 'Silent Film Night' every season.
More recently, the first full-length movie set and filmed in Alaska, 'The Cheechakos', produced in 1923 by Alaska businessman Austin 'Cap' Lathrop's Alaska Moving Picture Co. was presented as a concert. The Cheechakos project was actually developed within the symphony, Reddick said. Chris Beheim, a member of the symphony, was the driving force behind it. Beheim passed away in July, Reddick said.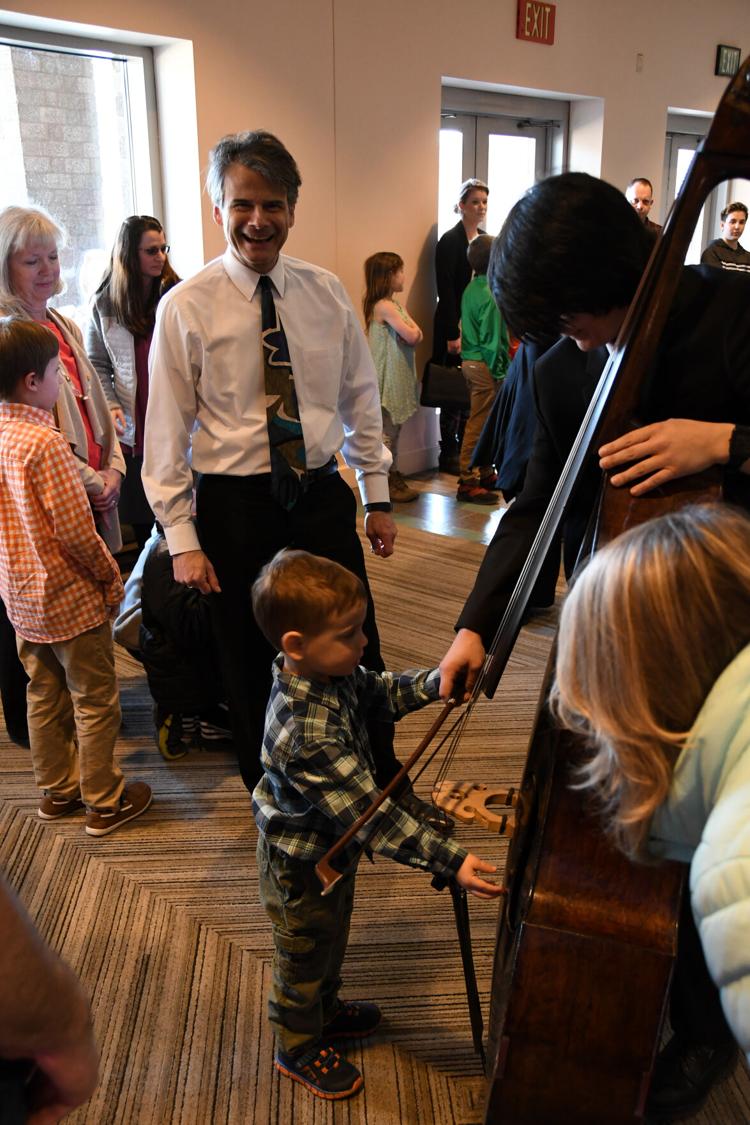 The silent film and music series quickly became a family favorite in Anchorage. It was just one example of how Fleischer and members of the symphony opened up classical music to a wider audience.
Fleischer also liked blending orchestral music with that of other cultures. The first of these was 'Triumph', that featured Navajo music and dance and then 'Echoes', a unique collaboration showcasing Native American, Alaska Native and Hawaiian music, dance and drumming — a work Fleischer considered a highlight in his career. Yet another first, at least in Alaska, was the use of on-stage fireworks for sound effects, which required a special permit, during a presentation of the '1812 Overture', when cannon sounds were needed, Reddick said.
"This was on our stage along with laser lights in the house," Reddick said. "This is something not many orchestras have probably tried."
Rick Goodfellow, another long-time symphony supporter, said: "Randy was in touch on the national level and he could see things done elsewhere that might work in Anchorage. He was a constant source of new ideas."
"Not all of them panned out, but he was willing to take a chance," Goodfellow said, and members of the orchestra and the community supported that.
Fleischer had a strong sense of showmanship, which was his way of making the symphony come alive. One memorable performance included a James Bond theme when Fleischer opened the concert descending from the ceiling, suspended in a harness, of course.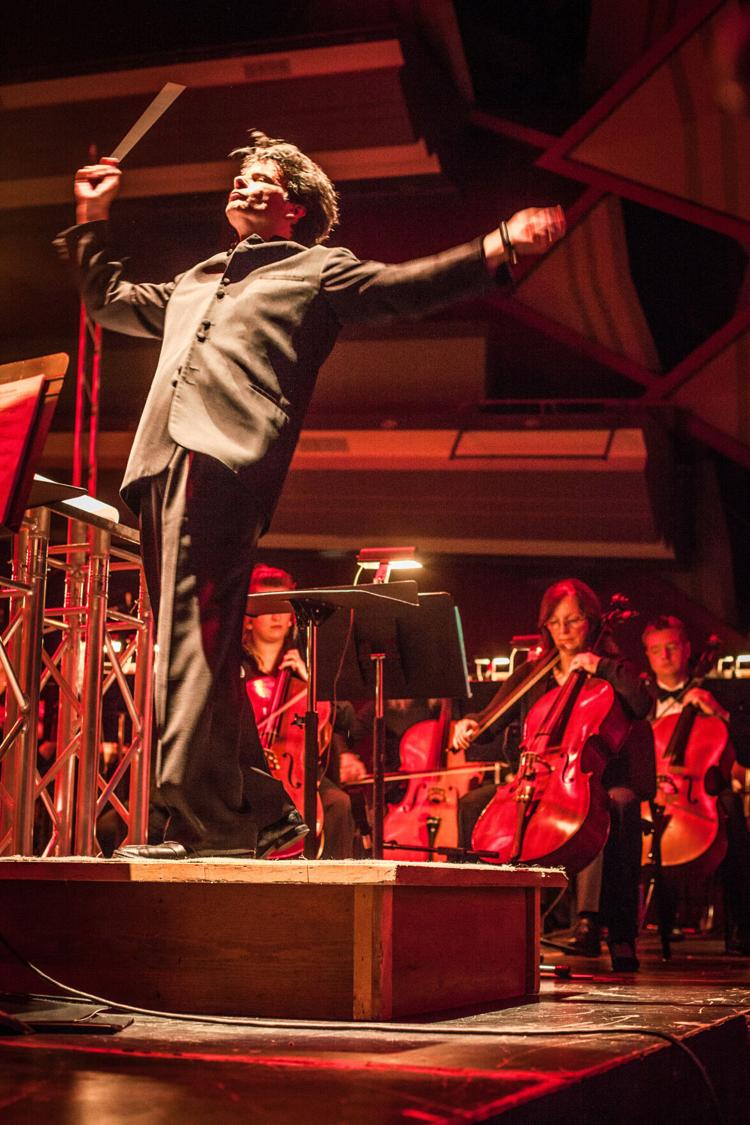 The symphony's Halloween concerts quickly became popular with children and families as a safe alternative to door-to-door Trick or Treat in the dark, or bad weather. Children were able get candy at the end of the concert. Fleischer made a show of this, too. He conducted in costume and one time, Reddick recalled, he appeared in a chicken costume.
Fleischer is also remembered for his dedication to education and the 'Young Peoples' Concerts' he and his wife Heidi brought to Anchorage, where elementary students are bused to the Alaska Center for the Performing Arts to see a concert created just for them.
Alaska was the first place the National Symphony Orchestra decided to tour when they made the goal to visit each state. This was in 1992.
Fleischer was the NSO's Associate Conductor and joined them on tour. "It was the first time I had seen him. He walked on stage to conduct a Young People's Concert looking like a rock star, a full head of flowing hair, black leather jacket and tight jeans. And the energy in that concert — wow!" Reddick said. "Kids loved it."
Alaska must have made a strong impression on Fleischer because a few years later, when the Anchorage Symphony advertised for a new music director, he applied.
"I was thrilled," Reddick said.
"He was a giant at what he did," said Goodfellow. "He knew how to hold a crowd because he genuinely liked people. He liked music but he also liked 'you,'" which people can sense, he said.
Fleisher's touch with people is very unusual in a classical music director, Goodfellow said. It made him very effective as a leader of members of a community orchestra who were really volunteers, although they receive a modest stipend.
Goodfellow recalls one concert, Mozart's Symphony No. 38 in D, also known as the Prague Symphony, where everything came together in a superb performance.
"Mozart is really hard and I remember thinking to myself, 'that was really good, and these people (in the orchestra) are just people from across the town, down the street, and my neighbors."
"This happened because of Fleisher's leadership and the chemistry he had with the musicians," Goodfellow said. "His greatest gift was his ability to bring out the best in people and he could do this because they knew he wanted them to look good in the community. It was never about himself."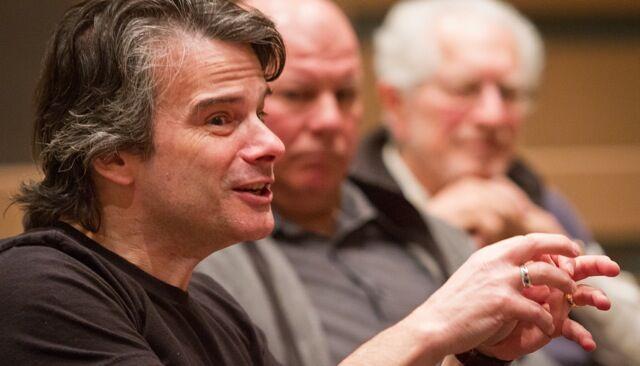 One reason young people related to Fleisher is that he loved rock and roll and modern music. According to his biography, Fleisher co-created the fusion classical-rock project 'Rocktopia', which ran as a theatre production on Broadway.
The sudden announcement of Fleisher's death last Thursday was a shocker for the community but Reddick felt the bad news had to go out quickly.
"I did not want people to read about this on someone's social media post; we wanted to get this out to the community fast," she said.
Fleisher died at his home in Sherman Oaks, Calif.
So what now for the Anchorage symphony?
"We haven't made plans yet," Reddick said. "We have to come together as a family."