Click HERE to win a pair of tickets to Saturday's show
For reasons partly political, partly spatial, the Mat-Su Valley has been rocking as a concert venue throughout the pandemic while Anchorage was busy banning dancing and forbidding karaoke.
But last December, a collection of promoters and sponsors decided that was all going to change on May 22, 2021 when Mississippi-based rock band Saving Abel would kick off a three-part Humpy's Outdoor Concert Series in the Humpy's parking lot, spilling out onto F Street. As it turns out, that venue would have worked out thanks to the Anchorage Assembly deciding on Monday deciding to lift all COVID emergency orders on May 21 and hours later deciding —the hell with it, just lift 'em all now.
But when you have to book acts and venues and start marketing ticket sales, you don't have the luxury of waiting on the caprices of Anchorage city fathers, so the promoters went to Plan B quickly and decided to move the entire series to the Valley. More specifically the venue is the outdoor area surrounding the Curtis Menard Center on the north end of Wasilla, and for Saturday night's headliners at the first-ever Mat-Su Valley Rock Fest it will be their first time performing in Alaska.
"We're super-excited about coming to Alaska. I gotta be honest with you, that's a bucket list right there — dream come true," said Saving Abel frontman Scott Austin. 
Austin said his band was turned on to the Alaska opportunity by another band which had performed at Alaska Raceway Park in the Mat-Su back in the summer to a large, outdoor unmasked crowd.
"Honestly, Bobby from Saliva told us about it; said the show had a killer promoter, we introduced him to our agent and the rest is history," Austin said. "We're all looking out for each other."
Austin said that while the pandemic slowed down his band's touring capabilities, the slowdown could have been much worse.
"We managed to play a decent amount during the pandemic," Austin said. "Mostly open air valleys and festivals and stuff — that's a big part of our demographic. Because of the space you have hundreds of miles of square footage, so we were not too worried about distancing. But (COVID) definitely put on a strain. We used to do 250 shows a year."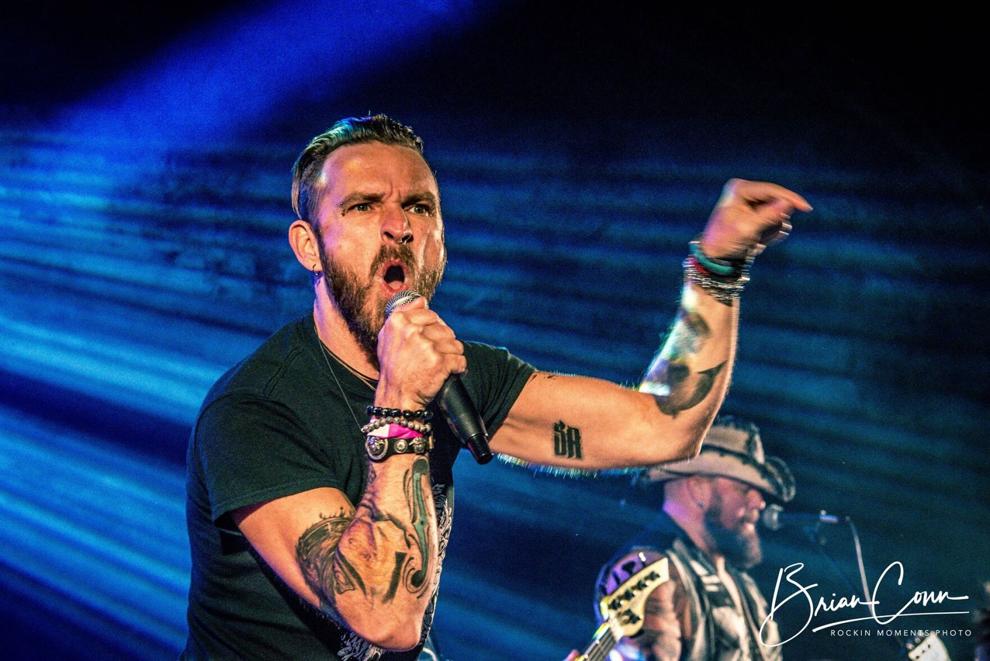 Saving Abel was born in Mississippi in 2004, their name obviously the inverse of 'Raising Cain' and by 2008 they released their first album, which included the song 'Addicted', which would become their biggest hit, climbing to No. 20 on the Billboard Hot 100. After their seminal self-titled album, Saving Abel went on to release two more albums, 'Miss America' in 2010 and 'Bringing Down the Giant' in 2012. After that, lead singer Jared Weeks left the band and was replaced by Austin, who hasn't missed a beat in keeping Saving Abel a favorite live attraction for fans of alt-southern rock.
"People would know us from our hit song 'Addicted' and that entire first album has now gone double-platinum," Austin said. "Addicted really took over the rock charts in the U.S." 
Back in August of 2020, Saving Abel played at the iconic Sturgis Motorcycle Rally in South Dakota, recently finished up a show in Fargo, N.D. and after Saturday's Wasilla show will head back to the midwest for a concert outside of Rochester, Minn.
"We've been pretty much weekend warriors," Austin said. "Touring has been a strain on us financially because a tour bus from Mississippi to, say, Massachusetts is not cheap. We've played all over the country. I couldn't tell you the name of the venue though, unless something crazy went down."
Austin said that as COVID restrictions have eased up, fans have become more and more excited about — and appreciative of — seeing live music.
"They're very ramped up and we feed off that energy," he said. "(Alaska) fans are gonna be hit hard in the face with southern rock and I know they're ready to hear some rock."
The Eternal Cowboys, which might have been the hardest working live band in Anchorage during the pandemic opens festivities at Saturday's all-ages event, followed by Them Bones, an Alice in Chains tribute band, which rocked the downstairs venue at the Settler's Bay Lodge in Wasilla last Saturday.
Part two of the music series is slated for June 12 with the Tennessee-born alt-metal band 10 Years headlining at the Menard Center with Anchorage bands Millennial Falcon and Antigen warming the stage. 
The festival concludes on June 19, again at the Menard Center, featuring the biggest draw of the series, L.A.-based Badflower, who have had four hits reach the top 2 on the U.S. Mainstream rock charts in the last three years.
Matt Hopper and the Roman Candles and Millennial Falcon take care of the undercard that night.