Currently out of work, I found myself in need of some sort of creative stimulation. But trying to ball on a budget tends to leave individuals with fewer options. Would I have rather ended up somewhere with some goddamn warmth? Obviously. So where did I end up? 
Honestly, the trip was exactly what I needed. When you go from two full-time jobs and having your own place, to delivering the Press one day a week, collecting unemployment, and living in the tiniest, hottest room in your parents house, you just gotta get the fuck out. My friend and longtime Fairbanks emcee Starbuks extended an invite for the week. I scooped that up without a second thought. 
I packed up my home studio, a collection of synths and samplers, and made the six-hour trek north.  I left early enough to ensure I drove by daylight, arriving around 4 in the afternoon. Homeboy pulled up in a black sedan with the bass rattling, and drove me out to North Pole for some Chinese cuisine.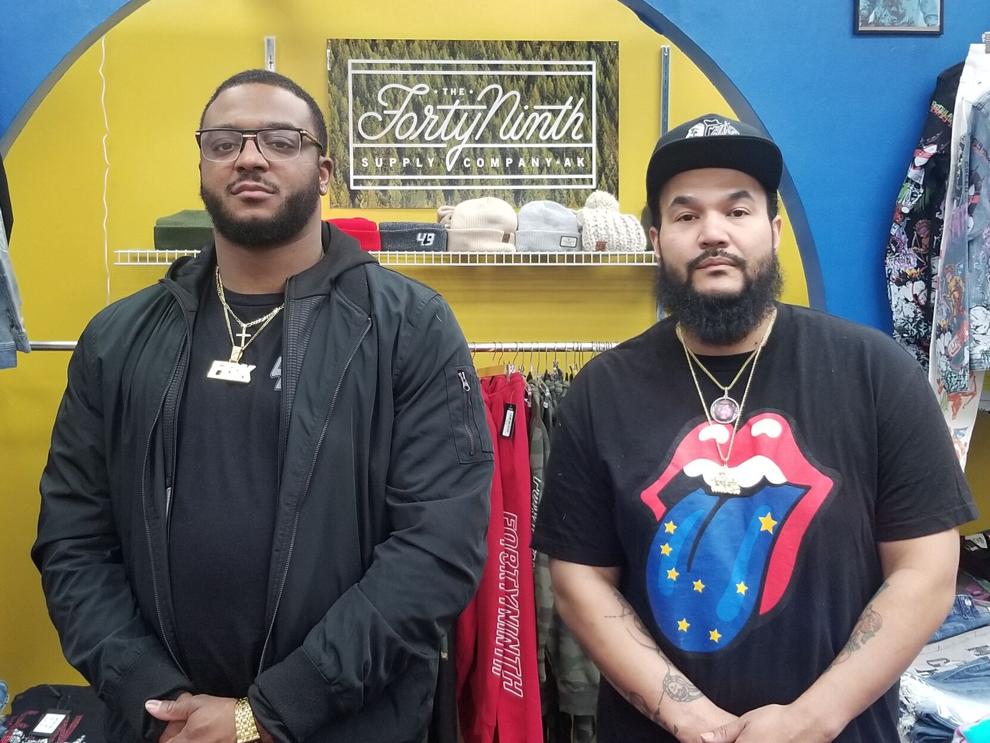 Why this dude thought the first thing I wanted to do after driving for six hours was to jump into another vehicle and drive for another half hour is beyond me.  "I'm taking you to Pagoda," he said. "You want good Chinese food?  Trust me boss, Pagoda is probably the most authentic spot there is. I always like to take my people here."
Starbuks often refers to himself as 'the mayor,' which is a fair assertion. Whereas it once probably had a stronger implication to street life, more or less he's just a known character of the community.  Between the presence of his familial roots and his deep-seated ties to the community, there isn't much in F-Town that gets past him.
The next stop was his nephew's high school basketball game at Lathrop High School. Again, why he thought taking me to a place where everybody was going to be taller than me and have more hair would be a place I wanted  to go was a mystery.  
All jokes aside, this is a big part of who Mike/Starbuks is. I think the only thing more sacred to him than loyalty would be family. His nephew doesn't just stay at his house, he gets taken to the gym almost daily with Buks. Mike has this kid doing drills outside of practice, not only to help ensure a solid game, but also to help ensure a solid influence. At the game, he's one of the most vocal parents, cheering on, not only his nephew, but his teammates as well. He knows them by name; he is in the stands leaning over to other parents giving suggestions to help their kids' game. He's a father first, shedding the rapper persona for something deeper and larger than himself.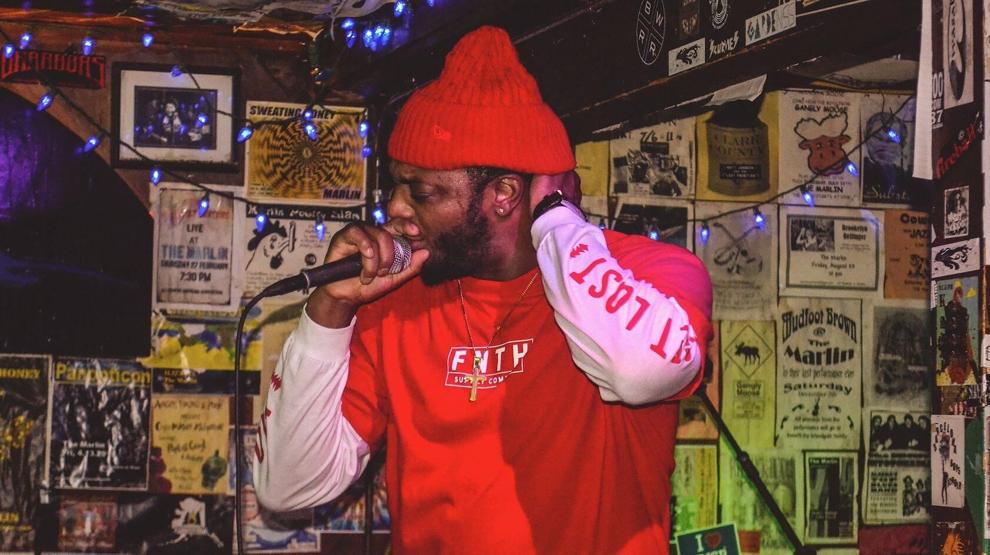 The game doesn't end well, but when his nephew hops in the car he doesn't dig in to him. He asks, "What do you think went wrong?" giving the kid the opportunity to openly assess his performance.  "Y'all need to box out, but I been telling you this."
With a long day behind us, and Mike still awaiting the arrival of his eldest son Reason, from Oregon, we set up the studio in his living room and called it a night.
Morning comes, I wake up and find myself covered in a blanket that has Mike's face printed on it. The thing is humongous — I mean the shit easily covers a king size mattress. To be fair, it's not just a picture of his face, it's a visual from his last album entitled 'Blacc Polar Bear'.  Half of the image is his face, while the other half is that of a black bear. 
"My aunt bought it for me," Buks says, only to have his girl throw playful shade, "Yeah, that's what he keeps saying, anyway…"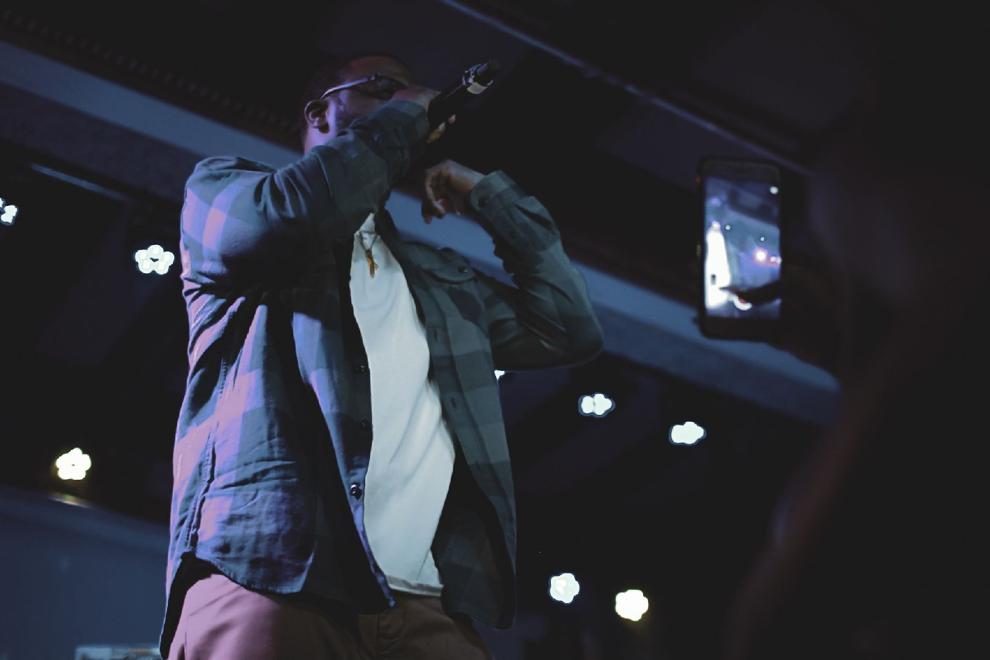 One of the places we frequented during my stay was the local hip hop boutique called 'Baby's World', located in the Shopper's Forum Mall. It's run by local rapper/promoter/entrepreneur and longtime friend of Starbuks, Danny Boy.  A week before Danny had hosted the 49th Supply Company's pop-up party in his store. When we arrived, we found Danny shifting items to sales racks and unloading a new order of rapper snacks (Google that shit).
"It's alright as far as business goes…when I do pop-ups in Anchorage, cats come through and buy me out," Danny says with a grin. 
The shop has an array of urban boutique brands, chains, and even holds a small section for the 49th Supply.  
"Baby was my cousin…he was the victim of a murder," Danny says. "He always wanted to start a clothing store, so here we are."
Starbuks and Danny Boy went back and forth over an idea to bring up J. Stone (Nipsey Hustle's right-hand man and California-bred rapper) up for an event. They debated over a few things, sapped one another up, and agreed to think on it some more.
"I think he wants to do too many moving parts," Buks states as we pull out of the lot. "He wants to add openers, have it be an artists record release party. All I know is we ain't doin that shit on a Wednesday."
We spent the next few days running around to set up for his weekly radio show, 'Off Tha Drip'', playing every Friday from 10 p.m. to Midnight on 90.9 FM, Fairbanks Open-Radio. Outside of playing local hip hop, Starbuks holds interviews with local emcees. Local artists Lee Jones and K-Pac slid through to promote their newest video (YouTube Lee Jones 'Green Beam'). We chopped it up with homies over a few beers. I kept playing a sample of Birdman asking for some "respect on it," wrapped it up, and ended our night at The Drop Inn watering hole.
I'll take a break from the play by play to share that I came to Fairbanks to see Starbuks with a few goals in mind. One of those goals was for us to work on some music together. Between high school basketball games, errands for work, a pregnant girlfriend, and his eldest in town, we can probably all agree that dude doesn't have a lot of spare time. That didn't stop me from taking advantage of my time out there by putting together an array of beats. He would listen to them, a look of focus painted in thick lines across his face, give a slight nod, yes or no, and move on from there.
It was important for me to remember who I was working with. You see, the idea people get about rappers kills me.  People have this presumption that a studio session is just a party, and that somehow during all this commotion, a hit record is made. WRONG. The artists who stand out will always be those most defined. Starbuks is a good example of this. He's the type of artist to envision what he wants before working out the approach. With that said, me sitting there pushing buttons, like "how about this?" wasn't getting us anywhere. Over the next few days we poked around; we even had others slide through. My fifth day there we were visited by a few members of the hip hop community; Fairbanks' Bishop Slice, and Kidd of Anchorage's Bag Boy Nation crew.  
That night might have shown Mike and I's age, being that people were there playing their new drops till around 4 a.m. That isn't to say we would have noticed being that we both passed out before midnight. At this point it was about halfway through the trip. By then I think we'd both kind of resigned to just laying low, politicking, and watching Good Girls (real talk….that shit ain't half bad).  Bishop seemed to have other plans, though. He changed his flight back to the village where he lives, pulled up, and told Mike to "show me some beats."  
In barely over an hour the two pumped out a new single, entitled 'Gold Kings'. Keep your eyes and ears peeled for the release on this one.  With a simple blues-y guitar riff, paired with some organ stabs, this beat makes for a hard-hitting banger about the town these two preside over as ambassadors of Fairbanks.
With only a few days left to my stay, we just enjoyed the time, honestly. I took my coffee from McCafferty's coffeehouse (there is a recording studio in the basement); we had lunch at Salty's almost daily (local eatery/watering hole owned by Buks' friends), he cooked dinner for his family, and always made sure to stay on top of the kids. From asking where they were, to just being an open ear to listen, I can see the importance of family spill through every decision this man makes.
"You know why I say boss so much?" he asks his son at dinner one night.  "It's because people tend to think its ignorant when you start with, segue into, and end every story by saying 'N-----.'"
Not always the nice guy, but last time I checked, that's not a father's job. Parents have to be honest with their children, especially in a world full of manipulation, propaganda, and negative influences.  
The last time I caught up with Mike for a story in these pages it was September 2019 and he was sandwiched between his latest album 'Whiskey, Weed, and Women' and his next project, 'Blacc Polar Bear.' Also the last time I caught up with Mike he was on house arrest on charges relating to association in a robbery in a hotel room. 
The circumstances around his arrest seemed shady to me and the way Fairbanks cops have seemed to have it in for Mike and his family doesn't seem right. It's hard to view the situation as anything other than suspicious on the end of the police.  I can't really argue that my opinion isn't biased. Still, when individuals on the force go as far as taking ad space out on Facebook as a means to further the guilty narrative, there's just too many questions left over.
Anyhow, it's March 2021 and Starbuks is still court-ordered to wear an ankle bracelet and can't leave the Fairbanks area without a judge's permission. During my time at his place, his request to visit his son in Oregon was denied.
The judge seemed to think granting clearance for work and family aren't the same thing. It's hard on him. 
So there's a reason he gets distracted and caught up in shit besides his rap career. He's got more to lose, with more obstacles popping up on the daily.
When people think of rappers, often the image they see in their heads falls far from reality. Starbuks stands out as a rapper because of the conviction in his speech. He is speaking about a life he has known too well, as the weight of that world pulls at his vocal chords with every bar delivered. He looks on that time as a period of growth, a knowledge he had to gain on his own. Who he was and where he is now have become worlds apart. He's not out in the traphouse busting heads; he's in the field as an electrician earning an honest living for his family.  When he's not at work, he is either running drills with his younger family, or chilling in sweats telling Dixon to watch out for the Walking Dead.  
With my trip home postponed due to weather, we took advantage of the time. Calling local musician John Shewfelt over, we sat down and filmed a short Q&A to be used for a Vlog. I have recently teamed up with Sule and the Anchorage Press to begin releasing interviews with all members of the hip hop community up here. The purpose is to give a set place for people unfamiliar with the community to go see who is who. Wam-bam, and I was packing up my shit before I knew it.  
On my way out of town I swung through Alaska Blooms to check in on Fairbanks hip-hop forefather Alaska Redd.  Albeit this is a small reference, it's an important one; I still believe you can't really talk about Fairbanks without giving ol' boy a head nod.  
If you haven't taken the time to check out Fairbanks — between the food, the community, the artistry, I say you're missing out. With that said, make sure you check in with The Mayor, goddamnit!