In 2014, when Jonathan Bower released his second record, 'Hope, Alaska,' local freelance cinematographer Tom Trainor noticed it sitting upon the shelf for sale at Black Cup Cafe. Intrigued, he bought it, and upon listening he began developing his own visions within Bower's picturesque music.
"I liked his style," said Trainor."It wasn't similar to anything else I was hearing come out of the area musically and it was something I could see myself putting an image to."
Two years later, Trainor did just that after he sought Bower out to join forces and create something together. The outcome was a live music video collaboration for the song, 'Nina Simone' between Bower, Trainor, and Jeremy Blake designed for NPR's Tiny Desk Contest. Trainor and Bower enjoyed the experience and planned to hook up again in the future.
Celebrating the anniversary of Jonathan Bower's latest album 'Light Years,' released in late January last year, he and Trainor recently produced a second video for the album's third track, 'Who Are You'. The video was recently released through Vimeo, (with YouTube soon to follow) and has been networked through Bower's social media pages ever since, leading it to reach over 400 plays in the short amount of time it's been viewable. Upon watching, Bower says he wants to leave his audience with one message — "think summer."
With "think summer" in mind, the music video comes at a time when Alaskans could sure use it due to the fluctuating winter temperatures that are underway. Filmed in bicoastal locations that are dear to Bower's life, Anchorage and Philadelphia, Trainor captures one man's nostalgic journey taken from selective memory, only to return to a harsh and cold reality back to the grind that is life.
Bower has been a longtime resident of Alaska for nearly fifteen years now since his move from his hometown of Philadelphia, Pa. — hence the chosen locale and visions he had while writing the song.
"The way Philly showed up right from the beginning of the songwriting process made the city feel like one of the song's main characters," Bower explained, "I was in Alaska writing this song, but everything I was seeing in my head was happening in Philly."
The Philadelphia portion of the video travels through familiar places Bower has recollected from his past such as South Street, the Magic Gardens, Chinatown, Lorenzo and Sons Pizza, (where viewers will watch Bower inhaling a slice bigger than his head) and one of the best places for a real taste of Philly: Reading Terminal Market.
"It's this vibrant meeting place of food, culture, and vocations and at all hours contains as much trademark Philly attitude as it does "brotherly love and sisterly affection" — all in one dynamic space," Bower declared. "It's not just one of my favorite places in the city, it's one of my favorite places on earth."
Accompanying Bower in the video during this day of pleasantries is a red-haired actress who naturally appeared to get on well with Bower. To respect the privacy of the actress, Bower chose not to reveal details regarding who played the part of his partner. But he did say this, "I'll tell you she was the right, best person for this role. I didn't even realize how much that proved true then, but she was." Bower continued. "I had some good ideas for possible actresses when Tom and I started scheduling things, but she was available and the best single person for it. I'm grateful she played the part."
The couple's story within the video and song is one people may relate to. Although Bower says the songs within 'Light Years' are more like short stories that are works of fiction, 'Who Are You' does hold traces of some truth.
"These two lovers were so sure of each other, connected, excited and attached that they were the other's 'homeland' and now they 'wander around in exile.'" Bower said, using some of the songs lyrics. "It's a theme I'm fairly consumed with in real life, too. It blows me away that we put our hearts on the line the way we do for each other."
The video isequally shared with Trainor's inventive shots of the five-piece band. The setting in which they play takes place in a cozy corner of bassist, Kevin Worrell and wife, Kir Moore's home, where an upright piano played by Alex Cruver acts as the centerpiece behind Bower and his guitar. It's all a fitting backdrop and Worrell gives full credit to Moore.
Worrell said, "My wife made the whole room come together. As an architect and designer, she made this place look like you'd want to shoot a video in here."
Some interesting history that comes with "the best upright piano" seen in the video, as Worrell called it — it came from Talkeetna's famous Fairview Inn as the house piano from the time it was established in 1923 until the 1980s. It was purchased by Worrell's godparents who got engaged at the Fairview Inn and wanted something special to commemorate the happy occasion. What adds to this instrument being "the best" is that in addition to U.S. presidential visits to the Fairview Inn in the piano's tenurethere, musicians like John Denver gave performances, creating some hopeful thinking.
"We like to think that John Denver has played on that piano," Worrell proclaimed.
The remaining band members in the video are Bryan Daste on pedal-steel guitar and Cameron Cartland on drums. Every band member involved in the shooting of the video felt comfortable with the way Trainor was directing the shots and were able to perform naturally to get an authentic vision of an intimate performance.
Trainor's approach behind the video was undeniable, and rightfully so. If you are going to have someone seek you out to plan a project with, Trainor is a credible source for that. His resume includes working on notable film and television series including 'Deadliest Catch', 'Forged in Fire', 'The Last Alaskans', 'Bering Sea Gold', 'Coast Guard Alaska', 'NOVA', and is currently involved with a project for the BBC network. He freelances between Anchorage and New York City, and has been recently featured in Panasonic's campaign for their VariCam LT 4K Cinema Camera — a high-end camera he's acquired, mastered, and used in the filming of Bower's 'Who Are You' video.
Everyone involved with this project was happy with Trainor's results. Cartland, the drummer, said, "I thought he did a great job. I wasn't sure how the rest of the video with Jonathan in Philadelphia would turn out or what the plan was, so seeing the final cut of the video was a cool surprise."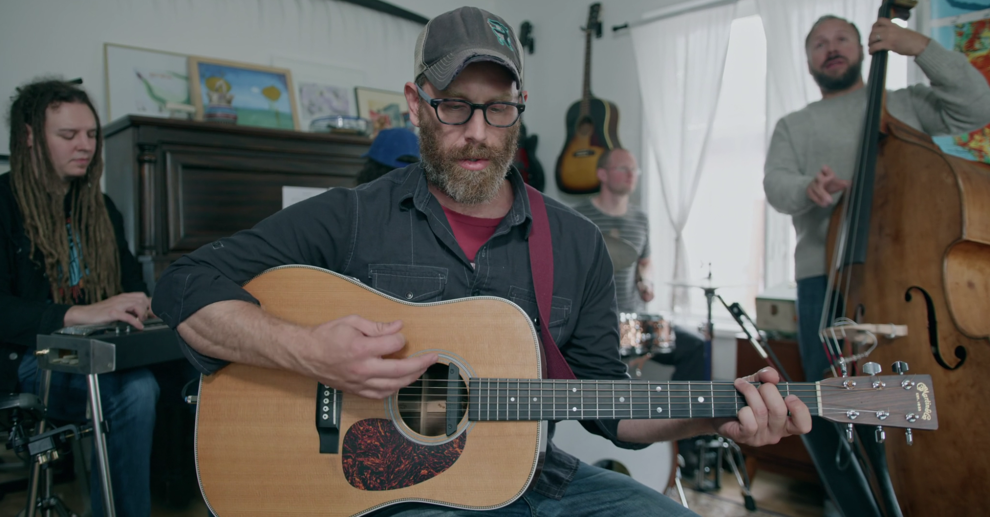 Worrell agreed and shared a similar reaction seeing it for the first time saying, "I watched it late at night, or early in the morning on my cell phone. Even just from there, it was still so captivating. The storytelling was incredible, and he captured Jonathan so authentically, he looked so natural but at the same time such an attractive persona. Jonathan was this guy I'd totally want to have that much fun out on a date with ya know? And then I was able to reflect, 'Wait, I know that guy and he's like that," Worrell laughed.
For Bower, the video finishes in an open-ended way as shots of him waking up in bed begin weaving into the final shots of the frivolous summer day. Once it's over, viewers can contemplate if certain visuals that unfolded were all a dream or not.
"I really appreciate the uncertainty there. That's one of the joys of working with Tom. It's mostly unspoken between us, but we both appreciate nuance and aren't attached to conventional storytelling," said Bower.
For 'Light Years,' Bower acknowledged that the video offers a positive compliment to the album and says that it provides "some overdue affection."
Bower's next endeavor is to perform a live recorded album at one of Kurt Reimann's 'Live At Surreal' sessions this year. The event will begin at 7 p.m. on Valentine's Day, February 14th where audience members get to sit in for a donation of $25 or more through gofundme.com/jonathan-j-bower-live-at-surreal
Of the selected date, Bower laughed and said, "In a tongue-in-cheek way, I joked that we should bill it like Festivus: Valentine's Day for the rest of us!" But in actuality, "I would love our show to be a safe house, a place to stowaway that night rather than hole up at home alone looking at all your lovebird friends sharing their flowers, heart shaped boxes and champagne toasts on Instagram or Facebook," he said. More lightheartedly, Bower's night of music should hold warm vibes and generate a sense of togetherness. The studio is an intimate space with limited seating and as of the first week of February, Reimann and Bower have raised $50 with a $750 goal, so there is still time to grab a seat.
To encourage some new and familiar faces to Bower's live performance, he spoke to his upcoming audience saying, "Let's pass around some chocolate. Tom Bargelski's going to create a mood on the keys to give you goosebumps. Come attached or come solo. Come with friends or with a tinder date. Come happy or sad. But whatever you do come tender and ready to sway."
In addition to being a singer/songwriter, Jonathan Bower is a freelancer writer where his work can be found in the Anchorage Press under his 'Coping Skills' mixtape series. He's been an adjunct professor at UAA and is now pursuing his Master's Degree in Social Work.
Tom Trainor is a Producer and Director of Photography whose work can be followed through ASHLAR MEDIA @vimeo.com/ashlarmedia